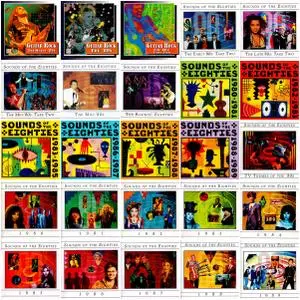 V.A.- Time Life - Sounds of the Eighties Collection (25CDs, 1994-1996)
EAC Rip | FLAC (*tracks+.cue+.log, covers) | Run Time: 30:10:23 | 12,14 Gb | Covers 36,26 Mb
Genre: Pop Rock, Soul, Disco, Soft Rock, Rhythm & Blues | Label: Time-Life Music
Time Life was founded in 1961 as the book division of Time Inc.. It took its name from Time Inc.'s cornerstone magazines, Time and Life, but remained independent of both. During 1966, Time Life combined its book offerings with music collections (two to five records) and packaged them as a sturdy box set. Throughout the 1970s and 1980s, the selection of books, music and videos grew and was diversified into more genres. When record labels stopped producing vinyl albums in 1990, Time Life switched to CD only. In the mid-1990s, Time Life acquired Heartland Music, with the Heartland Music label now appearing as a brand. This company was subsequently sold off and is no longer attached to Time Life.
As years go by, so the period of "nostalgia" likewise moves on in years. It was only natural that in the mid-1990s, Time- Life would offer a nostalgic retrospective on 1980s music. As part of this series, they also issued six CDs called The Rolling Stone Collection, which was numbered as part of the same R988- series as Sounds of the Eighties. (In this case, "Rolling Stone" was the magazine, not the rock band.) Separately, they issued a 7-CD Rolling Stone Box Set (included below). They also released two retail budget box sets as part of the series.
Contains CDs:
CD 01. Time Life - Guitar Rock - The '80s
CD 02. Time Life - Guitar Rock - The '80s Take Two
CD 03. Time Life - Guitar Rock - The Heavy 80s
CD 04. Time Life - Sounds of the Eighties - 1980
CD 05. Time Life - Sounds of the Eighties - 1981
CD 06. Time Life - Sounds of the Eighties - 1982
CD 07. Time Life - Sounds of the Eighties - 1983
CD 08. Time Life - Sounds of the Eighties - 1984
CD 09. Time Life - Sounds of the Eighties - 1985
CD 10. Time Life - Sounds of the Eighties - 1986
CD 11. Time Life - Sounds of the Eighties - 1987
CD 12. Time Life - Sounds of the Eighties - 1988
CD 13. Time Life - Sounds of the Eighties - 1989
CD 14. Time Life - Sounds of the Eighties - The Early 80s - Take Two
CD 15. Time Life - Sounds of the Eighties - The Late 80s - Take Two
CD 16. Time Life - Sounds of the Eighties - The Mid 80s
CD 17. Time Life - Sounds of the Eighties - The Mid 80s - Take Two
CD 18. Time Life - Sounds of the Eighties - The Rockin' Eighties
CD 19. Time Life - Sounds of the Eighties - The Rolling Stone Collection - 1980-1981
CD 20. Time Life - Sounds of the Eighties - The Rolling Stone Collection - 1982-1983
CD 21. Time Life - Sounds of the Eighties - The Rolling Stone Collection - 1983-1985
CD 22. Time Life - Sounds of the Eighties - The Rolling Stone Collection - 1986-1987
CD 23. Time Life - Sounds of the Eighties - The Rolling Stone Collection - 1987-1988
CD 24. Time Life - Sounds of the Eighties - The Rolling Stone Collection - 1988-1989
CD 25. Time Life - Sounds of the Eighties - TV Themes of the '80s
CD 01./ Time Life - Guitar Rock - The '80s

01. Pat Benatar - Hit Me With Your Best Shot
02. Billy Squire - Rock Me Tonight
03. Stray Cats - Stray Cat Strut
04. The Pretenders - Middle Of The Road
05. Big Country - In A Big Country
06. The Art Of Noise - Peter Gunn
07. Sammy Hagar - Your Love Is Driving Me Crazy
08. Survivor - High On You
09. Red Rider - Lunatic Fringe
10. Run DMC - Walk This Way
11. The Power Station - Some Like It Hot
12. The J. Geils Band - Come Back
13. Huey Lewis And The News - I Want A New Drug
14. .38 Special - Teacher Teacher
15. Poison - Nothing But A Good Time
16. Lita Ford - Kiss Me Deadly
17. Europe - Rock The Night
18. Michael Stanley Band - He Can t Love You


CD 02./ Time Life - Guitar Rock - The '80s Take Two

01. Loverboy - Working For The Weekend
02. Billy Squire - My Kind Of Lover
03. The Fabulous Thunderbirds - Tuff Enuff
04. Scandal - Goodbye To You
05. Pat Benatar - Heartbreaker
06. Rainbow - Stone Cold
07. Ratt - Lay It Down
08. Blue Oyster Cult - Burnin For You
09. Vixxen - Edge Of A Broken Heart
10. Europe - The Final Countdown
11. Whitesnake - Still Of The Night
12. Asia - Don t Cry
13. Henry Lee Summer - Hey Baby
14. Dokken - Alone Again
15. John Eddie - Jungle Boy
16. Poison - I Want Action
17. Warrant - Down Boys
18. Cinderella - Nobody s Fool

CD 03./ Time Life - Guitar Rock - The Heavy 80s

01 - The Beastie Boys - Fight For Your Right
02 - Poison - Talk Dirty To Me
03 - Scandal - The Warrior
04 - Robert Plant - Tall Cool One
05 - Winger - Headed For A Heartbreak
06 - White Lion - Wait
07 - Sammy Hagar - Give To Love
08 - Billy Squier - Everybody Wants You
09 - Night Ranger - Sister Christian
10 - Georgia Satellites - Keep Your Hands To Yourself
11 - Ratt - Round And Round
12 - Whitesnake - Here I Go Again
13 - Judus Priest - You've Got Another Thing Comin'
14 - Twisted Sister - We're Not Gonna Take It
15 - Motorhead - Ace Of Spades
16 - Golden Earring - Twilight Zone
17 - Great White - Once Bitten Twice Shy
18 - The Firm - Radioactive

CD 04./ Time Life - Sounds of the Eighties - 1980

01 - Queen - Crazy Little Thing Called Love
02 - The Romantics - What I Like About You
03 - The Pretenders - Brass in Pocket
04 - Jermaine Jackson - Let's Get Serious
05 - Fleetwood Mac - Sara
06 - Blondie - Call Me
07 - Lipps, Inc. - Funkytown
08 - Kool and the Gang - Too Hot
09 - Elton John - Little Jeannie
10 - Pat Benatar - Hit Me with Your Best Shot
11 - Rocky Burnette - Tired of Toein' the Line
12 - Gary Numan - Cars
13 - Donna Summer - The Wanderer
14 - Smokey Robinson - Cruisin'
15 - Irene Cara - Fame
16 - Olivia Newton John - Magic
17 - Pointer Sisters - He's So Shy
18 - Christopher Cross - Sailing

CD 05./ Time Life - Sounds of the Eighties - 1981

01 - Kool and the Gang - Celebration
02 - Sheena Easton - Morning Train (Nine to Five)
03 - REO Speedwagon - Keep On Loving You
04 - Foreigner - Waiting for a Girl Like You
05 - The Pointer Sisters - Slow Hand
06 - Ray Parker Jr. and Raydio - A Woman Needs Love
07 - The Four Tops - When She Was My Girl
08 - Smokey Robinson - Being with You
09 - Air Supply - The One That You Love
10 - Juice Newton - Queen of Hearts
11 - Rick Springfield - Jessie's Girl
12 - Kim Carnes - Bette Davis Eyes
13 - Daryl Hall and John Oates - Kiss on My List
14 - Earth, Wind and Fire - Let's Groove
15 - Rick James - Super Freak (Part 1)
16 - Gary U.S. Bonds - This Little Girl
17 - The Moody Blues - Gemini Dream
18 - Don McLean - Crying.mp3

CD 06./ Time Life - Sounds of the Eighties - 1982

01 - Toni Basil - Mickey
02 - Men at Work - Who Can It Be Now
03 - The Cars - Shake It Up
04 - The J. Geils Band - Freeze-Frame
05 - Asia - Heat of the Moment
06 - Quarterflash - Harden My Heart
07 - Toto - Rosanna
08 - Michael McDonald - I Keep Forgettin'
09 - Joe ****er and Jennifer Warnes - Up Where We Belong
10 - Laura Branigan - Gloria.mp3
11 - Tommy Tutone - 867-5309-Jenny
12 - Daryl Hall and John Oates - Maneater
13 - Soft Cell - Tainted Love
14 - A Flock of Seagulls - I Ran (So Far Away)
15 - The Motels - Only the Lonely
16 - REO Speedwagon - Keep the Fire Burnin'
17 - Ray Parker Jr. - The Other Woman
18 - The Alan Parsons Project - Eye in the Sky

CD 07./ Time Life - Sounds of the Eighties - 1983

01 - Quiet Riot - Cum On Feel the Noize
02 - The Fixx - One Thing Leads to Another
03 - Stray Cats - (She's) Sexy + 17
04 - Dexys Midnight Runners - Come On Eileen
05 - Daryl Hall and John Oates - Say It Isn't So
06 - Thomas Dolby - She Blinded Me with Science
07 - David Bowie - China Girl08 - Culture Club - Time (Clock of the Heart)
09 - Marvin Gaye - Sexual Healing
10 - Michael Sembello - Maniac
11 - Naked Eyes - Always Something There to Remind Me
12 - Madness - Our House
13 - Toto - Africa
14 - Stevie Nicks - Stand Back
15 - Greg Kihn Band - Jeopardy
16 - The Kinks - Come Dancing
17 - Kajagoogoo - Too Shy
18 - Spandau Ballet - True

CD 08./ Time Life - Sounds of the Eighties - 1984

01 - Ray Parker Jr. - Ghostbusters
02 - The Romantics - Talking in Your Sleep
03 - The Pointer Sisters - Jump (For My Love)
04 - Rockwell - Somebody's Watching Me
05 - John Waite - Missing You
06 - Daryl Hall and John Oates - Out of Touch
07 - Scandal - The Warrior
08 - The Cars - You Might Think
09 - Genesis - That's All
10 - Kenny Loggins - Footloose
11 - Deniece Williams - Let's Hear It for the Boy
12 - Billy Ocean - Caribbean Queen (No More Love on the Run)
13 - Thompson Twins - Hold Me Now
14 - Culture Club - Karma Chameleon
15 - David Bowie - Blue Jean
16 - Nena - 99 Luftballons
17 - Sheila E. - The Glamorous Life
18 - Kool and the Gang - Joanna

CD 09./ Time Life - Sounds of the Eighties - 1985

01 - A Ha - Take On Me
02 - Starship - We Built This City
03 - ZZ Top - Sleeping Bag
04 - Power Station - Some Like It Hot
05 - Paul Young - Everytime You Go Away
06 - Katrina and the Waves - Walking on Sunshine
07 - Frankie Goes to Hollywood - Relax
08 - Honeydrippers - Sea of Love
09 - Foreigner - I Want to Know What Love Is
10 - Jan Hammer - Miami Vice Theme
11 - Glenn Frey - The Heat Is On
12 - David Lee Roth - California Girls
13 - John Parr - St. Elmo's Fire (Man in Motion)
14 - Tears for Fears - Everybody Wants to Rule the World
15 - Mr. Mister - Broken Wings
16 - 'Til tuesday - Voices Carry
17 - Aretha Franklin - Freeway of Love
18 - Commodores - Nightshift

CD 10./ Time Life - Sounds of the Eighties - 1986

01 - Robert Palmer - Addicted to Love
02 - Wang Chung - Everybody Have Fun Tonight
03 - The Pretenders - Don't Get Me Wrong
04 - Starship - Sara
05 - Dire Straits - So Far Away
06 - Falco - Rock Me Amadeus
07 - Stevie Nicks - Talk to Me
08 - Genesis - Invisible Touch
09 - Peter Cetera - Glory of Love
10 - Run-D.M.C. - Walk this Way
11 - Cameo - Word Up
12 - Timbuk 3 - The Future's So Bright, I Gotta Wear Shades
13 - Bananarama - Venus
14 - Belinda Carlisle - Mad About You
15 - Mr. Mister - Kyrie
16 - Survivor - Burning Heart
17 - Dream Academy - Life in a Northern Town
18 - Howard Jones - No One Is to Blame

CD 11./ Time Life - Sounds of the Eighties - 1987

01 - Belinda Carlisle - Heaven Is A Place On Earth
02 - Robbie Nevil - C'est La Vie
03 - Cutting Crew - (I Just) Died In Your Arms
04 - Lisa Lisa And Cult Jam - Head To Toe
05 - Kim Wilde - You Keep Me Hangin' On
06 - Debbie Gibson - Shake Your Love
07 - Crowded House - Something So Strong
08 - Lou Gramm - Midnight Blue
09 - Whitesnake - Here I Go Again
10 - Tiffany - I Think We're Alone Now
11 - Wang Chung - Let's Go!
12 - Bananarama - I Heard A Rumor
13 - Starship - Nothing's Gonna Stop Us Now
14 - Boston - We're Ready
15 - Poison - Talk Dirty To Me
16 - Fleetwood Mac - Little Lies
17 - Jody Watley - Looking For A New Love
18 - Club Nouveau - Lean On Me

CD 12./ Time Life - Sounds of the Eighties - 1988

01 - Bangles - Hazy Shade Of Winter
02 - Robert Palmer - Simply Irresistible
03 - Will To Power - Baby, I Love Your Way
04 - The Beach Boys - Kokomo
05 - Bobby McFerrin - Don't Worry, Be Happy
06 - Poison - Every Rose Has Its Thorn
07 - Eric Carmen - Make Me Lose Control
08 - Foreigner - I Don't Want To Live Without You
09 - Belinda Carlisle - I Get Weak
10 - The Escape Club - Wild, Wild West
11 - Bobby Brown - Don't Be Cruel
12 - Kylie Minogue - The Loco-Motion
13 - Johnny Hates Jazz - Shattered Dreams
14 - Huey Lewis And The News - Perfect World
15 - Cheap Trick - The Flame
16 - Debbie Gibson - Foolish Beat
17 - Paul Carrack - Don't Shed A Tear
18 - Richard Marx - Hold On To The Nights

CD 13./ Time Life - Sounds of the Eighties - 1989

01 - Roxette - The Look02 - Tears for Fears - Sowing the Seeds of Love
03 - Love and Rockets - So Alive
04 - Martika - Toy Soldiers
05 - Bad English - When I See You Smile
06 - Donny Osmond - Soldier of Love
07 - Michael Damian - Rock On
08 - Debbie Gibson - Lost in Your Eyes
09 - Sheriff - When I'm With You
10 - Tone-Loc - Funky Cold Medina
11 - Was (Not Was) - Walk the Dinosaur
12 - Great White - Once Bitten Twice Shy
13 - White Lion - When the Children Cry
14 - Richard Marx - Right Here Waiting
15 - New Kids on the Block - I'll Be Loving You (Forever)
16 - Mike & the Mechanics - The Living Years
17 - Jeff Healey Band - Angel Eyes

CD 14./ Time Life - Sounds of the Eighties - The Early 80s - Take Two

01 – The J. Geils Band – Love Stinks
02 – Huey Lewis and the News – Heart and Soul
03 – Culture Club – Church of the Poison Mind
04 – Men at Work – It's a Mistake
05 – Steve Winwood – While You See a Chance
06 – The Fixx – Saved by Zero
07 – Dr. Hook – Sexy Eyes
08 – Genesis – Misunderstanding
09 – A Taste of Honey – Sukiyaki
10 – Go-Go's – Our Lips Are Sealed
11 – April Wine – Just Between You and Me
12 – Loverboy – Working For the Weekend
13 – Billy Squier – The Stroke
14 – Pat Benatar – Heartbreaker
15 – Juice Newton – Angel of the Morning
16 – Air Supply – Making Love Out of Nothing at All
17 – Paul Davis – `65 Love Affair
18 – Patti Austin & James Ingram – Baby, Come to Me

CD 15./ Time Life - Sounds of the Eighties - The Late 80s - Take Two

01 - Cyndi Lauper - Change of Heart
02 - Rick Astley - Together Forever
03 - Fleetwood Mac - Everywhere
04 - Icehouse - Electric lue
05 - The System - Don't Distur This Groove
06 - Taylor Dayne - I'll Always Love You
07 - Foreigner - Say You Will
08 - angles - Eternal Flame
09 - Gregory Aott - Shake You Down
10 - Cheap Trick - Don't e Cruel
11 - Poison - Nothin' ut a Good Time
12 - New Kids on the lock - Hangin' Tough
13 - Nenah Cherry - uffalo Stance
14 - D.J. Jazzy Jeff and the Fresh Prince - Parents Just Don't Understand
15 - Peles - Girlfriend
16 - oy rown - Roni
17 - Atlantic Starr - Always
18 - Lisa Lisa and Cult Jam - Lost in Emotion

CD 16./ Time Life - Sounds of the Eighties - The Mid 80s

01 - Glenn Fry - Smuggler's lues
02 - The Fixx - Are We Ourselves-
03 - Orchestral Manoeuvres in the Dark - If You Leave
04 - Glass Tiger - Don't Forget Me When I'm Gone
05 - Night Ranger - Sister Christian
06 - Thompson Twins - King for a Day
07 - Aretha Franklin - Who's Zoomin' Who
08 - Dan Hartman - I Can Dream Aout You
09 - Jack Wagner - All I Need
10 - Yes - Owner of a Lonely Heart
11 - Laura ranigan - Self Control
12 - Pointer Sisters - Neutron Dance
13 - New Edition - Cool It Now
14 - Peao ryson - If Ever You're in My Arms Again
15 - The Cars - Tonight She Comes
16 - The Jets - Crush on You
17 - Stacey Q - Two of Hearts
18 - Atlantic Starr - Secret Lovers

CD 17./ Time Life - Sounds of the Eighties - The Mid 80s - Take Two

01 - illy Ocean - Loveroy
02 - Philip ailey with Phil Collins - Easy Lover
03 - Matthew Wilder - reak My Stride
04 - Dead Or Alive - You Spin Me Round (Like A Record)
05 - Pointer Sisters - Automatic
06 - Re-Flex - The Politics of Dancing
07 - Nu Shooz - I Can't Wait
08 - Wang Chung - Dance Hall Days
09 - Don Johnson - Hearteat
10 - Huey Lewis and the News - The Heart of Rock'n' Roll
11 - The Faulous Thunderirds - Tuff Enuff
12 - Ratt - Round and Round
13 - Loveroy - Lovin' Every Minute of It
14 - Hooters - Day y Day
15 - Shannon - Let the Music Play
16 - Level 42 - Something Aout You
17 - Clarence Clemons and Jackson rowne - You're a Friend of Mine
18 - Howard Jones - Things Can Only Get etter

CD 18./ Time Life - Sounds Of The Eighties - The Rockin' Eighties

01 - Queen - Another One ites The Dust
02 - David owie - Modern Love
03 - Stray Cats - Stray Cat Strut
04 - Pretenders - Middle Of The Road
05 - Dire Straits - Walk Of Life
06 - Roert Palmer - I Didn't Mean To Turn You On
07 - londie - The Tide Is High
08 - REO Speedwagon - Can't Fight This Feeling
09 - Tears For Fears - Shout
10 - Los Loos - La ama
11 - The -52's - Love Shack
12 - ZZ Top - Legs
13 - angles - Manic Monday
14 - Men At Work - Down Under
15 - Go-Go's - Vacation
16 - Foreigner - Urgent
17 - Fleetwood Mac - Hold Me
18 - Glenn Frey - You elong To The City

CD 19./ Time Life - Sounds of the Eighties - The Rolling Stone Collection - 1980-1981

01 – Queen – Another One Bites the Dust
02 – Blondie – Call Me
03 – J. Geils Band – Centerfold
04 – The Go-Go's – We Got the Beat
05 – Stevie Nicks with Tom Petty and the Heartbreakers – Stop D..
06 – Foreigner – Juke Box Hero
07 – Dave Edmunds – Almost Saturday Night
08 – R.E.M. – Radio Free Europe
09 – U2 – Gloria
10 – Phil Collins – In the Air Tonight
11 – Talking Heads – Once in a Lifetime
12 – Stevie Wonder – Master Blaster (Jammin')
13 – David Bowie – Ashes to Ashes
14 – Joy Division – Love Will Tear Us Apart
15 – Devo – Whip It
16 – The B-52?s – Private Idaho
17 – The Blasters – Marie Marie
18 – The Boomtown Rats – I Don't Like Mondays
19 – Squeeze – Tempted
20 – Bob Marley and the Wailers – Redemption Song

CD 20./ Time Life - Sounds of the Eighties - The Rolling Stone Collection - 1982-1983

01 – Talking Heads – Burning Down the House
02 – David Bowie – Let's Dance
03 – Culture Club – Do You Really Want to Hurt Me
04 – The English Beat – I Confess
05 – John Cougar – Jack & Diane
06 – ABC – The Look of Love (Part One)
07 – Elton John – Empty Garden (Hey Hey Johnny)
08 – Marvin Gaye – Sexual Healing
09 – Roxy Music – Avalon
10 – U2 – Sunday Bloody Sunday
11 – Big Country – In a Big Country
12 – The Pretenders – Back on the Chain Gang
13 – Marshall Crenshaw – Someday, Someway
14 – Stray Cats – Rock This Town
15 – George Clinton – Atomic Dog
16 – Def Leppard – Photograph
17 – Eric Clapton – Ain't Going Down
18 – Bob Dylan – Blind Willie McTell

CD 21./ Time Life - Sounds of the Eighties - The Rolling Stone Collection - 1983-1985

01 – Van Halen – Jump
02 – ZZ Top – Sharp Dressed Man
03 – Rod Stewart – Some Guys Have All the Luck
04 – Tina Turner – What's Love Got to Do With It
05 – Tom Petty and the Heartbreakers – Don't Come Around Here N..
06 – Los Lobos – Will the Wolf Survive
07 – The Cars – Drive
08 – Lindsey Buckingham – Go Insane
09 – Herbie Hancock – Rockit
10 – Dire Straits – Walk of Life
11 – The Smiths – This Charming Man
12 – Frankie Goes to Hollywood – Two Tribes
13 – Eurythmics – Here Comes the Rain Again
14 – Randy Newman – I Love L.A.
15 – Eric Clapton – Forever Man
16 – Cyndi Lauper – Time After Time
17 – L.L. Cool J – I Can't Live Without My Radio
18 – The Art of Noise – Close (To the Edit)

CD 22./ Time Life - Sounds of the Eighties - The Rolling Stone Collection - 1986-1987

01 – Peter Gabriel – Sledgehammer
02 – Midnight Oil – Beds Are Burning
03 – Fleetwood Mac – Big Love
04 – Steve Winwood – Higher Love
05 – George Michael – Father Figure
06 – Robert Cray Band – Right Next Door (Because Of Me)
07 – Cyndi Lauper – True Colors
08 – U2 – I Still Haven't Found What I'm Looking For
09 – Georgia Satellites – Keep Your Hands To Yourself
10 – Beastie Boys – (You Gotta) Fight For Your Right (To Party)..
11 – Bangles – Walk Like An Egyptian
12 – Robyn Hitchcock & The Egyptians – If You Were A Priest
13 – George Michael – I Want Your Sex (Parts 1 & 2)
14 – New Order – Bizarre Love Triangle
15 – X – 4th Of July
16 – The Psychedelic Furs – Pretty In Pink
17 – U2 – Where The Streets Have No Name

CD 23./ Time Life - Sounds of the Eighties - The Rolling Stone Collection - 1987-1988

01 – Rod Stewart – Forever Young
02 – John Cougar Mellencamp – Paper in Fire
03 – Crowded House – Don't Dream It's Over
04 – 10,000 Maniacs – Like the Weather
05 – The Smithereens – Blood and Roses
06 – The Replacements – Can't Hardly Wait
07 – Keith Richards – Take It So Hard
08 – Living Colour – Middle Man
09 – Metallica – One
10 – Robert Plant – Tall Cool One
11 – R.E.M. – The One I Love
12 – The Church – Under the Milky Way
13 – Suzanne Vega – Luka
14 – Was [Not Was] – Spy in the House of Love
15 – Ice-T – Colors
16 – Red Hot Chili Peppers – Fight Like a Brave
17 – Jane's Addiction – Had a Dad
18 – Public Enemy – Bring the Noise

CD 24./ Time Life - Sounds of the Eighties- The Rolling Stone Collection - 1988-1989

01 – Neil Young – Rockin' in the Free World
02 – R.E.M. – Turn You Inside-Out
03 – Depeche Mode – Personal Jesus
04 – Buster Poindexter and His Banshees of Blue – Hot Hot Hot
05 – Tom Petty – Free Fallin'
06 – Bonnie Raitt – Nick of Time
07 – Chris Isaac – Wicked Game
08 – Cowboy Junkies – Sweet Jane
09 – Tone-Loc – Wild Thing
10 – Bobby Brown – My Prerogative
11 – De La Soul – Me, Myself and I
12 – The Sugarcubes – Birthday
13 – Lou Reed – Dirty Blvd.
14 – Roy Orbison – You Got It
15 – John Hiatt – Drive South
16 – Bob Dylan – Ring Them Bells
17 – The Neville Brothers – A Change Is Gonna Come

CD 25./ Time Life - Sounds of the Eighties - TV Themes of the '80s

01 - Jan Hammer - Miami Vice Theme
02 - Gary Portnoy - Theme from Cheers
03 - Mike Post - Theme from L.A. Law
04 - Joey Scarbury - Theme from The Greatest American Hero (Bel..
05 - Dave Grusin - Theme from St. Elsewhere
06 - Steve Carlisle - WKRP in Cincinnati
07 - Bill Conti - Theme from Dynasty
08 - B.J. Thomas and Dusty Springfield - As Long As We Got Each..
09 - Mike Post - Theme from Magnum, P.I.
10 - Waylon Jennings - Theme from The Dukes of Hazzard (Good Ol..
11 - Stewart Copeland - The Equalizer Busy Equalizing
12 - Waitresses - Square Pegs (Theme from the Embassy Televisio..
13 - Paul Shaffer - Late Night
14 - Thom Pace - The Life and Times of Grizzly Adams
15 - Mike Post - Theme from Hill Street Blues
16 - Jack Jones - Love Boat Theme
17 - Julee Cruise - Falling
18 - Crystal Gayle and Gary Morris - Another World
Exact Audio Copy V1.1 from 23. June 2015

EAC extraction logfile from 3. February 2017, 18:35

Various / Sounds Of The Eighties - 1980

Used drive : TSSTcorpDVDWBD SH-B123L Adapter: 1 ID: 0

Read mode : Secure
Utilize accurate stream : Yes
Defeat audio cache : Yes
Make use of C2 pointers : No

Read offset correction : 6
Overread into Lead-In and Lead-Out : No
Fill up missing offset samples with silence : Yes
Delete leading and trailing silent blocks : No
Null samples used in CRC calculations : Yes
Used interface : Native Win32 interface for Win NT & 2000
Gap handling : Appended to previous track

Used output format : User Defined Encoder
Selected bitrate : 1024 kBit/s
Quality : High
Add ID3 tag : No
Command line compressor : J:\Program Files (x86)\FlacSquisher\flac.exe
Additional command line options : -8 -e -p -V -T "ARTIST=%artist%" -T "TITLE=%title%" -T "ALBUM=%albumtitle%" -T "DATE=%year%" -T "TRACKNUMBER=%tracknr%" -T "GENRE=%genre%" -T "PERFORMER=%albuminterpret%" -T "COMPOSER=%composer%" %haslyrics%–tag-from-file=LYRICS="%lyricsfile%"%haslyrics% -T "ALBUMARTIST=%albumartist%" -T "DISCNUMBER=%cdnumber%" -T "TOTALDISCS=%totalcds%" -T "TOTALTRACKS=%numtracks%" -T "COMMENT=%comment%" %source% -o %dest%


TOC of the extracted CD

Track | Start | Length | Start sector | End sector
––––––––––––––––––––––––––––-
1 | 0:00.32 | 2:45.35 | 32 | 12441
2 | 2:45.67 | 2:58.55 | 12442 | 25846
3 | 5:44.47 | 3:06.55 | 25847 | 39851
4 | 8:51.27 | 3:38.03 | 39852 | 56204
5 | 12:29.30 | 4:38.72 | 56205 | 77126
6 | 17:08.27 | 3:34.53 | 77127 | 93229
7 | 20:43.05 | 4:09.42 | 93230 | 111946
8 | 24:52.47 | 5:08.20 | 111947 | 135066
9 | 30:00.67 | 5:14.50 | 135067 | 158666
10 | 35:15.42 | 2:54.55 | 158667 | 171771
11 | 38:10.22 | 3:40.58 | 171772 | 188329
12 | 41:51.05 | 4:00.55 | 188330 | 206384
13 | 45:51.60 | 3:50.00 | 206385 | 223634
14 | 49:41.60 | 4:30.70 | 223635 | 243954
15 | 54:12.55 | 3:52.15 | 243955 | 261369
16 | 58:04.70 | 4:32.60 | 261370 | 281829
17 | 62:37.55 | 3:40.55 | 281830 | 298384
18 | 66:18.35 | 4:14.72 | 298385 | 317506


Track 1

Filename N:\EAC Rips\Various Artists - Sounds Of The Eighties - 1980\01 - Queen - Crazy Little Thing Called Love.wav

Pre-gap length 0:00:02.42

Peak level 100.0 %
Extraction speed 2.0 X
Track quality 100.0 %
Test CRC 8706B37A
Copy CRC 8706B37A
Cannot be verified as accurate (confidence 29) [E0EA2105], AccurateRip returned [3E504056] (AR v2)
Copy OK

Track 2

Filename N:\EAC Rips\Various Artists - Sounds Of The Eighties - 1980\02 - The Romantics - What I Like About You.wav

Pre-gap length 0:00:02.80

Peak level 89.0 %
Extraction speed 2.2 X
Track quality 100.0 %
Test CRC E860EF9A
Copy CRC E860EF9A
Cannot be verified as accurate (confidence 30) [B98B1C93], AccurateRip returned [FBAB1C52] (AR v2)
Copy OK

Track 3

Filename N:\EAC Rips\Various Artists - Sounds Of The Eighties - 1980\03 - The Pretenders - Brass in Pocket.wav

Pre-gap length 0:00:02.73

Peak level 94.0 %
Extraction speed 2.3 X
Track quality 100.0 %
Test CRC 97A8BF46
Copy CRC 97A8BF46
Cannot be verified as accurate (confidence 29) [1D0884E3], AccurateRip returned [8E45AD36] (AR v2)
Copy OK

Track 4

Filename N:\EAC Rips\Various Artists - Sounds Of The Eighties - 1980\04 - Jermaine Jackson - Let's Get Serious.wav

Pre-gap length 0:00:03.06

Peak level 94.0 %
Extraction speed 2.6 X
Track quality 100.0 %
Test CRC DC6151C9
Copy CRC DC6151C9
Cannot be verified as accurate (confidence 28) [19ABA569], AccurateRip returned [FD084947] (AR v2)
Copy OK

Track 5

Filename N:\EAC Rips\Various Artists - Sounds Of The Eighties - 1980\05 - Fleetwood Mac - Sara.wav

Pre-gap length 0:00:03.20

Peak level 94.0 %
Extraction speed 2.8 X
Track quality 100.0 %
Test CRC DD8E0B03
Copy CRC DD8E0B03
Cannot be verified as accurate (confidence 28) [45248779], AccurateRip returned [C5A5BA28] (AR v2)
Copy OK

Track 6

Filename N:\EAC Rips\Various Artists - Sounds Of The Eighties - 1980\06 - Blondie - Call Me.wav

Pre-gap length 0:00:02.96

Peak level 86.3 %
Extraction speed 2.9 X
Track quality 100.0 %
Test CRC 9FC47ECA
Copy CRC 9FC47ECA
Cannot be verified as accurate (confidence 29) [38D32E00], AccurateRip returned [72FA5F9C] (AR v2)
Copy OK

Track 7

Filename N:\EAC Rips\Various Artists - Sounds Of The Eighties - 1980\07 - Lipps, Inc. - Funkytown.wav

Pre-gap length 0:00:03.24

Peak level 86.3 %
Extraction speed 3.1 X
Track quality 100.0 %
Test CRC 7630A99A
Copy CRC 7630A99A
Cannot be verified as accurate (confidence 27) [FB36C5F3], AccurateRip returned [7820A357] (AR v2)
Copy OK

Track 8

Filename N:\EAC Rips\Various Artists - Sounds Of The Eighties - 1980\08 - Kool and the Gang - Too Hot.wav

Pre-gap length 0:00:03.49

Peak level 94.0 %
Extraction speed 3.4 X
Track quality 100.0 %
Test CRC 5B197CBB
Copy CRC 5B197CBB
Cannot be verified as accurate (confidence 29) [B42349F0], AccurateRip returned [A28DB4CD] (AR v2)
Copy OK

Track 9

Filename N:\EAC Rips\Various Artists - Sounds Of The Eighties - 1980\09 - Elton John - Little Jeannie.wav

Pre-gap length 0:00:03.66

Peak level 81.8 %
Extraction speed 3.6 X
Track quality 100.0 %
Test CRC 475999AB
Copy CRC 475999AB
Cannot be verified as accurate (confidence 27) [B4F5C9C3], AccurateRip returned [6FEE1B3A] (AR v2)
Copy OK

Track 10

Filename N:\EAC Rips\Various Artists - Sounds Of The Eighties - 1980\10 - Pat Benatar - Hit Me with Your Best Shot.wav

Pre-gap length 0:00:02.76

Peak level 69.5 %
Extraction speed 3.4 X
Track quality 100.0 %
Test CRC EF09D777
Copy CRC EF09D777
Cannot be verified as accurate (confidence 29) [D66D7C18], AccurateRip returned [17FE5A6D] (AR v2)
Copy OK

Track 11

Filename N:\EAC Rips\Various Artists - Sounds Of The Eighties - 1980\11 - Rocky Burnette - Tired Of Toein' the Line.wav

Pre-gap length 0:00:02.96

Peak level 88.5 %
Extraction speed 2.7 X
Track quality 99.9 %
Test CRC C397A351
Copy CRC C397A351
Cannot be verified as accurate (confidence 27) [A66959A7], AccurateRip returned [D58B8965] (AR v2)
Copy OK

Track 12

Filename N:\EAC Rips\Various Artists - Sounds Of The Eighties - 1980\12 - Gary Numan - Cars.wav

Pre-gap length 0:00:03.37

Peak level 67.6 %
Extraction speed 3.8 X
Track quality 100.0 %
Test CRC BAD488BD
Copy CRC BAD488BD
Cannot be verified as accurate (confidence 30) [C67C4CB8], AccurateRip returned [B0DC8990] (AR v2)
Copy OK

Track 13

Filename N:\EAC Rips\Various Artists - Sounds Of The Eighties - 1980\13 - Donna Summer - The Wanderer.wav

Pre-gap length 0:00:03.17

Peak level 67.5 %
Extraction speed 3.9 X
Track quality 100.0 %
Test CRC 5FF0F868
Copy CRC 5FF0F868
Cannot be verified as accurate (confidence 28) [940A9868], AccurateRip returned [9124A286] (AR v2)
Copy OK

Track 14

Filename N:\EAC Rips\Various Artists - Sounds Of The Eighties - 1980\14 - Smokey Robinson - Cruisin'.wav

Pre-gap length 0:00:03.80

Peak level 89.3 %
Extraction speed 3.1 X
Track quality 99.9 %
Test CRC F717A8E5
Copy CRC F717A8E5
Cannot be verified as accurate (confidence 28) [D381E3C8], AccurateRip returned [FCF155EC] (AR v2)
Copy OK

Track 15

Filename N:\EAC Rips\Various Artists - Sounds Of The Eighties - 1980\15 - Irene Cara - Fame.wav

Pre-gap length 0:00:03.37

Peak level 93.2 %
Extraction speed 4.2 X
Track quality 100.0 %
Test CRC A1D23C12
Copy CRC A1D23C12
Cannot be verified as accurate (confidence 28) [9F860E16], AccurateRip returned [28ACBAF6] (AR v2)
Copy OK

Track 16

Filename N:\EAC Rips\Various Artists - Sounds Of The Eighties - 1980\16 - Olivia Newton-John - Magic.wav

Pre-gap length 0:00:03.17

Peak level 93.2 %
Extraction speed 4.3 X
Track quality 100.0 %
Test CRC 14121866
Copy CRC 14121866
Cannot be verified as accurate (confidence 27) [5F2D984F], AccurateRip returned [50AEA429] (AR v2)
Copy OK

Track 17

Filename N:\EAC Rips\Various Artists - Sounds Of The Eighties - 1980\17 - Pointer Sisters - He's So Shy.wav

Pre-gap length 0:00:03.70

Peak level 94.0 %
Extraction speed 3.0 X
Track quality 99.9 %
Test CRC E06C4AE0
Copy CRC E06C4AE0
Cannot be verified as accurate (confidence 28) [A81BED44], AccurateRip returned [DABB846A] (AR v2)
Copy OK

Track 18

Filename N:\EAC Rips\Various Artists - Sounds Of The Eighties - 1980\18 - Christopher Cross - Sailing.wav

Pre-gap length 0:00:03.04

Peak level 81.3 %
Extraction speed 3.2 X
Track quality 99.9 %
Test CRC 3DD75BCF
Copy CRC 3DD75BCF
Cannot be verified as accurate (confidence 27) [F2D463B7], AccurateRip returned [BDC7BF9D] (AR v2)
Copy OK


No tracks could be verified as accurate
You may have a different pressing from the one(s) in the database

No errors occurred

End of status report

–– CUETools DB Plugin V2.1.6

[CTDB TOCID: 0hxzpm_JnRpKZbb__WskOGpYs4s-] found
Submit result: 0hxzpm_JnRpKZbb__WskOGpYs4s- has been confirmed
Track | CTDB Status
1 | (23/23) Accurately ripped
2 | (22/23) Accurately ripped, or (1/23) differs in 4 samples @02:09:04,02:16:32
3 | (23/23) Accurately ripped
4 | (23/23) Accurately ripped
5 | (23/23) Accurately ripped
6 | (23/23) Accurately ripped
7 | (23/23) Accurately ripped
8 | (23/23) Accurately ripped
9 | (23/23) Accurately ripped
10 | (22/23) Accurately ripped
11 | (23/23) Accurately ripped
12 | (23/23) Accurately ripped
13 | (22/23) Accurately ripped
14 | (23/23) Accurately ripped
15 | (23/23) Accurately ripped
16 | (23/23) Accurately ripped
17 | (23/23) Accurately ripped
18 | (23/23) Accurately ripped


==== Log checksum 07A22C33E8AC7B1D2E3F6AFA681AC759F5A9C792101587650CBA78DA7A3A4C99 ====
======================================
Exact Audio Copy V1.1 from 23. June 2015

EAC extraction logfile from 3. February 2017, 19:27

Various / Sounds Of The Eighties - 1980-1982

Used drive : TSSTcorpDVDWBD SH-B123L Adapter: 1 ID: 0

Read mode : Secure
Utilize accurate stream : Yes
Defeat audio cache : Yes
Make use of C2 pointers : No

Read offset correction : 6
Overread into Lead-In and Lead-Out : No
Fill up missing offset samples with silence : Yes
Delete leading and trailing silent blocks : No
Null samples used in CRC calculations : Yes
Used interface : Native Win32 interface for Win NT & 2000
Gap handling : Appended to previous track

Used output format : User Defined Encoder
Selected bitrate : 1024 kBit/s
Quality : High
Add ID3 tag : No
Command line compressor : J:\Program Files (x86)\FlacSquisher\flac.exe
Additional command line options : -8 -e -p -V -T "ARTIST=%artist%" -T "TITLE=%title%" -T "ALBUM=%albumtitle%" -T "DATE=%year%" -T "TRACKNUMBER=%tracknr%" -T "GENRE=%genre%" -T "PERFORMER=%albuminterpret%" -T "COMPOSER=%composer%" %haslyrics%–tag-from-file=LYRICS="%lyricsfile%"%haslyrics% -T "ALBUMARTIST=%albumartist%" -T "DISCNUMBER=%cdnumber%" -T "TOTALDISCS=%totalcds%" -T "TOTALTRACKS=%numtracks%" -T "COMMENT=%comment%" %source% -o %dest%


TOC of the extracted CD

Track | Start | Length | Start sector | End sector
––––––––––––––––––––––––––––-
1 | 0:00.00 | 3:41.55 | 0 | 16629
2 | 3:41.55 | 3:29.10 | 16630 | 32314
3 | 7:10.65 | 4:25.72 | 32315 | 52261
4 | 11:36.62 | 5:38.30 | 52262 | 77641
5 | 17:15.17 | 3:51.43 | 77642 | 95009
6 | 21:06.60 | 3:46.00 | 95010 | 111959
7 | 24:52.60 | 3:01.17 | 111960 | 125551
8 | 27:54.02 | 3:55.68 | 125552 | 143244
9 | 31:49.70 | 4:03.47 | 143245 | 161516
10 | 35:53.42 | 4:06.53 | 161517 | 180019
11 | 40:00.20 | 3:41.35 | 180020 | 196629
12 | 43:41.55 | 4:04.20 | 196630 | 214949
13 | 47:46.00 | 3:20.67 | 214950 | 230016
14 | 51:06.67 | 4:36.68 | 230017 | 250784
15 | 55:43.60 | 3:15.32 | 250785 | 265441
16 | 58:59.17 | 4:19.30 | 265442 | 284896
17 | 63:18.47 | 4:20.55 | 284897 | 304451
18 | 67:39.27 | 3:49.33 | 304452 | 321659


Track 1

Filename N:\EAC Rips\Various Artists - Sounds Of The Eighties - 1980-1982\01 - Steve Miller - Abracadabra.wav

Pre-gap length 0:00:02.00

Peak level 75.3 %
Extraction speed 1.8 X
Track quality 99.9 %
Test CRC 020F1FC1
Copy CRC 020F1FC1
Accurately ripped (confidence 23) [30D64973] (AR v2)
Copy OK

Track 2

Filename N:\EAC Rips\Various Artists - Sounds Of The Eighties - 1980-1982\02 - Huey Lewis And The News - Do You Believe In Love.wav

Pre-gap length 0:00:01.44

Peak level 77.3 %
Extraction speed 2.0 X
Track quality 99.9 %
Test CRC 0683E5A7
Copy CRC 0683E5A7
Accurately ripped (confidence 22) [0C66BB82] (AR v2)
Copy OK

Track 3

Filename N:\EAC Rips\Various Artists - Sounds Of The Eighties - 1980-1982\03 - Fleetwood Mac - Gypsy.wav

Pre-gap length 0:00:02.26

Peak level 81.2 %
Extraction speed 2.2 X
Track quality 99.9 %
Test CRC 222CD24C
Copy CRC 222CD24C
Accurately ripped (confidence 21) [A3BF22B8] (AR v2)
Copy OK

Track 4

Filename N:\EAC Rips\Various Artists - Sounds Of The Eighties - 1980-1982\04 - Blondie - Rapture.wav

Pre-gap length 0:00:02.42

Peak level 86.8 %
Extraction speed 2.9 X
Track quality 100.0 %
Test CRC E5611B42
Copy CRC E5611B42
Accurately ripped (confidence 22) [9592F51A] (AR v2)
Copy OK

Track 5

Filename N:\EAC Rips\Various Artists - Sounds Of The Eighties - 1980-1982\05 - KC And The Sunshine Band - Please Don't Go.wav

Pre-gap length 0:00:01.60

Peak level 81.9 %
Extraction speed 3.0 X
Track quality 100.0 %
Test CRC EF0D68E0
Copy CRC EF0D68E0
Accurately ripped (confidence 22) [8C8532DA] (AR v2)
Copy OK

Track 6

Filename N:\EAC Rips\Various Artists - Sounds Of The Eighties - 1980-1982\06 - Daryl Hall And John Oates - I Can't Go For That (No Can Do).wav

Pre-gap length 0:00:01.64

Peak level 82.0 %
Extraction speed 3.1 X
Track quality 100.0 %
Test CRC 3FC38CBF
Copy CRC 3FC38CBF
Accurately ripped (confidence 22) [F80AA85D] (AR v2)
Copy OK

Track 7

Filename N:\EAC Rips\Various Artists - Sounds Of The Eighties - 1980-1982\07 - Rick Springfield - Don't Talk To Strangers.wav

Pre-gap length 0:00:01.40

Peak level 68.9 %
Extraction speed 2.3 X
Track quality 99.9 %
Test CRC 72F5346A
Copy CRC 72F5346A
Accurately ripped (confidence 22) [CAFFACB2] (AR v2)
Copy OK

Track 8

Filename N:\EAC Rips\Various Artists - Sounds Of The Eighties - 1980-1982\08 - Christopher Cross - Arthur's Theme (Best That You Can Do).wav

Pre-gap length 0:00:01.89

Peak level 86.8 %
Extraction speed 3.4 X
Track quality 100.0 %
Test CRC 02CEBB75
Copy CRC 02CEBB75
Accurately ripped (confidence 23) [7FEE816F] (AR v2)
Copy OK

Track 9

Filename N:\EAC Rips\Various Artists - Sounds Of The Eighties - 1980-1982\09 - Air Supply - All Out Of Love.wav

Pre-gap length 0:00:01.86

Peak level 86.8 %
Extraction speed 3.5 X
Track quality 100.0 %
Test CRC ADF5AACC
Copy CRC ADF5AACC
Accurately ripped (confidence 22) [2520A84A] (AR v2)
Copy OK

Track 10

Filename N:\EAC Rips\Various Artists - Sounds Of The Eighties - 1980-1982\10 - Donna Summer - On The Radio.wav

Pre-gap length 0:00:02.00

Peak level 80.5 %
Extraction speed 3.6 X
Track quality 100.0 %
Test CRC 59F86F86
Copy CRC 59F86F86
Accurately ripped (confidence 22) [025D465B] (AR v2)
Copy OK

Track 11

Filename N:\EAC Rips\Various Artists - Sounds Of The Eighties - 1980-1982\11 - Diana Ross - Upside Down.wav

Pre-gap length 0:00:01.84

Peak level 76.4 %
Extraction speed 3.7 X
Track quality 100.0 %
Test CRC 4AA42E4B
Copy CRC 4AA42E4B
Accurately ripped (confidence 22) [52A0D9C6] (AR v2)
Copy OK

Track 12

Filename N:\EAC Rips\Various Artists - Sounds Of The Eighties - 1980-1982\12 - Spinners - Working My Way Back To You Forgive Me Girl.wav

Pre-gap length 0:00:01.93

Peak level 86.8 %
Extraction speed 3.9 X
Track quality 100.0 %
Test CRC F5A1B5F6
Copy CRC F5A1B5F6
Accurately ripped (confidence 22) [D98C786B] (AR v2)
Copy OK

Track 13

Filename N:\EAC Rips\Various Artists - Sounds Of The Eighties - 1980-1982\13 - Bertie Higgins - Key Largo.wav

Pre-gap length 0:00:02.33

Peak level 77.3 %
Extraction speed 3.9 X
Track quality 100.0 %
Test CRC 02DC6597
Copy CRC 02DC6597
Accurately ripped (confidence 22) [6B630FCA] (AR v2)
Copy OK

Track 14

Filename N:\EAC Rips\Various Artists - Sounds Of The Eighties - 1980-1982\14 - Thirty-Eight Special - Caught Up In You.wav

Pre-gap length 0:00:02.66

Peak level 86.6 %
Extraction speed 3.2 X
Track quality 99.9 %
Test CRC CEE43168
Copy CRC CEE43168
Accurately ripped (confidence 21) [6758FDA6] (AR v2)
Copy OK

Track 15

Filename N:\EAC Rips\Various Artists - Sounds Of The Eighties - 1980-1982\15 - Linda Ronstadt - Hurt So Bad.wav

Pre-gap length 0:00:02.44

Peak level 100.0 %
Extraction speed 4.1 X
Track quality 100.0 %
Test CRC 80A62633
Copy CRC 80A62633
Accurately ripped (confidence 22) [10ADE3A6] (AR v2)
Copy OK

Track 16

Filename N:\EAC Rips\Various Artists - Sounds Of The Eighties - 1980-1982\16 - Marty Balin - Hearts.wav

Pre-gap length 0:00:02.56

Peak level 76.2 %
Extraction speed 4.4 X
Track quality 100.0 %
Test CRC 14D73CA0
Copy CRC 14D73CA0
Accurately ripped (confidence 22) [8E3B2B95] (AR v2)
Copy OK

Track 17

Filename N:\EAC Rips\Various Artists - Sounds Of The Eighties - 1980-1982\17 - Doobie Brothers - Real Love.wav

Pre-gap length 0:00:02.60

Peak level 86.5 %
Extraction speed 4.5 X
Track quality 100.0 %
Test CRC A5F9A956
Copy CRC A5F9A956
Accurately ripped (confidence 19) [F143ABDB] (AR v2)
Copy OK

Track 18

Filename N:\EAC Rips\Various Artists - Sounds Of The Eighties - 1980-1982\18 - Manhattans - Shining Star.wav

Pre-gap length 0:00:02.82

Peak level 74.3 %
Extraction speed 3.1 X
Track quality 99.9 %
Test CRC 71038FF7
Copy CRC 71038FF7
Accurately ripped (confidence 21) [C1619EE0] (AR v2)
Copy OK


All tracks accurately ripped

No errors occurred

End of status report

–– CUETools DB Plugin V2.1.6

[CTDB TOCID: cSc4YLb3qt7jnWKSda5l8UkBhgM-] found
Submit result: cSc4YLb3qt7jnWKSda5l8UkBhgM- has been confirmed
Track | CTDB Status
1 | (26/26) Accurately ripped
2 | (26/26) Accurately ripped
3 | (26/26) Accurately ripped
4 | (26/26) Accurately ripped
5 | (26/26) Accurately ripped
6 | (26/26) Accurately ripped
7 | (26/26) Accurately ripped
8 | (26/26) Accurately ripped
9 | (26/26) Accurately ripped
10 | (26/26) Accurately ripped
11 | (26/26) Accurately ripped
12 | (26/26) Accurately ripped
13 | (26/26) Accurately ripped
14 | (26/26) Accurately ripped
15 | (26/26) Accurately ripped
16 | (26/26) Accurately ripped
17 | (25/26) Accurately ripped
18 | (24/26) Accurately ripped


==== Log checksum B2A8F54BB5DEC7CFC1D459E4B2BE0D698F93468F73CBB82023F46C5510D98797 ====
===========================================
Exact Audio Copy V1.1 from 23. June 2015

EAC extraction logfile from 3. February 2017, 20:22

Various / Sounds Of The Eighties - 1981

Used drive : TSSTcorpDVDWBD SH-B123L Adapter: 1 ID: 0

Read mode : Secure
Utilize accurate stream : Yes
Defeat audio cache : Yes
Make use of C2 pointers : No

Read offset correction : 6
Overread into Lead-In and Lead-Out : No
Fill up missing offset samples with silence : Yes
Delete leading and trailing silent blocks : No
Null samples used in CRC calculations : Yes
Used interface : Native Win32 interface for Win NT & 2000
Gap handling : Appended to previous track

Used output format : User Defined Encoder
Selected bitrate : 1024 kBit/s
Quality : High
Add ID3 tag : No
Command line compressor : J:\Program Files (x86)\FlacSquisher\flac.exe
Additional command line options : -8 -e -p -V -T "ARTIST=%artist%" -T "TITLE=%title%" -T "ALBUM=%albumtitle%" -T "DATE=%year%" -T "TRACKNUMBER=%tracknr%" -T "GENRE=%genre%" -T "PERFORMER=%albuminterpret%" -T "COMPOSER=%composer%" %haslyrics%–tag-from-file=LYRICS="%lyricsfile%"%haslyrics% -T "ALBUMARTIST=%albumartist%" -T "DISCNUMBER=%cdnumber%" -T "TOTALDISCS=%totalcds%" -T "TOTALTRACKS=%numtracks%" -T "COMMENT=%comment%" %source% -o %dest%


TOC of the extracted CD

Track | Start | Length | Start sector | End sector
––––––––––––––––––––––––––––-
1 | 0:00.32 | 3:45.25 | 32 | 16931
2 | 3:45.57 | 3:22.15 | 16932 | 32096
3 | 7:07.72 | 3:23.65 | 32097 | 47386
4 | 10:31.62 | 4:37.15 | 47387 | 68176
5 | 15:09.02 | 3:54.38 | 68177 | 85764
6 | 19:03.40 | 3:42.40 | 85765 | 102454
7 | 22:46.05 | 3:25.50 | 102455 | 117879
8 | 26:11.55 | 4:01.25 | 117880 | 135979
9 | 30:13.05 | 4:15.62 | 135980 | 155166
10 | 34:28.67 | 3:31.00 | 155167 | 170991
11 | 37:59.67 | 3:16.15 | 170992 | 185706
12 | 41:16.07 | 3:49.45 | 185707 | 202926
13 | 45:05.52 | 3:52.20 | 202927 | 220346
14 | 48:57.72 | 5:40.53 | 220347 | 245899
15 | 54:38.50 | 3:22.65 | 245900 | 261114
16 | 58:01.40 | 3:45.42 | 261115 | 278031
17 | 61:47.07 | 3:51.33 | 278032 | 295389
18 | 65:38.40 | 3:39.67 | 295390 | 311881


Track 1

Filename N:\EAC Rips\Various Artists - Sounds Of The Eighties - 1981\01 - Kool and the Gang - Celebration.wav

Pre-gap length 0:00:02.42

Peak level 94.0 %
Extraction speed 2.1 X
Track quality 100.0 %
Test CRC 707723B3
Copy CRC 707723B3
Cannot be verified as accurate (confidence 28) [211D7EDA], AccurateRip returned [9D937EEB] (AR v2)
Copy OK

Track 2

Filename N:\EAC Rips\Various Artists - Sounds Of The Eighties - 1981\02 - Sheena Easton - Morning Train (Nine To Five).wav

Pre-gap length 0:00:02.76

Peak level 92.3 %
Extraction speed 1.9 X
Track quality 99.9 %
Test CRC 8DCA210B
Copy CRC 8DCA210B
Cannot be verified as accurate (confidence 30) [FE1DAE66], AccurateRip returned [451A31C8] (AR v2)
Copy OK

Track 3

Filename N:\EAC Rips\Various Artists - Sounds Of The Eighties - 1981\03 - REO Speedwagon - Keep On Loving You.wav

Pre-gap length 0:00:02.80

Peak level 85.7 %
Extraction speed 2.0 X
Track quality 99.9 %
Test CRC AD96752B
Copy CRC AD96752B
Cannot be verified as accurate (confidence 28) [BD801AE6], AccurateRip returned [22ADBE0C] (AR v2)
Copy OK

Track 4

Filename N:\EAC Rips\Various Artists - Sounds Of The Eighties - 1981\04 - Foreigner - Waiting for a Girl Like You.wav

Pre-gap length 0:00:02.80

Peak level 94.0 %
Extraction speed 2.3 X
Track quality 99.9 %
Test CRC 72DB4C44
Copy CRC 72DB4C44
Cannot be verified as accurate (confidence 28) [B1C1E5CC], AccurateRip returned [BE87564D] (AR v2)
Copy OK

Track 5

Filename N:\EAC Rips\Various Artists - Sounds Of The Eighties - 1981\05 - Pointer Sisters - Slow Hand.wav

Pre-gap length 0:00:02.80

Peak level 94.0 %
Extraction speed 2.8 X
Track quality 100.0 %
Test CRC F1D26EE6
Copy CRC F1D26EE6
Cannot be verified as accurate (confidence 29) [1959BD3D], AccurateRip returned [67F7A742] (AR v2)
Copy OK

Track 6

Filename N:\EAC Rips\Various Artists - Sounds Of The Eighties - 1981\06 - Ray Parker Jr. and Raydio - A Woman Needs Love (Just Like You Do).wav

Pre-gap length 0:00:02.80

Peak level 94.0 %
Extraction speed 2.9 X
Track quality 100.0 %
Test CRC F39E6972
Copy CRC F39E6972
Cannot be verified as accurate (confidence 29) [1E586E1C], AccurateRip returned [9C6A6F5E] (AR v2)
Copy OK

Track 7

Filename N:\EAC Rips\Various Artists - Sounds Of The Eighties - 1981\07 - Four Tops - When She Was My Girl.wav

Pre-gap length 0:00:02.77

Peak level 94.0 %
Extraction speed 3.0 X
Track quality 100.0 %
Test CRC 345EBA99
Copy CRC 345EBA99
Cannot be verified as accurate (confidence 28) [C5F79CD0], AccurateRip returned [F39080E4] (AR v2)
Copy OK

Track 8

Filename N:\EAC Rips\Various Artists - Sounds Of The Eighties - 1981\08 - Smokey Robinson - Being with You.wav

Pre-gap length 0:00:02.80

Peak level 96.3 %
Extraction speed 2.6 X
Track quality 99.9 %
Test CRC 7B402CD8
Copy CRC 7B402CD8
Cannot be verified as accurate (confidence 28) [E9DE18B0], AccurateRip returned [A8CE3DB9] (AR v2)
Copy OK

Track 9

Filename N:\EAC Rips\Various Artists - Sounds Of The Eighties - 1981\09 - Air Supply - The One That You Love.wav

Pre-gap length 0:00:02.80

Peak level 94.0 %
Extraction speed 3.4 X
Track quality 100.0 %
Test CRC 77A3FBBA
Copy CRC 77A3FBBA
Cannot be verified as accurate (confidence 29) [D5532138], AccurateRip returned [F9DFE9C2] (AR v2)
Copy OK

Track 10

Filename N:\EAC Rips\Various Artists - Sounds Of The Eighties - 1981\10 - Juice Newton - Queen Of Hearts.wav

Pre-gap length 0:00:02.80

Peak level 94.0 %
Extraction speed 3.5 X
Track quality 100.0 %
Test CRC 27DD0C58
Copy CRC 27DD0C58
Cannot be verified as accurate (confidence 30) [2DFDA832], AccurateRip returned [812F548E] (AR v2)
Copy OK

Track 11

Filename N:\EAC Rips\Various Artists - Sounds Of The Eighties - 1981\11 - Rick Springfield - Jessie's Girl.wav

Pre-gap length 0:00:02.80

Peak level 91.2 %
Extraction speed 2.6 X
Track quality 99.9 %
Test CRC B61C476B
Copy CRC B61C476B
Cannot be verified as accurate (confidence 29) [BAAD1362], AccurateRip returned [9BB1B45C] (AR v2)
Copy OK

Track 12

Filename N:\EAC Rips\Various Artists - Sounds Of The Eighties - 1981\12 - Kim Carnes - Bette Davis Eyes.wav

Pre-gap length 0:00:02.80

Peak level 94.0 %
Extraction speed 3.7 X
Track quality 100.0 %
Test CRC F102F17B
Copy CRC F102F17B
Cannot be verified as accurate (confidence 30) [AA94CA7C], AccurateRip returned [0E09F0A5] (AR v2)
Copy OK

Track 13

Filename N:\EAC Rips\Various Artists - Sounds Of The Eighties - 1981\13 - Daryl Hall and John Oates - Kiss on My List.wav

Pre-gap length 0:00:02.76

Peak level 94.0 %
Extraction speed 3.8 X
Track quality 100.0 %
Test CRC 96A7C820
Copy CRC 96A7C820
Cannot be verified as accurate (confidence 29) [CA2E0CEA], AccurateRip returned [36A16257] (AR v2)
Copy OK

Track 14

Filename N:\EAC Rips\Various Artists - Sounds Of The Eighties - 1981\14 - Earth, Wind and Fire - Let's Groove.wav

Pre-gap length 0:00:02.80

Peak level 94.0 %
Extraction speed 4.1 X
Track quality 100.0 %
Test CRC 85A7783F
Copy CRC 85A7783F
Cannot be verified as accurate (confidence 29) [E4E9976E], AccurateRip returned [52CBB991] (AR v2)
Copy OK

Track 15

Filename N:\EAC Rips\Various Artists - Sounds Of The Eighties - 1981\15 - Rick James - Super Freak (Part 1).wav

Pre-gap length 0:00:02.80

Peak level 94.0 %
Extraction speed 2.8 X
Track quality 99.9 %
Test CRC A2462E1E
Copy CRC A2462E1E
Cannot be verified as accurate (confidence 28) [49EBF574], AccurateRip returned [82370028] (AR v2)
Copy OK

Track 16

Filename N:\EAC Rips\Various Artists - Sounds Of The Eighties - 1981\16 - Gary U.S. Bonds - This Little Girl.wav

Pre-gap length 0:00:02.80

Peak level 94.0 %
Extraction speed 4.2 X
Track quality 100.0 %
Test CRC E26031C4
Copy CRC E26031C4
Cannot be verified as accurate (confidence 30) [71FFE2D7], AccurateRip returned [4A833594] (AR v2)
Copy OK

Track 17

Filename N:\EAC Rips\Various Artists - Sounds Of The Eighties - 1981\17 - The Moody Blues - Gemini Dream.wav

Pre-gap length 0:00:02.76

Peak level 94.0 %
Extraction speed 4.3 X
Track quality 100.0 %
Test CRC 0F8A429B
Copy CRC 0F8A429B
Cannot be verified as accurate (confidence 29) [8AA3D74B], AccurateRip returned [8FCFB8BE] (AR v2)
Copy OK

Track 18

Filename N:\EAC Rips\Various Artists - Sounds Of The Eighties - 1981\18 - Don McLean - Crying.wav

Pre-gap length 0:00:02.77

Peak level 94.0 %
Extraction speed 4.3 X
Track quality 100.0 %
Test CRC 0F43016E
Copy CRC 0F43016E
Cannot be verified as accurate (confidence 28) [A5CC0896], AccurateRip returned [F14F58FA] (AR v2)
Copy OK


No tracks could be verified as accurate
You may have a different pressing from the one(s) in the database

No errors occurred

End of status report

–– CUETools DB Plugin V2.1.6

[CTDB TOCID: lomXK22swQxJUI9cNjKBFan3Et4-] found
Submit result: lomXK22swQxJUI9cNjKBFan3Et4- has been confirmed
Track | CTDB Status
1 | (22/22) Accurately ripped
2 | (22/22) Accurately ripped
3 | (22/22) Accurately ripped
4 | (22/22) Accurately ripped
5 | (22/22) Accurately ripped
6 | (22/22) Accurately ripped
7 | (22/22) Accurately ripped
8 | (22/22) Accurately ripped
9 | (22/22) Accurately ripped
10 | (22/22) Accurately ripped
11 | (22/22) Accurately ripped
12 | (22/22) Accurately ripped
13 | (22/22) Accurately ripped
14 | (22/22) Accurately ripped
15 | (22/22) Accurately ripped
16 | (22/22) Accurately ripped
17 | (22/22) Accurately ripped
18 | (22/22) Accurately ripped


==== Log checksum 55509B9F57366332AF597CE7817E986B89378A1F5FFBB756C36520FDB6DD5864 ====
===========================================
All 25 log files included…