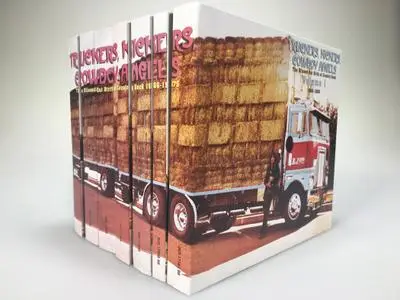 V.A.- Truckers, Kickers, Cowboy Angels: The Blissed-Out Birth of Country Rock (Volume 1-7, 2014-2015)
FLAC (*tracks+.cue,log) | Run Time: 14:56:41 | 5,26 Gb
Genre: Country, Folk, Rock | Label: Bear Family Records
On January 12, 1970, 'Time' magazine placed The Band on its cover with the headline, 'The New Sound of Country Rock.' In the taxonomy of popular music, Country Rock was now a thing, a categoryby 1970. There were Country Rock browser bins in some stores, and trade magazines like 'Billboard'routinely classified records as country-rock or country/rock, expecting readers to know what they meant.
A category as vague and fissiparous as Country Rock can be defined narrowly or broadly. We've focused on rock musicians who embraced the concision, narrative drive, melodicism, and folk roots of country music, but we've also included a few country artists reaching out the other way. Rock musicians began trekking to Nashville after Bob Dylan began recording in Nashville in 1966, and they come still. Taking their cue from Dylan, a new breed of country songwriters, led by John Hartford, Mickey Newbury, Willie Nelson, and Kris Kristofferson, began writing songs that dared to stray from the I-IV-V chord norm. A scene coalesced around them, attracting guys like Donnie Fritts, Billy Joe Shaver, and Tony Joe White. Before long, established country artists like Waylon Jennings and Johnny Cash began to think about not making records the way Nashville liked to make them. Whether from Nashville, Los Angeles, or someplace else, country rock was enough of a category by 1970 to attract artists who often understood neither country nor rock. We tried to avoid bandwagon jumpers, preferring those who brought an original spin to their music.
Licensing can be a problem with compilations like this. Artists as well-known as Crosby, Stills, Nash & Young and Creedence Clearwater Revival were unavailable to us, alongside inexplicable denials like Rig. Some artists like Shiloh were on labels that have fallen into a contractual black hole. So if a recording that seems to belong here is missing, there's probably a clause in an aging contract explaining that. Even so, there's still plenty to love on the road to 1975.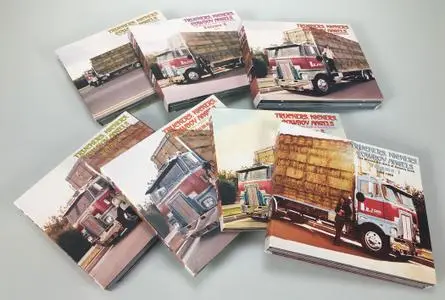 Contains CDs:
Volume 1: 1966-68
Volume 2: 1969
Volume 3: 1970
Volume 4: 1971
Volume 5: 1972
Volume 6: 1973
Volume 7: 1974-1975
Volume 1: 1966-68

01-01 - The International Submarine Band - Truck Driving Man
01-02 - Rick Nelson - You Just Can't Quit
01-03 - The Lovin' Spoonful - Nashville Cats
01-04 - Buffalo Springfield - Pay the Price
01-05 - Gene Clark; The Gosdin Brothers - Tried So Hard
01-06 - The Youngbloods - Grizzly Bear
01-07 - Gene Clark; The Gosdin Brothers - So You Say You Lost Your Baby
01-08 - The Gosdin Brothers - Tell Me
01-09 - The Lovin' Spoonful - Darlin' Companion
01-10 - The Everly Brothers - I'm Movin' On
01-11 - Bobbie Gentry - Ode to Billie Joe
01-12 - Buffalo Springfield - Child's Claim to Fame
01-13 - The Everly Brothers - Bowling Green
01-14 - Bobbie Gentry - Niki Hoeky
01-15 - The International Submarine Band - Luxury Liner
01-16 - The International Submarine Band - Blue Eyes
01-17 - The Monkees - What Am I Doing Hangin' Round
01-18 - The Byrds - Old John Robertson
01-19 - The Youngbloods - Sugar Babe
01-20 - Kenny Vernon - Ain't That a Shame
01-21 - Nashville West and The Reasons - Ode to Billie Joe

02-01 - The International Submarine Band - Do You Know How It Feels to Be Lonesome
02-02 - The Byrds - Wasn't Born to Follow
02-03 - Bob Dylan - I'll Be Your Baby Tonight
02-04 - The Band - The Weight
02-05 - Hearts & Flowers - She Sang Hymns Out of Tune
02-06 - The Band - I Shall Be Released
02-07 - The Byrds - You Ain't Going Nowhere
02-08 - The Byrds - Hickory Wind
02-09 - The Beau Brummels - Turn Around
02-10 - The Beau Brummels - The Loneliest Man in Town
02-11 - The Lovin' Spoonful - Never Goin' Back
02-12 - The Byrds - One Hundred Years from Now
02-13 - Doug Dillard; Gene Clark - Train Leaves Here This Morning
02-14 - The Spencers - Make Up Your Mind
02-15 - Doug Dillard; Gene Clark - The Radio Song
02-16 - The Dillards - Nobody Knows
02-17 - The Dillards - Listen to the Sound
02-18 - Dennis Payne - The Conscience of You
02-19 - The Everly Brothers - T for Texas
02-20 - The Everly Brothers - I Wonder If I Care As Much (#2)

Volume 2: 1969
1. The Byrds – Drug Store Truck Driving Man (03:55)
2. The Flying Burrito Brothers – Christine's Tune (03:05)
3. Doug Sahm – Texas Me (02:41)
4. Glen Campbell – Galveston (02:50)
5. Bob Dylan – Lay, Lady Lay (03:20)
6. The Band – The Night They Drove Old Dixie Down (03:35)
7. The Flying Burrito Brothers – Wheels (03:05)
8. The Corvettes – Back Home Girl (02:55)
9. Dillard & Clark – Through the Morning, Through the Night (04:07)
10. Buck Owens – Who's Gonna Mow Your Grass (02:24)
11. Poco – Pickin' Up the Pieces (03:23)
12. Doug Sahm – At the Crossroads (03:36)
13. The Band – Up on Cripple Creek (04:35)
14. The Flying Burrito Brothers – Sin City (04:13)
15. The Corvettes – Level With Your Senses (02:25)
16. Linda Ronstadt – Silver Threads & Golden Needles (02:23)
17. The Flying Burrito Brothers – Hot Burrito (03:41)
18. Elvis Presley – I'm Movin' On (02:55)
19. Sanland Bros. – Vaccination for the Blues (01:52)
20. Poco – Make Me Smile (03:22)
21. Linda Ronstadt – We Need a Whole Lot More Jesus (02:32)
22. Townes Van Zandt – Lungs (02:28)
23. Kenny Rogers & The First Edition – Ruby (03:01)

Volume 3: 1970

Disc: 1
1. The Allman Brothers Band: Midnight Rider
2. Delaney & Bonnie and Friends: Living On The Open Road
3. Cowboy: Livin' In The Country
4. The Band: Just Another Whistle Stop
5. Jesse Winchester: Biloxi
6. The Flying Burrito Brothers: Lazy Days
7. Wayne Douglas aka Doug Sahm - the Sir Douglas Quintet: Be Real
8. Kris Kristofferson: The Best Of All Possible Worlds
9. Grateful Dead: Casey Jones
10. Jefferson Airplane: The Farm
11. Moby Grape: Right Before My Eyes
12. Michael Nesmith & The First National Band: Joanne
13. Nitty Gritty Dirt Band: Some Of Shelly's Blue
14. Townes Van Zandt: Delta Mama Blues
15. David Alan Coe: Walkin' Bum
16. Rick Nelson: California
17. Eric Andersen: Just A Country Dream
18. Poco: You Better Think Twice
19. Brewer & Shipley: One Toke Over The Line

Disc: 2
1. Linda Ronstadt: He Darked The Sun
2. The Flying Burrito Brothers: God's Own Singer
3. Swampwater: Big Bayou
4. The Band: The W.S. Walcott Medicine Show
5. David Allan Coe: Tobacco Road
6. Goose Creek Symphony: Charlie's Tune
7. Country Funk: Really My Friend
8. Grateful Dead: Truckin'
9. Jefferson Airplane: A Song For All Seasons
10. Morning: Tell Me A Story
11. Michael Nesmith & The First National Band: Silver Moon
12. Poco: Hurry Up
13. Townes Van Zandt: Where I Lead Me
14. Rusty Kershaw: The Country Boy
15. Wildweeds: Mare, Take Me Home
16. Jesse Winchester: Snow
17. Kris Kristofferson: Sunday Morning Coming Down
18. Janis Joplin: Me And Bobby McGee
19. Townes Van Zandt: Delta Mama Blues (unissued)

Volume 4: 1971

CD 1
01. Commander Cody & His Lost Planet Airmen - Hot Rod Lincoln
02. Hoyt Axton - Never Been To Spain
03. Link Wray - La De Da
04. Gene Clark - White Light
05. Alex Harvey - Tulsa Turnaround
06. Kris Kristofferson - The Pilgrim Chapter 33
07. Johnny Cash - Singing In Viet Nam Talking Blues
08. Lonnie Mack - Three Angels
09. The Flying Burrito Brothers - Colorado
10. Michael Nesmith & The First National Band - Grand Ennui
11. The Band - When I Paint My Masterpiece
12. New Riders Of The Purple Sage - Henry
13. Commander Cody & His Lost Planet Airmen - Seeds And Stems Again
14. John Prine Angel From Montgomery
15. JJ Cale - Crazy Mama
16. Brave Belt - Crazy Arms, Crazy Eyes
17. Cochise - Lost Hearts
18. Cowboy - Please Be With Me
19. Heads Hands And Feet - Country Boy

CD 2
01. Delaney & Bonnie & Friends - Never Ending Song Of Love
02. Little Feat - Willin'
03. Ry Cooder - Taxes On The Farmer Feeds Us All
04. Lonnie Mack - Asphalt Outlaw Hero
05. Kris Kristofferson - Good Christian Soldier
06. John Prine - Paradise
07. Gene Clark - For A Spanish Guitar
08. New Riders Of The Purple Sage - Glendale Train
09. Michael Nesmith & The First National Band - Tumbling Tumbleweeds
10. The Flying Burrito Brothers- Hand To Mouth
11. Rick Nelson - This Train
12. Twin Engine My Life Gets Better Every Day
13. Alex Harvey - Delta Dawn
14. Mordicai Jones - All Because Of A Woman
15. Doug Kershaw - Who Needs That Kind Of Friend
16. Poco - Bad Weather
17. Mickey Newbury - The Future's Not What It Used To Be
18. Link Wray - Fire And Brimstone
19. Sir Douglas Quintet - Wasted Days, Wasted Nights (AKA Wasted Days And Wasted Nights)
20. Commander Cody & His Lost Planet Airmen- Lost In The Ozone

Volume 5: 1972

Disc 1
1. Danny O'Keefe – Good Time Charlie's Got The Blues (02:58)
2. Delbert & Glen – I Recieved A Letter (02:50)
3. Bobby Charles – Tennessee Blues (04:58)
4. The Byrds – Lazy Waters (03:31)
5. J.J. Cale – After Midnight (02:20)
6. Townes Van Zandt – You Are Not Needed Now (04:12)
7. Jimmie Dale and The Flatlanders – Dalles (02:42)
8. Ry Cooder – Boomer's Story (04:12)
9. Kris Kristofferson – Border Lord (03:35)
10. Jonathan Edwards – Honky Tonk Stardust Cowboy (03:31)
11. New Riders Of The Purple Sage – Rainbow (03:01)
12. Michael Nesmith – Different Drum (03:00)
13. Chip Taylor – Gasoline (02:12)
14. Pure Prairie League – Tears (02:42)
15. John Hartford – Nobody Eats At Linebaugh's Anymore (04:50)
16. John Prine – The Great Compromise (04:52)
17. Jimmie Dale and The Flatlanders – You've Never Seen Me Cry (02:10)
18. Dan Hicks And His Hot Licks – Walkin' One And Only

Disc 2
1. Bobby Charles – Small Town Talk (03:24)
2. J.J. Cale – Clyde (02:28)
3. Danny O'Keefe – The Road (03:48)
4. Delbert & Glen – Ain't What You Eat But The Way How You Chew It (02:17)
5. Doug Kershaw – Super Cowboy (03:03)
6. Everly Brothers – I'm Tired Of Singing My Song In Las Vegas (03:12)
7. Ricky Nelson – Garden Party (03:45)
8. Rick Roberts – In My Own Small Way (02:57)
9. Dan Fogelberg – Anyway I Love You (03:46)
10. Pure Prairie League – Early Morning Riser (05:04)
11. The Byrds – B.B. Class Road (02:15)
12. Chip Taylor – Dirty Matthew (03:06)
13. J. D. Souther – The Fast One (03:08)
14. Uncle Jim's Music – Once In A Great While (02:54)
15. New Riders Of The Purple Sage – Dim Lights, Thick Smoke (And Loud, Loud Music) (04:15)
16. Kris Kristofferson – Smokey Put The Sweat On me (03:07)
17. Jimmie Dale and The Flatlanders – tonight I Think I'm Gonna Go Downtown (02:41)
18. Gary Scruggs & Randy Scruggs – Rock'n' Roll Gypsies (02:55)
19. Nitty Gritty Dirt Band – Will The Circle Be unbroken (04:49)

Volume 6: 1973

Disc: 1
1. Sahm, Doug and Band - (Is Anybody Going to) San Antone
2. Nelson, Willie - Shotgun Willie
3. Parsons, Gram - That'S All It Took
4. Delbert & Glen - California Livin'
5. Zandt, Townes Van - Pancho & Lefty
6. Walker, Jerry Jeff - Gettin' By
7. Bare, Bobby - Ride Me Down Easy
8. Shaver, Billy Joe - Old Five and Dimers Like Me
9. Cale, J.J. - If You'Re Ever in Oklahoma
10. Wilson, Hank - Roll in My Sweet Baby'S Arms
11. Clark, Gene - Don't This Road Look Rough and Rocky (Aka Rough and Rocky)
12. Earl Scruggs Revue, the - Salty Dog Blues
13. New Riders of the Purple Sage - Lonesome L.A. Cowboy
14. Band, the - Crying Heart Blues
15. Goose Creek Symphony - (Oh Lord Won't You Buy Me a) Mercedes Benz
16. Roberts, Rick - Glad to Be Goin'
17. Ozark Mountain Daredevils - Country Girl
18. Borderline - Please Help Me Forget
19. Linde, Dennis - Burning Love
20. Little Feat - Roll Um Easy
21. Hicks, Dan & His Hot Licks - Payday Blues
22. Sahm, Doug and Band - It'S Gonna Be Easy
23. Walker, Jerry Jeff - Up Against the Wall, Redneck Mother

Disc: 2
1. Nelson, Willie - the Troublemaker
2. Axton, Hoyt - Sweet Misery
3. Cale, J.J. - Lies
4. Little Feat - Dixie Chicken
5. Allman Brothers Band, the - Ramblin' Man
6. Parsons, Gram - She
7. Earl Scruggs Revue, the - If I'D Only Come and Gone
8. Asleep at the Wheel - Take Me Back to Tulsa
9. Walker, Jerry Jeff - Sangria Wine
10. Commander Cody - Everybody'S Doing It
11. Ford, Jim - Big Mouth USA
12. Delbert & Glen - to Be with You
13. Friedman, Kinky - Sold American
14. Goose Creek Symphony - Me and Him
15. Nesmith, Michael - Winonah
16. Clark, Gene - Here Tonight
17. Parsons, Gene - Sonic Bummer
18. Taylor, Chip - 101 in Cashbox
19. Shaver, Billy Joe - I Been to Georgia on a Fast Train
20. Zandt, Townes Van - If I Needed You
21. Parsons, Gram & Harris, Emmylou - Sleepless Nights
22. Sir Douglas Quintet, the - Texas Tornado
23. Walker, Jerry Jeff - London Homesick Blues

Volume 7: 1974-1975

Disc 1
1. Gram Parsons & Emmylou Harris – Return Of The Grievous Angel (04:22)
2. Gene Clark – Life's Greatest Fool (04:43)
3. New Riders Of The Purple Sage – Crooked Judge (02:56)
4. The Flying Burrito Bros – Building Fires (04:19)
5. Richard Betts – Long Time Gone (04:30)
6. J.J. Cale – Cajun Moon (02:11)
7. Hoyt Axton – When The Morning Comes (03:29)
8. Willie Nelson & Tracy Nelson – After The Fire Is Gone (03:02)
9. Waylon Jennings – Are You Sure Hank Done It This Way (02:54)
10. Hank Williams Jr. – Stoned At The Jukebox (02:44)
11. The Charlie Daniels Band – Willie Jones (03:11)
12. Muleskinner – Muleskinner Blues (03:12)
13. Barefoot Jerry – Mother Nature's Way Of Saying High (05:39)
14. Larry Jon Wilson – Ohoopee River Bottomland (03:40)
15. Guy Clark – L.A. Freeway (04:56)
16. Nitty Gritty Dirt Band – Ripplin' Waters (05:44)
17. The Souther-Hillman-Furay Band – Border Town (03:51)
18. The Doobie Brothers – Tell Me What You Want (And I'll Give You What You Need) (03:49)
19. Billy Swan – I Can Help (03:59)
20. Outlaws – Another Love Song (03:03)
21. Willie Nelson – Bloody Mary Morning (02:47)
22. Gram Parsons – Brass Buttons (03:28)

Disc 2
1. The Souther-Hillman-Furay Band – trouble In Paradise (05:03)
2. Outlaws – Knoxville Girl (03:29)
3. Gene Clark – From A Silver Phial (03:40)
4. Muleskinner – Runways Of The Moon (04:19)
5. Gram Parsons & Emmylou Harris – In My Hour Of Darkness (03:42)
6. The Flying Burrito Bros – Sweet Desert Childhood (03:44)
7. Commander Cody And His Lost Planet Airmen – Southbound (02:17)
8. Kinky Friedman – Something's Wrong With The Beaver (02:47)
9. Barefoot Jerry – Slowin' Down (03:42)
10. The Ozark Mountain Daredevils – E. E. Lawson (03:32)
11. Johnny Rivers – Wait A Minute (04:15)
12. Billy Swan – Lover Please (02:49)
13. Donnie Fritts – We Had It All (02:58)
14. The Lost Gonzo Band – Railroad Man (04:34)
15. Jesse Winchester – Mississippi You're On My Mind (03:24)
16. Sir Doug & The Texas Tornados – Cowboy Peyton Place (03:35)
17. Guy Clark – Desperadoes Waiting For A Train (04:30)
18. Emmylou Harris – Boulder To Birmingham (03:30)
19. The Wright Brothers Overland Stage Company – Wild Wicked Woman Of The West (04:53)
20. John Prine – Coma Back To Us Barbara Lewis Hare Krishna Beauregard (03:16)
21. Willie Nelson – Blue Eyes Crying In The Rain (02:18)
Exact Audio Copy V1.0 beta 6 from 9. April 2015

EAC extraction logfile from 21. June 2015, 0:29

va / Truckers, Kickers, Cowboy Angels, Vol. 1, disc 1 (1966-68)

Used drive : HL-DT-STDVDRWBD CA40N Adapter: 1 ID: 0

Read mode : Secure
Utilize accurate stream : Yes
Defeat audio cache : Yes
Make use of C2 pointers : No

Read offset correction : 102
Overread into Lead-In and Lead-Out : No
Fill up missing offset samples with silence : Yes
Delete leading and trailing silent blocks : No
Null samples used in CRC calculations : Yes
Used interface : Native Win32 interface for Win NT & 2000
Gap handling : Appended to previous track

Used output format : User Defined Encoder
Selected bitrate : 768 kBit/s
Quality : High
Add ID3 tag : No
Command line compressor : C:\Program Files (x86)\Exact Audio Copy\FLAC\FLAC.EXE
Additional command line options : -8 -V -T "ARTIST=%artist%" -T "TITLE=%title%" -T "ALBUM=%albumtitle%" -T "DATE=%year%" -T "TRACKNUMBER=%tracknr%" -T "GENRE=%genre%" -T "PERFORMER=%albuminterpret%" -T "COMPOSER=%composer%" %haslyrics%–tag-from-file=LYRICS="%lyricsfile%"%haslyrics% -T "ALBUMARTIST=%albumartist%" -T "DISCNUMBER=%cdnumber%" -T "TOTALDISCS=%totalcds%" -T "TOTALTRACKS=%numtracks%" -T "COMMENT=%comment%" %source% -o %dest%


TOC of the extracted CD

Track | Start | Length | Start sector | End sector
––––––––––––––––––––––––––––-
1 | 0:00.00 | 2:36.72 | 0 | 11771
2 | 2:36.72 | 2:22.28 | 11772 | 22449
3 | 4:59.25 | 2:36.74 | 22450 | 34223
4 | 7:36.24 | 2:39.67 | 34224 | 46215
5 | 10:16.16 | 2:22.51 | 46216 | 56916
6 | 12:38.67 | 2:24.43 | 56917 | 67759
7 | 15:03.35 | 2:10.02 | 67760 | 77511
8 | 17:13.37 | 3:06.49 | 77512 | 91510
9 | 20:20.11 | 2:23.06 | 91511 | 102241
10 | 22:43.17 | 2:28.49 | 102242 | 113390
11 | 25:11.66 | 4:16.27 | 113391 | 132617
12 | 29:28.18 | 2:14.00 | 132618 | 142667
13 | 31:42.18 | 2:49.43 | 142668 | 155385
14 | 34:31.61 | 2:48.42 | 155386 | 168027
15 | 37:20.28 | 2:53.61 | 168028 | 181063
16 | 40:14.14 | 2:49.63 | 181064 | 193801
17 | 43:04.02 | 3:12.52 | 193802 | 208253
18 | 46:16.54 | 1:55.28 | 208254 | 216906
19 | 48:12.07 | 2:14.47 | 216907 | 227003
20 | 50:26.54 | 2:01.72 | 227004 | 236150
21 | 52:28.51 | 3:43.55 | 236151 | 252930


Track 1

Filename C:\Rip\01 - Int'l Submarine Band - Truck Driving Man.wav

Pre-gap length 0:00:02.00

Peak level 79.4 %
Extraction speed 2.3 X
Track quality 100.0 %
Test CRC 658B4439
Copy CRC 658B4439
Accurately ripped (confidence 1) [A68CD3D3] (AR v2)
Copy OK

Track 2

Filename C:\Rip\02 - Rick Nelson - You Just Can't Quit.wav

Pre-gap length 0:00:02.06

Peak level 91.2 %
Extraction speed 2.4 X
Track quality 100.0 %
Test CRC F3AB98D4
Copy CRC F3AB98D4
Accurately ripped (confidence 1) [13D9C916] (AR v2)
Copy OK

Track 3

Filename C:\Rip\03 - Lovin' Spoonful - Nashville Cats.wav

Pre-gap length 0:00:02.06

Peak level 97.7 %
Extraction speed 1.7 X
Track quality 99.8 %
Test CRC B53F26EB
Copy CRC B53F26EB
Accurately ripped (confidence 1) [D6864B5A] (AR v2)
Copy OK

Track 4

Filename C:\Rip\04 - Buffalo Springfield - Pay the Price.wav

Pre-gap length 0:00:02.36

Peak level 71.6 %
Extraction speed 2.8 X
Track quality 100.0 %
Test CRC A0A78CF0
Copy CRC A0A78CF0
Accurately ripped (confidence 1) [9BB62DAB] (AR v2)
Copy OK

Track 5

Filename C:\Rip\05 - Gene Clark & Gosden Bros. - Tried So Hard.wav

Pre-gap length 0:00:02.06

Peak level 89.1 %
Extraction speed 2.8 X
Track quality 100.0 %
Test CRC D3EF4107
Copy CRC D3EF4107
Accurately ripped (confidence 1) [BDACE7D8] (AR v2)
Copy OK

Track 6

Filename C:\Rip\06 - The Youngbloods - Grizzly Bear.wav

Pre-gap length 0:00:02.06

Peak level 77.6 %
Extraction speed 3.1 X
Track quality 100.0 %
Test CRC 4CF9ECAD
Copy CRC 4CF9ECAD
Accurately ripped (confidence 1) [C5120614] (AR v2)
Copy OK

Track 7

Filename C:\Rip\07 - Gene Clark & Gosden Bros. - So You Say You Lost Your Baby.wav

Peak level 89.1 %
Extraction speed 3.1 X
Track quality 100.0 %
Test CRC C09B3C10
Copy CRC C09B3C10
Accurately ripped (confidence 1) [358682DF] (AR v2)
Copy OK

Track 8

Filename C:\Rip\08 - Gosden Bros. - Tell Me.wav

Peak level 74.9 %
Extraction speed 3.5 X
Track quality 100.0 %
Test CRC 59E8582C
Copy CRC 59E8582C
Accurately ripped (confidence 1) [02ABD473] (AR v2)
Copy OK

Track 9

Filename C:\Rip\09 - Lovin' Spoonful - Darlin' Companion.wav

Pre-gap length 0:00:02.06

Peak level 91.1 %
Extraction speed 2.6 X
Track quality 99.9 %
Test CRC E78519B6
Copy CRC E78519B6
Accurately ripped (confidence 1) [0B36D85F] (AR v2)
Copy OK

Track 10

Filename C:\Rip\10 - Everly Brothers - I'm Movin' on.wav

Pre-gap length 0:00:02.06

Peak level 89.1 %
Extraction speed 3.5 X
Track quality 100.0 %
Test CRC 37DD26A1
Copy CRC 37DD26A1
Accurately ripped (confidence 1) [610AD13F] (AR v2)
Copy OK

Track 11

Filename C:\Rip\11 - Bobbie Gentry - Ode to Billie Joe.wav

Pre-gap length 0:00:02.06

Peak level 97.5 %
Extraction speed 3.9 X
Track quality 100.0 %
Test CRC 964A1C73
Copy CRC 964A1C73
Accurately ripped (confidence 1) [836CAEBE] (AR v2)
Copy OK

Track 12

Filename C:\Rip\12 - Buffalo Springfield - Child's Claim to Fame.wav

Pre-gap length 0:00:02.07

Peak level 84.1 %
Extraction speed 3.5 X
Track quality 100.0 %
Test CRC 1A5DF61D
Copy CRC 1A5DF61D
Accurately ripped (confidence 1) [5872571A] (AR v2)
Copy OK

Track 13

Filename C:\Rip\13 - Everly Brothers - Bowling Green.wav

Pre-gap length 0:00:02.09

Peak level 84.1 %
Extraction speed 3.8 X
Track quality 100.0 %
Test CRC 0E345307
Copy CRC 0E345307
Accurately ripped (confidence 1) [7B30C43E] (AR v2)
Copy OK

Track 14

Filename C:\Rip\14 - Bobbie Gentry - Niki Hoeky.wav

Pre-gap length 0:00:02.06

Peak level 99.9 %
Extraction speed 1.8 X
Track quality 100.0 %
Test CRC 2E8DEAB7
Copy CRC 2E8DEAB7
Accurately ripped (confidence 1) [224464FA] (AR v2)
Copy OK

Track 15

Filename C:\Rip\15 - Int'l Submarine Band - Luxury Liner.wav

Pre-gap length 0:00:02.06

Peak level 95.5 %
Extraction speed 1.9 X
Track quality 100.0 %
Test CRC 78566796
Copy CRC 78566796
Accurately ripped (confidence 1) [C41B6E3F] (AR v2)
Copy OK

Track 16

Filename C:\Rip\16 - Int'l Submarine Band - Blue Eyes.wav

Peak level 92.2 %
Extraction speed 1.6 X
Track quality 99.9 %
Test CRC 03412968
Copy CRC 03412968
Accurately ripped (confidence 1) [94F0D3B3] (AR v2)
Copy OK

Track 17

Filename C:\Rip\17 - Monkees - What Am I Doing Hangin' Round.wav

Peak level 88.7 %
Extraction speed 3.3 X
Track quality 100.0 %
Test CRC CAF88960
Copy CRC CAF88960
Accurately ripped (confidence 1) [95237508] (AR v2)
Copy OK

Track 18

Filename C:\Rip\18 - The Byrds - Old John Robertson.wav

Peak level 93.3 %
Extraction speed 1.9 X
Track quality 100.0 %
Test CRC 014BC413
Copy CRC 014BC413
Accurately ripped (confidence 1) [700EA85F] (AR v2)
Copy OK

Track 19

Filename C:\Rip\19 - The Youngbloods - Sugar Babe.wav

Peak level 86.1 %
Extraction speed 2.0 X
Track quality 100.0 %
Test CRC D7EC5266
Copy CRC D7EC5266
Accurately ripped (confidence 1) [87BF9C95] (AR v2)
Copy OK

Track 20

Filename C:\Rip\20 - Kenny Vernon - Ain't That a Shame.wav

Peak level 80.8 %
Extraction speed 2.0 X
Track quality 100.0 %
Test CRC E6024D8F
Copy CRC E6024D8F
Accurately ripped (confidence 1) [0B8AAF1A] (AR v2)
Copy OK

Track 21

Filename C:\Rip\21 - Nashville West,The Reasons - Ode to Billie Joe.wav

Peak level 85.9 %
Extraction speed 2.5 X
Track quality 100.0 %
Test CRC 2E3D4991
Copy CRC 2E3D4991
Accurately ripped (confidence 1) [D32EF70B] (AR v2)
Copy OK


All tracks accurately ripped

No errors occurred

End of status report

–– CUETools DB Plugin V2.1.6

[CTDB TOCID: g0Q1cpGzHSnNw7kXnncrevQuYlo-] disk not present in database
Submit result: g0Q1cpGzHSnNw7kXnncrevQuYlo- has been uploaded


==== Log checksum 54D61A51A9077E7B2ABC0165FC049D43B69B35ADCC3CC59915CD6558B5AABB15 ====

===========================================================

Exact Audio Copy V1.1 from 23. June 2015

EAC extraction logfile from 11. August 2015, 22:15

Various Artists / Truckers, Kickers, Cowboy Angels - The Blissed-Out Birth of Country Rock, Volume 2: 1969

Used drive : hp CDDVDW TS-H653TN Adapter: 1 ID: 0

Read mode : Secure
Utilize accurate stream : Yes
Defeat audio cache : Yes
Make use of C2 pointers : No

Read offset correction : 6
Overread into Lead-In and Lead-Out : No
Fill up missing offset samples with silence : Yes
Delete leading and trailing silent blocks : No
Null samples used in CRC calculations : Yes
Used interface : Native Win32 interface for Win NT & 2000
Gap handling : Appended to previous track

Used output format : User Defined Encoder
Selected bitrate : 128 kBit/s
Quality : High
Add ID3 tag : No
Command line compressor : C:\Program Files (x86)\Exact Audio Copy\Flac\flac.exe
Additional command line options : -8 -V -T "ARTIST=%artist%" -T "TITLE=%title%" -T "ALBUM=%albumtitle%" -T "DATE=%year%" -T "TRACKNUMBER=%tracknr%" -T "GENRE=%genre%" -T "PERFORMER=%albuminterpret%" -T "COMPOSER=%composer%" %haslyrics%–tag-from-file=LYRICS="%lyricsfile%"%haslyrics% -T "ALBUMARTIST=%albumartist%" -T "DISCNUMBER=%cdnumber%" -T "TOTALDISCS=%totalcds%" -T "TOTALTRACKS=%numtracks%" -T "COMMENT=%comment%" %source% -o %dest%


TOC of the extracted CD

Track | Start | Length | Start sector | End sector
––––––––––––––––––––––––––––-
1 | 0:00.00 | 3:55.01 | 0 | 17625
2 | 3:55.01 | 3:04.40 | 17626 | 31465
3 | 6:59.41 | 2:40.64 | 31466 | 43529
4 | 9:40.30 | 2:49.58 | 43530 | 56262
5 | 12:30.13 | 3:20.21 | 56263 | 71283
6 | 15:50.34 | 3:34.38 | 71284 | 87371
7 | 19:24.72 | 3:05.06 | 87372 | 101252
8 | 22:30.03 | 2:54.74 | 101253 | 114376
9 | 25:25.02 | 4:07.09 | 114377 | 132910
10 | 29:32.11 | 2:24.19 | 132911 | 143729
11 | 31:56.30 | 3:23.06 | 143730 | 158960
12 | 35:19.36 | 3:35.71 | 158961 | 175156
13 | 38:55.32 | 4:34.61 | 175157 | 195767
14 | 43:30.18 | 4:12.46 | 195768 | 214713
15 | 47:42.64 | 2:25.03 | 214714 | 225591
16 | 50:07.67 | 2:23.13 | 225592 | 236329
17 | 52:31.05 | 3:40.68 | 236330 | 252897
18 | 56:11.73 | 2:54.63 | 252898 | 266010
19 | 59:06.61 | 1:52.17 | 266011 | 274427
20 | 60:59.03 | 3:21.47 | 274428 | 289549
21 | 64:20.50 | 2:32.33 | 289550 | 300982
22 | 66:53.08 | 2:28.23 | 300983 | 312105
23 | 69:21.31 | 3:00.60 | 312106 | 325665


Track 1

Filename D:\Rips\Truckers, Kickers, Cowboy Angels - The Blissed-Out Birth of Country Rock, Volume 2_ 1969\01 - The Byrds - Drug Store Truck Driving Man.wav

Pre-gap length 0:00:02.00

Peak level 78.5 %
Extraction speed 3.5 X
Track quality 99.9 %
Test CRC E02E9269
Copy CRC E02E9269
Track not present in AccurateRip database
Copy OK

Track 2

Filename D:\Rips\Truckers, Kickers, Cowboy Angels - The Blissed-Out Birth of Country Rock, Volume 2_ 1969\02 - The Flying Burrito Brothers - Christine's Tune.wav

Pre-gap length 0:00:02.00

Peak level 84.1 %
Extraction speed 4.5 X
Track quality 100.0 %
Test CRC 448198E7
Copy CRC 448198E7
Track not present in AccurateRip database
Copy OK

Track 3

Filename D:\Rips\Truckers, Kickers, Cowboy Angels - The Blissed-Out Birth of Country Rock, Volume 2_ 1969\03 - Doug Sahm - Texas Me.wav

Pre-gap length 0:00:02.00

Peak level 75.8 %
Extraction speed 4.6 X
Track quality 100.0 %
Test CRC 18CA7101
Copy CRC 18CA7101
Track not present in AccurateRip database
Copy OK

Track 4

Filename D:\Rips\Truckers, Kickers, Cowboy Angels - The Blissed-Out Birth of Country Rock, Volume 2_ 1969\04 - Glen Campbell - Galveston.wav

Pre-gap length 0:00:02.00

Peak level 78.2 %
Extraction speed 4.9 X
Track quality 100.0 %
Test CRC 58AF7AA3
Copy CRC 58AF7AA3
Track not present in AccurateRip database
Copy OK

Track 5

Filename D:\Rips\Truckers, Kickers, Cowboy Angels - The Blissed-Out Birth of Country Rock, Volume 2_ 1969\05 - Bob Dylan - Lay, Lady Lay.wav

Pre-gap length 0:00:02.00

Peak level 100.0 %
Extraction speed 5.3 X
Track quality 100.0 %
Test CRC D843A418
Copy CRC D843A418
Track not present in AccurateRip database
Copy OK

Track 6

Filename D:\Rips\Truckers, Kickers, Cowboy Angels - The Blissed-Out Birth of Country Rock, Volume 2_ 1969\06 - The Band - The Night They Drove Old Dixie Down.wav

Pre-gap length 0:00:02.00

Peak level 77.6 %
Extraction speed 5.7 X
Track quality 100.0 %
Test CRC 28F131D9
Copy CRC 28F131D9
Track not present in AccurateRip database
Copy OK

Track 7

Filename D:\Rips\Truckers, Kickers, Cowboy Angels - The Blissed-Out Birth of Country Rock, Volume 2_ 1969\07 - The Flying Burrito Brothers - Wheels.wav

Pre-gap length 0:00:02.00

Peak level 87.0 %
Extraction speed 5.7 X
Track quality 100.0 %
Test CRC 88C19865
Copy CRC 88C19865
Track not present in AccurateRip database
Copy OK

Track 8

Filename D:\Rips\Truckers, Kickers, Cowboy Angels - The Blissed-Out Birth of Country Rock, Volume 2_ 1969\08 - The Corvettes - Back Home Girl.wav

Pre-gap length 0:00:02.00

Peak level 69.9 %
Extraction speed 5.8 X
Track quality 100.0 %
Test CRC 7FDB592D
Copy CRC 7FDB592D
Track not present in AccurateRip database
Copy OK

Track 9

Filename D:\Rips\Truckers, Kickers, Cowboy Angels - The Blissed-Out Birth of Country Rock, Volume 2_ 1969\09 - Dillard & Clark - Through the Morning, Through the Night.wav

Pre-gap length 0:00:02.00

Peak level 85.1 %
Extraction speed 6.3 X
Track quality 100.0 %
Test CRC 42E5363F
Copy CRC 42E5363F
Track not present in AccurateRip database
Copy OK

Track 10

Filename D:\Rips\Truckers, Kickers, Cowboy Angels - The Blissed-Out Birth of Country Rock, Volume 2_ 1969\10 - Buck Owens - Who's Gonna Mow Your Grass.wav

Pre-gap length 0:00:02.00

Peak level 83.1 %
Extraction speed 6.0 X
Track quality 100.0 %
Test CRC 0293C4ED
Copy CRC 0293C4ED
Track not present in AccurateRip database
Copy OK

Track 11

Filename D:\Rips\Truckers, Kickers, Cowboy Angels - The Blissed-Out Birth of Country Rock, Volume 2_ 1969\11 - Poco - Pickin' Up the Pieces.wav

Pre-gap length 0:00:02.00

Peak level 82.1 %
Extraction speed 6.6 X
Track quality 100.0 %
Test CRC 3DFD6B69
Copy CRC 3DFD6B69
Track not present in AccurateRip database
Copy OK

Track 12

Filename D:\Rips\Truckers, Kickers, Cowboy Angels - The Blissed-Out Birth of Country Rock, Volume 2_ 1969\12 - Doug Sahm - At the Crossroads.wav

Pre-gap length 0:00:02.00

Peak level 88.1 %
Extraction speed 6.8 X
Track quality 100.0 %
Test CRC 93FEB06C
Copy CRC 93FEB06C
Track not present in AccurateRip database
Copy OK

Track 13

Filename D:\Rips\Truckers, Kickers, Cowboy Angels - The Blissed-Out Birth of Country Rock, Volume 2_ 1969\13 - The Band - Up on Cripple Creek.wav

Pre-gap length 0:00:02.00

Peak level 78.5 %
Extraction speed 7.2 X
Track quality 100.0 %
Test CRC F57326FD
Copy CRC F57326FD
Track not present in AccurateRip database
Copy OK

Track 14

Filename D:\Rips\Truckers, Kickers, Cowboy Angels - The Blissed-Out Birth of Country Rock, Volume 2_ 1969\14 - The Flying Burrito Brothers - Sin City.wav

Pre-gap length 0:00:02.00

Peak level 88.1 %
Extraction speed 7.4 X
Track quality 100.0 %
Test CRC 11ABF443
Copy CRC 11ABF443
Track not present in AccurateRip database
Copy OK

Track 15

Filename D:\Rips\Truckers, Kickers, Cowboy Angels - The Blissed-Out Birth of Country Rock, Volume 2_ 1969\15 - The Corvettes - Level With Your Senses.wav

Pre-gap length 0:00:02.00

Peak level 72.6 %
Extraction speed 6.9 X
Track quality 100.0 %
Test CRC F3907E95
Copy CRC F3907E95
Track not present in AccurateRip database
Copy OK

Track 16

Filename D:\Rips\Truckers, Kickers, Cowboy Angels - The Blissed-Out Birth of Country Rock, Volume 2_ 1969\16 - Linda Ronstadt - Silver Threads & Golden Needles.wav

Pre-gap length 0:00:02.00

Peak level 66.8 %
Extraction speed 7.1 X
Track quality 100.0 %
Test CRC 19B0E8E3
Copy CRC 19B0E8E3
Track not present in AccurateRip database
Copy OK

Track 17

Filename D:\Rips\Truckers, Kickers, Cowboy Angels - The Blissed-Out Birth of Country Rock, Volume 2_ 1969\17 - The Flying Burrito Brothers - Hot Burrito.wav

Pre-gap length 0:00:02.00

Peak level 76.6 %
Extraction speed 7.7 X
Track quality 100.0 %
Test CRC B49CF6AE
Copy CRC B49CF6AE
Track not present in AccurateRip database
Copy OK

Track 18

Filename D:\Rips\Truckers, Kickers, Cowboy Angels - The Blissed-Out Birth of Country Rock, Volume 2_ 1969\18 - Elvis Presley - I'm Movin' On.wav

Pre-gap length 0:00:02.00

Peak level 100.0 %
Extraction speed 7.5 X
Track quality 100.0 %
Test CRC 739B8C34
Copy CRC 739B8C34
Track not present in AccurateRip database
Copy OK

Track 19

Filename D:\Rips\Truckers, Kickers, Cowboy Angels - The Blissed-Out Birth of Country Rock, Volume 2_ 1969\19 - Sanland Bros. - Vaccination for the Blues.wav

Pre-gap length 0:00:02.00

Peak level 64.5 %
Extraction speed 4.7 X
Track quality 99.9 %
Test CRC 32A99C22
Copy CRC 32A99C22
Track not present in AccurateRip database
Copy OK

Track 20

Filename D:\Rips\Truckers, Kickers, Cowboy Angels - The Blissed-Out Birth of Country Rock, Volume 2_ 1969\20 - Poco - Make Me Smile.wav

Pre-gap length 0:00:02.00

Peak level 81.2 %
Extraction speed 8.0 X
Track quality 100.0 %
Test CRC 1D04137D
Copy CRC 1D04137D
Track not present in AccurateRip database
Copy OK

Track 21

Filename D:\Rips\Truckers, Kickers, Cowboy Angels - The Blissed-Out Birth of Country Rock, Volume 2_ 1969\21 - Linda Ronstadt - We Need a Whole Lot More Jesus.wav

Pre-gap length 0:00:02.00

Peak level 74.1 %
Extraction speed 7.7 X
Track quality 100.0 %
Test CRC C832320F
Copy CRC C832320F
Track not present in AccurateRip database
Copy OK

Track 22

Filename D:\Rips\Truckers, Kickers, Cowboy Angels - The Blissed-Out Birth of Country Rock, Volume 2_ 1969\22 - Townes Van Zandt - Lungs.wav

Pre-gap length 0:00:02.00

Peak level 99.8 %
Extraction speed 7.7 X
Track quality 100.0 %
Test CRC 29D04899
Copy CRC 29D04899
Track not present in AccurateRip database
Copy OK

Track 23

Filename D:\Rips\Truckers, Kickers, Cowboy Angels - The Blissed-Out Birth of Country Rock, Volume 2_ 1969\23 - Kenny Rogers & The First Edition - Ruby.wav

Pre-gap length 0:00:02.00

Peak level 90.1 %
Extraction speed 8.1 X
Track quality 100.0 %
Test CRC D73A3B52
Copy CRC D73A3B52
Track not present in AccurateRip database
Copy OK


None of the tracks are present in the AccurateRip database

No errors occurred

End of status report

–– CUETools DB Plugin V2.1.6

[CTDB TOCID: ZwPQK1kK7ngcv8gFtwwvx7R8L2g-] found
Submit result: ZwPQK1kK7ngcv8gFtwwvx7R8L2g- has been confirmed
Track | CTDB Status
1 | (1/1) Accurately ripped
2 | (1/1) Accurately ripped
3 | (1/1) Accurately ripped
4 | (1/1) Accurately ripped
5 | (1/1) Accurately ripped
6 | (1/1) Accurately ripped
7 | (1/1) Accurately ripped
8 | (1/1) Accurately ripped
9 | (1/1) Accurately ripped
10 | (1/1) Accurately ripped
11 | (1/1) Accurately ripped
12 | (1/1) Accurately ripped
13 | (1/1) Accurately ripped
14 | (1/1) Accurately ripped
15 | (1/1) Accurately ripped
16 | (1/1) Accurately ripped
17 | (1/1) Accurately ripped
18 | (1/1) Accurately ripped
19 | (1/1) Accurately ripped
20 | (1/1) Accurately ripped
21 | (1/1) Accurately ripped
22 | (1/1) Accurately ripped
23 | (1/1) Accurately ripped


==== Log checksum D95B996FDE54972C48961A8F69AC924397EAE243ABBAB212B9F110509E32B7B0 ====

====================================================

Exact Audio Copy V1.0 beta 6 from 9. April 2015

EAC extraction logfile from 1. June 2015, 21:46

Various Artists / TRUCKERS, KICKERS, COWBOY ANGELS; The Blissed-Out Birth of Country Rock 1966-1975; #3: 1970, CD 1

Used drive : hp BD E DC6E2LHB Adapter: 1 ID: 0

Read mode : Secure
Utilize accurate stream : Yes
Defeat audio cache : Yes
Make use of C2 pointers : No

Read offset correction : 6
Overread into Lead-In and Lead-Out : No
Fill up missing offset samples with silence : Yes
Delete leading and trailing silent blocks : No
Null samples used in CRC calculations : Yes
Used interface : Native Win32 interface for Win NT & 2000
Gap handling : Appended to previous track

Used output format : User Defined Encoder
Selected bitrate : 1024 kBit/s
Quality : High
Add ID3 tag : No
Command line compressor : C:\Program Files (x86)\Exact Audio Copy\Flac\flac.exe
Additional command line options : -8 -V -T "ARTIST=%artist%" -T "TITLE=%title%" -T "ALBUM=%albumtitle%" -T "DATE=%year%" -T "TRACKNUMBER=%tracknr%" -T "GENRE=%genre%" -T "PERFORMER=%albuminterpret%" -T "COMPOSER=%composer%" %haslyrics%–tag-from-file=LYRICS="%lyricsfile%"%haslyrics% -T "ALBUMARTIST=%albumartist%" -T "DISCNUMBER=%cdnumber%" -T "TOTALDISCS=%totalcds%" -T "TOTALTRACKS=%numtracks%" -T "COMMENT=%comment%" %source% -o %dest%


TOC of the extracted CD

Track | Start | Length | Start sector | End sector
––––––––––––––––––––––––––––-
1 | 0:00.00 | 2:59.60 | 0 | 13484
2 | 2:59.60 | 3:04.74 | 13485 | 27358
3 | 6:04.59 | 3:09.68 | 27359 | 41601
4 | 9:14.52 | 3:52.65 | 41602 | 59066
5 | 13:07.42 | 3:20.25 | 59067 | 74091
6 | 16:27.67 | 2:58.32 | 74092 | 87473
7 | 19:26.24 | 2:36.14 | 87474 | 99187
8 | 22:02.38 | 3:00.20 | 99188 | 112707
9 | 25:02.58 | 4:26.48 | 112708 | 132705
10 | 29:29.31 | 3:13.17 | 132706 | 147197
11 | 32:42.48 | 2:04.74 | 147198 | 156571
12 | 34:47.47 | 3:11.41 | 156572 | 170937
13 | 37:59.13 | 3:11.39 | 170938 | 185301
14 | 41:10.52 | 3:57.66 | 185302 | 203142
15 | 45:08.43 | 3:37.08 | 203143 | 219425
16 | 48:45.51 | 3:02.41 | 219426 | 233116
17 | 51:48.17 | 5:13.33 | 233117 | 256624
18 | 57:01.50 | 3:21.60 | 256625 | 271759
19 | 60:23.35 | 3:19.27 | 271760 | 286711


Track 1

Filename C:\EAC RIPS\TKCA - 3.1\01 - The Allman Brothers Band - Midnight Rider.wav

Pre-gap length 0:00:02.00

Peak level 96.6 %
Extraction speed 2.5 X
Track quality 100.0 %
Test CRC 5D9C30C5
Copy CRC 5D9C30C5
Track not present in AccurateRip database
Copy OK

Track 2

Filename C:\EAC RIPS\TKCA - 3.1\02 - Delaney & Bonnie and Friends - Living On The Open Road.wav

Pre-gap length 0:00:02.00

Peak level 96.6 %
Extraction speed 2.7 X
Track quality 100.0 %
Test CRC B580CB40
Copy CRC B580CB40
Track not present in AccurateRip database
Copy OK

Track 3

Filename C:\EAC RIPS\TKCA - 3.1\03 - Cowboy - Livin' In The Country.wav

Pre-gap length 0:00:02.00

Peak level 96.5 %
Extraction speed 2.4 X
Track quality 99.9 %
Test CRC 4514BC57
Copy CRC 4514BC57
Track not present in AccurateRip database
Copy OK

Track 4

Filename C:\EAC RIPS\TKCA - 3.1\04 - The Band - Just Another Whistle Stop.wav

Pre-gap length 0:00:02.00

Peak level 96.5 %
Extraction speed 3.3 X
Track quality 100.0 %
Test CRC 9AB3B12F
Copy CRC 9AB3B12F
Track not present in AccurateRip database
Copy OK

Track 5

Filename C:\EAC RIPS\TKCA - 3.1\05 - Jesse Winchester - Biloxi.wav

Pre-gap length 0:00:02.00

Peak level 96.6 %
Extraction speed 3.4 X
Track quality 100.0 %
Test CRC F3EAC394
Copy CRC F3EAC394
Track not present in AccurateRip database
Copy OK

Track 6

Filename C:\EAC RIPS\TKCA - 3.1\06 - The Flying Burrito Brothers - Lazy Days.wav

Pre-gap length 0:00:02.00

Peak level 96.6 %
Extraction speed 3.5 X
Track quality 100.0 %
Test CRC 761C7341
Copy CRC 761C7341
Track not present in AccurateRip database
Copy OK

Track 7

Filename C:\EAC RIPS\TKCA - 3.1\07 - Wayne Douglas aka Doug Sahm - the Sir Douglas Quintet - Be Real.wav

Pre-gap length 0:00:02.00

Peak level 96.5 %
Extraction speed 3.6 X
Track quality 100.0 %
Test CRC 200B7F6D
Copy CRC 200B7F6D
Track not present in AccurateRip database
Copy OK

Track 8

Filename C:\EAC RIPS\TKCA - 3.1\08 - Kris Kristofferson - The Best Of All Possible Worlds.wav

Pre-gap length 0:00:02.00

Peak level 96.5 %
Extraction speed 3.0 X
Track quality 99.9 %
Test CRC 128324F4
Copy CRC 128324F4
Track not present in AccurateRip database
Copy OK

Track 9

Filename C:\EAC RIPS\TKCA - 3.1\09 - Grateful Dead - Casey Jones.wav

Pre-gap length 0:00:02.00

Peak level 96.6 %
Extraction speed 4.2 X
Track quality 100.0 %
Test CRC A8E9CEE0
Copy CRC A8E9CEE0
Track not present in AccurateRip database
Copy OK

Track 10

Filename C:\EAC RIPS\TKCA - 3.1\10 - Jefferson Airplane - The Farm.wav

Pre-gap length 0:00:02.00

Peak level 96.6 %
Extraction speed 3.4 X
Track quality 99.9 %
Test CRC CCDA86BB
Copy CRC CCDA86BB
Track not present in AccurateRip database
Copy OK

Track 11

Filename C:\EAC RIPS\TKCA - 3.1\11 - Moby Grape - Right Before My Eyes.wav

Pre-gap length 0:00:02.00

Peak level 96.5 %
Extraction speed 4.0 X
Track quality 100.0 %
Test CRC D1780150
Copy CRC D1780150
Track not present in AccurateRip database
Copy OK

Track 12

Filename C:\EAC RIPS\TKCA - 3.1\12 - Michael Nesmith & The First National Band - Joanne.wav

Pre-gap length 0:00:02.00

Peak level 89.3 %
Extraction speed 3.6 X
Track quality 99.9 %
Test CRC C5AA86EB
Copy CRC C5AA86EB
Track not present in AccurateRip database
Copy OK

Track 13

Filename C:\EAC RIPS\TKCA - 3.1\13 - Nitty Gritty Dirt Band - Some Of Shelly's Blues.wav

Pre-gap length 0:00:02.00

Peak level 96.6 %
Extraction speed 4.6 X
Track quality 100.0 %
Test CRC C4590BF8
Copy CRC C4590BF8
Track not present in AccurateRip database
Copy OK

Track 14

Filename C:\EAC RIPS\TKCA - 3.1\14 - Townes Van Zandt - Delta Mama Blues.wav

Pre-gap length 0:00:02.00

Peak level 96.6 %
Extraction speed 4.8 X
Track quality 100.0 %
Test CRC 5304B38F
Copy CRC 5304B38F
Track not present in AccurateRip database
Copy OK

Track 15

Filename C:\EAC RIPS\TKCA - 3.1\15 - David Alan Coe - Walkin' Bum.wav

Pre-gap length 0:00:02.00

Peak level 96.6 %
Extraction speed 4.1 X
Track quality 99.9 %
Test CRC 3DFCA8BE
Copy CRC 3DFCA8BE
Track not present in AccurateRip database
Copy OK

Track 16

Filename C:\EAC RIPS\TKCA - 3.1\16 - Rick Nelson - California.wav

Pre-gap length 0:00:02.00

Peak level 96.5 %
Extraction speed 4.9 X
Track quality 100.0 %
Test CRC DD2A543A
Copy CRC DD2A543A
Track not present in AccurateRip database
Copy OK

Track 17

Filename C:\EAC RIPS\TKCA - 3.1\17 - Eric Andersen - Just A Country Dream.wav

Pre-gap length 0:00:02.00

Peak level 96.5 %
Extraction speed 5.4 X
Track quality 100.0 %
Test CRC 2E2CB8B1
Copy CRC 2E2CB8B1
Track not present in AccurateRip database
Copy OK

Track 18

Filename C:\EAC RIPS\TKCA - 3.1\18 - Poco - You Better Think Twice.wav

Pre-gap length 0:00:02.00

Peak level 96.6 %
Extraction speed 5.3 X
Track quality 100.0 %
Test CRC F81FB6CE
Copy CRC F81FB6CE
Track not present in AccurateRip database
Copy OK

Track 19

Filename C:\EAC RIPS\TKCA - 3.1\19 - Brewer & Shipley - One Toke Over The Line.wav

Pre-gap length 0:00:02.00

Peak level 96.6 %
Extraction speed 5.4 X
Track quality 100.0 %
Test CRC 6C1CCFAD
Copy CRC 6C1CCFAD
Track not present in AccurateRip database
Copy OK


None of the tracks are present in the AccurateRip database

No errors occurred

End of status report

–– CUETools DB Plugin V2.1.6

[CTDB TOCID: O5EB9dZtRP0g7zqlaewPQCENebE-] disk not present in database
Submit result: O5EB9dZtRP0g7zqlaewPQCENebE- has been uploaded


==== Log checksum 3BF6DC110B3EA24B398AF2BE17302DCDCDC63EA8BC2E6706A9D55138C03990E4 ====

====================================================
All 13 log files included…