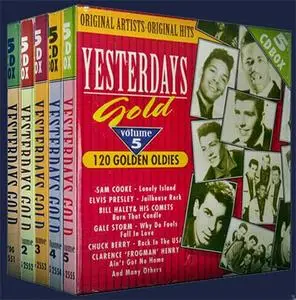 V.A. - Yesterday's Gold Collection: Golden Oldies (25CD Box Sets, 1988)
EAC Rip | FLAC (*image+.cue+.log,scans) | Run Time: 24:51:00 | 8,33 Gb | Covers 212,4 Mb
Genre: Oldies, Oldies Pop, Rock' n' Roll, Rhythm & Blues, Soul | Label: Yesterdays Gold
Another serious project in vein of Time Life Music, the "24 Golden Hits" is a compilation series of the world famous hits, released on CD circa 1987-1988. Here is the complete series packed into five boxes and each box was re-released separately. Each Volume-set contains the five discs and titled as "120 Golden Oldies". 600 "Golden" songs total and over than one day of the continuous listening!
Contents:
Yesterdays Gold Vol.1 - 24 Golden Oldies
Yesterdays Gold Vol.2 - 24 Golden Oldies
Yesterdays Gold Vol.3 - 24 Golden Oldies
Yesterdays Gold Vol.4 - 24 Golden Oldies
Yesterdays Gold Vol.5 - 24 Golden Oldies
Volume 1, Disc 1 – Tracklisting:

01. The Crew Cuts – Sh-boom
02. Elvis Presley – Heartbreak Hotel
03. The Big Bopper – Chantilly Lace
04. Johnny Preston – Running Bear
05. Bill Haley – Rock Around The Clock
06. Johnnie Ray – Just Walking In The Rain
07. Jerry Lee Lewis – Great Balls Of Fire
08. Pat Boone – I'll Be Home
09. Paul Anka – You Are My Destiny
10. Neil Sedaka – The Diary
11. Bobby Darin – Splish Splash
12. The Chordettes – Lollipop
13. The Platters – Twilight Time
14. The Everly Brothers – All I Have To Do Is Dream
15. Connie Francis – Lipstick On Your Collar
16. Bill Justis – Raunchy
17. The Diamonds – Little Darlin'
18. Elvis Presley – Love Me Tender
19. Little Richard – The Girl Can't Help It
20. The Drifters – Money Honey
21. The Everly Brothers – Claudette
22. Fats Domino – Blueberry Hill
23. Chuck Berry – Maybellene
24. Ray Charles – I Got A Woman

Volume 1, Disc 2 – Tracklisting:

01. The Platters – Only You
02. Pat Boone – Love Letters In The Sand
03. Gene Vincent – Be-Bop-A-Lula
04. Paul Anka – Diana
05. Elvis Presley – Don't Be Cruel
06. Sonny James – Young Love
07. The Everly Brothers – 'Til I Kissed You
08. Phil Philips – Sea Of Love
09. The Crew-Cuts – Earth Angel
10. The Drifters – Honey Love
11. Bill Haley & His Comets – See You Later, Alligator
12. Dion and the Belmonts – A Teenager In Love
13. Connie Francis – Who's Sorry Now
14. The Champs – Tequila
15. Jackie Wilson – Reet Petite
16. Fats Domino – I'm Walkin'
17. The Everly Brothers – Problems
18. Eddie Cochran – Sittin' In The Balcony
19. The Platters – My Prayer
20. Danny & the Juniors – At The Hop
21. Elvis Presley – That's All Right
22. Carl Perkins – Blue Suede Shoes
23. David Seville – Witch Doctor
24. Kathy Linden – Heartaches At Sweet Sixteen

Volume 1, Disc 3 – Tracklisting:

01. The Everly Brothers – Bye Bye Love
02. Buddy Holly – Every Day
03. The Platters – Smoke Gets In Your Eyes
04. Jerry Lee Lewis – Whole Lotta Shakin' Goin' On
05. Elvis Presley – Hound Dog
06. Pat Boone – April Love
07. Bill Haley – Shake, Rattle And Roll
08. Paul Anka – Crazy Love
09. Fats Domino – My Blue Heaven
10. Connie Francis – Stupid Cupid
11. The Drifters – Adorable
12. Neil Sedaka – One Way Ticket (To The Blues)
13. Ray Charles – I'm Moving On
14. Dion And The Belmonts – No One Knows
15. Jackie Wilson – Lonely Teardrops
16. Sam Cooke – You Send Me
17. James Brown – Please, Please, Please
18. The Everly Brothers – This Little Girl Of Mine
19. Del Shannon – Runaway
20. Elvis Presley – One Night
21. Johnny Preston – Cradle Of Love
22. Bobby Vee – One Last Kiss
23. The Platters – You'll Never Know
24. Tennesie Ernie Ford – Sixteen Tons

Volume 1, Disc 4 – Tracklisting:

01. Elvis Presley – It's Now Or Never
02. Sam Cooke – Only Sixteen
03. Roy Orbison – Only The Lonely
04. Fats Domino – Blue Monday
05. The Platters – The Great Pretender
06. The Everly Brothers – Bird Dog
07. Ray Charles – What'd I Say
08. Johnny and the Hurricanes – Red River Rock
09. The Drifters – This Magic Moment
10. Chubby Checker – The Twist
11. Bill Hayes – The Ballad Of Davy Crockett
12. Andy Griffith – Mama Guitar
13. Brenda Lee – Dynamite
14. Jerry Lee Lewis – Breathless
15. Bobby Darin – Dream Lover
16. Mark Dinning – Teen Angel
17. Jimmy Jones – Good Timin'
18. Neil Sedaka – Oh Carol
19. Paul Anka – My Home Town
20. The Platters – Red Sails In The Sunset
21. Dinah Washington – What A Difference A Day Makes
22. The Everly Brothers – Devoted To You
23. Elvis Presley – My Baby Left Me
24. Freddie Bell and the Bell Boys – Giddy Up A Ding Dong

Volume 1, Disc 5 – Tracklisting:

01. Sam Cooke – What A Wonderful World
02. The Platters – Harbor Lights
03. Elvis Presley – Are You Lonesome Tonight
04. Buddy Holly – Oh Boy
05. The Everly Brothers – Wake Up Little Susie
06. Del Shannon – Hats Off To Larry
07. Fats Domino – I Want To Walk You Home
08. Dion and the Belmonts – Where or When
09. Eddie Hodges – I'm Gonna Knock On Your Door
10. Connie Francis – Where The Boys Are
11. Ray Charles – Hallelujah, I Love Her So
12. The Drifters – Save The Last Dance For Me
13. Johnny Tillotson – Poetry Ii Motion
14. The Everly Brothers – Poor Jenny
15. Johnny Cash – I Walk The Line
16. The Shadows – Apache
17. Elvis Presley – A Fool Such As I
18. Jerry Lee Lewis – Crazy Arms
19. Bobby Vee – Rubber Ball
20. The Platters – Ebb Tide
21. Neil Sedaka – Little Devil
22. Barry Mann – Who Put The Bomp In The Bomp Bomp Bomp
23. Dion – Lonely Teenager
24. The Coasters – Poison Ivy

Volume 2, Disc 1 – Tracklisting:

01. Connie Francis – My Happiness
02. Frankie Ford – Sea Cruise
03. Bobby Darin – Queen Of The Hop
04. The Del-Vikings – Come Go With Me
05. Buddy Holly – Peggy Sue
06. Carl Perkins – Boppin' The Blues
07. Brenda Lee – Jambalaya
08. Chuck Berry – Roll Over Beethoven
09. The Everly Brothers – Let It Be Me
10. Ricky Nelson – Stood Up
11. The Drifters – There Goes My Baby
12. Sam Cooke – Cupid
13. Jerry Lee Lewis – Drinkin' Wine Spo-Dee-O-Dee
14. Dion and The Belmonts – I Wonder Why
15. Brook Benton – It's Just A Matter Of Time
16. Frankie Avalon – Venus
17. Kalin Twins – When
18. Fats Domino – Be My Guest
19. Roy Orbison – Ooby Dooby
20. Little Richard – Lucille
21. The Platters – (You've Got) The Magic Touch
22. Bill Haley – ABC Boogie
23. Paul Anka – Lonely Boy
24. Johnnie Ray – Yes Tonight, Josephine

Volume 2, Disc 2 – Tracklisting:

01. Buddy Holly – That'll Be The Day
02. Fats Domino – Whole Lotta Loving
03. Connie Francis – I'm Sorry I Made You Cry
04. The Everly Brothers – Take A Message To Mary
05. Sam Cooke – Chain Gang
06. Johnny Ace – Pledging My Love
07. Bobby Darin – Plain Jane
08. The Platters – Remember When
09. Bo Diddley – Bo Diddley
10. Lloyd Price – Just Because
11. Chuck Berry – Sweet Little Sixteen
12. The Dells – Oh, What A Night
13. Pat Boone – Anastasia
14. Ray Charles – (Night Time Is) The Right Time
15. Mickey & Silvia – Love Is Strange
16. Ricky Nelson – Waitin' In School
17. Little Richard – Send Me Some Lovin'
18. The Tune Weavers – Happy, Happy Birthday Baby
19. Jackie Wilson – To Be Loved
20. The Coasters – Charlie Brown
21. Harvey & The Moonglows – Ten Commandments Of Love
22. Carl Perkins – Your True Love
23. Bill Haley – Razzle-Dazzle
24. Bobby Helms – My Special Angel

Volume 2, Disc 3 – Tracklisting:

01. Ricky Nelson – Poor Little Fool
02. Connie Francis – Frankie
03. Buddy Holly – Maybe Baby
04. Johnny and The Hurricanes – Reveille Rock
05. Del Shannon – Hey Little Girl
06. The Duprees – You Belong To Me
07. Larry Williams – Bony Moronie
08. Little Richard – Good Golly Miss Molly
09. Ray Peterson – Tell Laura I Love Her
10. The Hollywood Argyles – Alley Oop
11. Pat Boone – Moody River
12. Fabian – Tiger
13. Carl Perkins – Matchbox
14. Connie Francis – Fallin'
15. The Olympics – Western Movies
16. Jerry Butler & The Impressions – For Your Precious Love
17. Ernie Fields – In The Mood
18. Dee Clark – Raindrops
19. Gladys Knight & The Pips – Every Beat Of My Heart
20. Fats Domino – Walking To New Orleans
21. Johnny Tillotson – It Keeps Right on A' Hurtin'
22. Duane Eddy – Rebel Rouser
23. Ike & Tina Turner – A Fool In Love
24. Chuck Berry – Rock And Roll Music

Volume 2, Disc 4 – Tracklisting:

01. Ritchie Valens – Donna
02. Connie Francis – Among My Souvenirs
03. The Everly Brothers – Like Strangers
04. The Skyliners – Since I Don't Have You
05. The Platters – I'm Sorry
06. The Shirelles – Will You Love Me Tomorrow
07. Sam Cooke – Win Your Love For Me
08. Bobby Darin – Mack The Knife
09. The Crests – 16 Candles
10. Lloyd Price – Where Were You On Our Wedding Day
11. Bobby Day – Rockin' Robin
12. Brian Hyland – Itsy Bitsy Teenie Weenie Yellow Polkadot Bikini
13. Dion and the Belmonts – When You Wish Upon A Star
14. Jan and Dean – Heart And Soul
15. Neil Sedaka – Calendar Girl
16. Huey 'Piano' Smith & The Clowns – Don't You Just Know It
17. Brook Benton – So Many Ways
18. The Shields – You Sheated
19. Ben E. King – Spanish Harlem
20. The Fireflies – You Were Mine
21. Pat Bone – Speedy Gonzales
22. The Clovers – Love Potion No. 9
23. Jimmy Jones – Handy Man
24. Jerry Lee Lewis – What'd I Say

Volume 2, Disc 5 – Tracklisting:

01. Elvis Presley – All Shook Up
02. Paul Anka – Put Your Head On My Shoulder
03. Connie Francis – If I Didn't Care
04. Lloyd Price – Stagger Lee
05. The Platters – Enchanted
06. Sam Cooke – Everybody Likes To Cha Cha
07. Maurice Williams & The Zodiacs – Stay
08. Brook Benton – Endlessly
09. Buddy Holly – It Doesn't Matter Anymore
10. The Drifters – Dance With Me
11. Eddie Cochran – C'mon Everybody
12. Ray Charles – Ruby
13. Fats Domino – Ain't That A Shame
14. Little Richard – Long Tall Sally
15. Ritchie Valens – La Bamba
16. Ricky Nelson – Believe What You Say
17. The Coasters – Searchin'
18. Pat Bone – Bernardine
19. Duane Eddy – Cannonball
20. Chuck Berry – Johnny B. Goode
21. Neil Sedaka – Stairway To Heaven
22. The Shirelles – Soldier Boy
23. The Everly Brothers – I Wonder If I Care As Much
24. Dion & The Belmonts – Every Little Thing I Do

Volume 3, Disc 1 – Tracklisting:

01. Ray Charles – I Can't Stop Loving You
02. Bobby Vinton – Roses Are Red
03. The Drifters – Up On The Roof
04. The Chiffons – He's So Fine
05. Brooke Benton – Hotel Happiness
06. Paul and Paula – Hey Paula
07. Toni Fisher – The Big Hurt
08. Dale and Grace – I'm Leaving It All Up To You
09. Gene Chandler – Duke Of Earl
10. The Four Seasons – Big Girls Don't Cry
11. The Jive Five – My True Story
12. Connie Francis – Don't Break The Heart That Loves You
13. Jan and Dean – Surf City
14. Cathy Jean & The Roommates – Please Love Me Forever
15. Tommy Roe – Sheila
16. Lesley Gore – It's My Party
17. Elvis Presley – Good Luck Charm
18. Neil Sedaka – Breaking Up Is Hard To Do
19. The Ronettes – Be My Baby
20. Bruce Channel – Hey Baby
21. Rosie & The Originals – Angel Baby
22. Preston Epps – Bongo Rock
23. The Surfaris – Wipe Out
24. Dion – The Wanderer

Volume 3, Disc 2 – Tracklisting:

01. Ricky Nelson – Travelin' Man
02. Roy Orbinson – Dream Baby (How Long Must I Dream)
03. Four Seasons – Sherry
04. Ray Charles – Hit The Road Jack
05. The Marvelettes – Please Mr. Postman
06. Elvis Presely – Surrender
07. The Fleetwoods – Come Softly To Me
08. Joe Dowell – Wooden Heart
09. Brook Benton – The Boll Weevil Song
10. The Shirelles – Dedicated To The One I Love
11. Ben E. King – Stand By Me
12. Timi Yuro – Hurt
13. The Beach Boys – Surfin' USA
14. Gene Pitney – Only Love Can Break A Heart
15. Brenda Lee – All Alone Am I
16. Jackie Wilson – Night
17. Kathy Young – A Thousand Stars
18. Bobby Darin – Beyond The Sea
19. Connie Francis – Many Tears Ago
20. The Everly Brothers – Don't Blame Me
21. Paul Anka – Puppy Love
22. Johnny Burnette – You're Sixteen, You're Beautiful (And You're Mine)
23. Jerry Butler – He Will Break Your Heart
24. Dion & The Belmonts – In The Still Of The Night

Volume 3, Disc 3 – Tracklisting:

01. The Everly Brothers – Cathy's Clown
02. Roy Orbinson – Crying
03. The Coasters – Along Came Jones
04. Clyde McPhatter – A Lover's Question
05. Gene Pitney – (The Man Who Shot) Liberty Valance
06. Ray Charles – Georgia On My Mind
07. Fats Domino – I Want To Walk You Home
08. Connie Francis – Mama
09. Brook Benton – Frankie & Johnny
10. La Vern Baker – I Cried A Tear
11. Jackie Wilson – Doggin' Around
12. Bobby Darin – Won't You Come Home Bill Bailey
13. The Platters – To Each His Own
14. Duanne Eddy – 40 Miles Of Bad Road
15. Ricky Nelson – It's Late
16. Elvis Presley – Stuck On You
17. Paul Anka – Dance On Little Girl
18. The Elegants – Little Star
19. Little Eva – The Loco-Motion
20. The Paradons – Diamonds And Pearl
21. The Isley Brothers – Twist And Shout
22. The Brothers Four – Greenfields
23. Dionne Warwick – Anyone Who Had A Heart
24. Little Caesar & The Romans – Those Oldies But Goodies (Remind Me Of You)

Volume 3, Disc 4 – Tracklisting:

01. Roy Orbison – Running Scared
02. Connie Francis – Second Hand Love
03. The Everly Brothers – Crying In The Rain
04. The Crests – Step By Step
05. The Shirelles – Mama Said
06. The Angels – My Boyfriend's Back
07. Ray Charles – Unchain My Heart
08. Jan and Dean – Heart And Soul
09. Tommy Edwards – It's All In The Game
10. Ritchie Valens – Come On Let's Go
11. Elvis Presley – A Big Hunk Of Love
12. Ernie K-Doe – Mother-In-Law
13. The Johnny Otis Show – Willie And The Hand Jive
14. Shep & The Limelites – Daddy's Home
15. Sandy Nelson – Teen Beat
16. Dee Dee Sharp – Mashed Potato Time
17. The Skyliners – This I Swear
18. Bobby Lewis – Tossin' And Turnin'
19. The Chimes – Once In A While
20. Bobby Day – Over And Over
21. Frankie Avalon – Why
22. Solomon Burke – Cry To Me
23. The Dreamlovers – When We Get Married
24. The Murmaids – Popsicles And Icicles

Volume 3, Disc 5 – Tracklisting:

01. The Kingsmen – Louie Louie
02. Connie Fransis – Vacation
03. The Rays – Silhouettes
04. Roy Orbison – Blue Angel
05. Dionne Warwick – Don't Make Me Over
06. The Crests – The Angels Listened In
07. Ray Charles – You Don't Know Me
08. The Everly Brothers – Walk Right Back
09. Freddy Cannon – Palisades Park
10. Elvis Presley – Teddy Bear
11. Barbara Lewis – Hello Stranger
12. The Olympics – (Baby) Hully Gullu
13. Brian Hyland – Sealed With A Kiss
14. The Teddy Bears – To Know Him Is To Love Him
15. The Drifters – I Count The Tears
16. B. Bumble & The Stingers – Bumble Boogie
17. Gene Pitney – Town Without Pity
18. Duane Eddy – Because They're Young
19. Paul Anka – It's Time To Cry
20. The Coasters – Yakety Yak
21. Lloyd Price – Personality
22. The Platters – If I Didn't Care
23. Bobby Vee – Devil Or Angel
24. Chris Kenner – I Like It Like That, Part I

Volume 4, Disc 1 – Tracklisting:

01. Bill Haley and His Comets – Dim, Dim The Lights (I Want Some Atmosphere)
02. Pat Boone – Ain't That A Shame
03. Fats Domino – I'm In Love Again
04. The Moonglows – Sincerely
05. Elvis Presley – I Was The One
06. The Penguins – Earth Angel
07. The Cleftones – Little Girl Of Mine
08. Chuck Berry – School Day
09. The Teen Queens – Eddie My Love
10. Carl Perkins – Dixie Fried
11. Big Joe Turner – Shake, Rattle And Roll
12. The Platters – Heaven On Earth
13. Little Richard – Tutti Frutti
14. The Cadets – Stranded In The Jungle
15. Price LLoyd – I'm Gonna Get Married
16. Jesse Belvin – Goodnight My Love
17. Frankie Lyman & Teenagers – Why Do Fools Fall In Love
18. Bill Dogget – Honky Tonk, Part Two
19. The Cadillacs – Speedo
20. The Flamingos – I Only Have Eyes For You
21. Gloria Mann – Teenage Prayer
22. Little Anthony & The Imperials – Tears On My Pillow
23. The El Dorados – At My Front Door
24. The Heartbeats – A Thousand Miles Away

Volume 4, Disc 2 – Tracklisting:

01. The Platters – One In A Million
02. The Coasters – Young Blood
03. Johnnie & Joe – Over The Mountain, Across The Sea
04. Dale Hawkins – Susie Q
05. Jerry Lee Lewis – High School Confidential
06. Frankie Lymon & The Teenagers – I Want You To Be My Girl
07. Don Julian & The Meadowlarks – Heaven And Paradise
08. Bill Haley – Mambo Rock
09. The Dominoes – Sixty Minute Man
10. Chuck Berry – Carol
11. Ricky Nelson – Be-Bop Baby
12. Eddie Cochran – Summertime Blues
13. Elvis Presley – Blue Suede Shoes
14. The Jacks – Why Don't You Write Me
15. The Cadillacs – Peek-A-Boo
16. The Drifters – Fools Fall In Love
17. Pat Boone – At My Front Door
18. The Chords – Sh-Boom
19. Ruth Brown – (Mama), He Treats Your Daughter Mean
20. Fats Domino – Valley Of Tears
21. The Cardinals – The Door Is Still Open
22. Little Richard – Rip It Up
23. Gene Vincent – Lotta Lovin'
24. Carl Perkins – Your True Love

Volume 4, Disc 3 – Tracklisting:

01. Fats Domino – When My Dreamboat Comes Home
02. Ruth Brown – Wild Wild Young Men
03. Jimmy Clanton – Just A Dream
04. Chuck Willis – C. C. Rider
05. Sonny Knight – Confidential
06. The Chordettes – Mr. Sandman
07. The Coasters – Down In Mexico
08. Bobby Freeman – Do You Wanna Dance
09. Shirley & Lee – Let The Good Times Roll
10. Clyde McPhatter – Treasure Of Love
11. Chuck Berry – Oh Baby Doll
12. The Charts – Deserie
13. Eddie Cochran – Drive In Show
14. Little Richard – Slippin' And Slidin'
15. The Moonglows – See Shaw
16. Bill Haley – Birth Of The Boogie
17. Lee Andrews & The Hearts – Teardrops
18. Pat Boone – I Almost Lost My Mind
19. Dee Clark – Nobody But You
20. The Platters – My Dream
21. The Shepherd Sisters – Alone (Why Must I Be Alone)
22. Elvis Presley – Money Honey
23. The Monotones – Book Of Love
24. The Drifters – Ruby Baby

Volume 4, Disc 4 – Tracklisting:

01. Paul Anka – Let The Bells Keep Ringing
02. Little Anthony & The Imperials – Shimmy, Shimmy, Ko-Ko-Bop
03. The Quin-Tones – Down The Aisle Of Love
04. Ronnie Hawkins & The Hawks – Forty Days
05. Lee Andrews & The Hearts – Try The Impossible
06. Jimmie Rodgers – Honeycomb
07. Dee Clark – Hey Little Girl
08. The Heartbeats – Everybody's Somebody's Fool
09. Lavern Baker – Tweedle Dee
10. Skip & Flip – It Was I
11. Elvis Presley – I Want You, I Need You, I Love You
12. The Bobbettes – Mr. Lee
13. Wilbert Harrison – Kansas City
14. The Crests – Six Nights A Week
15. Buddy Holly – Rave On
16. Sammy Turner – Lavender Blue
17. The Chordettes – Born To Be With You
18. Bo Diddley – Crackin' Up
19. The Flamingos – Lovers Never Say Goodbye
20. Brook Benton – So Close
21. The Fleetwods – Mr. Blue
22. Pat Boone – Friendly Persuasion
23. Jesse Belvin – Guess Who
24. Sam Cooke – I'll Come Running Back To You

Volume 4, Disc 5 – Tracklisting:

01. Buddy Holly – Think It Over
02. Crazy Cole – Topsy (Part Two)
03. Sam Cooke – (I Love You) For Sentimental Reasons
04. The Drifters – (If You Cry) True Love, True Love
05. Danny & The Juniors – Rock & Roll Is Here To Stay
06. Billy & Lillie – La Dee Dah
07. The Crescendos – Oh Julie
08. The Big Bopper – Big Bopper's Wedding
09. Paul Anka – (All Of A Sudden) My Hearts Sings
10. The Coasters – I'm A Hog For You
11. Elvis Presley – Love Me
12. Bill Black's Combo – White Silver Sands
13. Tony Bellus – Robbin' The Cradle
14. Gary U.S. Bonds – New Orleans
15. Johnny Ray – You Don't Owe Me A Thing
16. The Brows – The Three Bells
17. Leroy Van Dyke – The Auctioneer
18. Jerry Wallace – How The Times Flies
19. Ricky Nelson – Lonesome Town
20. The Crew-Cuts – Ko Ko Mo (I Love You So)
21. Little Richard – Jenny Jenny
22. The Dell-Vikings – Whispering Bells
23. Jackie Wilson – That's Why (I Love You So)
24. The Diamonds – Silhouettes

Volume 5, Disc 1 – Tracklisting:

01. Ricky Nelson – A Teenager's Romance
02. Larry Williams – Short Fat Fannie
03. Doddie Stevens – Pink Shoe Laces
04. Little Richard – Keep A Knockin'
05. Harvey & The Moonglows – Ten Commandments Of Love
06. Dion & The Belmonts – Don't Pity Me
07. Sam Cooke – You Were Made For Me
08. The Silhouettes – Get A Job
09. Jackie Wilson – I'll Be Satisfied
10. The Virtues – Guitar Boogie Shuffle
11. Jodie Sands – With All My Heart
12. The Diamonds – The Stroll
13. Elvis Presley – Too Much
14. Jack Scott – My True Love
15. Buddy Holly – Raining In My Heart
16. Art & Dotty Todd – Chanson D'Amour (Song Of Love)
17. Jimmie Rodgers – Kisses Sweeter Than Wine
18. Carl Dobkins, Jr. – My Heart Is An Open Book
19. Floyd Robinson – Makin' Love
20. Jerry Wallace – Primrose Lane
21. Jody Reynolds – Endless Sleep
22. Gale Storm – Why Do Fools Fall In Love
23. Pat Boone – Don't Forbid Me
24. The Royal Teens – Short Shorts

Volume 5, Disc 2 – Tracklisting:

01. Pat Boone – Long Tall Sally
02. Buddy Knox – Party Doll
03. Jackie Wilson – Talk That Talk
04. The Safaris – Image Of A Girl
05. The Chordettes – Just Between You And Me
06. Jimmie Rodgers – Oh-Oh, I'm Falling In Love Again
07. Joe Bennett & The Sparkletones – Black Slacks
08. Buddy Holly – Early In The Morning
09. The Ames Brothers – Tammy
10. Fats Domino – The Fat Man
11. LaVern Baker – Jim Dandy
12. Chuck Willis – What Am I Living For
13. Elvis Presley – That's When Your Heartaches Begin
14. Freddy Cannon – Tallahassee Lassie
15. The Impalas – Sorry (I Ran All The Way Home)
16. Sam Cooke – Lonely Island
17. Johnny & The Hurricanes – Crossfire
18. Bill Black's Combo – Smokie (Part 2)
19. Rickie Nelson – I Got A Feeling
20. Kalin Twins – Forget Me Not
21. Dion & The Belmonts – A Lover's Prayer
22. Jerry Keller – Here Comes Summer
23. Bill Haley & His Comets – Burn That Candle
24. Paul Anka, George Hamilton IV, Johnny Nash – The Teen Commandments

Volume 5, Disc 3 – Tracklisting:

01. Sam Cooke – Love You Most Of All
02. Rickie Nelson – Never Be Anyone Else But You
03. Bill Haley & The Comets – R.O.C.K.
04. Pat Boone – Tutti Frutti
05. The Clovers – Love Love Love
06. Jim Lowe – The Green Door
07. Brook Benton – Thank You Pretty Baby
08. Marv Johnson – You've Got What It Takes
09. The McGuire Sisters – Sugartime
10. Brenda Lee – Sweet Nothin's
11. Wink Martindale – Deck Of Cards
12. Cathy Carr – Ivory Tower
13. Lou Monte – Lazy Mary
14. Buddy Holly – Heartbeat
15. The Mystics – Hushabye
16. Chuck Berry – Sweet Little Rock And Roller
17. Sanford Clark – The Fool
18. Little Richard – Ready Teddy
19. Ralph Marterie – Shish-Kebab
20. The Ames Brothers – Melodie D'amour
21. Elvis Presley – (There'll Be) Peace In The Valley (For Me)
22. Ruth Brow – Lucky Lips
23. Robin Luke – Susie Darling
24. Fats Domino – Bo Weevil

Volume 5, Disc 4 – Tracklisting:

01. Little Richard – Baby Face
02. Fats Domino – So-Long
03. Chuck Berry – Back In The USA
04. The Flamingos – Love Walked In
05. Elvis Presley – Loving You
06. Little Anthony & The Imperials – So Much
07. Carl Mann – Mona Lisa
08. Frankie Lymon & The Teenagers – Goody Goody
09. The Chordettes – Eddie My Love
10. Buddy Holly – Listen To Me
11. The Coasters – Run Red Run
12. Edward Burnes & Connie Stevens – Kookie Kookie
13. Frankie Avalon – Dede Dinah
14. Pat Boone – Why Baby Why
15. The Chantels – Maybe
16. The Champs – El Rancho Rock
17. Clarence 'Frogman' Henry – Ain't Got No Home
18. Fabian – Turn Me Loose
19. Jimmy McCracklin – The Walk
20. Bill Haley & His Comets – Rip It Up
21. The Del-Vikings – Cool Shake
22. Ricky Nelson – Just A Little Too Much
23. The Crew-Cuts – Young Love
24. Jackie Wilson – You Better Know It

Volume 5, Disc 5 – Tracklisting:

01. Fats Domino – Wait And See
02. The Chantels – Every Night (I Pray)
03. Ricky Nelson – Sweeter Than You
04. Buddy Holly – Peggy Sue Got Married
05. Dave 'Baby' Cortez – The Happy Organ
06. Frankie Avalon – Ginger Bread
07. The Coasters – Idol With The Golden Head
08. Bill Haley & His Comets – Skinny Minnie
09. The Crew-Cuts – Seven Days
10. Fabian – Hound Dog Man
11. Elvis Presley – Jailhouse Rock
12. Frankie Lymon & The Teenagers – The ABC's Of Love
13. The Chordettes – Zoro
14. The Four Preps – Big Man
15. Gino & Gina – (It's Been A Long Time) Pretty Baby
16. Pat Boone – Remember You're Mine
17. Gogi Grant – The Wayward Wind
18. Joy Layne – Your Wild Heart
19. Dee Clark – How About That
20. Ivory Joe Hunter – Since I Met You Baby
21. Little Richard – Miss Ann
22. Ernie Freeman – Raunchy
23. Clyde McPhatter – Without Love (There Is Nothing)
24. Chuck Berry – Almost Grown
Exact Audio Copy V0.99 prebeta 5 from 4. May 2009

Отчёт EAC об извлечении, выполненном 6. февраля 2010, 18:45

Various / Yesterdays Gold Vol 01 - 24 Golden Oldies

Дисковод: Optiarc DVD RW AD-7201A Adapter: 0 ID: 0

Режим чтения : Достоверность
Использование точного потока : Да
Отключение кэша аудио : Да
Использование указателей C2 : Нет

Коррекция смещения при чтении : 48
Способность читать области Lead-in и Lead-out : Нет
Заполнение пропущенных сэмплов тишиной : Да
Удаление блоков с тишиной в начале и конце : Нет
При вычислениях CRC использовались нулевые сэмплы : Да
Интерфейс : Установленный внешний ASPI-интерфейс

Выходной формат : Внутренние WAV-операции
Формат сэмплов : 44.100 Гц; 16 бит; стерео


TOC извлечённого CD

Трек | Старт | Длительность | Начальный сектор | Конечный сектор
––––––––––––––––––––––––––––––––––-
1 | 0:00.00 | 2:46.70 | 0 | 12519
2 | 2:46.70 | 2:07.17 | 12520 | 22061
3 | 4:54.12 | 2:23.40 | 22062 | 32826
4 | 7:17.52 | 2:36.43 | 32827 | 44569
5 | 9:54.20 | 2:13.02 | 44570 | 54546
6 | 12:07.22 | 2:39.38 | 54547 | 66509
7 | 14:46.60 | 1:47.25 | 66510 | 74559
8 | 16:34.10 | 3:00.40 | 74560 | 88099
9 | 19:34.50 | 2:42.37 | 88100 | 100286
10 | 22:17.12 | 2:16.73 | 100287 | 110559
11 | 24:34.10 | 2:04.52 | 110560 | 119911
12 | 26:38.62 | 2:11.70 | 119912 | 129806
13 | 28:50.57 | 2:45.73 | 129807 | 142254
14 | 31:36.55 | 2:19.30 | 142255 | 152709
15 | 33:56.10 | 2:19.57 | 152710 | 163191
16 | 36:15.67 | 2:25.13 | 163192 | 174079
17 | 38:41.05 | 2:08.12 | 174080 | 183691
18 | 40:49.17 | 2:44.30 | 183692 | 196021
19 | 43:33.47 | 2:26.08 | 196022 | 206979
20 | 45:59.55 | 2:59.52 | 206980 | 220456
21 | 48:59.32 | 2:12.63 | 220457 | 230419
22 | 51:12.20 | 2:28.72 | 230420 | 241591
23 | 53:41.17 | 2:18.20 | 241592 | 251961
24 | 55:59.37 | 2:48.38 | 251962 | 264599


Характеристики диапазона извлечения и сообщения об ошибках

Выбранный диапазон

Имя файла E:\01\Various - Yesterdays Gold Vol 01 - 24 Golden Oldies.wav

Пиковый уровень 100.0 %
Качество диапазона 99.9 %
CRC копии A4654124
Копирование… OK

Ошибок не произошло


AccurateRip: сводка

Трек 1 точность не определена (достоверность 8) [86DFBC6D], AccurateRip вернул [1FDE602C]
Трек 2 точность не определена (достоверность 8) [1633136F], AccurateRip вернул [1BCD6217]
Трек 3 точность не определена (достоверность 8) [C4096355], AccurateRip вернул [CB468CD9]
Трек 4 точность не определена (достоверность 8) [F6042F44], AccurateRip вернул [D83FE368]
Трек 5 точность не определена (достоверность 8) [78800626], AccurateRip вернул [22AB322A]
Трек 6 точность не определена (достоверность 8) [077C62D5], AccurateRip вернул [3B5E1A95]
Трек 7 точность не определена (достоверность 8) [8BEC1FCA], AccurateRip вернул [7E277ECA]
Трек 8 точность не определена (достоверность 8) [6618EA8B], AccurateRip вернул [C1202C73]
Трек 9 точность не определена (достоверность 9) [7E4F967A], AccurateRip вернул [1F76BF32]
Трек 10 точность не определена (достоверность 9) [D53B3CA1], AccurateRip вернул [A7B13B11]
Трек 11 точность не определена (достоверность 9) [2834E6CD], AccurateRip вернул [D7ED6EE1]
Трек 12 точность не определена (достоверность 9) [75BEA3DA], AccurateRip вернул [D35AE0B2]
Трек 13 точность не определена (достоверность 9) [59F3DAF4], AccurateRip вернул [F517DBB4]
Трек 14 точность не определена (достоверность 9) [A282A268], AccurateRip вернул [82F56B30]
Трек 15 точность не определена (достоверность 9) [3D6D4923], AccurateRip вернул [86D146AB]
Трек 16 точность не определена (достоверность 9) [E5C95EE1], AccurateRip вернул [33A1EF59]
Трек 17 точность не определена (достоверность 8) [DFB39A50], AccurateRip вернул [1D776A54]
Трек 18 точность не определена (достоверность 8) [23687DC5], AccurateRip вернул [DB70A665]
Трек 19 точность не определена (достоверность 8) [2BF606C4], AccurateRip вернул [7D970AFC]
Трек 20 точность не определена (достоверность 9) [63387080], AccurateRip вернул [ECAFF6D4]
Трек 21 точность не определена (достоверность 9) [3DED584E], AccurateRip вернул [394FDB26]
Трек 22 точность не определена (достоверность 9) [BC0F7B2B], AccurateRip вернул [22CD7F17]
Трек 23 точность не определена (достоверность 9) [83F7254E], AccurateRip вернул [59007EF6]
Трек 24 точность не определена (достоверность 7) [610B2807], AccurateRip вернул [FAE7598B]

Ни один трек не прошёл проверки на точность
В вашей базе может быть иной вариант штамповки диска

Конец отчёта

=============================================================================================

Exact Audio Copy V0.99 prebeta 5 from 4. May 2009

Отчёт EAC об извлечении, выполненном 4. февраля 2010, 2:23

Various Artists / Yesterdays Gold Vol. 2 - (24 Golden Oldies)

Дисковод: TSSTcorpCDDVDW SH-S223F Adapter: 0 ID: 0

Режим чтения : Достоверность
Использование точного потока : Да
Отключение кэша аудио : Нет
Использование указателей C2 : Нет

Коррекция смещения при чтении : 6
Способность читать области Lead-in и Lead-out : Нет
Заполнение пропущенных сэмплов тишиной : Да
Удаление блоков с тишиной в начале и конце : Нет
При вычислениях CRC использовались нулевые сэмплы : Да
Интерфейс : Установленный внешний ASPI-интерфейс

Выходной формат : Внутренние WAV-операции
Формат сэмплов : 44.100 Гц; 16 бит; стерео


TOC извлечённого CD

Трек | Старт | Длительность | Начальный сектор | Конечный сектор
––––––––––––––––––––––––––––––––––-
1 | 0:00.00 | 2:37.50 | 0 | 11824
2 | 2:37.50 | 2:16.45 | 11825 | 22069
3 | 4:54.20 | 2:37.00 | 22070 | 33844
4 | 7:31.20 | 2:23.42 | 33845 | 44611
5 | 9:54.62 | 2:02.60 | 44612 | 53821
6 | 11:57.47 | 2:31.48 | 53822 | 65194
7 | 14:29.20 | 2:20.65 | 65195 | 75759
8 | 16:50.10 | 2:24.45 | 75760 | 86604
9 | 19:14.55 | 2:53.65 | 86605 | 99644
10 | 22:08.45 | 2:25.37 | 99645 | 110556
11 | 24:34.07 | 2:46.00 | 110557 | 123006
12 | 27:20.07 | 2:35.43 | 123007 | 134674
13 | 29:55.50 | 2:20.15 | 134675 | 145189
14 | 32:15.65 | 2:12.07 | 145190 | 155096
15 | 34:27.72 | 2:43.08 | 155097 | 167329
16 | 37:11.05 | 2:02.52 | 167330 | 176531
17 | 39:13.57 | 1:56.28 | 176532 | 185259
18 | 41:10.10 | 1:59.32 | 185260 | 194216
19 | 43:09.42 | 2:44.38 | 194217 | 206554
20 | 45:54.05 | 2:33.15 | 206555 | 218044
21 | 48:27.20 | 1:55.30 | 218045 | 226699
22 | 50:22.50 | 2:14.40 | 226700 | 236789
23 | 52:37.15 | 2:21.30 | 236790 | 247394
24 | 54:58.45 | 1:47.62 | 247395 | 255481


Характеристики диапазона извлечения и сообщения об ошибках

Выбранный диапазон

Имя файла C:\02\Various Artists - Yesterdays Gold Vol. 2 - (24 Golden Oldies).wav

Пиковый уровень 99.9 %
Качество диапазона 100.0 %
CRC копии 309F96C4
Копирование… OK

Ошибок не произошло


AccurateRip: сводка

Трек 1 точное извлечение (доверие 9) [A85FE019]
Трек 2 точное извлечение (доверие 9) [912CC7E3]
Трек 3 точное извлечение (доверие 9) [3EAE1FD0]
Трек 4 точное извлечение (доверие 9) [0921D711]
Трек 5 точное извлечение (доверие 9) [EC6CA1BC]
Трек 6 точное извлечение (доверие 8) [064EC5A9]
Трек 7 точное извлечение (доверие 9) [89F8AC8E]
Трек 8 точное извлечение (доверие 9) [5A910E26]
Трек 9 точное извлечение (доверие 9) [82D2D4F5]
Трек 10 точное извлечение (доверие 8) [1A706C81]
Трек 11 точное извлечение (доверие 9) [3BD77858]
Трек 12 точное извлечение (доверие 9) [E41BFB69]
Трек 13 точное извлечение (доверие 9) [DB7BB174]
Трек 14 точное извлечение (доверие 9) [74D8B68C]
Трек 15 точное извлечение (доверие 9) [170BDDDD]
Трек 16 точное извлечение (доверие 9) [E86AE17D]
Трек 17 точное извлечение (доверие 9) [3A6A917A]
Трек 18 точное извлечение (доверие 9) [C90B5F1A]
Трек 19 точное извлечение (доверие 9) [3E7F09C4]
Трек 20 точное извлечение (доверие 9) [96F95005]
Трек 21 точное извлечение (доверие 9) [588CE11F]
Трек 22 точное извлечение (доверие 8) [0557242C]
Трек 23 точное извлечение (доверие 9) [BD69C5F9]
Трек 24 точное извлечение (доверие 9) [F2705EC1]

Все треки извлечены точно

Конец отчёта

====================================================

Exact Audio Copy V0.99 prebeta 5 from 4. May 2009

Отчёт EAC об извлечении, выполненном 4. февраля 2010, 2:41

Various / Yesterdays Gold Vol.3 - 24 Golden Oldies

Дисковод: TSSTcorpCDDVDW SH-S223F Adapter: 0 ID: 0

Режим чтения : Достоверность
Использование точного потока : Да
Отключение кэша аудио : Нет
Использование указателей C2 : Нет

Коррекция смещения при чтении : 6
Способность читать области Lead-in и Lead-out : Нет
Заполнение пропущенных сэмплов тишиной : Да
Удаление блоков с тишиной в начале и конце : Нет
При вычислениях CRC использовались нулевые сэмплы : Да
Интерфейс : Установленный внешний ASPI-интерфейс

Выходной формат : Внутренние WAV-операции
Формат сэмплов : 44.100 Гц; 16 бит; стерео


TOC извлечённого CD

Трек | Старт | Длительность | Начальный сектор | Конечный сектор
––––––––––––––––––––––––––––––––––-
1 | 0:00.33 | 2:23.35 | 33 | 10792
2 | 2:23.68 | 2:09.17 | 10793 | 20484
3 | 4:33.10 | 2:40.25 | 20485 | 32509
4 | 7:13.35 | 2:53.33 | 32510 | 45517
5 | 10:06.68 | 2:16.07 | 45518 | 55724
6 | 12:23.00 | 2:43.13 | 55725 | 67962
7 | 15:06.13 | 2:30.70 | 67963 | 79282
8 | 17:37.08 | 2:24.70 | 79283 | 90152
9 | 20:02.03 | 2:07.27 | 90153 | 99704
10 | 22:09.30 | 2:13.20 | 99705 | 109699
11 | 24:22.50 | 2:39.70 | 109700 | 121694
12 | 27:02.45 | 2:22.28 | 121695 | 132372
13 | 29:24.73 | 2:18.07 | 132373 | 142729
14 | 31:43.05 | 2:35.68 | 142730 | 154422
15 | 34:18.73 | 2:41.62 | 154423 | 166559
16 | 37:00.60 | 2:46.08 | 166560 | 179017
17 | 39:46.68 | 2:45.42 | 179018 | 191434
18 | 42:32.35 | 2:16.53 | 191435 | 201687
19 | 44:49.13 | 2:16.67 | 201688 | 211954
20 | 47:06.05 | 2:31.23 | 211955 | 223302
21 | 49:37.28 | 2:21.22 | 223303 | 233899
22 | 51:58.50 | 1:59.13 | 233900 | 242837
23 | 53:57.63 | 2:39.55 | 242838 | 254817
24 | 56:37.43 | 2:36.32 | 254818 | 266549


Характеристики диапазона извлечения и сообщения об ошибках

Выбранный диапазон

Имя файла C:\03\Various Artists - Yesterdays Gold Vol.3 - 24 Golden Oldies.wav

Пиковый уровень 94.0 %
Качество диапазона 100.0 %
CRC копии 1B79A6FC
Копирование… OK

Ошибок не произошло


AccurateRip: сводка

Трек 1 нет в базе данных
Трек 2 нет в базе данных
Трек 3 нет в базе данных
Трек 4 нет в базе данных
Трек 5 нет в базе данных
Трек 6 нет в базе данных
Трек 7 нет в базе данных
Трек 8 нет в базе данных
Трек 9 нет в базе данных
Трек 10 нет в базе данных
Трек 11 нет в базе данных
Трек 12 нет в базе данных
Трек 13 нет в базе данных
Трек 14 нет в базе данных
Трек 15 нет в базе данных
Трек 16 нет в базе данных
Трек 17 нет в базе данных
Трек 18 нет в базе данных
Трек 19 нет в базе данных
Трек 20 нет в базе данных
Трек 21 нет в базе данных
Трек 22 нет в базе данных
Трек 23 нет в базе данных
Трек 24 нет в базе данных

Ни одного трека нет в базе AccurateRip

Конец отчёта

==============================================

Exact Audio Copy V0.99 prebeta 5 from 4. May 2009

Отчёт EAC об извлечении, выполненном 4. февраля 2010, 3:14

Various Artists / Yesterdays Gold Vol. 4 - (24 Golden Oldies)

Дисковод: TSSTcorpCDDVDW SH-S223F Adapter: 0 ID: 0

Режим чтения : Достоверность
Использование точного потока : Да
Отключение кэша аудио : Нет
Использование указателей C2 : Нет

Коррекция смещения при чтении : 6
Способность читать области Lead-in и Lead-out : Нет
Заполнение пропущенных сэмплов тишиной : Да
Удаление блоков с тишиной в начале и конце : Нет
При вычислениях CRC использовались нулевые сэмплы : Да
Интерфейс : Установленный внешний ASPI-интерфейс

Выходной формат : Внутренние WAV-операции
Формат сэмплов : 44.100 Гц; 16 бит; стерео


TOC извлечённого CD

Трек | Старт | Длительность | Начальный сектор | Конечный сектор
––––––––––––––––––––––––––––––––––-
1 | 0:00.00 | 3:16.22 | 0 | 14721
2 | 3:16.22 | 1:54.73 | 14722 | 23344
3 | 5:11.20 | 2:27.27 | 23345 | 34396
4 | 7:38.47 | 2:25.00 | 34397 | 45271
5 | 10:03.47 | 2:37.43 | 45272 | 57089
6 | 12:41.15 | 2:11.62 | 57090 | 66976
7 | 14:53.02 | 5:06.18 | 66977 | 89944
8 | 19:59.20 | 2:09.20 | 89945 | 99639
9 | 22:08.40 | 2:27.42 | 99640 | 110706
10 | 24:36.07 | 2:35.58 | 110707 | 122389
11 | 27:11.65 | 2:25.17 | 122390 | 133281
12 | 29:37.07 | 2:30.73 | 133282 | 144604
13 | 32:08.05 | 2:02.50 | 144605 | 153804
14 | 34:10.55 | 2:41.62 | 153805 | 165941
15 | 36:52.42 | 2:30.58 | 165942 | 177249
16 | 39:23.25 | 2:40.27 | 177250 | 189276
17 | 42:03.52 | 2:00.53 | 189277 | 198329
18 | 44:04.30 | 2:16.15 | 198330 | 208544
19 | 46:20.45 | 2:25.57 | 208545 | 219476
20 | 48:46.27 | 2:24.40 | 219477 | 230316
21 | 51:10.67 | 2:30.10 | 230317 | 241576
22 | 53:41.02 | 2:23.53 | 241577 | 252354
23 | 56:04.55 | 2:12.65 | 252355 | 262319
24 | 58:17.45 | 1:59.30 | 262320 | 271274


Характеристики диапазона извлечения и сообщения об ошибках

Выбранный диапазон

Имя файла F:\YEST_GOLD\04\Various Artists - Yesterdays Gold Vol. 4 - 24 Golden Oldies.wav

Пиковый уровень 98.7 %
Качество диапазона 100.0 %
CRC копии 4CC36C71
Копирование… OK

Ошибок не произошло


AccurateRip: сводка

Трек 1 точность не определена (достоверность 6) [B502A5EB], AccurateRip вернул [1AE74F00]
Трек 2 точность не определена (достоверность 6) [0EA0FC8A], AccurateRip вернул [35AD1CB2]
Трек 3 точность не определена (достоверность 6) [AEB7BA29], AccurateRip вернул [2BFDBE82]
Трек 4 точность не определена (достоверность 6) [8EF46987], AccurateRip вернул [49016498]
Трек 5 точность не определена (достоверность 6) [3562DE17], AccurateRip вернул [AEB54D19]
Трек 6 точность не определена (достоверность 6) [5C8EF8F6], AccurateRip вернул [0FC0593E]
Трек 7 точность не определена (достоверность 6) [A79D9984], AccurateRip вернул [4DC51199]
Трек 8 точность не определена (достоверность 6) [68333687], AccurateRip вернул [4E5B124E]
Трек 9 точность не определена (достоверность 6) [52712BFB], AccurateRip вернул [BA8EEA85]
Трек 10 точность не определена (достоверность 6) [F7234584], AccurateRip вернул [23EB9998]
Трек 11 точность не определена (достоверность 6) [4666953C], AccurateRip вернул [4DB179C6]
Трек 12 точность не определена (достоверность 6) [8D09114A], AccurateRip вернул [FE82C279]
Трек 13 точность не определена (достоверность 6) [4914B495], AccurateRip вернул [6C29E6D5]
Трек 14 точность не определена (достоверность 6) [25CF865E], AccurateRip вернул [52B78BF3]
Трек 15 точность не определена (достоверность 6) [055ED8A0], AccurateRip вернул [7E6A3B44]
Трек 16 точность не определена (достоверность 6) [36A13E27], AccurateRip вернул [F0D698F5]
Трек 17 точность не определена (достоверность 6) [6DC93957], AccurateRip вернул [60C0FC9A]
Трек 18 точность не определена (достоверность 6) [43A0507A], AccurateRip вернул [3A9711E5]
Трек 19 точность не определена (достоверность 6) [99DEA948], AccurateRip вернул [9F1F81D8]
Трек 20 точность не определена (достоверность 6) [41AAF84E], AccurateRip вернул [87508993]
Трек 21 точность не определена (достоверность 4) [30AE2742], AccurateRip вернул [2830643C]
Трек 22 точность не определена (достоверность 6) [CCB8CE00], AccurateRip вернул [BA8907F4]
Трек 23 точность не определена (достоверность 6) [4319346A], AccurateRip вернул [15D51FBA]
Трек 24 точность не определена (достоверность 6) [0BACFE1A], AccurateRip вернул [8A1282B9]

Ни один трек не прошёл проверки на точность
В вашей базе может быть иной вариант штамповки диска

Конец отчёта

===========================================================================================

Exact Audio Copy V0.99 prebeta 5 from 4. May 2009

Отчёт EAC об извлечении, выполненном 4. февраля 2010, 7:16

Various Artists / Yesterdays Gold Vol. 5 - 24 Golden Oldies

Дисковод: TSSTcorpCDDVDW SH-S223F Adapter: 0 ID: 0

Режим чтения : Достоверность
Использование точного потока : Да
Отключение кэша аудио : Нет
Использование указателей C2 : Нет

Коррекция смещения при чтении : 6
Способность читать области Lead-in и Lead-out : Нет
Заполнение пропущенных сэмплов тишиной : Да
Удаление блоков с тишиной в начале и конце : Нет
При вычислениях CRC использовались нулевые сэмплы : Да
Интерфейс : Установленный внешний ASPI-интерфейс

Выходной формат : Внутренние WAV-операции
Формат сэмплов : 44.100 Гц; 16 бит; стерео


TOC извлечённого CD

Трек | Старт | Длительность | Начальный сектор | Конечный сектор
––––––––––––––––––––––––––––––––––-
1 | 0:00.00 | 2:06.37 | 0 | 9486
2 | 2:06.37 | 3:08.25 | 9487 | 23611
3 | 5:14.62 | 3:08.15 | 23612 | 37726
4 | 8:23.02 | 2:09.08 | 37727 | 47409
5 | 10:32.10 | 2:00.52 | 47410 | 56461
6 | 12:32.62 | 1:59.53 | 56462 | 65439
7 | 14:32.40 | 2:21.22 | 65440 | 76036
8 | 16:53.62 | 2:38.23 | 76037 | 87909
9 | 19:32.10 | 2:04.05 | 87910 | 97214
10 | 21:36.15 | 2:39.50 | 97215 | 109189
11 | 24:15.65 | 2:32.22 | 109190 | 120611
12 | 26:48.12 | 2:28.08 | 120612 | 131719
13 | 29:16.20 | 2:33.37 | 131720 | 143231
14 | 31:49.57 | 2:08.43 | 143232 | 152874
15 | 33:58.25 | 2:42.67 | 152875 | 165091
16 | 36:41.17 | 2:56.20 | 165092 | 178311
17 | 39:37.37 | 2:28.43 | 178312 | 189454
18 | 42:06.05 | 2:43.45 | 189455 | 201724
19 | 44:49.50 | 2:19.25 | 201725 | 212174
20 | 47:09.00 | 2:23.25 | 212175 | 222924
21 | 49:32.25 | 2:41.40 | 222925 | 235039
22 | 52:13.65 | 2:41.02 | 235040 | 247116
23 | 54:54.67 | 2:17.70 | 247117 | 257461
24 | 57:12.62 | 2:40.43 | 257462 | 269504


Характеристики диапазона извлечения и сообщения об ошибках

Выбранный диапазон

Имя файла F:\YEST_GOLD\05\Various Artists - Yesterdays Gold Vol. 5 - 24 Golden Oldies.wav

Пиковый уровень 85.3 %
Качество диапазона 100.0 %
CRC теста EFDAA1D6
CRC копии EFDAA1D6
Копирование… OK

Ошибок не произошло


AccurateRip: сводка

Трек 1 точное извлечение (доверие 3) [3E99753C]
Трек 2 точное извлечение (доверие 3) [2E7980E5]
Трек 3 точное извлечение (доверие 3) [3F81D066]
Трек 4 точное извлечение (доверие 3) [B1795980]
Трек 5 точное извлечение (доверие 3) [3BDC02B5]
Трек 6 точное извлечение (доверие 3) [671E5244]
Трек 7 точное извлечение (доверие 3) [29A1A775]
Трек 8 точное извлечение (доверие 3) [3230F1A5]
Трек 9 точное извлечение (доверие 3) [CFF663DC]
Трек 10 точное извлечение (доверие 3) [BC9C2308]
Трек 11 точное извлечение (доверие 3) [40968D60]
Трек 12 точное извлечение (доверие 3) [511439AB]
Трек 13 точное извлечение (доверие 3) [670A41C8]
Трек 14 точное извлечение (доверие 3) [A10F4BA6]
Трек 15 точное извлечение (доверие 3) [8D18745C]
Трек 16 точное извлечение (доверие 3) [D27501ED]
Трек 17 точное извлечение (доверие 3) [21304680]
Трек 18 точное извлечение (доверие 3) [57AACF7A]
Трек 19 точное извлечение (доверие 3) [36FA6D89]
Трек 20 точное извлечение (доверие 3) [863E9330]
Трек 21 точное извлечение (доверие 3) [FC8F31E4]
Трек 22 точное извлечение (доверие 3) [3DAD75CB]
Трек 23 точное извлечение (доверие 3) [CE7C3D6F]
Трек 24 точное извлечение (доверие 3) [AEDD4493]

Все треки извлечены точно

Конец отчёта

====================================================
All 25 log files included…