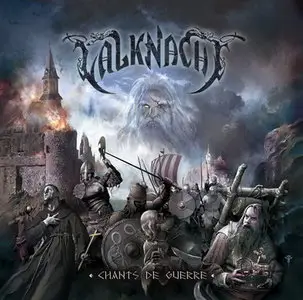 Valknacht - Chants de Guerre (2011)
Mp3 | 320 Kbps | 138 MB | Canada
Pagan Black Metal
Inspired by nature and Germanic Scandinavian mythology, master mind composer writer Thorleïf, decided to express his passion of history through music. He had this constant vision of a vast land of warriors who fell to combat on a pale moon rising… With this imagery that kept haunting his mind, he went along reading many books and found the ultimate word that would reflect his idea for the band's name: VALKNACHT!.The main concept here is a Black Metal foundation softened by some Pagan riffing, Folk instrumentation (mainly flute) and keyboard effects in the form of frequent choirs, string and wind instruments. The production is nice and fairly clear and lets all instruments be heard.
Track List:
1. The Wind Bears Their Memories
2. Valkyries Still Ride
3. Venu du Septentrion
4. Balder's Rebirth
5. Saxon's Will
6. The Autumn Of The Gods
7. Mon Chemin Vers Le Valhalla
8. Rite Funéraire
Total playing time 01:01:11