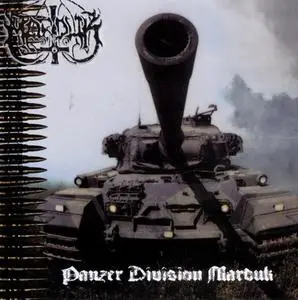 Marduk - Panzer Division Marduk (1999)
Sweden | MP3 CBR 320 Kbps | 60 MB
Black Metal | Label : Osmose Productions
Panzer Division Marduk is the sixth studio album by Swedish black metal band Marduk. It was recorded and mixed at The Abyss in January 1999 and released in June 1999 by Osmose Productions. The theme of the album is fire, as Nightwing was blood, and La Grande Danse Macabre (the band's next studio album) would be death, forming a trilogy of "Blood, Fire, and Death", Marduk's vision of what black metal is, unending grimness (as well as a tribute to the Bathory album Blood Fire Death). Panzer Division Marduk was the last Marduk release by Osmose Productions.The track "502" refers to the 502nd Heavy Tank Battalion, which was involved in the Siege of Leningrad. Part of the lyrics of this songs comes from "Panzerlied", one of the most famous Wehrmacht songs.