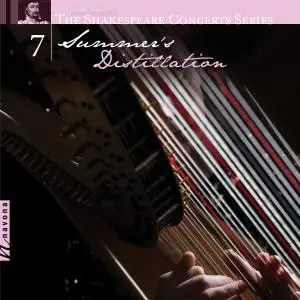 Various Artists - The Shakespeare Concerts Series, Vol. 7: Summer's Distillation (2020)
WEB FLAC (tracks) - 261 MB | Tracks: 15 | 61:59 min
Style: Classical | Label: Navona
With SUMMER'S DISTILLATION, Joseph Summer, as composer, offers a new look at the timeless texts credited to William Shakespeare. As artistic director, Summer presents settings by Brahms, R. Schumann, and Benjamin Pesetsky, curating an overall impressive collection of works for voice, harp, and horns.
Sonnets V and VI for voice, horns, and harp is raw and unfiltered—in a complex tonal language which illuminates stark text is the foreground. Sonnet CIV is an art song for mezzo soprano wherein the harp accompaniment plays the role of a lute or acoustic guitar. It is simultaneously heavy and graceful. Sonnet XCI for voice and horns, on the other hand, is regal and declamatory. Sonnet LXXIII for vocal ensemble, harp, and horns paints a dark forest scene—a cacophony of textures as soloists take turns, yet no voice or instrument is background. Finally, Sonnet CXXXIII, a duet for tenor and soprano against the scene painting of harp and horns, is a complaint about the interminably long delay between Summer's proclamation of adoration for his (eventual) wife, Lisa Summer, and her prorogued agreement to accept his offer of love.
If by Your Art from The Tempest is a through-composed soprano aria with atmospheric harp accompaniment. The harp's echoed scale fragments guide the thoughts of the actress—starting in pain and finishing in sweet respite. O God, That I Were a Man from All's Well That Ends Well is a monologue running the gamut of emotions, from "I would eat his heart in the marketplace" to "she is undone." This is balanced by music of centuries later, with Robert Schumann's Drei Gesänge (Three Songs), Op.95, for soloist and harp, presenting settings of texts by Karl Julius Körner and three of the Hebrew Melodies by Lord Byron. Some of the highest inspiration for this album is Brahms' Vier Gesänge, Op.17. Upon hearing it the first time, Summer recounts: "I experienced the music as a transcendent epiphany. It changed the course of my life." It is extraordinary indeed, and Summer's ensemble justifiably gives it life.
SUMMER'S DISTILLATION concludes with Answer and Question from All's Well That Ends Well by Boston-based composer and writer Benjamin Pesetsky, commissioned by Summer for this collection of works. This work both serves to aptly round off the piece and leave listeners wanting more.
Tracklist:
01. Sonnet No. 5 - Sonnet No. 6
02. Sonnet No. 104
03. Sonnet No. 91
04. Sonnet No. 73
05. Sonnet No. 133
06. The Tempest: If By Your Art
07. O God, That I Were a Man
08. 3 Gesänge, Op. 95 (Arr. for Harp & Voice): No. 1, Die Tochter Jephtas
09. 3 Gesänge, Op. 95 (Arr. for Harp & Voice): No. 2, An den Mond
10. 3 Gesänge, Op. 95 (Arr. for Harp & Voice): No. 3, Dem Helden
11. 4 Gesänge, Op. 17 (Version with Harp): No. 1, Es tönt ein voller Harfenklang
12. 4 Gesänge, Op. 17 (Version with Harp): No. 2, Lied von Shakespeare
13. 4 Gesänge, Op. 17 (Version with Harp): No. 3, Der Gärtner
14. 4 Gesänge, Op. 17 (Version with Harp): No. 4, Gesang aus Fingal
15. Answer and Question


FILE: 01. Sonnet No. 5 - Sonnet No. 6.flac
Size: 24043689 Hash: E7B6C4C309606572438223D085FA2441 Accuracy: -m0
Conclusion: CDDA 100%
Signature: 7177367F9A5840FF502DE98E7D0B1D29C6389CC1
FILE: 02. Sonnet No. 104.flac
Size: 15650699 Hash: A984B167EA26E37916A47A0B8B816C41 Accuracy: -m0
Conclusion: CDDA 76%
Signature: 6780A0B7F1F7A045819CFCBE686A7A750AC4391D
FILE: 03. Sonnet No. 91.flac
Size: 13601156 Hash: 412E0BA0A31D614BBCB079BEEE0A11FA Accuracy: -m0
Conclusion: CDDA 94%
Signature: 989ACA38E6691CFFF659A18B8AF5AFFF6D68201D
FILE: 04. Sonnet No. 73.flac
Size: 17349347 Hash: E77E97ED21DBDABC4FDC57C874D5C38A Accuracy: -m0
Conclusion: CDDA 100%
Signature: C079227AC0DC273DA0F146F601E151E81B1DFC2D
FILE: 05. Sonnet No. 133.flac
Size: 39161191 Hash: D89388DE65394E3BFDD390F9CA287C88 Accuracy: -m0
Conclusion: CDDA 54%
Signature: B3C1F07CEEA99F94ED37264EEAD5B5B38B8BEBD8
FILE: 06. The Tempest_ If By Your Art.flac
Size: 25166895 Hash: 0BC879F31484AEE49C00074D2ADCD5B5 Accuracy: -m0
Conclusion: CDDA 58%
Signature: F1D3428AA5E5EB68BE5A456EB16B49BA780EA418
FILE: 07. O God, That I Were a Man.flac
Size: 14937813 Hash: 51D0DB32731DFBA95BEF4A243D0873D2 Accuracy: -m0
Conclusion: CDDA 42%
Signature: ADCB6990C57DB30DFF917986E9A361EB299DB654
FILE: 08. 3 Gesänge, Op. 95 (Arr. for Harp & Voice)_ No. 1, Die Tochter Jephtas.flac
Size: 11074406 Hash: CF0E83CDC2E0FD0ECC17CBCBBCEAE0FC Accuracy: -m0
Conclusion: CDDA 100%
Signature: 4B731FAAE0726F8DD1974BEE9FC809E26D675AC5
FILE: 09. 3 Gesänge, Op. 95 (Arr. for Harp & Voice)_ No. 2, An den Mond.flac
Size: 9229659 Hash: AB780A4126BB8E96931CF536696F1208 Accuracy: -m0
Conclusion: CDDA 76%
Signature: 66267D7D2B9E2887E0BC48C2F60066679F7BFA63
FILE: 10. 3 Gesänge, Op. 95 (Arr. for Harp & Voice)_ No. 3, Dem Helden.flac
Size: 11766737 Hash: 394D701EB4EF2EED987AD2FA8428E715 Accuracy: -m0
Conclusion: CDDA 58%
Signature: B06ECE6FDAE7131DA178DDD6515C400BEB1E0878
FILE: 11. 4 Gesänge, Op. 17 (Version with Harp)_ No. 1, Es tönt ein voller Harfenklang.flac
Size: 14268806 Hash: 5D07D63A9E62D853B258C3B766F18F27 Accuracy: -m0
Conclusion: CDDA 85%
Signature: F69DD2F3A68DA31E86BACF0D7CDC521148B6D9EB
FILE: 12. 4 Gesänge, Op. 17 (Version with Harp)_ No. 2, Lied von Shakespeare.flac
Size: 10094248 Hash: 9F2ED8AD684836F80FEF1A8925C006F2 Accuracy: -m0
Conclusion: CDDA 100%
Signature: BFD05664DE2818BB95FCCDBAAC59ACDB49175BE2
FILE: 13. 4 Gesänge, Op. 17 (Version with Harp)_ No. 3, Der Gärtner.flac
Size: 16549501 Hash: 5CB02C06AF761F1377E7253727D4FA67 Accuracy: -m0
Conclusion: CDDA 87%
Signature: DA5A186F906C284ACC02BA60F687FEF65346579E
FILE: 14. 4 Gesänge, Op. 17 (Version with Harp)_ No. 4, Gesang aus Fingal.flac
Size: 22057640 Hash: A82EFCE88F537234D857EEB12F32C585 Accuracy: -m0
Conclusion: CDDA 94%
Signature: 463195698AF32E5814CC7C184DE27B8196794FB6
FILE: 15. Answer and Question.flac
Size: 29001844 Hash: B258FE6CB699FF5D7D0E522893291D47 Accuracy: -m0
Conclusion: CDDA 76%
Signature: 10C9DA8D8F14F4A8CD7A0B36F5C3CFD777528F7C