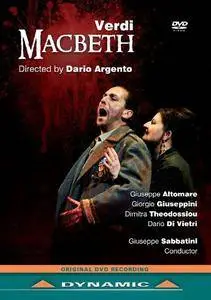 Giuseppe Sabbatini, Orchestra Filarmonica del Piemonte & Schola Cantorum San Gregorio Magno - Verdi: Macbeth (2015)
NTSC 16:9 (720x480) VBR | Italiano (LinearPCM, 2 ch) | (Dolby AC3, 6 ch) | 7.68 Gb (DVD9) | 158 min
Classical | Dynamic | Sub: Italiano, English, Deutsch, Francais, Japanese
This score undoubtedly marks an important turning point in Verdi's operatic writing, because it brings to the foreground the characters' introspective, psychological aspect, which would be the fundamental feature of most of the maestro's later creations. This recording documents the production staged at Novara's Teatro Coccia during the 2013-2014 season, with Dario Argento tackling for the rst time the direction of an opera. Verdi's masterpiece was not new to the director from Rome, who had used it as backdrop for his 1987 lm Opera, set at the Teatro Regio in Parma, indeed during a staging of Macbeth. From the master of thriller and horror one could only expect a direction in line with his previous lm-making background, and from that point of view, this Macbeth does not fail expectations, with its bloody, indeed gory scenes; they are, at any rate, consistent with the dark and brutal character of Shakespeare's tragedy. But aside from all of that, Dario Argento's direction reveals extraordinarily theatrical qualities, greatly enhanced by the conducting of Giuseppe Sabbatini who, on the podium, takes tempos that fit perfectly the unrolling of the drama.
Cast:
Macbeth - Giuseppe Altomare
Banco - Giorgio Giuseppini
Lady Macbeth - Dimitra Theodossiou
Dama di Lady Macbeth - Valeria Sepe
Malcolm - Ernesto Petti
Macduff - Dario Di Vietri
Orchestra Filarmonica del Piemonte & Schola Cantorum San Gregorio Magno
Conductor - Giuseppe Sabbatini

01. Opening
02. Prelude
Act 1
03. Che faceste? Dite su!
04. Giorno con vidi mai - Due vaticini
05. S'allontanarono!
06. Nel dì della vittoria - Vieni t'affretta
07. Oh donna mia!
08. Fatal mia donna! Un murmure
09. Di destarlo per tempo
Act 2
10. Perché ma sfuggi
11. La luce langue
12. Chi vi impose unirvi a noi?
13. Studia il passo, o mio figlio!
14. Salve, o re!
15. Che ti scosta, o re mio sposo
16. Sangue a me quell'ombra chiede
Act 3
17. Tre volte miagola
18. Finché appelli, silenti m'attendete
19. Fuggi, regal fantassima
20. Ove son io?
Act 4
21. Patra oppressa
22. O figli, o figli miei!
23. Dove siam?
24. Vegliammo invan due notti
25. Una macchia… è qui tutt'ora!
26. Perfidi! - Pietà, rispetto, amore
27. Elle è morta!
28. Vittoria!