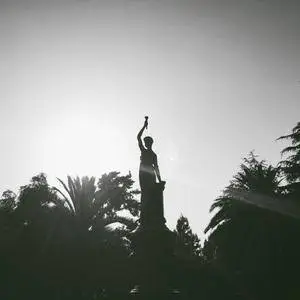 Wharfer - Scenes Of The Tourist (2017)
Folk, Indie, Americana, Singer-Songwriter | MP3 CBR 320 kbps | 00:40:40 | 95 MB
Label: Wharfer | Release Year: 2017
Kyle Wall, the Brooklyn-based songwriter who records under the name Wharfer, doesn't exactly sing his melodies. He swirls them around in his mouth, chewing on his words as he describes how they taste. And while his influences are all immediately clear (Bill Callahan, Lambchop's Kurt Wagner, later Bob Dylan), Wall doesn't really sound like anyone else. His voice is the first thing you'll notice about his music: his folksy drawl, his odd pronunciation, a phlegmy grumble like he's fighting a cold. And while some singers might sand down their idiosyncrasies as their songwriting progresses, Wall has doubled down on them with Scenes of the Tourist. Over 12 songs, he has refined his music to mostly piano and vocals, relegating his backing band to more atmospheric duties while his strange and weary voice does the heavy lifting.
On the whole, it's a risk that pays off. These are the finest songs of Wall's career, and he treats them like he knows it. The arrangements are stately but sparse, centered on simple melodies that recur like gloomy dreams. The slow, lapping "Lilacs" sounds a little like Darkness-era Springsteen with all the energy siphoned out and replaced with seasonal affective disorder. "You're a thing of the past," Wall sings in his lowest register, "And I love you like that." "Somewhere a Meteor Calls Me," meanwhile, is the album's catchiest moment and its most expensive. Here, Wall is backed by a dark-hued storm that effectively pulls in some of Ultraviolence's shades of cool. It's a song that hints at work to come that might build on this album's starkness with a more dynamic palette.
That isn't to say that Scenes is monotonous. Wall varies his songwriting enough to make room for a multitude of styles, from the barroom balladry of "Blue Lewis" to the heady slow-build of "The Suitcase." Some of Wall's attempts to diversify his sound lead him directly into other songwriters' territory: "Marigold" takes major melodic cues from Sufjan Stevens' "Fourth of July," while "St. Helena" is basically Mark Kozelek's "Ceiling Gazing" without the happy ending. Still, thanks to Wall's distinctive vocals, he makes each song his own, and, especially if you're in the right mood for it, Scenes of the Tourist is a powerful and engaging record. But it also feels like a step toward more distinctive work Wall's attempt to strip back to discover his core identity. He's found his voice, and now he's a lot closer to finding what he has to say.
TRACKLIST
01. Breeze (Since I Was Born)
02. Lilacs
03. Baton Rouge
04. Blue Lewis
05. Rye Wish
06. Somewhere A Meteor Calls Me
07. The Suitcase
08. Marigold
09. Arrows
10. In The Old Magnolia Trees
11. St. Helena
12. The Wild