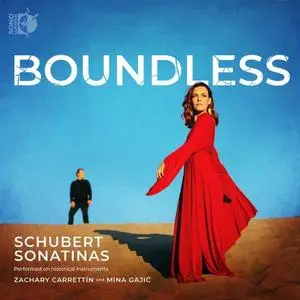 Zachary Carrettín & Mina Gajić - Boundless (2020)
FLAC tracks +booklet | 00:56:23 | 256 Mb
Genre: Classical / Label: Sono Luminus
In recording these, the earliest revelations of Schuberts boundless lyricism in his early romantic compositional voice as applied to instrumental chamber music, we sought to pay homage to the original intent as well as the authentic sounds. The Sonatinas, (a posthumous title), were written for music of the chamber, a time of gathering, sharing, and delighting in the discoveries, creations, and talents of others. The Sonatinas are a revealing view into the birth of Schuberts romantic voice. Whether the sturm und drang of the G Minor and its Haydn-esque representation of drama, the early Beethovenian poise, manner, and delight in the D Major, or the unabashed dramatic and unapologetic severity in the A Minor, (Lord Byrons Manfred was written the same year!), these works show us young Schuberts boundless expressive spirit.
Track List:
01. Violin Sonata No. 1 in D Major, Op. 137 No. 1, D. 384: I. Allegro molto
02. Violin Sonata No. 1 in D Major, Op. 137 No. 1, D. 384: II. Andante
03. Violin Sonata No. 1 in D Major, Op. 137 No. 1, D. 384: III. Allegro vivace
04. Violin Sonata No. 2 in A Minor, Op. 137 No. 2, D. 385: I. Allegro moderato
05. Violin Sonata No. 2 in A Minor, Op. 137 No. 2, D. 385: II. Andante
06. Violin Sonata No. 2 in A Minor, Op. 137 No. 2, D. 385: III. Menuetto. Allegro
07. Violin Sonata No. 2 in A Minor, Op. 137 No. 2, D. 385: IV. Allegro
08. Violin Sonata No. 3 in G Minor, Op. 137 No. 3, D. 408: I. Allegro giusto
09. Violin Sonata No. 3 in G Minor, Op. 137 No. 3, D. 408: II. Andante
10. Violin Sonata No. 3 in G Minor, Op. 137 No. 3, D. 408: III. Menuetto
11. Violin Sonata No. 3 in G Minor, Op. 137 No. 3, D. 408: IV. Allegro moderato
ANALYZER: auCDtect: CD records authenticity detector, version 0.8.2
Copyright © 2004 Oleg Berngardt. All rights reserved.
Copyright © 2004 Alexander Djourik. All rights reserved.


FILE: 01. Violin Sonata No. 1 in D Major, Op. 137 No. 1, D. 384 - I. Allegro molto.flac
Size: 20795395 Hash: 560F071FF347A50CE9140C93D13E8B6F Accuracy: -m40
Conclusion: CDDA 100%
Signature: D8F1EDF9D5E04DAE5D754C7BEC47CAA1106A451A
FILE: 02. Violin Sonata No. 1 in D Major, Op. 137 No. 1, D. 384 - II. Andante.flac
Size: 18818740 Hash: 4AE449C498747728CA888ACF0A8FDC6D Accuracy: -m40
Conclusion: CDDA 100%
Signature: 2FD1302C3CD6FA441392637F7CFF78F146D41F19
FILE: 03. Violin Sonata No. 1 in D Major, Op. 137 No. 1, D. 384 - III. Allegro vivace.flac
Size: 19933416 Hash: AE717ACF48EAE0C8151816367D3A23FA Accuracy: -m40
Conclusion: CDDA 100%
Signature: B4C01D2598930B4B438C93F2D8F5027DEB3BD324
FILE: 04. Violin Sonata No. 2 in A Minor, Op. 137 No. 2, D. 385 - I. Allegro moderato.flac
Size: 41802117 Hash: BB713095E34F60236F2C158BE41B1F2F Accuracy: -m40
Conclusion: CDDA 100%
Signature: B1C1DF23242A5BF0CE82679226E5212200EACE86
FILE: 05. Violin Sonata No. 2 in A Minor, Op. 137 No. 2, D. 385 - II. Andante.flac
Size: 27575828 Hash: 16663F53DE8F4298CEBDAA52983F4252 Accuracy: -m40
Conclusion: CDDA 100%
Signature: 39A958EB9C2B74265D37CA690A858E2EE2E248C8
FILE: 06. Violin Sonata No. 2 in A Minor, Op. 137 No. 2, D. 385 - III. Menuetto. Allegro.flac
Size: 12800396 Hash: 859C513CF018CCD2C9BBC359202603EF Accuracy: -m40
Conclusion: CDDA 100%
Signature: B4E915563AA43FA31539C22089D20BE58E0309A2
FILE: 07. Violin Sonata No. 2 in A Minor, Op. 137 No. 2, D. 385 - IV. Allegro.flac
Size: 19926171 Hash: 00B436A1C00A3DA06DAC8AC701333572 Accuracy: -m40
Conclusion: CDDA 100%
Signature: 99E7712C367296C1061702E0D6F31BF5870D67F0
FILE: 08. Violin Sonata No. 3 in G Minor, Op. 137 No. 3, D. 408 - I. Allegro giusto.flac
Size: 32607959 Hash: 99E36AF2404DF91D5381C164C5624D52 Accuracy: -m40
Conclusion: CDDA 100%
Signature: 5B7F5EEA8D4EA90A1D551E93F506AF68D23BCEA4
FILE: 09. Violin Sonata No. 3 in G Minor, Op. 137 No. 3, D. 408 - II. Andante.flac
Size: 28163467 Hash: 895EA2F0E6A2FC2709B20FFF1F2AF7DA Accuracy: -m40
Conclusion: CDDA 100%
Signature: A80B96E46178EEBD69C7E2DC4580085789BD33C9
FILE: 10. Violin Sonata No. 3 in G Minor, Op. 137 No. 3, D. 408 - III. Menuetto.flac
Size: 13787199 Hash: E28C093FB66B0C0001E4E2D090A61592 Accuracy: -m40
Conclusion: CDDA 87%
Signature: F578A93CA44BD5C600A98D0B73B2AC7A8E15BD5E
FILE: 11. Violin Sonata No. 3 in G Minor, Op. 137 No. 3, D. 408 - IV. Allegro moderato.flac
Size: 26223653 Hash: 67703397BA6F23B5D2A27035D96A7B7C Accuracy: -m40
Conclusion: CDDA 100%
Signature: A1651E23EF983B4BEBDDC6477B87058903061EA1