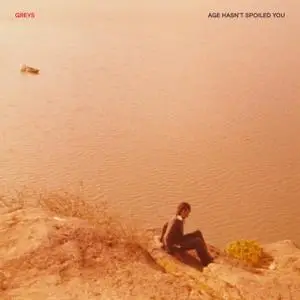 Greys - Age Hasn't Spoiled You (2019)
grunge, indie, noise, rock | 00:47:53 | WEB FLAC (tracks) | 310 MB
Label: Carpark Records
A band's third album usually tells you whether they're in it for the long haul or a flash in the pan. On "Age Hasn't Spoiled You", Greys prove that they are undoubtedly the former. The Toronto post-punks eschew their trademark frenzy for a more cerebral and cinematic affair. This widescreen approach loses none of the impact of their early material, instead employing space and dynamics to propel the listener toward even greater payoffs when they decide to switch back into high gear.
When we last left them, days before the 2016 US election, Greys had just finished a year of touring with the likes of Bully, White Lung, Japandroids, Preoccupations and more after releasing their sophomore record, "Outer Heaven," and its companion piece, "Warm Shadow." The following year saw the quartet taking some much needed downtime with members pursuing solo projects and moonlighting in other bands. As their city surrendered to gentrification and the world abroad descended further into chaos, the four men spent most of 2018 in the studio channeling these feelings of displacement and alienation into songs that reflect the state of panic and confusion prevalent in our news feeds. "We wanted to push as far away from what our perception of a 'rock band' could be while still retaining certain characteristics that sound like Greys," says frontman Shehzaad Jiwani.
What results is a richly textured experience that draws influence from krautrock, industrial, hip hop, dub, jazz, ambient, drone and more, sometimes within the same song. That their blend of disparate sounds never obscures the album's sharp focus is a testament to the group's mastery of both songwriting and production. This is evident on lead single "These Things Happen," which jumps from big beat psychedelia to CSNY harmonies and back again while Jiwani considers privilege, apathy, drug use, and content fatigue in one verse. Elsewhere, on "Kill Appeal," electronic drums pound and pummel before caving into a free jazz freakout, only to return for the song's climax with a lyrical allusion to the writings of James Baldwin. The stylistic sprawl recalls classic third albums like "Check Your Head," "To Bring You My Love" or "Fear Of Music" - records where artists reinvented themselves as something far beyond what was previously thought possible for them. With "Age Hasn't Spoiled You," Greys strive to exist in a similar echelon of bands that seek to shatter the boundaries that contain them.
Tracklist
:
01.
Greys - A-440
02.
Greys - Arc Light
03.
Greys - Constant Pose
04.
Greys - These Things Happen
05.
Greys - Kill Appeal
06.
Greys - Western Guilt
07.
Greys - Aphantasia
08.
Greys - Tangerine
09.
Greys - Burning Chrome
10.
Greys - Shelley Duvall in 3 Women
11.
Greys - Static Beach
ANALYZER: auCDtect: CD records authenticity detector, version 0.8.2
Copyright © 2004 Oleg Berngardt. All rights reserved.
Copyright © 2004 Alexander Djourik. All rights reserved.


FILE: 1.11. Static Beach.flac
Size: 31259099 Hash: 9D191B1F0AD0BEAA7E7EFAE0A41D7544 Accuracy: -m8
Conclusion: CDDA 100%
Signature: 61BC8D2E554D0CEA465B882D1178A61B23DE43F0
FILE: 1.10. Shelley Duvall in 3 Women.flac
Size: 35933027 Hash: 720F621E7DE3CC5355055C7626FB2B66 Accuracy: -m8
Conclusion: CDDA 100%
Signature: E4C51BA94844D5309A1E85ABEED727A14708F0F9
FILE: 1.09. Burning Chrome.flac
Size: 36233184 Hash: 9A417E268EA8835BA4F65C9238BA09F4 Accuracy: -m8
Conclusion: CDDA 100%
Signature: 7F8B88074C5816459782C8783493157163493E5A
FILE: 1.08. Tangerine.flac
Size: 25489221 Hash: 696A66074907840CC5C729C4A9131D27 Accuracy: -m8
Conclusion: CDDA 100%
Signature: 2D103E49BEB0464B52E44588700424FA8E985F3C
FILE: 1.07. Aphantasia.flac
Size: 52757870 Hash: 88C18802716CCDDCB7406F3A156F3048 Accuracy: -m8
Conclusion: CDDA 100%
Signature: CCC2DDEE855426B097211A780C4F1931D012F493
FILE: 1.06. Western Guilt.flac
Size: 36221341 Hash: 82FD7553A829E1A43894C22127BF8C52 Accuracy: -m8
Conclusion: CDDA 100%
Signature: 686FDC4DD7F4E5D6F31E489D98E5DD594D7C17D9
FILE: 1.05. Kill Appeal.flac
Size: 21969926 Hash: FA65CCA3857F431A3424CB5BE12C6BBF Accuracy: -m8
Conclusion: CDDA 100%
Signature: A0B98E03EDDC7CF46902FBF80E11481700380C8E
FILE: 1.04. These Things Happen.flac
Size: 28864779 Hash: B2B084E8E81A42F98E7FC86208ED156C Accuracy: -m8
Conclusion: CDDA 100%
Signature: 66E1A68DE7DE35DD9556C23B64D42F9E818AEC9A
FILE: 1.03. Constant Pose.flac
Size: 27171878 Hash: 54F8957DEE3C7860166BACB5B429753B Accuracy: -m8
Conclusion: CDDA 100%
Signature: DC279C3696DBC636F761EE86466CD8BAE9052A10
FILE: 1.02. Arc Light.flac
Size: 22005964 Hash: 8120B664DD36DB7AB3A68D8DE00B27AA Accuracy: -m8
Conclusion: CDDA 100%
Signature: D02673CE123145EE2D0E820E19E4A159EC4B5EBA
FILE: 1.01. A-440.flac
Size: 7507626 Hash: A55C46C2A083B88CDEF4B2C1D9BE2CD1 Accuracy: -m8
Conclusion: CDDA 43%
Signature: D1A29B1F43BBE999078EF44E39AEA4997A1E59DC