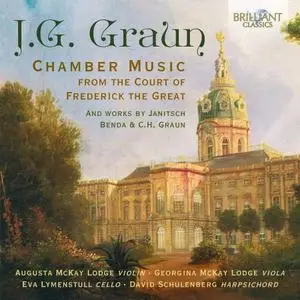 Augusta McKay Lodge, Georgina McKay Lodge, Eva Lymenstull, David Schulenberg - J.G. Graun: Chamber Music From Frederick the Great (2021)
WEB FLAC (tracks) - 499 Mb | MP3 CBR 320 kbps - 189 Mb | Digital booklet | 01:19:45
Classical | Label: Brilliant Classics
Virtuoso chamber music from the 18th century by four composers: Johann Gottlieb Graun, Johann Gottlieb Janitsch, Carl Heinrich Graun and Franz Benda. They all worked for the Prussian king Frederick The Great, who was himself a flautist and composer of professional ability. Although this music probably was not performed for the king himself, it is preserved in manuscripts associated with one of the musical "academies" that sprang up during and after his reign (1740–86) in the Prussian capital city of Berlin. There the roots of the modern concert tradition could be seen in semi-public gatherings that took place in the homes not only of certain professional musicians but of the city's elite.

This new recording presents a selection of Sonatas for viola and/or violin and Basso Continuo, written on the boundary between the Baroque and Classical styles. They include some of the earliest chamber music to treat the viola as an equal partner of its sister instrument the violin, demanding considerable virtuosity from the players of both, while expressing a wide range of emotions, both passionate and tender.

Played by violinist Augusta McKay Lodge ("the real thing, a true virtuoso" and "an exceptional violinist" Seen and Heard International), enjoying a flourishing career as an international prize-winning baroque and modern violinist based in New York and Paris, and violist Georgina McKay Lodge, who appeared on viola with European ensembles Les Arts Florissants, Holland Baroque, Camerata Øresund, Orquestra Barroca Casa da Música and the Orchestra of the Age of Enlightenment.
Tracklist:
01. Trio Sonata in G Minor: I. Adagio
02. Trio Sonata in G Minor: II. Allegretto
03. Trio Sonata in G Minor: III. Allegro assai
04. Sonata in C Minor, GWV AvV:20: I. Adagio e mesto
05. Sonata in C Minor, GWV AvV:20: II. Allegro non troppo
06. Sonata in C Minor, GWV AvV:20: III. Allegro scherzando
07. Sonata in B-Flat Major, GWV AvV:46: I. Grazioso
08. Sonata in B-Flat Major, GWV AvV:46: II. Allegro
09. Sonata in B-Flat Major, GWV AvV:46: III. Allegro
10. Sonata in C Major, BWV BII:53: I. Largo
11. Sonata in C Major, BWV BII:53: II. Poco allegro
12. Sonata in C Major, BWV BII:53: III. Allegretto
13. Sonata in C Minor, L3.137: I. Adagio
14. Sonata in C Minor, L3.137: II. Allegro
15. Sonata in C Minor, L3.137: III. Allegro moderato
16. Trio Sonata in A Major, GWV AvV:42: I. Adagio con tenerezza
17. Trio Sonata in A Major, GWV AvV:42: II. Allegretto cantabile
18. Trio Sonata in A Major, GWV AvV:42: III. Allegro
–––––––––––-

DON'T MODIFY THIS FILE

–––––––––––-

PERFORMER: auCDtect Task Manager, ver. 1.6.0 RC1 build 1.6.0.1
Copyright © 2008-2010 y-soft. All rights reserved

ANALYZER: auCDtect: CD records authenticity detector, version 0.8.2
Copyright © 2004 Oleg Berngardt. All rights reserved.
Copyright © 2004 Alexander Djourik. All rights reserved.


FILE: 18 - Georgina McKay Lodge, Eva Lymenstull, David Schulenberg & Augusta McKay Lodge - Trio Sonata in A Major, GWV AvV-42- III. Allegro.flac
Size: 25388472 Hash: F96A0C1FCAF4CA407B7856DDBAE636CA Accuracy: -m8
Conclusion: CDDA 43%
Signature: 32755F86D0AEB425C88D0AB2F0F5DEC3FF67A02C
FILE: 17 - Georgina McKay Lodge, Eva Lymenstull, David Schulenberg & Augusta McKay Lodge - Trio Sonata in A Major, GWV AvV-42- II. Allegretto cantabile.flac
Size: 30956066 Hash: 3E7F5BD6B630EB2600EEC5AA973B23ED Accuracy: -m8
Conclusion: CDDA 54%
Signature: 00B10C6AB9EA47536867ED9195DBC1DB1860D279
FILE: 16 - Georgina McKay Lodge, Eva Lymenstull, David Schulenberg & Augusta McKay Lodge - Trio Sonata in A Major, GWV AvV-42- I. Adagio con tenerezza.flac
Size: 31326094 Hash: F90C0304715E88084007B8C9C6CEF5A0 Accuracy: -m8
Conclusion: CDDA 100%
Signature: 8DF220977508D4FAB63C1B0531C789DD44BAA67C
FILE: 15 - Georgina McKay Lodge, Eva Lymenstull, David Schulenberg & Augusta McKay Lodge - Sonata in C Minor, L3.137- III. Allegro moderato.flac
Size: 23052989 Hash: FF96A646B9DFC02E49597F92D014A4F8 Accuracy: -m8
Conclusion: CDDA 86%
Signature: 604C248B2BBDB1512A0351E12578C8B9203CD4A8
FILE: 14 - Georgina McKay Lodge, Eva Lymenstull, David Schulenberg & Augusta McKay Lodge - Sonata in C Minor, L3.137- II. Allegro.flac
Size: 26866336 Hash: ACD969685B83B9C997CA6BDE3F57E7E0 Accuracy: -m8
Conclusion: CDDA 58%
Signature: 07A382FFA05927C27B9AB7CD570DB0BA60FC42D2
FILE: 13 - Georgina McKay Lodge, Eva Lymenstull, David Schulenberg & Augusta McKay Lodge - Sonata in C Minor, L3.137- I. Adagio.flac
Size: 19521503 Hash: 87BD1BBE7D1B4812A9B194120250FA42 Accuracy: -m8
Conclusion: CDDA 85%
Signature: BD7D9E961FC1F195A1704C9B323B3B3C454804A2
FILE: 12 - Georgina McKay Lodge, Eva Lymenstull, David Schulenberg & Augusta McKay Lodge - Sonata in C Major, BWV BII-53- III. Allegretto.flac
Size: 22195909 Hash: 252D853A2418B5524A3DD249BAF4F336 Accuracy: -m8
Conclusion: CDDA 76%
Signature: FD84241ED3D0D9B919A53B55B6C61D82F094D392
FILE: 11 - Georgina McKay Lodge, Eva Lymenstull, David Schulenberg & Augusta McKay Lodge - Sonata in C Major, BWV BII-53- II. Poco allegro.flac
Size: 25538580 Hash: 9CADEDCD2D386C68439533A4E076FF61 Accuracy: -m8
Conclusion: CDDA 43%
Signature: 00BB4CB6951B89BB806BB2E1A8DD72293C15FDE7
FILE: 10 - Georgina McKay Lodge, Eva Lymenstull, David Schulenberg & Augusta McKay Lodge - Sonata in C Major, BWV BII-53- I. Largo.flac
Size: 19894938 Hash: BCE17C011CC9BD29BA5B6A8363D97FC4 Accuracy: -m8
Conclusion: CDDA 100%
Signature: AFB2B5D7606EB35DDB3EF5D5665DFBC1B4873BC9
FILE: 09 - Georgina McKay Lodge, Eva Lymenstull, David Schulenberg & Augusta McKay Lodge - Sonata in B-Flat Major, GWV AvV-46- III. Allegro.flac
Size: 38036346 Hash: 64FCB7CD8ADB3328F8E9D54533615F6A Accuracy: -m8
Conclusion: CDDA 43%
Signature: 70AB72B114EED2DA65308F5645A28F7B99EFBECE
FILE: 08 - Georgina McKay Lodge, Eva Lymenstull, David Schulenberg & Augusta McKay Lodge - Sonata in B-Flat Major, GWV AvV-46- II. Allegro.flac
Size: 44809168 Hash: 35AD9A53AD42C06F3354EDD82BFEA345 Accuracy: -m8
Conclusion: MPEG 100%
Signature: CD216238A57339F1BA69EC04EB6336BCBA2DABE6
FILE: 07 - Georgina McKay Lodge, Eva Lymenstull, David Schulenberg & Augusta McKay Lodge - Sonata in B-Flat Major, GWV AvV-46- I. Grazioso.flac
Size: 25153682 Hash: A181ABF222B4464476844D9B3485B3F5 Accuracy: -m8
Conclusion: CDDA 92%
Signature: 4A0463BFD33226E77CD83F1E4DEA95D266EAB085
FILE: 06 - Georgina McKay Lodge, Eva Lymenstull, David Schulenberg & Augusta McKay Lodge - Sonata in C Minor, GWV AvV-20- III. Allegro scherzando.flac
Size: 31914232 Hash: 04B44C621BB504983917F3FDA10FD1B8 Accuracy: -m8
Conclusion: MPEG 80%
Signature: 706E5229803B69473D599F734EAE4CD24C090971
FILE: 05 - Georgina McKay Lodge, Eva Lymenstull, David Schulenberg & Augusta McKay Lodge - Sonata in C Minor, GWV AvV-20- II. Allegro non troppo.flac
Size: 50129414 Hash: 3864623B479D4C5E233A02705663092C Accuracy: -m8
Conclusion: CDDA 54%
Signature: 1D81991247AD1F8650CD5E58CB76F57E9E04150F
FILE: 04 - Georgina McKay Lodge, Eva Lymenstull, David Schulenberg & Augusta McKay Lodge - Sonata in C Minor, GWV AvV-20- I. Adagio e mesto.flac
Size: 28604384 Hash: 11272FECF81EDED1B4F4AB22A56EFD17 Accuracy: -m8
Conclusion: CDDA 54%
Signature: 921D05299223C721BE12E3729C469D1DC8F7D3C4
FILE: 03 - Georgina McKay Lodge, Eva Lymenstull, David Schulenberg & Augusta McKay Lodge - Trio Sonata in G Minor- III. Allegro assai.flac
Size: 24441478 Hash: CA781A98CC26C020210588167AC475CE Accuracy: -m8
Conclusion: MPEG 100%
Signature: 66EE99C5604E95BE7BA8D35498F468CA0B36F456
FILE: 02 - Georgina McKay Lodge, Eva Lymenstull, David Schulenberg & Augusta McKay Lodge - Trio Sonata in G Minor- II. Allegretto.flac
Size: 30301184 Hash: 2A9DBC55C927DB298647C9448619B739 Accuracy: -m8
Conclusion: CDDA 85%
Signature: 426107E9E0C6E16401CE791ABBBCBBB698F271CE
FILE: 01 - Georgina McKay Lodge, Eva Lymenstull, David Schulenberg & Augusta McKay Lodge - Trio Sonata in G Minor- I. Adagio.flac
Size: 17749982 Hash: 48D2DC6AF2208EB020DE42BA8D4C2771 Accuracy: -m8
Conclusion: MPEG 100%
Signature: 3D639032118C4F58FF39E3F4ED00A81001FEEC1D