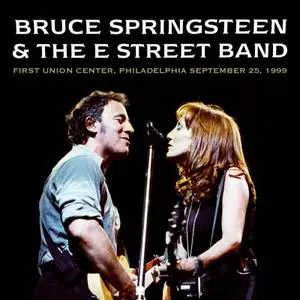 Bruce Springsteen & The E Street Band - First Union Center, Philadelphia, PA, 25-09-1999 (2020)
WEB FLAC (tracks) - 1,1 Gb | MP3 CBR 320 kbps - 390 Mb | 02:50:22
Folk Rock | Label: live brucespringsteen net
A memorable six-night stand in the City of Brotherly Love ends on a high note with some old friends on Philadelphia '99. The 22-song set begins in jaw-dropping fashion with the long-awaited return of "Incident On 57th Street," last played in December 1980, and features the first Reunion tour performances of "Point Blank," "Sherry Darling" "Streets of Philadelphia," "Jungleland" and "Raise Your Hand" to appear in the Archive Series. Philadelphia '99 also includes one of only five stagings of the epic "New York City Serenade" circa 1999-2000 following a 24-year hiatus.
Tracklist:
01. Incident on 57th Street
02. The Ties That Bind
03. Prove It All Night
04. Two Hearts
05. Atlantic City
06. Factory
07. Point Blank
08. Youngstown
09. Murder Incorporated
10. Badlands
11. Out in the Street
12. Tenth Avenue Freeze-Out
13. Sherry Darling
14. Streets of Philadelphia
15. New York City Serenade
16. Light Of Day
17. Jungleland
18. Born to Run
19. Thunder Road
20. If I Should Fall Behind
21. Land of Hope and Dreams
22. Raise Your Hand
–––––––––––-

DON'T MODIFY THIS FILE

–––––––––––-

PERFORMER: auCDtect Task Manager, ver. 1.6.0 RC1 build 1.6.0.1
Copyright © 2008-2010 y-soft. All rights reserved

ANALYZER: auCDtect: CD records authenticity detector, version 0.8.2
Copyright © 2004 Oleg Berngardt. All rights reserved.
Copyright © 2004 Alexander Djourik. All rights reserved.


FILE: 22 - Bruce Springsteen & The E Street Band - Raise Your Hand.flac
Size: 41179576 Hash: 291DF7F3A2BA07CC069C5DF14AF51322 Accuracy: -m8
Conclusion: CDDA 100%
Signature: 80C4E65A6016F2C029C40DBF14A65543BC32020D
FILE: 21 - Bruce Springsteen & The E Street Band - Land of Hope and Dreams.flac
Size: 76559488 Hash: 1373CDFC627C04CE9F54A1A2A032F370 Accuracy: -m8
Conclusion: CDDA 99%
Signature: 03CB8F7BE1D8CC4DF078EA90B0B61F9EC354B52B
FILE: 20 - Bruce Springsteen & The E Street Band - If I Should Fall Behind.flac
Size: 36620626 Hash: 8223D213CA1A4918E8DAAE802803536B Accuracy: -m8
Conclusion: CDDA 100%
Signature: 450BB7945615F3CA4F03DD1C11F5020A8DED93DB
FILE: 19 - Bruce Springsteen & The E Street Band - Thunder Road.flac
Size: 46903388 Hash: 50FA5F4EDFFE07CC1FDA8FC3375E6C46 Accuracy: -m8
Conclusion: CDDA 100%
Signature: A2CF14BF620DFFE130759040B3E070133BE25765
FILE: 18 - Bruce Springsteen & The E Street Band - Born to Run.flac
Size: 47552071 Hash: CA034403A2917C899C92A2F6EB3E7F57 Accuracy: -m8
Conclusion: CDDA 100%
Signature: A03598EB9BF062E701F52E5AF3EC4B0FAF3ACD44
FILE: 17 - Bruce Springsteen & The E Street Band - Jungleland.flac
Size: 73883628 Hash: D666D8B0F869D22D057565F650A2B615 Accuracy: -m8
Conclusion: CDDA 100%
Signature: E48109BD80063FA57A42BCA4BAB97BFA48B3606D
FILE: 16 - Bruce Springsteen & The E Street Band - Light Of Day.flac
Size: 90502053 Hash: 51F5D96FE2F2A37B7CED485D486D27BF Accuracy: -m8
Conclusion: CDDA 100%
Signature: 106B57AA3E0F635506A960380B6DFB381D49B45A
FILE: 15 - Bruce Springsteen & The E Street Band - New York City Serenade.flac
Size: 72318074 Hash: 85A9F10A8D4265F9AB619A24111571A0 Accuracy: -m8
Conclusion: CDDA 100%
Signature: BDCBBEE37D6E3F8D51488561A33AD2D9C75C75BA
FILE: 14 - Bruce Springsteen & The E Street Band - Streets of Philadelphia.flac
Size: 23146391 Hash: DCA0C73F3A7E6BC8688E2CA14E7862C8 Accuracy: -m8
Conclusion: CDDA 100%
Signature: D5D29E873931E72AF3B74707731A8C82A178A609
FILE: 13 - Bruce Springsteen & The E Street Band - Sherry Darling.flac
Size: 53831648 Hash: E40FBDA6E488DC42126383494977177D Accuracy: -m8
Conclusion: CDDA 100%
Signature: B058B9C2E464B11867FA40E4D80C119B30924B19
FILE: 12 - Bruce Springsteen & The E Street Band - Tenth Avenue Freeze-Out.flac
Size: 139621528 Hash: 4ACBBF6084B8BF77182C81F96983F72D Accuracy: -m8
Conclusion: CDDA 100%
Signature: 69ACDEAE117CB44BAB5D294884E6F401E3B48515
FILE: 11 - Bruce Springsteen & The E Street Band - Out in the Street.flac
Size: 54759701 Hash: 82633DB208AA7EC40FFEF5F9ACAE885E Accuracy: -m8
Conclusion: CDDA 100%
Signature: 78255955DD9F27FFF149B40C21403323A2906BB5
FILE: 10 - Bruce Springsteen & The E Street Band - Badlands.flac
Size: 56153310 Hash: 478446CE22B3313412ED22F2A7657622 Accuracy: -m8
Conclusion: CDDA 100%
Signature: 7B4EAF73A7F53CD323FE94C7054D6D4649D3EFBA
FILE: 09 - Bruce Springsteen & The E Street Band - Murder Incorporated.flac
Size: 49360718 Hash: 12609A6687847536A816E83A3DC0124E Accuracy: -m8
Conclusion: CDDA 100%
Signature: 9E423B595F720D7CC1D4401522FA6AA4DB384F5A
FILE: 08 - Bruce Springsteen & The E Street Band - Youngstown.flac
Size: 46060930 Hash: 8270FB4C55BCAB76CA2BA5FA2DEA9272 Accuracy: -m8
Conclusion: CDDA 100%
Signature: 4456054785C7C90DD1EA69DC5D3C981B7D07D815
FILE: 07 - Bruce Springsteen & The E Street Band - Point Blank.flac
Size: 52183069 Hash: 8703514947C8C1D196ACEA960FB6CEB0 Accuracy: -m8
Conclusion: CDDA 100%
Signature: 4D569F91FCBAA89D15C2D52B34184BD57979D53F
FILE: 06 - Bruce Springsteen & The E Street Band - Factory.flac
Size: 23390995 Hash: 98E19BA4B896229BC38EF4A85630AF97 Accuracy: -m8
Conclusion: CDDA 99%
Signature: E39BEAD74C67E5586A745F38B7384A77F80C8409
FILE: 05 - Bruce Springsteen & The E Street Band - Atlantic City.flac
Size: 48830581 Hash: 14F3A643D7549CFAA4DCEC29A54BC80C Accuracy: -m8
Conclusion: CDDA 100%
Signature: 1A8A81834A1C1B8BF3B5078E537E95FB37575504
FILE: 04 - Bruce Springsteen & The E Street Band - Two Hearts.flac
Size: 25286586 Hash: 1EFE4A706BEC6625D22181D36A4F8F04 Accuracy: -m8
Conclusion: CDDA 100%
Signature: AC82530AD50BEE0809E71BCBC27CB3ABDEA27B20
FILE: 03 - Bruce Springsteen & The E Street Band - Prove It All Night.flac
Size: 49432889 Hash: 0F647C08A2D9F1525C3BE9116B0007A3 Accuracy: -m8
Conclusion: CDDA 100%
Signature: 9388BD28204C8FC186332DD4DE7CDC54C92A2E76
FILE: 02 - Bruce Springsteen & The E Street Band - The Ties That Bind.flac
Size: 29488073 Hash: D4FD6DD1DB133E158D52B99F242B4F7E Accuracy: -m8
Conclusion: CDDA 100%
Signature: 557A3A37F30A944A244E015FBED2C258DEE32561
FILE: 01 - Bruce Springsteen & The E Street Band - Incident on 57th Street.flac
Size: 81201440 Hash: FC810AC8E57BCEF82EED0C88AA418045 Accuracy: -m8
Conclusion: CDDA 99%
Signature: 79A3B90347559BB91AB3B69FACC6DAB99D6BC807