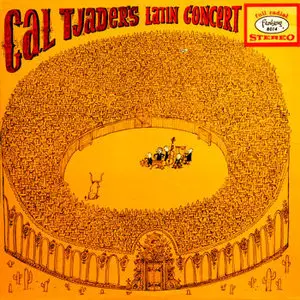 Cal Tjader – Latin Concert (1958) -repost
1 LP | time: 39 m 20 s | HQ scans 300 dpi | tags | MP3 320 CBR > 96,56 MB
Jazz, Latin American, World / Label: Fantasy 8014 / Uploaded, Depositfiles
Album recorded in September 1958 at a jazz club in San Francisco, the Blackhawk, where used to act Tjader with various musical groups after the dissolution of his previous 'Modern Mambo Quintet'. For this occasion Cal formed another quintet being accompanied by four musicians who were definitely headlining their specialties: the Cuban Mongo Santamaria (come to the U.S. 10 years ago and had worked with Perez Prado and Tito Puente), with congas and bongos; the New Yorker born in the 'Spanish Harlem' Willie Bobo with drummer and toms especially; bassist Al McKibbon, who had worked with Dizzy Gillespie in bop jazz and became a devotee of Latin jazz, and Californian pianist Vince Guaraldi, who had made his first recording in 1953 with Cal Tjader and had joined him in 1956.
Track list:
1. Viva Cepeda
2. Mood for Milt
3. The Continental
4. Lucero
5. ¿Tú crees qué?
6. Mi guaguancó
7. Cubano chant
8. A young love
9. Theme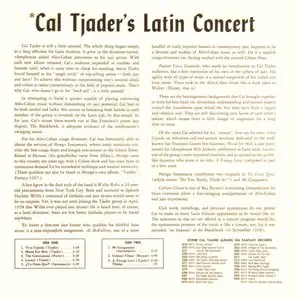 Download (no pass)

MP3 320 CBR > Uploaded / Depositfiles