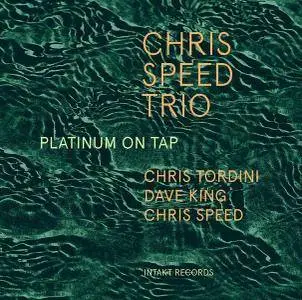 Chris Speed Trio - Platinum On Tap (2017)
WEB FLAC (tracks) ~ 278.52 Mb | 45:16 | Covers
Contemporary Jazz, Improvised Music, Free Jazz | Country: USA | Label: Intakt Records (Intakt CD 294)
This new album by Chris Speed's excellent trio with drummer Dave King and bassist Chris Tordini is in many ways Speed's most fully developed and personal work to date. Since arriving in New York in the early 1990s, he has become one of the most vital improvising musicians on the scene through work that has always ranged widely, moving from a jazz base out through various forms of folk, classical and rock music.
With the formation of this trio Speed has reversed course: moving from these outer explorations back into something that is unquestionably jazz. What is most striking about this record is that the early jazz influences are now fully center stage. Instead of being one of a number of competing musical influences, some kind of feeling of the aesthetic of Lester Young is now at the center of everything. At a time when many jazz players are continuing to look further and further outside the tradition, this is a group returning from other explorations to work deep within the jazz tradition, bringing everything else they've learned back in …
The resulting music is joyful and generous and Speed has an uncanny knack for coming up with tunes that can create a whole worlds behind an often catchy melodic surface.
Chris Speed
: Tenor Saxophone
Chris Tordini
: Acoustic Bass
Dave King
: Drums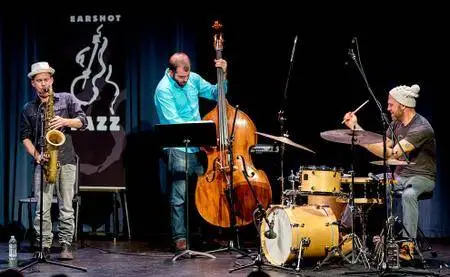 Track List:
01. Red Hook Nights 04:17
02. Arrival High 06:51
03. Buffalo 15 04:31
04. Crossface Cradle 05:28
05. Pretty Much 04:26
06. Crooked Teeth 03:52
07. Platinum on Tap 03:50
08. Stardust 05:31
09. Torking 03:44
10. Spirits 02:41
–––––––––––-
DON'T MODIFY THIS FILE
–––––––––––-
PERFORMER: auCDtect Task Manager, ver. 1.6.0 RC1 build 1.6.0.1
Copyright © 2008-2010 y-soft. All rights reserved
http://y-soft.org
ANALYZER: auCDtect: CD records authenticity detector, version 0.8.2
Copyright © 2004 Oleg Berngardt. All rights reserved.
Copyright © 2004 Alexander Djourik. All rights reserved.
FILE: 10 spirits.flac
Size: 18963516 Hash: FE0D46FCE17A8BF00D69E615FE8CCF80 Accuracy: -m0
Conclusion: CDDA 100%
Signature: 91EA8DFA6E8C73BEB5D2CEE1559F67BAE6C32084
FILE: 09 torking.flac
Size: 25523329 Hash: E6F64C247B48194847CBDB19E58D741A Accuracy: -m0
Conclusion: CDDA 100%
Signature: 1A3A74EA6EC2331627DF159573C41ADB1A38B1E3
FILE: 08 stardust.flac
Size: 27303630 Hash: 74339F21C1565D3BD8A234D9B6FCA587 Accuracy: -m0
Conclusion: CDDA 100%
Signature: B6060C6CE575240285FAD6C78BE087956483BF2B
FILE: 07 platinum on tap.flac
Size: 25627379 Hash: ED5E5EE509A50094EC37463F4D722FAB Accuracy: -m0
Conclusion: CDDA 100%
Signature: CB9E6CCCDF7DB30B375EC4AD3AD0F8E09575074D
FILE: 06 crooked teeth.flac
Size: 27516887 Hash: DC0290373E31BF02C4C019F8F2CD5131 Accuracy: -m0
Conclusion: CDDA 100%
Signature: 59D0F214C0F1B25EA119BA13F170E759F8E8FD48
FILE: 05 pretty much.flac
Size: 28528840 Hash: F975DF0D1BCE23FEC6070659CFD48E3A Accuracy: -m0
Conclusion: CDDA 100%
Signature: 70D079FB67C7C70526761F6F72F2D9697E67B4CE
FILE: 04 crossface cradle.flac
Size: 37123449 Hash: A6EAC7651443B987B11779DF994DD5DE Accuracy: -m0
Conclusion: CDDA 100%
Signature: 2FB25973832018FFDB59B01DAF1E9E21CB6BC7F9
FILE: 03 buffalo 15.flac
Size: 31122830 Hash: 9E4AD3F6C0D130E0B288BFDF7D0A0BE6 Accuracy: -m0
Conclusion: CDDA 100%
Signature: 4B7509C29A4ABF3465CF73382D0E77A2D9DAE2D1
FILE: 02 arrival high.flac
Size: 47753870 Hash: AF0E5602CAB3579559B15D4333C34FD6 Accuracy: -m0
Conclusion: CDDA 100%
Signature: 3CC85E3C0D5D28221B40EC7C29C56C6115189FAB
FILE: 01 red hook nights.flac
Size: 22108534 Hash: 6DE16ADCFFBD78C357424D914E233999 Accuracy: -m0
Conclusion: CDDA 100%
Signature: D70860499F60CD691276D344CFD29C0A31FE2D12