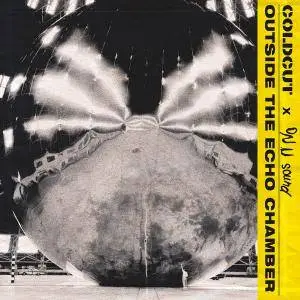 Coldcut & On-U Sound - Outside The Echo Chamber (2017)
Electronic, Dub | 54:52 mins | MP3, 320 kbps | 125 MB
Label: Ahead Of Our Time
It's tempting to ask why no one thought of it sooner. Coldcut (Matt Black & Jon More) and Adrian Sherwood – kingpin of the legendary On-U Sound label – are the perfect sonic match; two pioneers of British music united by a maverick spirit. These artists have a deeper intertwined history- On-U Sound is printed in Coldcut's genes in the music they grew up with. This is something much more special than the average collaboration, and it shows in the result: Coldcut x On-U Sound's 'Outside the Echo Chamber' via Ahead Of Our Time (Coldcut's first label) – a thrilling sonic adventure, and an album of freshly-minted, electronic dub-pop.
Tracklist:
01. Coldcut & On-U Sound - ExplicitVitals (feat. Roots Manuva & Adrian Sherwood)
02. Coldcut & On-U Sound - Metro (feat. Adrian Sherwood)
03. Coldcut & On-U Sound - Everyday Another Sanction (feat. Chezidek & Adrian Sherwood)
04. Coldcut & On-U Sound - Make Up Your Mind (feat. Ce'Cile, Toddla T & Adrian Sherwood)
05. Coldcut & On-U Sound - Aztec Riddim (feat. Adrian Sherwood)
06. Coldcut & On-U Sound - Kajra Mohobbat Wala (feat. Hamsika Iyer & Adrian Sherwood)
07. Coldcut & On-U Sound - Divide and Rule (feat. Lee Scratch Perry, Junior Reid, Elan & Adrian Sherwood)
08. Coldcut & On-U Sound - Make Up Your Mind (feat. Elan & Adrian Sherwood)
09. Coldcut & On-U Sound - ExplicitRobbery (feat. Rholin X & Adrian Sherwood)
10. Coldcut & On-U Sound - Livid Hip Hop (feat. Adrian Sherwood)
11. Coldcut & On-U Sound - ExplicitVitals (feat. Roots Manuva & Adrian Sherwood) [Dub]
12. Coldcut & On-U Sound - Everyday Another Sanction (feat. Chezidek & Adrian Sherwood) [Dub]
13. Coldcut & On-U Sound - Make Up Your Mind (feat. Ce'Cile, Toddla T & Adrian Sherwood) [Dub]
14. Coldcut & On-U Sound - Kajra Mohobbat Wala (feat. Hamsika Iyer & Adrian Sherwood) [Dub]
15. Coldcut & On-U Sound - Divide and Rule (feat. Lee Scratch Perry, Junior Reid, Elan & Adrian Sherwood) [Dub]
16. Coldcut & On-U Sound - ExplicitRobbery (feat. Rholin X & Adrian Sherwood) [Dub]