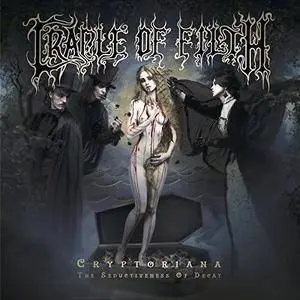 Cradle Of Filth - Cryptoriana - The Seductiveness Of Decay (2017)
MP3 CBR 320 kbps | 01:05:34 | 155 Mb
Symphonic Black Metal, Gothic Metal | Label: Nuclear Blast Records
Cryptoriana – The Seductiveness of Decay is the twelfth studio album by the British extreme metal band Cradle of Filth. It is currently set for release on September 22, 2017 through Nuclear Blast Records. This marks the first time in the band's career where the same lineup since the previous album stayed as the Hammer of the Witches lineup continued on. Dani Filth said the album, "is deeply infused with Victorian gothic horror and thus the title is a reflection of that. 'Cryptoriana' implies the Victorians' infatuation with the supernatural, the grave and the ghoulish. And the subtitle, 'The Seductiveness of Decay', further cements this attraction to death and the glittering lengthy process of self-annihilation."
Tracklist:
01. Exquisite Torments Await
02. Heartbreak And Seance
03. Achingly Beautiful
04. Wester Vespertine
05. The Seductiveness Of Decay
06. Vengeful Spirit
07. You Will Know The Lion By His Claw
08. Death And The Maiden
09. The Night At Catafalque Manor
10. Alison Hell (Annihilator cover)