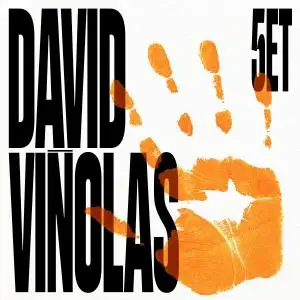 David Viñolas - 5Et (2021)
WEB FLAC (tracks) ~ 258.92 Mb | 45:13 | Cover
Contemporary Jazz, Post-Bop | Country: Spain | Label: David Viñolas
Born already blind, my interest for music comes early, when I begin my studies of classical piano and musical language in the municipal school of the village. At the same time I am already part of the "group of grallers dels gegants de Centelles" where I alternate snare and gralla, showing a special interès for the first.
But not having enought, being very Young, apart from being self-taught I explore other ways including classical harmony, modern music at the Taller de Músics, at the Centre d'estudis musicals Passatge, taking private classes: and drums, combo, piano, percussion, harmony and arrangements are some of the disciplines I have cultivated with great musicians as Toni Pagès, Marcelo Valente, Javier Feierstein, Alberto Cabello, Marc Vernis, José
Reinoso, Raül Reverter, David Mengual , Marc Miralta, Santi Serratosa, Joào Balào, Tapan Bhattacharya, Marko Djordjevic, Rui López Nussa, Jo Krause or Calixto Oviedo, and others. At the same time, I'm also active in several projects playing jazz, reggae, rock, flamenco, funky ETC
In my musical and personal maturity, immersed in the different aspects that drums offer me as the main instrument with which I identify myself, in February 2004 I spend a few weeks in New York and took the oportunity of training with Ernesto Simpson, Johny Almendra and Jeff Ballard.
My concern and desire to explore different fields lead me to found projects such as the drumers trio Stick in trio or the group of percussion and dance Essència, exploring jazz, flamenco, rhythm as a musical concept and more.
In my career I've collaborated, played and recorded with musicians and projects such as Sergi Sirvent, Marta Roma, Roberto García, Omar González, Santi Careta, Adrià Plana, Sergi Sirvent, El velda i el conjunt Badabadoc, Cobla Lluïsos de Taradell, Tarasca, Marc Cuevas, Dave Juarez, Acari Vertran , Raynald Colom, Joan Asensio, David Leiva, Joana Serrat, Raül Reverter, Etna quartet, Baraka project, Omelé, La Cava Big band directed by Marc Vernis, Kibor, Dijous paella, Dúmbala Canalla, La transfrontaliere de l'amor and many more . I've also worked in producing some recordings, own or others.
These and other projects have led me to tour around Catalonia, Spain, France, Andorra, Cuba, Turkey, Portugal and Austria.
Actually joyning Nucli trio, Void, Sirvent & Viñolas, Xerramequ i els Aborígens with songwriter Feliu Ventura.
Lead my own projects David Viñolas trio & David Viñolas bateria a soles. I am also active in other groups as a sideman.
Track List:
01 - Falco Pelegri (00:06:19)
02 - Cercant Camins (00:04:36)
03 - Prelude To Ruby (00:00:57)
04 - Ruby My Dear (00:05:59)
05 - Prelude To Manso's (00:00:37)
06 - Manso's Blues (00:05:07)
07 - Mr Smiles (00:04:54)
08 - Enyor De Les Teves Caricies (00:07:17)
09 - Days Of Wine & Roses (00:04:53)
10 - Pols Oposats S'atrauen (00:04:31)
–––––––––––-
DON'T MODIFY THIS FILE
–––––––––––-
PERFORMER: auCDtect Task Manager, ver. 1.6.0 RC1 build 1.6.0.1
Copyright © 2008-2010 y-soft. All rights reserved
http://y-soft.org
ANALYZER: auCDtect: CD records authenticity detector, version 0.8.2
Copyright © 2004 Oleg Berngardt. All rights reserved.
Copyright © 2004 Alexander Djourik. All rights reserved.
FILE: 10 - Pols Oposats S'atrauen.flac
Size: 28083265 Hash: 8575D170BDFB421DBC29F577EC95BD5F Accuracy: -m40
Conclusion: CDDA 100%
Signature: 0B2624AABA793D08B5C0D1FE9F74A657C61CE1E5
FILE: 09 - Days Of Wine & Roses.flac
Size: 30688155 Hash: 3869DB0776A6A29FE0391C04C027DFB2 Accuracy: -m40
Conclusion: CDDA 100%
Signature: A316A2EB056F63E90C5006BEF2ED1EC9E1D11563
FILE: 08 - Enyor De Les Teves Caricies.flac
Size: 40703651 Hash: 1E8F7E8FC130B10FA90E4AB907403FAA Accuracy: -m40
Conclusion: CDDA 100%
Signature: E8E099B9E01E859707AA0E3FE3138D89FE5D497F
FILE: 07 - Mr Smiles.flac
Size: 28239049 Hash: 576E9D4A61F7262A169BF667C05272FD Accuracy: -m40
Conclusion: CDDA 100%
Signature: DE9FBECF62B68F81CEEC824FEDA5A7C64FC28188
FILE: 06 - Manso's Blues.flac
Size: 32679525 Hash: E53FB5FC56CB9C8250499F81C44BAFB5 Accuracy: -m40
Conclusion: CDDA 100%
Signature: 5E169A610E4B27C4B18FA2D10D2644E7C2B6E5AB
FILE: 05 - Prelude To Manso's.flac
Size: 2408567 Hash: F8271503C9621F6F59703560B3242A7A Accuracy: -m40
Conclusion: CDDA 100%
Signature: 6A04584CE698706553F4F728F148A0D89A227A1B
FILE: 04 - Ruby My Dear.flac
Size: 34275677 Hash: FB58784082E11C395E34D09C206CF45B Accuracy: -m40
Conclusion: CDDA 100%
Signature: D2A056B46D56CC786BA1F1D4E086E66B82D5BEF2
FILE: 03 - Prelude To Ruby.flac
Size: 4664020 Hash: 99B1E8B58FFA9EECF0F1F080C772205F Accuracy: -m40
Conclusion: CDDA 99%
Signature: B91BFC839C25534D8867AEA94DA89B93AC082C53
FILE: 02 - Cercant Camins.flac
Size: 28875527 Hash: E23496C3D1316A4478A26F95449184B9 Accuracy: -m40
Conclusion: CDDA 100%
Signature: 8418BC73A6BAF262432474BF5B5ECE8C3BE572C9
FILE: 01 - Falco Pelegri.flac
Size: 40221021 Hash: 76D4B11932A5847AA78A9A5BFD8AD499 Accuracy: -m40
Conclusion: CDDA 100%
Signature: 5210EE06AF829DBE907CA73E5B90C2C42E74E89C