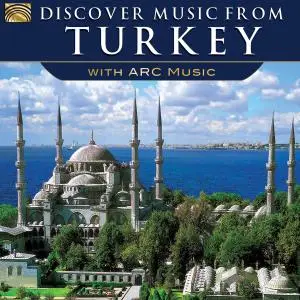 VA - Discover Music from Turkey (2015)
World | MP3 CBR 320 kbps | 00:56:13 | 129 MB
Label: ARC Music
This collection highlights various forms of traditional Turkish music. Largely due to Turkeys situation at the crossroads of Europe, North Africa, The Middle East and Central Asia, its traditional music has influenced and been influenced by numerous cultures throughout the ages. Turkeys strong musical traditions are wide indeed, ranging from its folk and classical repertoire to mosque music and Sufi, among others. Perhaps most famously, the spectacular Whirling Dervishes of the Mevlevi order have brought worldwide attention to Turkish Sufi since the 1970s when they began to tour outside of Turkey.
Tracklist:
01. Ahmet Kuşgöz & Ensemble - Babam - Saba Oyun Havası (5:46)
02. Vivienne Doğan-Corringham/ George Hadjineophytou - Halay (3:07)
03. Gülizar Turkish Music Ensemble - Taqsim in Maqam Saba / İlahi in Maqam Saba (4:49)
04. Ensemble Hüseyin Türkmenler - Azize (4:45)
05. Famagusta Municipality Magem Folkdance Group - Bekri (1:08)
06. Vivienne Doğan-Corringham/ George Hadjineophytou - Dolap (6:27)
07. Shimal - Dostlarim (4:02)
08. Ensemble Hüseyin Türkmenler - Tiridine Bandım (3:51)
09. Famagusta Municipality Magem Folkdance Group - Al Yemeni Mor Yemeni (2:21)
10. Shimal - Esmerim (5:40)
11. Vivienne Doğan-Corringham/ George Hadjineophytou - Sevin gyri (3:12)
12. Dü-Şems Ensemble - Ney improvisation in Makam Hüzzam (2:15)
13. Sufi Music Ensemble - İlâhis (Hymns) in Makam Hicaz (5:09)
14. Ensemble Hüseyin Türkmenler - Anadolu Oyun Havası (3:47)