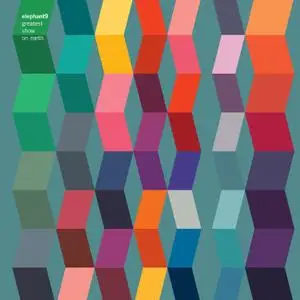 Elephant9 - Greatest Show On Earth (2018)
WEB FLAC (tracks) ~ 201.88 Mb | 00:35:58 | Cover
Progressive Rock | Country: Norway (Oslo) | Label: Rune Grammofon Records
After successful studio and live albums with guitarist Reine Fiske as a co-billed guest and touring with über guitarist Terje Rypdal, Norway's most unique instrumental jazz-rock outfit return to their original configuration as a trio. Keyboardist Ståle Storløkken, bassist Nikolai Hængsle, and drummer Torstein Lofthus originally got together to explore music that inspired them – from the cue-driven compositional vamp of Miles Davis' Bitches Brew and Weather Report's Mysterious Traveler and Sweetnighter recordings to the overdriven fusion of Tony Williams' Lifetime and Canterbury-style prog rock. Along the way, they discovered a sound of their own that exists between and outside those reference points.
Greatest Show on Earth is economical. Its six tracks total just 35 minutes and range between five and six minutes. Focus, balance, and dynamic energy are the hallmarks of this music. "Way of Return" opens with a spectral, noir-ish vibe. Nebulous organ and analog synth offer a vamp that houses the ghost traces of a melody as Lofthus shuffles along with his hi-hat and kick drum in a slow 4/4. Hængsle's bassline bridges Storløkken's emergent three-chord statements and the drums become moderately forceful with every passing chorus. It almost gels but suddenly whispers to a close to make room for the frenzied charge of single "Actionpack1," that posits the notion of what might happen if Deep Purple-era Jon Lord sat in with National Health. It gives way to a nearly funky, double-time avant groove worthy of Gramavision-era Medeski, Martin & Wood. The soloing within this spiraling structure is remarkable: Lofthus rolls and accents at triple-time and Storløkken expands the harmonic palette with percussive, syncopated right-hand stabs and angular bass runs. Before closing, everything is dispersed in favor of what sounds like a cue from an obscure thriller's score. The distorted organ playing and bluesy bassline on "Farmer's Secret" announce a straight-ahead rock jam, but this is Elephant9. Before long, they're careening off into prog territory. "Dancing with Mr. E" is sinister Norwegian jazz-funk with breakbeats and cascading organ lines in knotty, moody interludes that threatens to re-emerge as something else, but returns to its original theme with an exponentially increased intensity. Lofthus pushes the band hard and Storløkken answers with Hammond power chords atop a throbbing, rumbling bassline that ultimately concludes in a dissonant storm of reverb. Closer "Freaks" unfolds deliberately before it transforms – first into a mutant, swinging organ jazz and then into a sprawling prog fusion, with Hængsle's funky, roiling bassline and Lofthus' circular drumming (complete with frenetic fills and rolls) keeping it on the ground during Storløkken's passionate improvising.
Greatest Show on Earth may be the trio's finest effort due to inspired, clever, engaging tunes and increased collective confidence. Their time with guitarists offered them a different approach, and they translated it into a musical acumen of ambitious imagination and swagger with an undeniably engaging intensity. ~
AllMusic Review by Thom Jurek
Track List:
01. Way Of Return 05:28
02. Actionpack 1 06:30
03. Farmer's Secret 05:20
04. Dancing With Mr. E 05:28
05. Mystery Blend 06:16
06. Freaks 06:56
Stale Storlokken - Keyboards
Nikolai Haengsle - Bass
Torstein Lofthus - Drums
–––––––––––-
DON'T MODIFY THIS FILE
–––––––––––-
PERFORMER: auCDtect Task Manager, ver. 1.6.0 RC1 build 1.6.0.1
Copyright © 2008-2010 y-soft. All rights reserved
http://y-soft.org
ANALYZER: auCDtect: CD records authenticity detector, version 0.8.2
Copyright © 2004 Oleg Berngardt. All rights reserved.
Copyright © 2004 Alexander Djourik. All rights reserved.
FILE: 06 - Freaks.flac
Size: 42383291 Hash: FB513F8E8F36B7602902D84C796B1974 Accuracy: -m8
Conclusion: CDDA 99%
Signature: D28A9A8BB20956D08C4926751E95D87E622E8DA3
FILE: 05 - Mystery Blend.flac
Size: 32326574 Hash: 6B14FBF1794F1C9524EB44C368E9B4E7 Accuracy: -m8
Conclusion: CDDA 100%
Signature: FA6AFB0A14DC70B07F41B1FE51937B9F71336603
FILE: 04 - Dancing with Mr. E.flac
Size: 34205805 Hash: E18CDEF33B4F358113F201701709EEBD Accuracy: -m8
Conclusion: CDDA 100%
Signature: AC3C142AE6131FC17D16FBE1B052E2A085087276
FILE: 03 - Farmer's Secret.flac
Size: 33900400 Hash: AAD108D25E9FADF02BF13D3D429846CB Accuracy: -m8
Conclusion: CDDA 100%
Signature: 979F7C4FE56ABC21075C475BD12319DA629C7A08
FILE: 02 - Actionpack1.flac
Size: 42761312 Hash: D3AB73BB8745E200DA6ECEB2189BF555 Accuracy: -m8
Conclusion: CDDA 100%
Signature: 24A2ED57B3699C45BDF51DC4861161661F497282
FILE: 01 - Way of Return.flac
Size: 25939446 Hash: 08A013254A1B4813737430EC27C9E3EC Accuracy: -m8
Conclusion: CDDA 100%
Signature: A0F27A9A5BB65BCCC5FAC8A1999D168B4BEC10A1