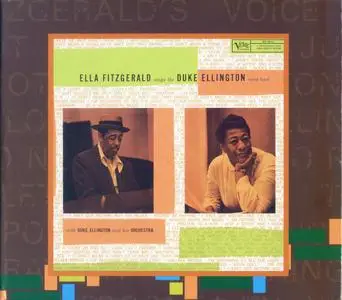 Ella Fitzgerald - Ella Fitzgerald Sings The Duke Ellington Song Book (1957) {3CD Set Verve Master Edition 559 248-2 rel 1999}
XLD rip (secure mode) | FLAC (tracks)+CUE+LOG -> 715 Mb | MP3 @320 -> 503 Mb
Full Artwork @ 600 dpi (jpg) -> 540 Mb | 5% repair rar
© 1957, 1999 Verve / PolyGram | 559 248-2 | Verve Master Edition Series
Jazz / Vocal Jazz / Standards
This release comes in a cardboard box which houses a 4-panel Digisleeve and a 66-page booklet. Ella Fitzgerald's outstanding songbook series has become an institution unto itself. This 1957 effort is distinguished from Fitzgerald's other songbooks in that it is the only album in which the composer whose work she is singing actively participates. In fact, these recordings are packed with some of the key figures in 20th century jazz. As if Ella and Duke weren't enough, Ellington's arranger/composer Billy Strayhorn, guest musicians Dizzy Gillespie and Oscar Peterson, and brilliant record producer Norman Granz all have a hand in the proceedings.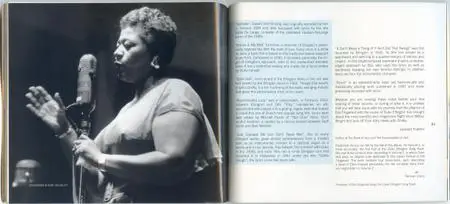 And what better backing band could one want than Duke's orchestra? The usual suspects – Jimmy Hamilton, Johnny Hodges, Paul Gonsalves, Harry Carney, and Sam Woodyard, among others – contribute fine performances throughout. Duke's spectacular catalog dazzles, and his sprightly, lush textures are transfigured under Fitzgerald's warm-timbred voice and elegant, precise delivery. Included here are classics like "Rockin' in Rhythm," "Caravan," "Satin Doll," "Sophisticated Lady," "Prelude to a Kiss," and "It Don't Mean a Thing…," each tune as familiar as it is delightful to hear in this new context.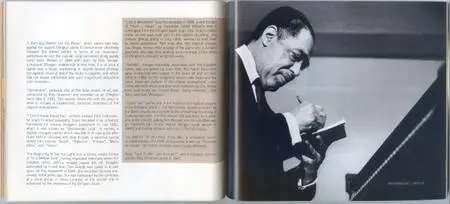 Personnel
Ella Fitzgerald
– vocals
William "Cat" Anderson, Clark Terry, Willie Cook
– trumpet
Dizzy Gillespie
– trumpet on "Take the "A" Train"
Frank Foster
– tenor saxophone
Paul Gonsalves, Ben Webster
– saxophone
Johnny Hodges
– alto saxophone
Russell Procope
– clarinet, alto saxophone
Jimmy Hamilton
– clarinet, tenor saxophone
Harry Carney
– clarinet, bass clarinet
John Sanders, Britt Woodman, Quentin Jackson
– trombone
Ray Nance
– trumpet, violin
Stuff Smith
– violin
Oscar Peterson, Paul Smith
– piano
Ray Brown, Joe Mondragon, Jimmy Woode
– double bass
Herb Ellis, Barney Kessel
– guitar
Sam Woodyard, Alvin Stoller
– drums
Billy Strayhorn
– piano, narrator
Duke Ellington
– piano, narrator, arranger, conductor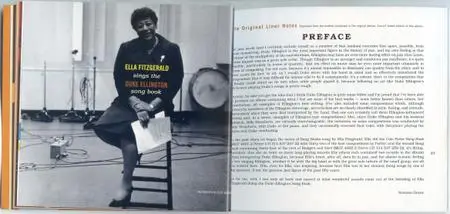 Track Listing

Disc 1 (01:17:37)
1. Rockin' In Rhythm (05:18)
2. Drop Me Off In Harlem (03:49)
3. Day Dream (03:58)
4. Caravan (03:53)
5. Take The "A" Train (06:40)
6. I Ain't Got Nothing But The Blues (04:41)
7. Clementine (02:39)
8. I Didn't Know About You (04:12)
9. I'm Beginning To See The Light (03:25)
10. Lost In Meditation (03:25)
11. Perdido (06:12)
12. Cotton Tail (03:24)
13. Do Nothin' Till You Hear From Me (07:40)
14. Just A-Sittin' And A-Rockin' (03:32)
15. Solitude (02:06)
16. Rocks In My Bed (03:56)
17. Satin Doll (03:28)
18. Sophisticated Lady (05:19)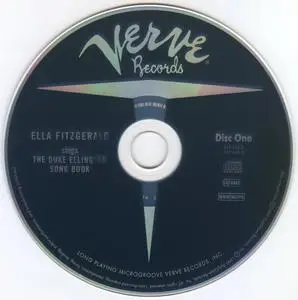 Disc 2 (01:09:23)
1. Just Squeeze Me (But Don't Tease Me) (04:15)
2. It Don't Mean A Thing (If It Ain't Got That Swing) (04:13)
3. Azure (02:20)
4. I Let A Song Go Out Of My Heart (04:09)
5. In A Sentimental Mood (02:45)
6. Don't Get Around Much Anymore (05:00)
7. Prelude To A Kiss (05:27)
8. Mood Indigo (03:26)
9. In A Mellow Tone (05:09)
10. Love You Madly (04:39)
11. Lush Life (03:37)
12. Squatty Roo (03:39)
13. I'm Just A Lucky So-And-So (04:13)
14. All Too Soon (04:22)
15. Everything But You (02:55)
16. I Got It Bad (And That Ain't Good) (06:12)
17. Bli-Blip (03:02)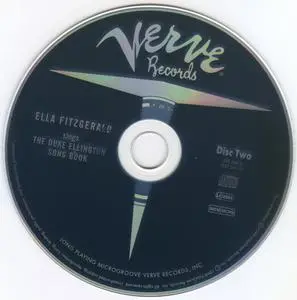 Disc 3 (01:05:54)
1. Chelsea Bridge (03:23)
2. Portrait Of Ella Fitzgerald (16:16)
3. The E And D Blues (E For Ella, D For Duke) (04:50)
4. Chelsea Bridge - Rehearsal (04:03)
5. Chelsea Bridge - Rehearsal (03:37)
6. Chelsea Bridge - Rehearsal (03:59)
7. Chelsea Bridge - Rehearsal (03:20)
8. Chelsea Bridge - Rehearsal (01:38)
9. Chelsea Bridge - Rehearsal (01:20)
10. Chelsea Bridge - Rehearsal (05:35)
11. Chelsea Bridge - Rehearsal (03:39)
12. All Heart (Alternative Takes) (03:54)
13. All Heart (Alternative Takes) (03:33)
14. All Heart (Alternative Takes) (03:22)
15. All Heart (Alternative Takes) (03:25)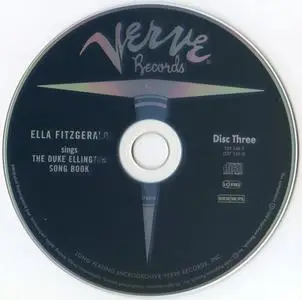 X Lossless Decoder version 20161007 (149.3)

XLD extraction logfile from 2017-07-02 11:23:04 +0200

Ella Fitzgerald / Ella Fitzgerald Sings the Duke Ellington Songbook

Used drive : MATSHITA BD-MLT UJ272 (revision 1.01)
Media type : Pressed CD

Ripper mode : XLD Secure Ripper
Disable audio cache : OK for the drive with a cache less than 1375KiB
Make use of C2 pointers : NO
Read offset correction : 103
Max retry count : 20
Gap status : Analyzed, Appended

TOC of the extracted CD
Track | Start | Length | Start sector | End sector
––––––––––––––––––––––––––––-
1 | 00:00:32 | 05:21:18 | 32 | 24124
2 | 05:21:50 | 03:51:25 | 24125 | 41474
3 | 09:13:00 | 04:01:17 | 41475 | 59566
4 | 13:14:17 | 03:55:33 | 59567 | 77224
5 | 17:09:50 | 06:41:70 | 77225 | 107369
6 | 23:51:45 | 04:43:60 | 107370 | 128654
7 | 28:35:30 | 02:40:45 | 128655 | 140699
8 | 31:16:00 | 04:13:02 | 140700 | 159676
9 | 35:29:02 | 03:28:00 | 159677 | 175276
10 | 38:57:02 | 03:27:50 | 175277 | 190851
11 | 42:24:52 | 06:14:25 | 190852 | 218926
12 | 48:39:02 | 03:26:73 | 218927 | 234449
13 | 52:06:00 | 07:43:50 | 234450 | 269224
14 | 59:49:50 | 03:34:15 | 269225 | 285289
15 | 63:23:65 | 02:09:37 | 285290 | 295001
16 | 65:33:27 | 03:59:03 | 295002 | 312929
17 | 69:32:30 | 03:29:27 | 312930 | 328631
18 | 73:01:57 | 05:20:43 | 328632 | 352674

AccurateRip Summary (DiscID: 0033e966-02b0b981-05125e12)
Track 01 : OK (v1+v2, confidence 22/43)
Track 02 : OK (v1+v2, confidence 23/44)
Track 03 : OK (v1+v2, confidence 23/44)
Track 04 : OK (v1+v2, confidence 23/44)
Track 05 : OK (v1+v2, confidence 23/44)
Track 06 : OK (v1+v2, confidence 23/44)
Track 07 : OK (v1+v2, confidence 23/44)
Track 08 : OK (v1+v2, confidence 22/43)
Track 09 : OK (v1+v2, confidence 22/43)
Track 10 : OK (v1+v2, confidence 22/42)
Track 11 : OK (v1+v2, confidence 22/43)
Track 12 : OK (v1+v2, confidence 23/44)
Track 13 : OK (v1+v2, confidence 21/42)
Track 14 : OK (v1+v2, confidence 23/42)
Track 15 : OK (v1+v2, confidence 22/42)
Track 16 : OK (v1+v2, confidence 20/38)
Track 17 : OK (v1+v2, confidence 23/44)
Track 18 : OK (v1+v2, confidence 21/41)
->All tracks accurately ripped.

All Tracks
Album gain : -3.36 dB
Peak : 0.999969
Statistics
Read error : 0
Jitter error (maybe fixed) : 0
Retry sector count : 0
Damaged sector count : 0

Track 01
Filename : /Volumes/osec/XLDs/Ella Fitzgerald - Ella Fitzgerald Sings the Duke Ellington Songbook (1957) {559 248-2} [CD FLAC]/01-01 - Rockin' in Rhythm.flac
/Volumes/osec/XLDs/Ella Fitzgerald - Ella Fitzgerald Sings the Duke Ellington Songbook (1957) {559 248-2} [CD V0]/01-01 - Rockin' in Rhythm.mp3
/Volumes/osec/XLDs/Ella Fitzgerald - Ella Fitzgerald Sings the Duke Ellington Songbook (1957) {559 248-2} [CD 320]/01-01 - Rockin' in Rhythm.mp3
Pre-gap length : 00:02:32

Track gain : -5.18 dB
Peak : 0.796967
CRC32 hash (test run) : 22A89499
CRC32 hash : 22A89499
CRC32 hash (skip zero) : F9D08433
AccurateRip v1 signature : 0C543623
AccurateRip v2 signature : 24E3CEDB
->Accurately ripped (v1+v2, confidence 11+11/43)
Statistics
Read error : 0
Jitter error (maybe fixed) : 0
Retry sector count : 0
Damaged sector count : 0

Track 02
Filename : /Volumes/osec/XLDs/Ella Fitzgerald - Ella Fitzgerald Sings the Duke Ellington Songbook (1957) {559 248-2} [CD FLAC]/01-02 - Drop Me Off in Harlem.flac
/Volumes/osec/XLDs/Ella Fitzgerald - Ella Fitzgerald Sings the Duke Ellington Songbook (1957) {559 248-2} [CD V0]/01-02 - Drop Me Off in Harlem.mp3
/Volumes/osec/XLDs/Ella Fitzgerald - Ella Fitzgerald Sings the Duke Ellington Songbook (1957) {559 248-2} [CD 320]/01-02 - Drop Me Off in Harlem.mp3
Pre-gap length : 00:02:38

Track gain : -4.25 dB
Peak : 0.827148
CRC32 hash (test run) : F6BA8910
CRC32 hash : F6BA8910
CRC32 hash (skip zero) : 8ACAFF70
AccurateRip v1 signature : 27025FFB
AccurateRip v2 signature : 8EE98888
->Accurately ripped (v1+v2, confidence 11+12/44)
Statistics
Read error : 0
Jitter error (maybe fixed) : 0
Retry sector count : 0
Damaged sector count : 0

Track 03
Filename : /Volumes/osec/XLDs/Ella Fitzgerald - Ella Fitzgerald Sings the Duke Ellington Songbook (1957) {559 248-2} [CD FLAC]/01-03 - Day Dream.flac
/Volumes/osec/XLDs/Ella Fitzgerald - Ella Fitzgerald Sings the Duke Ellington Songbook (1957) {559 248-2} [CD V0]/01-03 - Day Dream.mp3
/Volumes/osec/XLDs/Ella Fitzgerald - Ella Fitzgerald Sings the Duke Ellington Songbook (1957) {559 248-2} [CD 320]/01-03 - Day Dream.mp3
Pre-gap length : 00:01:35

Track gain : -4.16 dB
Peak : 0.999969
CRC32 hash (test run) : 9877C4CE
CRC32 hash : 9877C4CE
CRC32 hash (skip zero) : 3BBDD1D2
AccurateRip v1 signature : 4D1A22FD
AccurateRip v2 signature : AFC77D7F
->Accurately ripped (v1+v2, confidence 11+12/44)
Statistics
Read error : 0
Jitter error (maybe fixed) : 0
Retry sector count : 0
Damaged sector count : 0

Track 04
Filename : /Volumes/osec/XLDs/Ella Fitzgerald - Ella Fitzgerald Sings the Duke Ellington Songbook (1957) {559 248-2} [CD FLAC]/01-04 - Caravan.flac
/Volumes/osec/XLDs/Ella Fitzgerald - Ella Fitzgerald Sings the Duke Ellington Songbook (1957) {559 248-2} [CD V0]/01-04 - Caravan.mp3
/Volumes/osec/XLDs/Ella Fitzgerald - Ella Fitzgerald Sings the Duke Ellington Songbook (1957) {559 248-2} [CD 320]/01-04 - Caravan.mp3
Pre-gap length : 00:02:05

Track gain : -3.08 dB
Peak : 0.827148
CRC32 hash (test run) : 76793375
CRC32 hash : 76793375
CRC32 hash (skip zero) : DC8DC637
AccurateRip v1 signature : 42CE0484
AccurateRip v2 signature : C5536763
->Accurately ripped (v1+v2, confidence 11+12/44)
Statistics
Read error : 0
Jitter error (maybe fixed) : 0
Retry sector count : 0
Damaged sector count : 0

Track 05
Filename : /Volumes/osec/XLDs/Ella Fitzgerald - Ella Fitzgerald Sings the Duke Ellington Songbook (1957) {559 248-2} [CD FLAC]/01-05 - Take the 'A' Train.flac
/Volumes/osec/XLDs/Ella Fitzgerald - Ella Fitzgerald Sings the Duke Ellington Songbook (1957) {559 248-2} [CD V0]/01-05 - Take the 'A' Train.mp3
/Volumes/osec/XLDs/Ella Fitzgerald - Ella Fitzgerald Sings the Duke Ellington Songbook (1957) {559 248-2} [CD 320]/01-05 - Take the 'A' Train.mp3
Pre-gap length : 00:01:38

Track gain : -3.81 dB
Peak : 0.999969
CRC32 hash (test run) : 22650021
CRC32 hash : 22650021
CRC32 hash (skip zero) : 1284D493
AccurateRip v1 signature : 3AC1017A
AccurateRip v2 signature : AAA1A3DB
->Accurately ripped (v1+v2, confidence 11+12/44)
Statistics
Read error : 0
Jitter error (maybe fixed) : 0
Retry sector count : 0
Damaged sector count : 0

Track 06
Filename : /Volumes/osec/XLDs/Ella Fitzgerald - Ella Fitzgerald Sings the Duke Ellington Songbook (1957) {559 248-2} [CD FLAC]/01-06 - I Ain't Got Nothin' But the Blues.flac
/Volumes/osec/XLDs/Ella Fitzgerald - Ella Fitzgerald Sings the Duke Ellington Songbook (1957) {559 248-2} [CD V0]/01-06 - I Ain't Got Nothin' But the Blues.mp3
/Volumes/osec/XLDs/Ella Fitzgerald - Ella Fitzgerald Sings the Duke Ellington Songbook (1957) {559 248-2} [CD 320]/01-06 - I Ain't Got Nothin' But the Blues.mp3
Pre-gap length : 00:01:18

Track gain : -3.12 dB
Peak : 0.846497
CRC32 hash (test run) : E83670E9
CRC32 hash : E83670E9
CRC32 hash (skip zero) : BB4B3B3F
AccurateRip v1 signature : BB22330A
AccurateRip v2 signature : EF8118DB
->Accurately ripped (v1+v2, confidence 11+12/44)
Statistics
Read error : 0
Jitter error (maybe fixed) : 0
Retry sector count : 0
Damaged sector count : 0

Track 07
Filename : /Volumes/osec/XLDs/Ella Fitzgerald - Ella Fitzgerald Sings the Duke Ellington Songbook (1957) {559 248-2} [CD FLAC]/01-07 - Clementine.flac
/Volumes/osec/XLDs/Ella Fitzgerald - Ella Fitzgerald Sings the Duke Ellington Songbook (1957) {559 248-2} [CD V0]/01-07 - Clementine.mp3
/Volumes/osec/XLDs/Ella Fitzgerald - Ella Fitzgerald Sings the Duke Ellington Songbook (1957) {559 248-2} [CD 320]/01-07 - Clementine.mp3
Pre-gap length : 00:02:05

Track gain : -4.57 dB
Peak : 0.832397
CRC32 hash (test run) : 85F2F416
CRC32 hash : 85F2F416
CRC32 hash (skip zero) : E687AADA
AccurateRip v1 signature : 1D388CF9
AccurateRip v2 signature : 0F40B47B
->Accurately ripped (v1+v2, confidence 11+12/44)
Statistics
Read error : 0
Jitter error (maybe fixed) : 0
Retry sector count : 0
Damaged sector count : 0

Track 08
Filename : /Volumes/osec/XLDs/Ella Fitzgerald - Ella Fitzgerald Sings the Duke Ellington Songbook (1957) {559 248-2} [CD FLAC]/01-08 - I Didn't Know About You.flac
/Volumes/osec/XLDs/Ella Fitzgerald - Ella Fitzgerald Sings the Duke Ellington Songbook (1957) {559 248-2} [CD V0]/01-08 - I Didn't Know About You.mp3
/Volumes/osec/XLDs/Ella Fitzgerald - Ella Fitzgerald Sings the Duke Ellington Songbook (1957) {559 248-2} [CD 320]/01-08 - I Didn't Know About You.mp3
Pre-gap length : 00:01:38

Track gain : -2.10 dB
Peak : 0.706940
CRC32 hash (test run) : E1ACC2B0
CRC32 hash : E1ACC2B0
CRC32 hash (skip zero) : 375EE19C
AccurateRip v1 signature : 437461D0
AccurateRip v2 signature : 32A156EB
->Accurately ripped (v1+v2, confidence 10+12/43)
Statistics
Read error : 0
Jitter error (maybe fixed) : 0
Retry sector count : 0
Damaged sector count : 0

Track 09
Filename : /Volumes/osec/XLDs/Ella Fitzgerald - Ella Fitzgerald Sings the Duke Ellington Songbook (1957) {559 248-2} [CD FLAC]/01-09 - I'm Beginning to See the Light.flac
/Volumes/osec/XLDs/Ella Fitzgerald - Ella Fitzgerald Sings the Duke Ellington Songbook (1957) {559 248-2} [CD V0]/01-09 - I'm Beginning to See the Light.mp3
/Volumes/osec/XLDs/Ella Fitzgerald - Ella Fitzgerald Sings the Duke Ellington Songbook (1957) {559 248-2} [CD 320]/01-09 - I'm Beginning to See the Light.mp3
Pre-gap length : 00:00:70

Track gain : -5.38 dB
Peak : 0.999969
CRC32 hash (test run) : 0484844A
CRC32 hash : 0484844A
CRC32 hash (skip zero) : B6DB722B
AccurateRip v1 signature : DAA5EB2C
AccurateRip v2 signature : A49390A7
->Accurately ripped (v1+v2, confidence 10+12/43)
Statistics
Read error : 0
Jitter error (maybe fixed) : 0
Retry sector count : 0
Damaged sector count : 0

Track 10
Filename : /Volumes/osec/XLDs/Ella Fitzgerald - Ella Fitzgerald Sings the Duke Ellington Songbook (1957) {559 248-2} [CD FLAC]/01-10 - Lost in Meditation.flac
/Volumes/osec/XLDs/Ella Fitzgerald - Ella Fitzgerald Sings the Duke Ellington Songbook (1957) {559 248-2} [CD V0]/01-10 - Lost in Meditation.mp3
/Volumes/osec/XLDs/Ella Fitzgerald - Ella Fitzgerald Sings the Duke Ellington Songbook (1957) {559 248-2} [CD 320]/01-10 - Lost in Meditation.mp3
Pre-gap length : 00:01:67

Track gain : -0.82 dB
Peak : 0.590149
CRC32 hash (test run) : AB7A9483
CRC32 hash : AB7A9483
CRC32 hash (skip zero) : 9EC62C8A
AccurateRip v1 signature : 71F72552
AccurateRip v2 signature : 580C2391
->Accurately ripped (v1+v2, confidence 10+12/42)
Statistics
Read error : 0
Jitter error (maybe fixed) : 0
Retry sector count : 0
Damaged sector count : 0

Track 11
Filename : /Volumes/osec/XLDs/Ella Fitzgerald - Ella Fitzgerald Sings the Duke Ellington Songbook (1957) {559 248-2} [CD FLAC]/01-11 - Perdido.flac
/Volumes/osec/XLDs/Ella Fitzgerald - Ella Fitzgerald Sings the Duke Ellington Songbook (1957) {559 248-2} [CD V0]/01-11 - Perdido.mp3
/Volumes/osec/XLDs/Ella Fitzgerald - Ella Fitzgerald Sings the Duke Ellington Songbook (1957) {559 248-2} [CD 320]/01-11 - Perdido.mp3
Pre-gap length : 00:01:20

Track gain : -2.38 dB
Peak : 0.767761
CRC32 hash (test run) : 76237B4A
CRC32 hash : 76237B4A
CRC32 hash (skip zero) : 861D733B
AccurateRip v1 signature : 8D26E505
AccurateRip v2 signature : 6553FAAD
->Accurately ripped (v1+v2, confidence 10+12/43)
Statistics
Read error : 0
Jitter error (maybe fixed) : 0
Retry sector count : 0
Damaged sector count : 0

Track 12
Filename : /Volumes/osec/XLDs/Ella Fitzgerald - Ella Fitzgerald Sings the Duke Ellington Songbook (1957) {559 248-2} [CD FLAC]/01-12 - Cotton Tail.flac
/Volumes/osec/XLDs/Ella Fitzgerald - Ella Fitzgerald Sings the Duke Ellington Songbook (1957) {559 248-2} [CD V0]/01-12 - Cotton Tail.mp3
/Volumes/osec/XLDs/Ella Fitzgerald - Ella Fitzgerald Sings the Duke Ellington Songbook (1957) {559 248-2} [CD 320]/01-12 - Cotton Tail.mp3
Pre-gap length : 00:01:57

Track gain : -1.77 dB
Peak : 0.879517
CRC32 hash (test run) : CF1B3336
CRC32 hash : CF1B3336
CRC32 hash (skip zero) : B9238B17
AccurateRip v1 signature : 3E2F8583
AccurateRip v2 signature : 8935DF7D
->Accurately ripped (v1+v2, confidence 10+13/44)
Statistics
Read error : 0
Jitter error (maybe fixed) : 0
Retry sector count : 0
Damaged sector count : 0

Track 13
Filename : /Volumes/osec/XLDs/Ella Fitzgerald - Ella Fitzgerald Sings the Duke Ellington Songbook (1957) {559 248-2} [CD FLAC]/01-13 - Do Nothin' till You Hear From Me.flac
/Volumes/osec/XLDs/Ella Fitzgerald - Ella Fitzgerald Sings the Duke Ellington Songbook (1957) {559 248-2} [CD V0]/01-13 - Do Nothin' till You Hear From Me.mp3
/Volumes/osec/XLDs/Ella Fitzgerald - Ella Fitzgerald Sings the Duke Ellington Songbook (1957) {559 248-2} [CD 320]/01-13 - Do Nothin' till You Hear From Me.mp3
Pre-gap length : 00:02:20

Track gain : -0.77 dB
Peak : 0.805908
CRC32 hash (test run) : 83F6431D
CRC32 hash : 83F6431D
CRC32 hash (skip zero) : 127AB723
AccurateRip v1 signature : 8115AD40
AccurateRip v2 signature : F008F14A
->Accurately ripped (v1+v2, confidence 10+11/42)
Statistics
Read error : 0
Jitter error (maybe fixed) : 0
Retry sector count : 0
Damaged sector count : 0

Track 14
Filename : /Volumes/osec/XLDs/Ella Fitzgerald - Ella Fitzgerald Sings the Duke Ellington Songbook (1957) {559 248-2} [CD FLAC]/01-14 - Just a-Sittin' and a-Rockin'.flac
/Volumes/osec/XLDs/Ella Fitzgerald - Ella Fitzgerald Sings the Duke Ellington Songbook (1957) {559 248-2} [CD V0]/01-14 - Just a-Sittin' and a-Rockin'.mp3
/Volumes/osec/XLDs/Ella Fitzgerald - Ella Fitzgerald Sings the Duke Ellington Songbook (1957) {559 248-2} [CD 320]/01-14 - Just a-Sittin' and a-Rockin'.mp3
Pre-gap length : 00:03:13

Track gain : -1.05 dB
Peak : 0.694794
CRC32 hash (test run) : F8F2EA0B
CRC32 hash : F8F2EA0B
CRC32 hash (skip zero) : D9C76DDB
AccurateRip v1 signature : 8FBDCB4A
AccurateRip v2 signature : C5A66230
->Accurately ripped (v1+v2, confidence 10+13/42)
Statistics
Read error : 0
Jitter error (maybe fixed) : 0
Retry sector count : 0
Damaged sector count : 0

Track 15
Filename : /Volumes/osec/XLDs/Ella Fitzgerald - Ella Fitzgerald Sings the Duke Ellington Songbook (1957) {559 248-2} [CD FLAC]/01-15 - Solitude.flac
/Volumes/osec/XLDs/Ella Fitzgerald - Ella Fitzgerald Sings the Duke Ellington Songbook (1957) {559 248-2} [CD V0]/01-15 - Solitude.mp3
/Volumes/osec/XLDs/Ella Fitzgerald - Ella Fitzgerald Sings the Duke Ellington Songbook (1957) {559 248-2} [CD 320]/01-15 - Solitude.mp3
Pre-gap length : 00:01:70

Track gain : 0.92 dB
Peak : 0.600006
CRC32 hash (test run) : 9290DE84
CRC32 hash : 9290DE84
CRC32 hash (skip zero) : C6EE9447
AccurateRip v1 signature : C2833A6F
AccurateRip v2 signature : 0E8F7FE1
->Accurately ripped (v1+v2, confidence 10+12/42)
Statistics
Read error : 0
Jitter error (maybe fixed) : 0
Retry sector count : 0
Damaged sector count : 0

Track 16
Filename : /Volumes/osec/XLDs/Ella Fitzgerald - Ella Fitzgerald Sings the Duke Ellington Songbook (1957) {559 248-2} [CD FLAC]/01-16 - Rocks in My Bed.flac
/Volumes/osec/XLDs/Ella Fitzgerald - Ella Fitzgerald Sings the Duke Ellington Songbook (1957) {559 248-2} [CD V0]/01-16 - Rocks in My Bed.mp3
/Volumes/osec/XLDs/Ella Fitzgerald - Ella Fitzgerald Sings the Duke Ellington Songbook (1957) {559 248-2} [CD 320]/01-16 - Rocks in My Bed.mp3
Pre-gap length : 00:02:12

Track gain : -2.18 dB
Peak : 0.911011
CRC32 hash (test run) : CF555B5C
CRC32 hash : CF555B5C
CRC32 hash (skip zero) : E254EC68
AccurateRip v1 signature : 0420A886
AccurateRip v2 signature : B97E37B5
->Accurately ripped (v1+v2, confidence 9+11/38)
Statistics
Read error : 0
Jitter error (maybe fixed) : 0
Retry sector count : 0
Damaged sector count : 0

Track 17
Filename : /Volumes/osec/XLDs/Ella Fitzgerald - Ella Fitzgerald Sings the Duke Ellington Songbook (1957) {559 248-2} [CD FLAC]/01-17 - Satin Doll.flac
/Volumes/osec/XLDs/Ella Fitzgerald - Ella Fitzgerald Sings the Duke Ellington Songbook (1957) {559 248-2} [CD V0]/01-17 - Satin Doll.mp3
/Volumes/osec/XLDs/Ella Fitzgerald - Ella Fitzgerald Sings the Duke Ellington Songbook (1957) {559 248-2} [CD 320]/01-17 - Satin Doll.mp3
Pre-gap length : 00:02:10

Track gain : -4.05 dB
Peak : 0.829346
CRC32 hash (test run) : 11A90C70
CRC32 hash : 11A90C70
CRC32 hash (skip zero) : 024AAC5F
AccurateRip v1 signature : 36F49463
AccurateRip v2 signature : 8408F180
->Accurately ripped (v1+v2, confidence 10+13/44)
Statistics
Read error : 0
Jitter error (maybe fixed) : 0
Retry sector count : 0
Damaged sector count : 0

Track 18
Filename : /Volumes/osec/XLDs/Ella Fitzgerald - Ella Fitzgerald Sings the Duke Ellington Songbook (1957) {559 248-2} [CD FLAC]/01-18 - Sophisticated Lady.flac
/Volumes/osec/XLDs/Ella Fitzgerald - Ella Fitzgerald Sings the Duke Ellington Songbook (1957) {559 248-2} [CD V0]/01-18 - Sophisticated Lady.mp3
/Volumes/osec/XLDs/Ella Fitzgerald - Ella Fitzgerald Sings the Duke Ellington Songbook (1957) {559 248-2} [CD 320]/01-18 - Sophisticated Lady.mp3
Pre-gap length : 00:01:50

Track gain : -2.06 dB
Peak : 0.862000
CRC32 hash (test run) : CF2C3B6D
CRC32 hash : CF2C3B6D
CRC32 hash (skip zero) : 81AE6688
AccurateRip v1 signature : 65179B13
AccurateRip v2 signature : 13BE7D91
->Accurately ripped (v1+v2, confidence 8+13/41)
Statistics
Read error : 0
Jitter error (maybe fixed) : 0
Retry sector count : 0
Damaged sector count : 0

No errors occurred

End of status report

––-BEGIN XLD SIGNATURE––-
WGf78DXYtus6obXT7CFT3iPzB3ZgzBvnu68RAXaZxRdFGzlYhaVpKGxOhYIyxZnLYxQEm7RUxcoppLOo5cAskm._AHeTOT4y9FOJ2IS
––-END XLD SIGNATURE––-
X Lossless Decoder version 20161007 (149.3)

XLD extraction logfile from 2017-07-02 11:57:21 +0200

Ella Fitzgerald / Ella Fitzgerald Sings the Duke Ellington Songbook

Used drive : MATSHITA BD-MLT UJ272 (revision 1.01)
Media type : Pressed CD

Ripper mode : XLD Secure Ripper
Disable audio cache : OK for the drive with a cache less than 1375KiB
Make use of C2 pointers : NO
Read offset correction : 103
Max retry count : 20
Gap status : Analyzed, Appended

TOC of the extracted CD
Track | Start | Length | Start sector | End sector
––––––––––––––––––––––––––––-
1 | 00:00:00 | 04:17:17 | 0 | 19291
2 | 04:17:17 | 04:15:15 | 19292 | 38431
3 | 08:32:32 | 02:22:70 | 38432 | 49151
4 | 10:55:27 | 04:11:45 | 49152 | 68021
5 | 15:06:72 | 02:47:40 | 68022 | 80586
6 | 17:54:37 | 05:02:15 | 80587 | 103251
7 | 22:56:52 | 05:29:33 | 103252 | 127959
8 | 28:26:10 | 03:28:20 | 127960 | 143579
9 | 31:54:30 | 05:11:60 | 143580 | 166964
10 | 37:06:15 | 04:41:72 | 166965 | 188111
11 | 41:48:12 | 03:40:55 | 188112 | 204666
12 | 45:28:67 | 03:42:35 | 204667 | 221351
13 | 49:11:27 | 04:14:73 | 221352 | 240474
14 | 53:26:25 | 04:24:07 | 240475 | 260281
15 | 57:50:32 | 02:57:45 | 260282 | 273601
16 | 60:48:02 | 06:15:03 | 273602 | 301729
17 | 67:03:05 | 03:03:40 | 301730 | 315494

List of alternate offset correction values
# | Absolute | Relative | Confidence
–––––––––––––––––––––
1 | 844 | 741 | 23
2 | 2073 | 1970 | 7
3 | 85 | -18 | 3

AccurateRip Summary (DiscID: 002ac50d-0221617f-ec106e11)
Track 01 : OK (v1+v2, confidence 23/56)
Track 02 : OK (v1+v2, confidence 25/58)
Track 03 : OK (v1+v2, confidence 24/57)
Track 04 : OK (v1+v2, confidence 24/57)
Track 05 : OK (v1+v2, confidence 24/57)
Track 06 : OK (v1+v2, confidence 24/57)
Track 07 : OK (v1+v2, confidence 23/56)
Track 08 : OK (v1+v2, confidence 24/57)
Track 09 : OK (v1+v2, confidence 24/57)
Track 10 : OK (v1+v2, confidence 24/57)
Track 11 : OK (v1+v2, confidence 24/56)
Track 12 : OK (v1+v2, confidence 24/57)
Track 13 : OK (v1+v2, confidence 24/57)
Track 14 : OK (v1+v2, confidence 23/56)
Track 15 : OK (v1+v2, confidence 24/57)
Track 16 : OK (v1+v2, confidence 24/57)
Track 17 : OK (v1+v2, confidence 25/57)
->All tracks accurately ripped.

All Tracks
Album gain : -2.31 dB
Peak : 0.999969
Statistics
Read error : 0
Jitter error (maybe fixed) : 0
Retry sector count : 1
Damaged sector count : 0

Track 01
Filename : /Volumes/osec/XLDs/Ella Fitzgerald - Ella Fitzgerald Sings the Duke Ellington Songbook (1957) {559 248-2} [CD FLAC]/02-01 - Just Squeeze Me (But Don't Tease Me).flac
/Volumes/osec/XLDs/Ella Fitzgerald - Ella Fitzgerald Sings the Duke Ellington Songbook (1957) {559 248-2} [CD V0]/02-01 - Just Squeeze Me (But Don't Tease Me).mp3
/Volumes/osec/XLDs/Ella Fitzgerald - Ella Fitzgerald Sings the Duke Ellington Songbook (1957) {559 248-2} [CD 320]/02-01 - Just Squeeze Me (But Don't Tease Me).mp3
Pre-gap length : 00:02:00

Track gain : 2.07 dB
Peak : 0.589691
CRC32 hash (test run) : 852F7BF1
CRC32 hash : 852F7BF1
CRC32 hash (skip zero) : ADA2928C
AccurateRip v1 signature : E569F5EF
AccurateRip v2 signature : 7BE1887C
->Accurately ripped (v1+v2, confidence 11+12/56)
Statistics
Read error : 0
Jitter error (maybe fixed) : 0
Retry sector count : 0
Damaged sector count : 0

Track 02
Filename : /Volumes/osec/XLDs/Ella Fitzgerald - Ella Fitzgerald Sings the Duke Ellington Songbook (1957) {559 248-2} [CD FLAC]/02-02 - It Don't Mean A Thing (If It Ain't Got That Swing).flac
/Volumes/osec/XLDs/Ella Fitzgerald - Ella Fitzgerald Sings the Duke Ellington Songbook (1957) {559 248-2} [CD V0]/02-02 - It Don't Mean A Thing (If It Ain't Got That Swing).mp3
/Volumes/osec/XLDs/Ella Fitzgerald - Ella Fitzgerald Sings the Duke Ellington Songbook (1957) {559 248-2} [CD 320]/02-02 - It Don't Mean A Thing (If It Ain't Got That Swing).mp3
Pre-gap length : 00:01:57

Track gain : -2.84 dB
Peak : 0.850372
CRC32 hash (test run) : 332D1BBB
CRC32 hash : 332D1BBB
CRC32 hash (skip zero) : 2478B4CE
AccurateRip v1 signature : 6831184B
AccurateRip v2 signature : D7E6A2C5
->Accurately ripped (v1+v2, confidence 11+14/58)
Statistics
Read error : 0
Jitter error (maybe fixed) : 0
Retry sector count : 0
Damaged sector count : 0

Track 03
Filename : /Volumes/osec/XLDs/Ella Fitzgerald - Ella Fitzgerald Sings the Duke Ellington Songbook (1957) {559 248-2} [CD FLAC]/02-03 - Azure.flac
/Volumes/osec/XLDs/Ella Fitzgerald - Ella Fitzgerald Sings the Duke Ellington Songbook (1957) {559 248-2} [CD V0]/02-03 - Azure.mp3
/Volumes/osec/XLDs/Ella Fitzgerald - Ella Fitzgerald Sings the Duke Ellington Songbook (1957) {559 248-2} [CD 320]/02-03 - Azure.mp3
Pre-gap length : 00:01:57

Track gain : 0.18 dB
Peak : 0.487640
CRC32 hash (test run) : 0DE1EF4D
CRC32 hash : 0DE1EF4D
CRC32 hash (skip zero) : B2B3280E
AccurateRip v1 signature : D1989177
AccurateRip v2 signature : 5FB43C13
->Accurately ripped (v1+v2, confidence 11+13/57)
Statistics
Read error : 0
Jitter error (maybe fixed) : 0
Retry sector count : 0
Damaged sector count : 0

Track 04
Filename : /Volumes/osec/XLDs/Ella Fitzgerald - Ella Fitzgerald Sings the Duke Ellington Songbook (1957) {559 248-2} [CD FLAC]/02-04 - I Let A Song Go Out Of My Heart.flac
/Volumes/osec/XLDs/Ella Fitzgerald - Ella Fitzgerald Sings the Duke Ellington Songbook (1957) {559 248-2} [CD V0]/02-04 - I Let A Song Go Out Of My Heart.mp3
/Volumes/osec/XLDs/Ella Fitzgerald - Ella Fitzgerald Sings the Duke Ellington Songbook (1957) {559 248-2} [CD 320]/02-04 - I Let A Song Go Out Of My Heart.mp3
Pre-gap length : 00:01:37

Track gain : -0.78 dB
Peak : 0.592926
CRC32 hash (test run) : 3FCE62F9
CRC32 hash : 3FCE62F9
CRC32 hash (skip zero) : 6F02B96D
AccurateRip v1 signature : 70E4C6ED
AccurateRip v2 signature : B1FF9797
->Accurately ripped (v1+v2, confidence 11+13/57)
Statistics
Read error : 0
Jitter error (maybe fixed) : 0
Retry sector count : 0
Damaged sector count : 0

Track 05
Filename : /Volumes/osec/XLDs/Ella Fitzgerald - Ella Fitzgerald Sings the Duke Ellington Songbook (1957) {559 248-2} [CD FLAC]/02-05 - In A Sentimental Mood.flac
/Volumes/osec/XLDs/Ella Fitzgerald - Ella Fitzgerald Sings the Duke Ellington Songbook (1957) {559 248-2} [CD V0]/02-05 - In A Sentimental Mood.mp3
/Volumes/osec/XLDs/Ella Fitzgerald - Ella Fitzgerald Sings the Duke Ellington Songbook (1957) {559 248-2} [CD 320]/02-05 - In A Sentimental Mood.mp3
Pre-gap length : 00:01:60

Track gain : 3.38 dB
Peak : 0.527771
CRC32 hash (test run) : 6CEBCF63
CRC32 hash : 6CEBCF63
CRC32 hash (skip zero) : D5773C1E
AccurateRip v1 signature : 77BB1066
AccurateRip v2 signature : E37141F6
->Accurately ripped (v1+v2, confidence 11+13/57)
Statistics
Read error : 0
Jitter error (maybe fixed) : 0
Retry sector count : 0
Damaged sector count : 0

Track 06
Filename : /Volumes/osec/XLDs/Ella Fitzgerald - Ella Fitzgerald Sings the Duke Ellington Songbook (1957) {559 248-2} [CD FLAC]/02-06 - Don't Get Around Much Anymore.flac
/Volumes/osec/XLDs/Ella Fitzgerald - Ella Fitzgerald Sings the Duke Ellington Songbook (1957) {559 248-2} [CD V0]/02-06 - Don't Get Around Much Anymore.mp3
/Volumes/osec/XLDs/Ella Fitzgerald - Ella Fitzgerald Sings the Duke Ellington Songbook (1957) {559 248-2} [CD 320]/02-06 - Don't Get Around Much Anymore.mp3
Pre-gap length : 00:01:62

Track gain : -2.23 dB
Peak : 0.887695
CRC32 hash (test run) : 065D107C
CRC32 hash : 065D107C
CRC32 hash (skip zero) : 08CC0C92
AccurateRip v1 signature : 6C595727
AccurateRip v2 signature : 1542F787
->Accurately ripped (v1+v2, confidence 11+13/57)
Statistics
Read error : 0
Jitter error (maybe fixed) : 0
Retry sector count : 0
Damaged sector count : 0

Track 07
Filename : /Volumes/osec/XLDs/Ella Fitzgerald - Ella Fitzgerald Sings the Duke Ellington Songbook (1957) {559 248-2} [CD FLAC]/02-07 - Prelude To A Kiss.flac
/Volumes/osec/XLDs/Ella Fitzgerald - Ella Fitzgerald Sings the Duke Ellington Songbook (1957) {559 248-2} [CD V0]/02-07 - Prelude To A Kiss.mp3
/Volumes/osec/XLDs/Ella Fitzgerald - Ella Fitzgerald Sings the Duke Ellington Songbook (1957) {559 248-2} [CD 320]/02-07 - Prelude To A Kiss.mp3
Pre-gap length : 00:01:05

Track gain : -1.40 dB
Peak : 0.972137
CRC32 hash (test run) : 82BEA2FE
CRC32 hash : 82BEA2FE
CRC32 hash (skip zero) : 4CC0E1FE
AccurateRip v1 signature : 10E70A3D
AccurateRip v2 signature : 5946F5C4
->Accurately ripped (v1+v2, confidence 11+12/56)
Statistics
Read error : 0
Jitter error (maybe fixed) : 0
Retry sector count : 0
Damaged sector count : 0

Track 08
Filename : /Volumes/osec/XLDs/Ella Fitzgerald - Ella Fitzgerald Sings the Duke Ellington Songbook (1957) {559 248-2} [CD FLAC]/02-08 - Mood Indigo.flac
/Volumes/osec/XLDs/Ella Fitzgerald - Ella Fitzgerald Sings the Duke Ellington Songbook (1957) {559 248-2} [CD V0]/02-08 - Mood Indigo.mp3
/Volumes/osec/XLDs/Ella Fitzgerald - Ella Fitzgerald Sings the Duke Ellington Songbook (1957) {559 248-2} [CD 320]/02-08 - Mood Indigo.mp3
Pre-gap length : 00:01:43

Track gain : 0.65 dB
Peak : 0.591553
CRC32 hash (test run) : 2330C33E
CRC32 hash : 2330C33E
CRC32 hash (skip zero) : 01A03FE0
AccurateRip v1 signature : D5C1B4C1
AccurateRip v2 signature : EBEAAFF8
->Accurately ripped (v1+v2, confidence 11+13/57)
Statistics
Read error : 0
Jitter error (maybe fixed) : 0
Retry sector count : 0
Damaged sector count : 0

Track 09
Filename : /Volumes/osec/XLDs/Ella Fitzgerald - Ella Fitzgerald Sings the Duke Ellington Songbook (1957) {559 248-2} [CD FLAC]/02-09 - In A Mellow Tone.flac
/Volumes/osec/XLDs/Ella Fitzgerald - Ella Fitzgerald Sings the Duke Ellington Songbook (1957) {559 248-2} [CD V0]/02-09 - In A Mellow Tone.mp3
/Volumes/osec/XLDs/Ella Fitzgerald - Ella Fitzgerald Sings the Duke Ellington Songbook (1957) {559 248-2} [CD 320]/02-09 - In A Mellow Tone.mp3
Pre-gap length : 00:01:55

Track gain : -1.02 dB
Peak : 0.999969
CRC32 hash (test run) : 1E131069
CRC32 hash : 1E131069
CRC32 hash (skip zero) : A5504B14
AccurateRip v1 signature : F84AA0DB
AccurateRip v2 signature : 89E7517B
->Accurately ripped (v1+v2, confidence 11+13/57)
Statistics
Read error : 0
Jitter error (maybe fixed) : 0
Retry sector count : 1
Damaged sector count : 0

Track 10
Filename : /Volumes/osec/XLDs/Ella Fitzgerald - Ella Fitzgerald Sings the Duke Ellington Songbook (1957) {559 248-2} [CD FLAC]/02-10 - Love You Madly.flac
/Volumes/osec/XLDs/Ella Fitzgerald - Ella Fitzgerald Sings the Duke Ellington Songbook (1957) {559 248-2} [CD V0]/02-10 - Love You Madly.mp3
/Volumes/osec/XLDs/Ella Fitzgerald - Ella Fitzgerald Sings the Duke Ellington Songbook (1957) {559 248-2} [CD 320]/02-10 - Love You Madly.mp3
Pre-gap length : 00:01:08

Track gain : -0.98 dB
Peak : 0.844543
CRC32 hash (test run) : 1AC3984E
CRC32 hash : 1AC3984E
CRC32 hash (skip zero) : 44813727
AccurateRip v1 signature : 89007953
AccurateRip v2 signature : 7E6795B3
->Accurately ripped (v1+v2, confidence 11+13/57)
Statistics
Read error : 0
Jitter error (maybe fixed) : 0
Retry sector count : 0
Damaged sector count : 0

Track 11
Filename : /Volumes/osec/XLDs/Ella Fitzgerald - Ella Fitzgerald Sings the Duke Ellington Songbook (1957) {559 248-2} [CD FLAC]/02-11 - Lush Life.flac
/Volumes/osec/XLDs/Ella Fitzgerald - Ella Fitzgerald Sings the Duke Ellington Songbook (1957) {559 248-2} [CD V0]/02-11 - Lush Life.mp3
/Volumes/osec/XLDs/Ella Fitzgerald - Ella Fitzgerald Sings the Duke Ellington Songbook (1957) {559 248-2} [CD 320]/02-11 - Lush Life.mp3
Pre-gap length : 00:02:37

Track gain : 1.30 dB
Peak : 0.505554
CRC32 hash (test run) : 050298DF
CRC32 hash : 050298DF
CRC32 hash (skip zero) : F99119BA
AccurateRip v1 signature : 34119585
AccurateRip v2 signature : 9D394E2A
->Accurately ripped (v1+v2, confidence 11+13/56)
Statistics
Read error : 0
Jitter error (maybe fixed) : 0
Retry sector count : 0
Damaged sector count : 0

Track 12
Filename : /Volumes/osec/XLDs/Ella Fitzgerald - Ella Fitzgerald Sings the Duke Ellington Songbook (1957) {559 248-2} [CD FLAC]/02-12 - Squatty Roo.flac
/Volumes/osec/XLDs/Ella Fitzgerald - Ella Fitzgerald Sings the Duke Ellington Songbook (1957) {559 248-2} [CD V0]/02-12 - Squatty Roo.mp3
/Volumes/osec/XLDs/Ella Fitzgerald - Ella Fitzgerald Sings the Duke Ellington Songbook (1957) {559 248-2} [CD 320]/02-12 - Squatty Roo.mp3
Pre-gap length : 00:01:42

Track gain : -2.75 dB
Peak : 0.999939
CRC32 hash (test run) : 11434928
CRC32 hash : 11434928
CRC32 hash (skip zero) : 64EA977A
AccurateRip v1 signature : 55E4C162
AccurateRip v2 signature : 9CDBC3D0
->Accurately ripped (v1+v2, confidence 11+13/57)
Statistics
Read error : 0
Jitter error (maybe fixed) : 0
Retry sector count : 0
Damaged sector count : 0

Track 13
Filename : /Volumes/osec/XLDs/Ella Fitzgerald - Ella Fitzgerald Sings the Duke Ellington Songbook (1957) {559 248-2} [CD FLAC]/02-13 - I'm Just A Lucky So-And-So.flac
/Volumes/osec/XLDs/Ella Fitzgerald - Ella Fitzgerald Sings the Duke Ellington Songbook (1957) {559 248-2} [CD V0]/02-13 - I'm Just A Lucky So-And-So.mp3
/Volumes/osec/XLDs/Ella Fitzgerald - Ella Fitzgerald Sings the Duke Ellington Songbook (1957) {559 248-2} [CD 320]/02-13 - I'm Just A Lucky So-And-So.mp3
Pre-gap length : 00:01:32

Track gain : -4.34 dB
Peak : 0.876404
CRC32 hash (test run) : E58585C4
CRC32 hash : E58585C4
CRC32 hash (skip zero) : 33A3FBCD
AccurateRip v1 signature : 6F6F8C52
AccurateRip v2 signature : D12C344E
->Accurately ripped (v1+v2, confidence 11+13/57)
Statistics
Read error : 0
Jitter error (maybe fixed) : 0
Retry sector count : 0
Damaged sector count : 0

Track 14
Filename : /Volumes/osec/XLDs/Ella Fitzgerald - Ella Fitzgerald Sings the Duke Ellington Songbook (1957) {559 248-2} [CD FLAC]/02-14 - All Too Soon.flac
/Volumes/osec/XLDs/Ella Fitzgerald - Ella Fitzgerald Sings the Duke Ellington Songbook (1957) {559 248-2} [CD V0]/02-14 - All Too Soon.mp3
/Volumes/osec/XLDs/Ella Fitzgerald - Ella Fitzgerald Sings the Duke Ellington Songbook (1957) {559 248-2} [CD 320]/02-14 - All Too Soon.mp3
Pre-gap length : 00:01:30

Track gain : -0.48 dB
Peak : 0.811829
CRC32 hash (test run) : D4355BB4
CRC32 hash : D4355BB4
CRC32 hash (skip zero) : C3B47062
AccurateRip v1 signature : D2476901
AccurateRip v2 signature : 953F6917
->Accurately ripped (v1+v2, confidence 11+12/56)
Statistics
Read error : 0
Jitter error (maybe fixed) : 0
Retry sector count : 0
Damaged sector count : 0

Track 15
Filename : /Volumes/osec/XLDs/Ella Fitzgerald - Ella Fitzgerald Sings the Duke Ellington Songbook (1957) {559 248-2} [CD FLAC]/02-15 - Everything But You.flac
/Volumes/osec/XLDs/Ella Fitzgerald - Ella Fitzgerald Sings the Duke Ellington Songbook (1957) {559 248-2} [CD V0]/02-15 - Everything But You.mp3
/Volumes/osec/XLDs/Ella Fitzgerald - Ella Fitzgerald Sings the Duke Ellington Songbook (1957) {559 248-2} [CD 320]/02-15 - Everything But You.mp3

Track gain : -4.61 dB
Peak : 0.851227
CRC32 hash (test run) : 72321641
CRC32 hash : 72321641
CRC32 hash (skip zero) : 962B12F8
AccurateRip v1 signature : 9511F810
AccurateRip v2 signature : BFD5EE50
->Accurately ripped (v1+v2, confidence 11+13/57)
Statistics
Read error : 0
Jitter error (maybe fixed) : 0
Retry sector count : 0
Damaged sector count : 0

Track 16
Filename : /Volumes/osec/XLDs/Ella Fitzgerald - Ella Fitzgerald Sings the Duke Ellington Songbook (1957) {559 248-2} [CD FLAC]/02-16 - I Got It Bad (And That Ain't Good).flac
/Volumes/osec/XLDs/Ella Fitzgerald - Ella Fitzgerald Sings the Duke Ellington Songbook (1957) {559 248-2} [CD V0]/02-16 - I Got It Bad (And That Ain't Good).mp3
/Volumes/osec/XLDs/Ella Fitzgerald - Ella Fitzgerald Sings the Duke Ellington Songbook (1957) {559 248-2} [CD 320]/02-16 - I Got It Bad (And That Ain't Good).mp3
Pre-gap length : 00:01:45

Track gain : -4.33 dB
Peak : 0.999969
CRC32 hash (test run) : 6B705698
CRC32 hash : 6B705698
CRC32 hash (skip zero) : F3203394
AccurateRip v1 signature : DCE37232
AccurateRip v2 signature : 768EF2DA
->Accurately ripped (v1+v2, confidence 11+13/57)
Statistics
Read error : 0
Jitter error (maybe fixed) : 0
Retry sector count : 0
Damaged sector count : 0

Track 17
Filename : /Volumes/osec/XLDs/Ella Fitzgerald - Ella Fitzgerald Sings the Duke Ellington Songbook (1957) {559 248-2} [CD FLAC]/02-17 - Bli-Blip.flac
/Volumes/osec/XLDs/Ella Fitzgerald - Ella Fitzgerald Sings the Duke Ellington Songbook (1957) {559 248-2} [CD V0]/02-17 - Bli-Blip.mp3
/Volumes/osec/XLDs/Ella Fitzgerald - Ella Fitzgerald Sings the Duke Ellington Songbook (1957) {559 248-2} [CD 320]/02-17 - Bli-Blip.mp3
Pre-gap length : 00:01:25

Track gain : -5.49 dB
Peak : 0.981750
CRC32 hash (test run) : DCAB85A4
CRC32 hash : DCAB85A4
CRC32 hash (skip zero) : 723348F0
AccurateRip v1 signature : A83FC986
AccurateRip v2 signature : D80BDB65
->Accurately ripped (v1+v2, confidence 11+14/57)
Statistics
Read error : 0
Jitter error (maybe fixed) : 0
Retry sector count : 0
Damaged sector count : 0

No errors occurred

End of status report

––-BEGIN XLD SIGNATURE––-
bukkSgBNCx_Vcs2c78JtOlVGsn4h66BHhc7_QZoZzh5iYTKt1P.Wx_OMGQhnZAQKXOG5MhyQI5Z74kAbT99D7jWNs9rpmlXtMeCtEj0
––-END XLD SIGNATURE––-
X Lossless Decoder version 20161007 (149.3)

XLD extraction logfile from 2017-07-02 12:25:47 +0200

Ella Fitzgerald / Ella Fitzgerald Sings the Duke Ellington Songbook

Used drive : MATSHITA BD-MLT UJ272 (revision 1.01)
Media type : Pressed CD

Ripper mode : XLD Secure Ripper
Disable audio cache : OK for the drive with a cache less than 1375KiB
Make use of C2 pointers : NO
Read offset correction : 103
Max retry count : 20
Gap status : Analyzed, Appended

TOC of the extracted CD
Track | Start | Length | Start sector | End sector
––––––––––––––––––––––––––––-
1 | 00:00:00 | 03:25:62 | 0 | 15436
2 | 03:25:62 | 16:18:53 | 15437 | 88839
3 | 19:44:40 | 05:04:00 | 88840 | 111639
4 | 24:48:40 | 04:36:12 | 111640 | 132351
5 | 29:24:52 | 04:08:60 | 132352 | 151011
6 | 33:33:37 | 04:16:58 | 151012 | 170269
7 | 37:50:20 | 03:27:15 | 170270 | 185809
8 | 41:17:35 | 02:16:50 | 185810 | 196059
9 | 43:34:10 | 01:31:02 | 196060 | 202886
10 | 45:05:12 | 06:45:55 | 202887 | 233316
11 | 51:50:67 | 05:50:20 | 233317 | 259586
12 | 57:41:12 | 04:02:25 | 259587 | 277761
13 | 61:43:37 | 03:42:40 | 277762 | 294451
14 | 65:26:02 | 03:30:33 | 294452 | 310234
15 | 68:56:35 | 03:43:30 | 310235 | 326989
16 | 72:39:65 | 04:59:22 | 326990 | 349436

List of alternate offset correction values
# | Absolute | Relative | Confidence
–––––––––––––––––––––
1 | 85 | -18 | 3

AccurateRip Summary (DiscID: 00327268-024433be-e1123310)
Track 01 : OK (v1+v2, confidence 25/57)
Track 02 : OK (v1+v2, confidence 25/56)
Track 03 : OK (v1+v2, confidence 24/56)
Track 04 : OK (v1+v2, confidence 24/54)
Track 05 : OK (v1+v2, confidence 24/55)
Track 06 : OK (v1+v2, confidence 24/55)
Track 07 : OK (v1+v2, confidence 24/55)
Track 08 : OK (v1+v2, confidence 24/55)
Track 09 : OK (v1+v2, confidence 24/55)
Track 10 : OK (v1+v2, confidence 23/54)
Track 11 : OK (v1+v2, confidence 23/52)
Track 12 : OK (v1+v2, confidence 24/54)
Track 13 : OK (v1+v2, confidence 25/54)
Track 14 : OK (v1+v2, confidence 25/53)
Track 15 : OK (v1+v2, confidence 24/52)
Track 16 : OK (v1+v2, confidence 24/50)
->All tracks accurately ripped.

All Tracks
Album gain : -1.06 dB
Peak : 0.999969
Statistics
Read error : 0
Jitter error (maybe fixed) : 0
Retry sector count : 0
Damaged sector count : 0

Track 01
Filename : /Volumes/osec/XLDs/Ella Fitzgerald - Ella Fitzgerald Sings the Duke Ellington Songbook (1957) {559 248-2} [CD FLAC]/03-01 - Chelsea Bridge.flac
/Volumes/osec/XLDs/Ella Fitzgerald - Ella Fitzgerald Sings the Duke Ellington Songbook (1957) {559 248-2} [CD V0]/03-01 - Chelsea Bridge.mp3
/Volumes/osec/XLDs/Ella Fitzgerald - Ella Fitzgerald Sings the Duke Ellington Songbook (1957) {559 248-2} [CD 320]/03-01 - Chelsea Bridge.mp3
Pre-gap length : 00:02:00

Track gain : -0.54 dB
Peak : 0.801666
CRC32 hash (test run) : BAA4B327
CRC32 hash : BAA4B327
CRC32 hash (skip zero) : 60D38C5B
AccurateRip v1 signature : A81C275E
AccurateRip v2 signature : 93416F1B
->Accurately ripped (v1+v2, confidence 11+14/57)
Statistics
Read error : 0
Jitter error (maybe fixed) : 0
Retry sector count : 0
Damaged sector count : 0

Track 02
Filename : /Volumes/osec/XLDs/Ella Fitzgerald - Ella Fitzgerald Sings the Duke Ellington Songbook (1957) {559 248-2} [CD FLAC]/03-02 - Portrait Of Ella Fitzgerald.flac
/Volumes/osec/XLDs/Ella Fitzgerald - Ella Fitzgerald Sings the Duke Ellington Songbook (1957) {559 248-2} [CD V0]/03-02 - Portrait Of Ella Fitzgerald.mp3
/Volumes/osec/XLDs/Ella Fitzgerald - Ella Fitzgerald Sings the Duke Ellington Songbook (1957) {559 248-2} [CD 320]/03-02 - Portrait Of Ella Fitzgerald.mp3
Pre-gap length : 00:02:55

Track gain : -1.20 dB
Peak : 0.996765
CRC32 hash (test run) : 43E17F4D
CRC32 hash : 43E17F4D
CRC32 hash (skip zero) : 85D271EB
AccurateRip v1 signature : C20C8AB2
AccurateRip v2 signature : 670DC5FD
->Accurately ripped (v1+v2, confidence 11+14/56)
Statistics
Read error : 0
Jitter error (maybe fixed) : 0
Retry sector count : 0
Damaged sector count : 0

Track 03
Filename : /Volumes/osec/XLDs/Ella Fitzgerald - Ella Fitzgerald Sings the Duke Ellington Songbook (1957) {559 248-2} [CD FLAC]/03-03 - The E And D Blues (E For Ella And D For Duke).flac
/Volumes/osec/XLDs/Ella Fitzgerald - Ella Fitzgerald Sings the Duke Ellington Songbook (1957) {559 248-2} [CD V0]/03-03 - The E And D Blues (E For Ella And D For Duke).mp3
/Volumes/osec/XLDs/Ella Fitzgerald - Ella Fitzgerald Sings the Duke Ellington Songbook (1957) {559 248-2} [CD 320]/03-03 - The E And D Blues (E For Ella And D For Duke).mp3
Pre-gap length : 00:02:38

Track gain : -3.64 dB
Peak : 0.810638
CRC32 hash (test run) : B20194CE
CRC32 hash : B20194CE
CRC32 hash (skip zero) : A2C09414
AccurateRip v1 signature : D4CA8296
AccurateRip v2 signature : 7627D45D
->Accurately ripped (v1+v2, confidence 11+13/56)
Statistics
Read error : 0
Jitter error (maybe fixed) : 0
Retry sector count : 0
Damaged sector count : 0

Track 04
Filename : /Volumes/osec/XLDs/Ella Fitzgerald - Ella Fitzgerald Sings the Duke Ellington Songbook (1957) {559 248-2} [CD FLAC]/03-04 - Chelsea Bridge.flac
/Volumes/osec/XLDs/Ella Fitzgerald - Ella Fitzgerald Sings the Duke Ellington Songbook (1957) {559 248-2} [CD V0]/03-04 - Chelsea Bridge.mp3
/Volumes/osec/XLDs/Ella Fitzgerald - Ella Fitzgerald Sings the Duke Ellington Songbook (1957) {559 248-2} [CD 320]/03-04 - Chelsea Bridge.mp3
Pre-gap length : 00:13:25

Track gain : 2.12 dB
Peak : 0.999969
CRC32 hash (test run) : 3862E4A1
CRC32 hash : 3862E4A1
CRC32 hash (skip zero) : 4FC4657F
AccurateRip v1 signature : 0CD677B4
AccurateRip v2 signature : 2963C4D1
->Accurately ripped (v1+v2, confidence 10+14/54)
Statistics
Read error : 0
Jitter error (maybe fixed) : 0
Retry sector count : 0
Damaged sector count : 0

Track 05
Filename : /Volumes/osec/XLDs/Ella Fitzgerald - Ella Fitzgerald Sings the Duke Ellington Songbook (1957) {559 248-2} [CD FLAC]/03-05 - Chelsea Bridge.flac
/Volumes/osec/XLDs/Ella Fitzgerald - Ella Fitzgerald Sings the Duke Ellington Songbook (1957) {559 248-2} [CD V0]/03-05 - Chelsea Bridge.mp3
/Volumes/osec/XLDs/Ella Fitzgerald - Ella Fitzgerald Sings the Duke Ellington Songbook (1957) {559 248-2} [CD 320]/03-05 - Chelsea Bridge.mp3
Pre-gap length : 00:32:22

Track gain : -1.64 dB
Peak : 0.930817
CRC32 hash (test run) : EFF562E2
CRC32 hash : EFF562E2
CRC32 hash (skip zero) : B60FB8FD
AccurateRip v1 signature : 56DFD460
AccurateRip v2 signature : 12080F58
->Accurately ripped (v1+v2, confidence 10+14/55)
Statistics
Read error : 0
Jitter error (maybe fixed) : 0
Retry sector count : 0
Damaged sector count : 0

Track 06
Filename : /Volumes/osec/XLDs/Ella Fitzgerald - Ella Fitzgerald Sings the Duke Ellington Songbook (1957) {559 248-2} [CD FLAC]/03-06 - Chelsea Bridge.flac
/Volumes/osec/XLDs/Ella Fitzgerald - Ella Fitzgerald Sings the Duke Ellington Songbook (1957) {559 248-2} [CD V0]/03-06 - Chelsea Bridge.mp3
/Volumes/osec/XLDs/Ella Fitzgerald - Ella Fitzgerald Sings the Duke Ellington Songbook (1957) {559 248-2} [CD 320]/03-06 - Chelsea Bridge.mp3
Pre-gap length : 00:31:60

Track gain : -1.45 dB
Peak : 0.839478
CRC32 hash (test run) : 8C665F91
CRC32 hash : 8C665F91
CRC32 hash (skip zero) : 054DDB2A
AccurateRip v1 signature : 90B39FDB
AccurateRip v2 signature : 7158ED03
->Accurately ripped (v1+v2, confidence 10+14/55)
Statistics
Read error : 0
Jitter error (maybe fixed) : 0
Retry sector count : 0
Damaged sector count : 0

Track 07
Filename : /Volumes/osec/XLDs/Ella Fitzgerald - Ella Fitzgerald Sings the Duke Ellington Songbook (1957) {559 248-2} [CD FLAC]/03-07 - Chelsea Bridge.flac
/Volumes/osec/XLDs/Ella Fitzgerald - Ella Fitzgerald Sings the Duke Ellington Songbook (1957) {559 248-2} [CD V0]/03-07 - Chelsea Bridge.mp3
/Volumes/osec/XLDs/Ella Fitzgerald - Ella Fitzgerald Sings the Duke Ellington Songbook (1957) {559 248-2} [CD 320]/03-07 - Chelsea Bridge.mp3
Pre-gap length : 00:17:38

Track gain : 7.66 dB
Peak : 0.643982
CRC32 hash (test run) : C6A2E677
CRC32 hash : C6A2E677
CRC32 hash (skip zero) : 6B2B0E32
AccurateRip v1 signature : 6678776C
AccurateRip v2 signature : 9B1AD34F
->Accurately ripped (v1+v2, confidence 10+14/55)
Statistics
Read error : 0
Jitter error (maybe fixed) : 0
Retry sector count : 0
Damaged sector count : 0

Track 08
Filename : /Volumes/osec/XLDs/Ella Fitzgerald - Ella Fitzgerald Sings the Duke Ellington Songbook (1957) {559 248-2} [CD FLAC]/03-08 - Chelsea Bridge.flac
/Volumes/osec/XLDs/Ella Fitzgerald - Ella Fitzgerald Sings the Duke Ellington Songbook (1957) {559 248-2} [CD V0]/03-08 - Chelsea Bridge.mp3
/Volumes/osec/XLDs/Ella Fitzgerald - Ella Fitzgerald Sings the Duke Ellington Songbook (1957) {559 248-2} [CD 320]/03-08 - Chelsea Bridge.mp3
Pre-gap length : 00:07:10

Track gain : 9.30 dB
Peak : 0.646210
CRC32 hash (test run) : CE02DF25
CRC32 hash : CE02DF25
CRC32 hash (skip zero) : 3D23105D
AccurateRip v1 signature : B8C23D5E
AccurateRip v2 signature : 8743813D
->Accurately ripped (v1+v2, confidence 10+14/55)
Statistics
Read error : 0
Jitter error (maybe fixed) : 0
Retry sector count : 0
Damaged sector count : 0

Track 09
Filename : /Volumes/osec/XLDs/Ella Fitzgerald - Ella Fitzgerald Sings the Duke Ellington Songbook (1957) {559 248-2} [CD FLAC]/03-09 - Chelsea Bridge.flac
/Volumes/osec/XLDs/Ella Fitzgerald - Ella Fitzgerald Sings the Duke Ellington Songbook (1957) {559 248-2} [CD V0]/03-09 - Chelsea Bridge.mp3
/Volumes/osec/XLDs/Ella Fitzgerald - Ella Fitzgerald Sings the Duke Ellington Songbook (1957) {559 248-2} [CD 320]/03-09 - Chelsea Bridge.mp3
Pre-gap length : 00:38:38

Track gain : 1.90 dB
Peak : 0.520264
CRC32 hash (test run) : 5E34E944
CRC32 hash : 5E34E944
CRC32 hash (skip zero) : 2A8B673A
AccurateRip v1 signature : F0E5BFDB
AccurateRip v2 signature : 14C170C8
->Accurately ripped (v1+v2, confidence 10+14/55)
Statistics
Read error : 0
Jitter error (maybe fixed) : 0
Retry sector count : 0
Damaged sector count : 0

Track 10
Filename : /Volumes/osec/XLDs/Ella Fitzgerald - Ella Fitzgerald Sings the Duke Ellington Songbook (1957) {559 248-2} [CD FLAC]/03-10 - Chelsea Bridge.flac
/Volumes/osec/XLDs/Ella Fitzgerald - Ella Fitzgerald Sings the Duke Ellington Songbook (1957) {559 248-2} [CD V0]/03-10 - Chelsea Bridge.mp3
/Volumes/osec/XLDs/Ella Fitzgerald - Ella Fitzgerald Sings the Duke Ellington Songbook (1957) {559 248-2} [CD 320]/03-10 - Chelsea Bridge.mp3
Pre-gap length : 00:10:72

Track gain : -1.14 dB
Peak : 0.806763
CRC32 hash (test run) : 59767ADE
CRC32 hash : 59767ADE
CRC32 hash (skip zero) : 334A3158
AccurateRip v1 signature : 7A7E653E
AccurateRip v2 signature : 439A6E68
->Accurately ripped (v1+v2, confidence 10+13/54)
Statistics
Read error : 0
Jitter error (maybe fixed) : 0
Retry sector count : 0
Damaged sector count : 0

Track 11
Filename : /Volumes/osec/XLDs/Ella Fitzgerald - Ella Fitzgerald Sings the Duke Ellington Songbook (1957) {559 248-2} [CD FLAC]/03-11 - Chelsea Bridge.flac
/Volumes/osec/XLDs/Ella Fitzgerald - Ella Fitzgerald Sings the Duke Ellington Songbook (1957) {559 248-2} [CD V0]/03-11 - Chelsea Bridge.mp3
/Volumes/osec/XLDs/Ella Fitzgerald - Ella Fitzgerald Sings the Duke Ellington Songbook (1957) {559 248-2} [CD 320]/03-11 - Chelsea Bridge.mp3
Pre-gap length : 01:10:32

Track gain : 0.61 dB
Peak : 0.882294
CRC32 hash (test run) : ABD72458
CRC32 hash : ABD72458
CRC32 hash (skip zero) : 57EE9AB7
AccurateRip v1 signature : 4C7980C1
AccurateRip v2 signature : 5F6EB97C
->Accurately ripped (v1+v2, confidence 10+13/52)
Statistics
Read error : 0
Jitter error (maybe fixed) : 0
Retry sector count : 0
Damaged sector count : 0

Track 12
Filename : /Volumes/osec/XLDs/Ella Fitzgerald - Ella Fitzgerald Sings the Duke Ellington Songbook (1957) {559 248-2} [CD FLAC]/03-12 - All Heart.flac
/Volumes/osec/XLDs/Ella Fitzgerald - Ella Fitzgerald Sings the Duke Ellington Songbook (1957) {559 248-2} [CD V0]/03-12 - All Heart.mp3
/Volumes/osec/XLDs/Ella Fitzgerald - Ella Fitzgerald Sings the Duke Ellington Songbook (1957) {559 248-2} [CD 320]/03-12 - All Heart.mp3
Pre-gap length : 02:11:10

Track gain : -0.67 dB
Peak : 0.882294
CRC32 hash (test run) : BB64E0D5
CRC32 hash : BB64E0D5
CRC32 hash (skip zero) : C9056836
AccurateRip v1 signature : 0905C945
AccurateRip v2 signature : A9B72264
->Accurately ripped (v1+v2, confidence 10+14/54)
Statistics
Read error : 0
Jitter error (maybe fixed) : 0
Retry sector count : 0
Damaged sector count : 0

Track 13
Filename : /Volumes/osec/XLDs/Ella Fitzgerald - Ella Fitzgerald Sings the Duke Ellington Songbook (1957) {559 248-2} [CD FLAC]/03-13 - All Heart.flac
/Volumes/osec/XLDs/Ella Fitzgerald - Ella Fitzgerald Sings the Duke Ellington Songbook (1957) {559 248-2} [CD V0]/03-13 - All Heart.mp3
/Volumes/osec/XLDs/Ella Fitzgerald - Ella Fitzgerald Sings the Duke Ellington Songbook (1957) {559 248-2} [CD 320]/03-13 - All Heart.mp3
Pre-gap length : 00:07:67

Track gain : -1.48 dB
Peak : 0.882202
CRC32 hash (test run) : 5FD87C33
CRC32 hash : 5FD87C33
CRC32 hash (skip zero) : EAB96D63
AccurateRip v1 signature : 0AC05C89
AccurateRip v2 signature : E9BB53D2
->Accurately ripped (v1+v2, confidence 11+14/54)
Statistics
Read error : 0
Jitter error (maybe fixed) : 0
Retry sector count : 0
Damaged sector count : 0

Track 14
Filename : /Volumes/osec/XLDs/Ella Fitzgerald - Ella Fitzgerald Sings the Duke Ellington Songbook (1957) {559 248-2} [CD FLAC]/03-14 - All Heart.flac
/Volumes/osec/XLDs/Ella Fitzgerald - Ella Fitzgerald Sings the Duke Ellington Songbook (1957) {559 248-2} [CD V0]/03-14 - All Heart.mp3
/Volumes/osec/XLDs/Ella Fitzgerald - Ella Fitzgerald Sings the Duke Ellington Songbook (1957) {559 248-2} [CD 320]/03-14 - All Heart.mp3
Pre-gap length : 00:08:72

Track gain : -0.26 dB
Peak : 0.791046
CRC32 hash (test run) : 82B99623
CRC32 hash : 82B99623
CRC32 hash (skip zero) : A54E2E8C
AccurateRip v1 signature : 7A61FC33
AccurateRip v2 signature : F854729A
->Accurately ripped (v1+v2, confidence 11+14/53)
Statistics
Read error : 0
Jitter error (maybe fixed) : 0
Retry sector count : 0
Damaged sector count : 0

Track 15
Filename : /Volumes/osec/XLDs/Ella Fitzgerald - Ella Fitzgerald Sings the Duke Ellington Songbook (1957) {559 248-2} [CD FLAC]/03-15 - All Heart.flac
/Volumes/osec/XLDs/Ella Fitzgerald - Ella Fitzgerald Sings the Duke Ellington Songbook (1957) {559 248-2} [CD V0]/03-15 - All Heart.mp3
/Volumes/osec/XLDs/Ella Fitzgerald - Ella Fitzgerald Sings the Duke Ellington Songbook (1957) {559 248-2} [CD 320]/03-15 - All Heart.mp3
Pre-gap length : 00:07:40

Track gain : -0.57 dB
Peak : 0.739532
CRC32 hash (test run) : BA540BB7
CRC32 hash : BA540BB7
CRC32 hash (skip zero) : A81EF7A0
AccurateRip v1 signature : 0A045E00
AccurateRip v2 signature : 229102FF
->Accurately ripped (v1+v2, confidence 11+13/52)
Statistics
Read error : 0
Jitter error (maybe fixed) : 0
Retry sector count : 0
Damaged sector count : 0

Track 16
Filename : /Volumes/osec/XLDs/Ella Fitzgerald - Ella Fitzgerald Sings the Duke Ellington Songbook (1957) {559 248-2} [CD FLAC]/03-16 - Portrait Of Ella Fitzgerald.flac
/Volumes/osec/XLDs/Ella Fitzgerald - Ella Fitzgerald Sings the Duke Ellington Songbook (1957) {559 248-2} [CD V0]/03-16 - Portrait Of Ella Fitzgerald.mp3
/Volumes/osec/XLDs/Ella Fitzgerald - Ella Fitzgerald Sings the Duke Ellington Songbook (1957) {559 248-2} [CD 320]/03-16 - Portrait Of Ella Fitzgerald.mp3
Pre-gap length : 00:17:50

Track gain : 4.49 dB
Peak : 0.709534
CRC32 hash (test run) : 786032A5
CRC32 hash : 786032A5
CRC32 hash (skip zero) : BE288954
AccurateRip v1 signature : BA9D1EFA
AccurateRip v2 signature : A4CB4B5D
->Accurately ripped (v1+v2, confidence 11+13/50)
Statistics
Read error : 0
Jitter error (maybe fixed) : 0
Retry sector count : 0
Damaged sector count : 0

No errors occurred

End of status report

––-BEGIN XLD SIGNATURE––-
_6N7Ii0EQgjH9s4Ty5NWC94gcPvPbpezaIxsj9TfjmH.42kDrZNVLieaj8WTmcna7o2juOQjdqOZ.1bOKdUyU0NldCYCeWX0j0WHSd0
––-END XLD SIGNATURE––-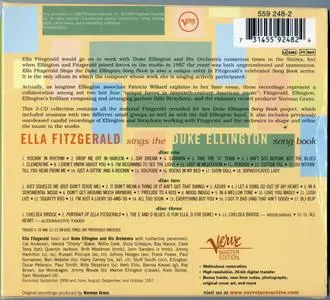 ===