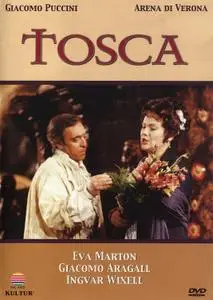 Daniel Oren, Orchestra of the Arena di Verona- Puccini: Tosca (2005/1984)
NTSC 4:3 (720x480) | Italiano (Dolby AC3, 2 ch) | 7.10 Gb (DVD9) | 124 min
Classical | Kultur | Sub.: English, Deutsch, Espanol, Francais, Italiano, Portugues, Japanese
Tosca is a story of lust and crime, originally written for Sarah Bernhardt by the French playwright, Victorien Sardou. Puccini's genius lay in his remarkable ability to transform such a tale into an opera of the highest drama and passion. Tosca was central to Puccini's career and revealed a new refinement and fluency in his work. Through Tosca, a drama of idealistic young love, Puccini was bidding farewell to young manhood, with melodic style and rousing passion.This production of one of Puccini's best-loved works from the magnificent Roman amphitheatre in Verona features the outstanding performances of Eva Marton in the title role, with Ingvar Wixell as a superbly wicked Scarpia and Giacomo Aragall as the ill-fated Cavaradossi.