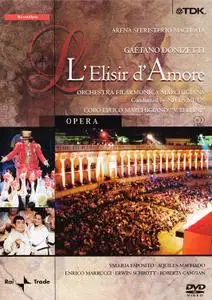 Niels Muus, Orchestra Filarmonica Marchigiana - Donizetti: L'Elisir d'Amore (2003)
PAL 16:9 (720x576) | Italiano (LinearPCM, 2 ch) | (Dolby AC3, 6 ch) | (DTS, 6 ch) | 7.75 + 3.19 Gb (DVD9+DVD5) | 136 min + 37 min (bonus)
Classical | TDK | Sub.: English, Deutsch, Francais, Espanol, Italiano
Slowly the camera roams through the narrow streets of Macerata, past the cathedral, the monuments, the library and the university, until it reaches the Arena Sferisterio. In the 1820s this was a competition venue for a handball game popular at that time. At the beginning of the twentieth century the 'neo-classical monster', as the stadium is disrespectfully called in the vernacular, was also discovered as an opera venue and a dazzling backdrop for the 'Macerata Opera Festival'. The stage, which is 14.5 meters deep and 40 meters wide, is sufficiently large for all kinds of events and spectacles to be staged. At the end of July 2002 the time had come again. An audience of 5000 had gathered to listen to the new production of Gaetano Donizetti's L'elisir d'amore under the direction Saverio Marconi, conducted by Niels Muus.