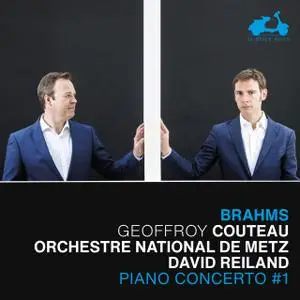 Geoffroy Couteau, Orchestre National De Metz & David Reiland - Brahms: Piano Concerto No. 1 - Transcription for Piano Left Hand of Bach's Chaconne (2021)
WEB FLAC (tracks) - 239 Mb | MP3 CBR 320 kbps - 149 Mb | Digital booklet | 01:01:58
Classical | Label: La Dolce Volta
Within the framework of his complete Brahms cycle, Geoffroy Couteau presents an original programme focusing on the trio Brahms formed with Robert and Clara Schumann, and on their relationship with Joseph Joachim. All these personalities lie at the heart of the conception of both the Concerto in D minor and the transcription of Bach's Chaconne; two works that also reveal their shared devotion to Bach.
Tracklist:
01. Brahms: Piano Concerto in D Minor, Op. 15: I. Maestoso
02. Brahms: Piano Concerto in D Minor, Op. 15: II. Adagio
03. Brahms: Piano Concerto in D Minor, Op. 15: III. Rondo. Allegro ma non troppo
04. Brahms: Partita for Violin Solo in D Minor, BWV 1004: Chaconne (transcription by Brahms for Piano Left Hand)
–––––––––––-

DON'T MODIFY THIS FILE

–––––––––––-

PERFORMER: auCDtect Task Manager, ver. 1.6.0 RC1 build 1.6.0.1
Copyright © 2008-2010 y-soft. All rights reserved

ANALYZER: auCDtect: CD records authenticity detector, version 0.8.2
Copyright © 2004 Oleg Berngardt. All rights reserved.
Copyright © 2004 Alexander Djourik. All rights reserved.


FILE: 04 - Geoffroy Couteau, Orchestre National De Metz & David Reiland - Brahms- Partita for Violin Solo in D Minor, BWV 1004- Chaconne (transcription by Brahms for Piano Left Hand).flac
Size: 46678920 Hash: BBA32D9EE8EC7497D49F11A189F936E1 Accuracy: -m8
Conclusion: CDDA 100%
Signature: 9DBACE14B171127D5D80D8322EBCAA7CEE38F8B9
FILE: 03 - Geoffroy Couteau, Orchestre National De Metz & David Reiland - Brahms- Piano Concerto in D Minor, Op. 15- III. Rondo. Allegro ma non troppo.flac
Size: 53505351 Hash: BCE4B711282E5BEBEAF67EEC9F5D93D3 Accuracy: -m8
Conclusion: CDDA 99%
Signature: 782A6F65F02F8E89FE12EBD735847821E4CE8789
FILE: 02 - Geoffroy Couteau, Orchestre National De Metz & David Reiland - Brahms- Piano Concerto in D Minor, Op. 15- II. Adagio.flac
Size: 46505475 Hash: CB558E7BB4BFDEC757A5BDC5E68024B4 Accuracy: -m8
Conclusion: CDDA 100%
Signature: 913596F369484CC89E7BCA7D300D2DD6DB213D0F
FILE: 01 - Geoffroy Couteau, Orchestre National De Metz & David Reiland - Brahms- Piano Concerto in D Minor, Op. 15- I. Maestoso.flac
Size: 95931087 Hash: DCE1C8FF35ABCBCC298073708A69F0BE Accuracy: -m8
Conclusion: CDDA 99%
Signature: 9AD32A79C9B3C8E2376F1D1EA16C73B11E0B5EC1