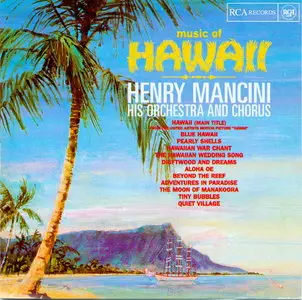 Henry Mancini - Music of Hawaii 1966
Instrumental | mp3 320 Kbps | 79 MB
BMG Music 2002
Being a frequent and dedicated visitor to the islands, Mr. Mancini has long considered an album of Hawaiian music high on his "things to do" list. Elmer Bernstein's lovely title theme music from the film "Hawaii" provided the perfect cornerstone for the album. Many well-known standard island songs round out this beautifully descriptive musical trip to Hawaii.
01. Hawaii (Main Title)
02. Quiet Village
03. The Moon of Manakoora
04. Pearly Shells
05. Blue Hawaii
06. Driftwood and Dreams
07. Hawaiian War Chant
08. Adventures in Paradise
09. Beyond the Reef
10. Tiny Bubbles
11. The Hawaiian Wedding Song
12. Aloha Oe