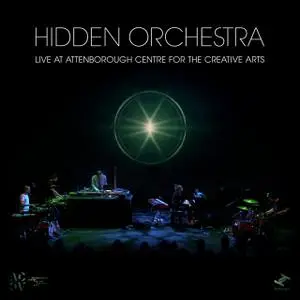 Hidden Orchestra - Live at Attenborough Centre for the Creative Arts (2019)
WEB FLAC (tracks) ~ 435.57 Mb | 01:06:49 | Cover
Nu Jazz | Country: UK | Label: Tru Thoughts
'Live at Attenborough Centre for the Creative Arts' is the debut live album from Brighton-based producer and composer Joe Acheson AKA Hidden Orchestra. Recorded at the interdisciplinary arts hub, Attenborough Centre for the Creative Arts (ACCA) - an esteemed venue in Joe's hometown - 'Live at ACCA' showcases Hidden Orchestra at their creative peak, performing an audio-visual blinder that combines immersive visuals, live dub effects, dark orchestral textures and beat-driven, bass-heavy walls of sound.
After a dizzying decade of gigs that included an eight-piece show at the Royal Albert Hall and sell out AV shows at London Union's Chapel, St-John-at-Hackney, and the Queen Elizabeth Hall, Acheson felt it was time for Hidden Orchestra to capture and release a live album. The recordings feature the core quartet of the live band - comprised of Joe Acheson on bass and live electronics, Poppy Ackroyd (One Little Indian) on piano and violin, and the two drummers, Tim Lane and Jamie Graham acting as a percussion powerhouse — joined by visual artist Tom Newell of Limbic Cinema. Performing live on stage, Tom improvises and manipulates footage, live cameras and triggered lights, creating a truly enthralling and cinematic experience.
Track List:
01 - Western Isles (00:05:56)
02 - Dust (00:07:12)
03 - Stone (00:05:51)
04 - Flight (00:08:17)
05 - Wingbeats (00:12:05)
06 - Serpentine (00:02:33)
07 - East London Street (00:07:16)
08 - Spoken (00:06:13)
09 - Antiphon (00:06:18)
10 - Thograinn Thograinn (Hidden Orchestra Remix) (00:05:03)
–––––––––––-
DON'T MODIFY THIS FILE
–––––––––––-
PERFORMER: auCDtect Task Manager, ver. 1.6.0 RC1 build 1.6.0.1
Copyright © 2008-2010 y-soft. All rights reserved
http://y-soft.org
ANALYZER: auCDtect: CD records authenticity detector, version 0.8.2
Copyright © 2004 Oleg Berngardt. All rights reserved.
Copyright © 2004 Alexander Djourik. All rights reserved.
FILE: 10 - Thograinn Thograinn (Hidden Orchestra Remix).flac
Size: 37674824 Hash: E828879BD41861E1AD3B2AAB0095036B Accuracy: -m0
Conclusion: CDDA 100%
Signature: 15E4F5EFFA72BD605AAF81651893E237A4CFB33D
FILE: 09 - Antiphon.flac
Size: 40637187 Hash: F650CF03005FE34F5080EFC005397AA1 Accuracy: -m0
Conclusion: CDDA 100%
Signature: 3F3E027FDC33BC2CE201BBC35A9382401D8A3E7D
FILE: 08 - Spoken.flac
Size: 40847978 Hash: 888BC4B0E11F13095E6B76B8A2B69330 Accuracy: -m0
Conclusion: CDDA 100%
Signature: 129061227CC6E68878BDC42A39E7AF1C2EFCE0DA
FILE: 07 - East London Street.flac
Size: 46243853 Hash: F9AB37DB076A1393B6DBD04049D9A350 Accuracy: -m0
Conclusion: CDDA 100%
Signature: 227F3683AF01A42AEB810F1C58AF5BC0E7B74D03
FILE: 06 - Serpentine.flac
Size: 18275378 Hash: 5BA2F8657FE42491DBD64B353196A341 Accuracy: -m0
Conclusion: CDDA 99%
Signature: 3E58314240ED2BEC485F5C27BBD2F433B17CCF32
FILE: 05 - Wingbeats.flac
Size: 83555504 Hash: 9DD3D649E10F242406491ED487FD4AFB Accuracy: -m0
Conclusion: CDDA 100%
Signature: 9DCFE557F8410DF6B6ECC5AE0A5378C8FAC5F6BF
FILE: 04 - Flight.flac
Size: 60833156 Hash: AACED1170CCFA254E10859FD674809FB Accuracy: -m0
Conclusion: CDDA 100%
Signature: D45774E6ABA3476B50F6FE54D5C5600833395B1B
FILE: 03 - Stone.flac
Size: 37825084 Hash: 3B8541F442F4F78F9DB5E512FD5B70B9 Accuracy: -m0
Conclusion: CDDA 100%
Signature: 66D391BD377311449E8888FEA58EA34C6F3785CC
FILE: 02 - Dust.flac
Size: 50385824 Hash: 7697F43303800E337B75550BD5C2F062 Accuracy: -m0
Conclusion: CDDA 100%
Signature: 557E11326D87DAB1F69B91331EAA7BCCC1E16686
FILE: 01 - Western Isles.flac
Size: 40344356 Hash: D623CE14508BFB788E2B1D8E52AF526F Accuracy: -m0
Conclusion: CDDA 100%
Signature: 23492A205C43452FF01943F54D00BA02E09075FD