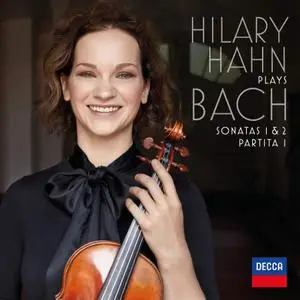 Hilary Hahn - Hilary Hahn plays Bach: Violin Sonatas Nos. 1 & 2; Partita No. 1 (2018)
WEB FLAC (tracks) - 402 Mb | MP3 CBR 320 kbps - 173 Mb | 01:15:21
Classical | Label: Decca Classics
Hilary Hahn burst onto the classical scene in 1997 with her debut album 'Hilary Hahn plays Bach'. Hilary has since enjoyed an incredibly successful international career and is considered one of the world's finest violinists, winning 3 Grammy awards amongst other honours. Hilary is a strong advocate for classical music, leading projects like the specially commissioned 'In 27 Pieces: The Hilary Hahn Encores' collection of new compositions and her inspiring #100daysofpractice campaign on Instagram.
Tracklist:
Sonata for Violin Solo No. 1 in G Minor, BWV 1001
1. 1. Adagio (Original Version)
2. 2. Fuga Allegro (Original Version)
3. 3. Siciliana (Original Version)
4. 4. Presto (Original Version)
Partita for Violin Solo No. 1 in B Minor, BWV 1002
5. 1. Allemanda (Original Version)
6. 2. Double (Original Version)
7. 3. Courante (Original Version)
8. 4. Double (Original Version)
9. 5. Sarabande (Original Version)
10. 6. Double (Original Version)
11. 7. Tempo di Borea "Gavotte" (Original Version)
12. 8. Double (Original Version)
Sonata for Violin Solo No. 2 in A Minor, BWV 1003
13. 1. Grave (Original Version)
14. 2. Fuga (Original Version)
15. 3. Andante (Original Version)
16. 4. Allegro (Original Version)
–––––––––––-

DON'T MODIFY THIS FILE

–––––––––––-

PERFORMER: auCDtect Task Manager, ver. 1.6.0 RC1 build 1.6.0.1
Copyright © 2008-2010 y-soft. All rights reserved

ANALYZER: auCDtect: CD records authenticity detector, version 0.8.2
Copyright © 2004 Oleg Berngardt. All rights reserved.
Copyright © 2004 Alexander Djourik. All rights reserved.


FILE: 9 J.S. Bach- Partita for Violin Solo No. 1 in B Minor, BWV 1002 - 5. Sarabande.flac
Size: 22344335 Hash: 23E23DE551AD281A464DA867752C768E Accuracy: -m0
Conclusion: CDDA 100%
Signature: C3A47C9F1F6C8ECA4B235253C837F06F16750A33
FILE: 8 J.S. Bach- Partita for Violin Solo No. 1 in B Minor, BWV 1002 - 4. Double (Presto).flac
Size: 20599027 Hash: 3EBB541A569798F5C9E8DBDB01A7BAE2 Accuracy: -m0
Conclusion: CDDA 100%
Signature: E44ACEAA1693AC204B14F8823EBFF05C46DA63B9
FILE: 7 J.S. Bach- Partita for Violin Solo No. 1 in B Minor, BWV 1002 - 3. Courante.flac
Size: 21312731 Hash: 4475073B2780533EC7419A8A992578CD Accuracy: -m0
Conclusion: CDDA 100%
Signature: 3FD3391148EFD8D29665B2F9974A13B02B705DB1
FILE: 6 J.S. Bach- Partita for Violin Solo No. 1 in B Minor, BWV 1002 - 2. Double.flac
Size: 22053307 Hash: 3E6C0C7DB94BB36706173E77AA118F0C Accuracy: -m0
Conclusion: CDDA 99%
Signature: BC12FF18C082F50AE42D007A00349F6963850795
FILE: 5 J.S. Bach- Partita for Violin Solo No. 1 in B Minor, BWV 1002 - 1. Allemande.flac
Size: 40536078 Hash: D8F2A1C1A66300DAFF77C215FA2E0534 Accuracy: -m0
Conclusion: CDDA 100%
Signature: 93F9DB40F349E0C0F7B0FCA2BDAC8BE41B66FCF0
FILE: 4 J.S. Bach- Sonata for Violin Solo No. 1 in G Minor, BWV 1001 - 4. Presto.flac
Size: 19137611 Hash: 94EC27B371A4A2FD33C106B758F1DD32 Accuracy: -m0
Conclusion: CDDA 100%
Signature: BEEDBD111F8E3C45841F8CFC96BB52B07A6030A9
FILE: 3 J.S. Bach- Sonata for Violin Solo No. 1 in G Minor, BWV 1001 - 3. Siciliana.flac
Size: 19273367 Hash: 6DDC044D4C6395D836603B74BE02C516 Accuracy: -m0
Conclusion: CDDA 100%
Signature: 1B22A22765F04A8A533421019B32ECD5E0D58A1F
FILE: 2 J.S. Bach- Sonata for Violin Solo No. 1 in G Minor, BWV 1001 - 2. Fuga (Allegro).flac
Size: 33112965 Hash: 06AE2767231831FCC0157AED61ED9150 Accuracy: -m0
Conclusion: CDDA 100%
Signature: BBD02E16849E9D760C34629221EC00A999BF3CE7
FILE: 16 J.S. Bach- Sonata for Violin Solo No. 2 in A Minor, BWV 1003 - 4. Allegro.flac
Size: 32850427 Hash: 723271C6256CFABCECD893D1F4AD4BC3 Accuracy: -m0
Conclusion: CDDA 100%
Signature: 79898AE3B6AD6584707B3CF57628976D1AEC9B87
FILE: 15 J.S. Bach- Sonata for Violin Solo No. 2 in A Minor, BWV 1003 - 3. Andante.flac
Size: 31923030 Hash: 64F89D61C1010D001025F3D0F98E2628 Accuracy: -m0
Conclusion: CDDA 99%
Signature: 0B1DDC12668C84BA3AAD97C396F9E21EE2F83A74
FILE: 14 J.S. Bach- Sonata for Violin Solo No. 2 in A Minor, BWV 1003 - 2. Fuga.flac
Size: 48168026 Hash: D536FA21016136687204FC914B2DD94D Accuracy: -m0
Conclusion: CDDA 100%
Signature: CA40E62225C9194023C108B19F59104C393DC7E1
FILE: 13 J.S. Bach- Sonata for Violin Solo No. 2 in A Minor, BWV 1003 - 1. Grave.flac
Size: 26169255 Hash: 1CBE170F2792AB1CA3FCE702CA9934BE Accuracy: -m0
Conclusion: CDDA 100%
Signature: 4FFBAC4D1A7D5F5C4B2148E5417042E829A566DD
FILE: 12 J.S. Bach- Partita for Violin Solo No. 1 in B Minor, BWV 1002 - 8. Double.flac
Size: 18529324 Hash: 9260463B385928098406810D229BEA18 Accuracy: -m0
Conclusion: CDDA 100%
Signature: 58002A46274CC2ACCF5344B39760DA101605F152
FILE: 11 J.S. Bach- Partita for Violin Solo No. 1 in B Minor, BWV 1002 - 7. Tempo di Bourreé.flac
Size: 20321246 Hash: BBE7EE481210B86182038803B6E45BB6 Accuracy: -m0
Conclusion: CDDA 100%
Signature: FC814CC51F94FDB778C232D5B44ACB25DA3362EB
FILE: 10 J.S. Bach- Partita for Violin Solo No. 1 in B Minor, BWV 1002 - 6. Double.flac
Size: 18555637 Hash: 1D3D84BACCCF3B759522D7F3AED28714 Accuracy: -m0
Conclusion: CDDA 100%
Signature: 54DB2B10BBFBCB1B270A784A887EC40FA0D99076
FILE: 1 J.S. Bach- Sonata for Violin Solo No. 1 in G Minor, BWV 1001 - 1. Adagio.flac
Size: 26152916 Hash: 7BEA7560FCA9D74E21AEA006F2E30E63 Accuracy: -m0
Conclusion: CDDA 100%
Signature: 61697F597B370ED5D298DC58211335CD6530A772