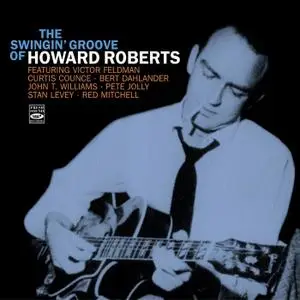 Howard Roberts - The Swingin' Groove of Howard Roberts (2018)
WEB FLAC (tracks) ~ 379.76 Mb | 01:14:14 | Cover
Bop, Cool, West Coast Jazz | Label: Fresh Sound Records - FSRCD 963
When Howard Roberts (1929-1992) decided to teach himself guitar, he decided to visit every black jazz club in his native Phoenix, Arizona. "All we did was play the blues. And that's what I came out of—the blues." Roberts, however, felt the need to learn more about the complexities of the profession, and so he started studying harmony and composition.
Looking for more musical activity, he moved to Los Angeles in 1950, where he gigged around the city in jam sessions at after-hours clubs. There, he developed his dazzling technique and fine harmonic sense. Having played with the best instrumentalists and composers, he started getting calls for session work.
He established his reputation with the Bobby Troup trio, which appeared on TV from coast to coast, and consolidated the fame of Troup's group with some brilliant playing of his Gibson guitar, so much so that the Down Beat jazz critics accorded Roberts the New Guitar Star Award of 1955.
In the years following he continued recording with top jazz singers and instrumentists, and eventually made his first albums as a leader for Verve. In 1959 Roberts started getting more and more work on TV and film, but not content with settling down in the Hollywood studios, in a kind of prosperous obscurity, he kept very active in the jazz scene, playing concerts and recording his own albums.
Howard Roberts was a skilled guitarist with a fondness for direct and unencumbered jazz playing, his tone always bright and penetrating, never twangy. A fine technician, he was able to execute difficult passages cleanly and forcefully. He forged a sound of his own, fiery and hard-swinging, creative and unpretentious. These sessions are an example of his jazz work, as a sideman and as a leader.
Track List:
1. How Do You Do? (03:20)
2. Johnson's Wax (05:13)
3. When the Lights Are Low (05:07)
4. Hip Soup (06:21)
5. But Not for Me (03:58)
6. Emma (05:47)
7. Room 608 (04:17)
8. Everything Happens to Me / Moonlight in Vermont / Flamingo (06:28)
9. All the Things You Are (02:41)
10. Lover Man (04:28)
11. Easy Living (04:05)
12. Between the Devil and the Deep Blue Sea (02:42)
13. The Most Beautiful Girl in the World (02:51)
14. In a Little Spanish Town (02:23)
15. I'll Take Romance (02:57)
16. Zigeuner (04:17)
17. Aunt Orsavella (02:25)
18. Anything Goes (02:30)
19. Caribe (02:15)
Howard Roberts (g), Victor Feldman (vib, p), Pete Jolly, John T. Williams (p), Curtis Counce, Red Mitchell, Joe Mondragon (b), Bert Dahlander, Stan Levey, Jack Sperling, Jerry Williams (d)
–––––––––––-
DON'T MODIFY THIS FILE
–––––––––––-
PERFORMER: auCDtect Task Manager, ver. 1.6.0 RC1 build 1.6.0.1
Copyright © 2008-2010 y-soft. All rights reserved
http://y-soft.org
ANALYZER: auCDtect: CD records authenticity detector, version 0.8.2
Copyright © 2004 Oleg Berngardt. All rights reserved.
Copyright © 2004 Alexander Djourik. All rights reserved.
FILE: 19. Caribe.flac
Size: 13380754 Hash: C46295914FC13BE0CA70FB305E93432F Accuracy: -m0
Conclusion: CDDA 100%
Signature: 9DD93999D9E40CCE5C6E5F0ABA9090CC1AE05874
FILE: 18. Anything Goes.flac
Size: 14068015 Hash: 41BD44D79F07A1701438CFB0930F512E Accuracy: -m0
Conclusion: CDDA 99%
Signature: 2F3E33770A151965B2B589F1E8740C591F1F0062
FILE: 17. Aunt Orsavella.flac
Size: 14463606 Hash: 31298E619797F6568A2B3810955FFB9E Accuracy: -m0
Conclusion: CDDA 100%
Signature: 4D99D3AD55284C465999905EBCA762AF5DF55946
FILE: 16. Zigeuner.flac
Size: 21943646 Hash: 6874A3A8CD9870FF953B7DD0297BA6E6 Accuracy: -m0
Conclusion: CDDA 100%
Signature: 1BF0E120821D97C49431A5B6DC72277EDB3F27D8
FILE: 15. I'll Take Romance.flac
Size: 16116855 Hash: BBEFABC57DE7B738E51694A95FE60EB9 Accuracy: -m0
Conclusion: CDDA 100%
Signature: DA50890F0ADE03EC610AC5ACA103E8B29E3235D5
FILE: 14. In a Little Spanish Town.flac
Size: 13421590 Hash: 30E50431C265283BE345FB98557EA1D9 Accuracy: -m0
Conclusion: CDDA 100%
Signature: 53FA0CA1A742EC362166A0A89EC5361136A4A015
FILE: 13. The Most Beautiful Girl in the World.flac
Size: 15433240 Hash: E526DB5A932980D3D89065931C5EA4B2 Accuracy: -m0
Conclusion: CDDA 100%
Signature: 9D35E19C0C3E05017A247CEE6D5BB8DF9CEAB8C9
FILE: 12. Between the Devil and the Deep Blue Sea.flac
Size: 14662279 Hash: 5B6EB28A17DE6D7177CEE2B7B507CE22 Accuracy: -m0
Conclusion: CDDA 100%
Signature: 08C4605DC8B38C4A53787B581795446859196FFA
FILE: 11. Easy Living.flac
Size: 21960264 Hash: BD9BC0F338257234CB594D078BB265BE Accuracy: -m0
Conclusion: CDDA 100%
Signature: C9AFD16298A0868F45E536867EC82B16D14283AC
FILE: 10. Lover Man.flac
Size: 24364869 Hash: 15610D4EFBE1C2CD4F8B0E80B78EB043 Accuracy: -m0
Conclusion: CDDA 100%
Signature: B8E776DFD90A1F5F6DE21D8DC8A58C626A10448A
FILE: 09. All the Things You Are.flac
Size: 16163126 Hash: 5ECB67541B2D014095395CDE7535856C Accuracy: -m0
Conclusion: CDDA 100%
Signature: 9DD2D420BC078BA84D7F9D4BDF770288969BFDF9
FILE: 08. Everything Happens to Me - Moonlight in Vermont - Flamingo.flac
Size: 24687412 Hash: 85C3F4A8019C2ADCD78D8D875CD04418 Accuracy: -m0
Conclusion: CDDA 43%
Signature: F6F8D6767A6C6110CC2BC213914AFCC6386234CF
FILE: 07. Room 608.flac
Size: 23461400 Hash: 8CCA8BA4EFCE5B84EF5E41E38A722E0C Accuracy: -m0
Conclusion: CDDA 100%
Signature: 6A316D6B74503763981D4330CC8FF561E459EE32
FILE: 06. Emma.flac
Size: 29398124 Hash: 5D465DC8EFE9EC48D7CA402489891460 Accuracy: -m0
Conclusion: CDDA 100%
Signature: A216D8F8A18166084FE02F08319F871CE9985B2C
FILE: 05. But Not for Me.flac
Size: 17922850 Hash: 09EECF60238386F8669F05FEC376DF52 Accuracy: -m0
Conclusion: CDDA 100%
Signature: 18294C0B7E7499A785A43BB83FBE3209EE0EA4F4
FILE: 04. Hip Soup.flac
Size: 35397687 Hash: 4BE52AE90FBF80C4C3814FF4A29C04B2 Accuracy: -m0
Conclusion: CDDA 100%
Signature: 82846C226046EE4CD4D6D41A33002884A650CD2B
FILE: 03. When the Lights Are Low.flac
Size: 28143780 Hash: AEE4F4D71DCACC18B16D33635C9C9A87 Accuracy: -m0
Conclusion: CDDA 100%
Signature: 7A53EBB352009EFF4C807360219C562ACDC8F683
FILE: 02. Johnson's Wax.flac
Size: 32881599 Hash: 1F8F389F298CA016AD359DE9DD85C1BF Accuracy: -m0
Conclusion: CDDA 100%
Signature: E6C1F3839BF68706F5BA054F94FE99F8FED462ED
FILE: 01. How Do You Do.flac
Size: 20181768 Hash: 21D2BE08E76FD7E2207A63EE9D2396DF Accuracy: -m0
Conclusion: CDDA 100%
Signature: 15185F017F6B8C1A77221A8687DBE5EC40FE319B