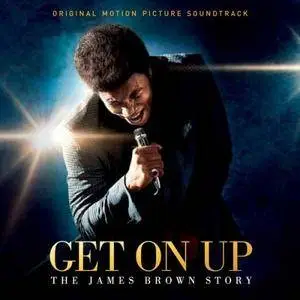 James Brown - Get On Up The: James Brown Story (2014)
XLD Rip | FLAC (tracks & cue & log) -> 470 MB | Cover | 01:13:29
Genre: Soundtrack, Funk, Soul | Label: Polydor
'The Godfather of Soul.' 'The Hardest Working Man in Show Business.' 'Mr. Dynamite.' 'Soul Brother Number One.' For more than 50 years, these and other honorifics have described American music icon James Brown.
Tracklist
:
1. Get Up (I Feel Like Being A) Sex Machine (Pt. 1 & 2) 5:17
2. The Payback (Part 1) 3:33
3. Out Of Sight 2:21
4. I Got You (I Feel Good) 2:45
5. Caldonia 2:09
6. Please Please Please (Live In Tampa, FL/1966) 3:55
7. Night Train (Live At The Apollo Theater/1962) 3:00
8. Papa's Got A Brand New Bag (Pt. 1) 2:05
9. It's A Man's Man's Man's World (Live In Tampa, FL/1966) 5:10
10. Cold Sweat (Part 1) 3:03
11. Mother Popcorn (Part 1) 3:17
12. I Got The Feelin' (Live At Memorial Auditorium, Dallas/1968) 2:41
13. I Can't Stand Myself (When You Touch Me) (Live At Memorial Auditorium, Dallas/1968) 3:10
14. Say It Loud - I'm Black And I'm Proud (Pt. 1) 2:50
15. Get Up (I Feel Like Being A) Sex Machine (Live At The Olympia Theatre, Paris/1971) (The J.B.'s) 6:37
16. Super Bad (Live At The Olympia Theatre, Paris/1971) (The J.B.'s) 5:04
17. Soul Power (Live At The Apollo Theater/1971) 6:11
18. Try Me (Live At The Apollo Theater/1967) 3:01
19. Please Please Please 2:46
20. Get Up Offa That Thing 4:10
X Lossless Decoder version 20140504 (147.0)

XLD extraction logfile from 2014-07-31 15:45:01 -0700

James Brown / Get On Up: The James Brown Story

Used drive : PIONEER BD-RW BDR-207D (revision 1.10)
Media type : Pressed CD

Ripper mode : XLD Secure Ripper
Disable audio cache : OK for the drive with a cache less than 1375KiB
Make use of C2 pointers : NO
Read offset correction : 667
Max retry count : 100
Gap status : Analyzed, Appended

TOC of the extracted CD
Track | Start | Length | Start sector | End sector
––––––––––––––––––––––––––––-
1 | 00:00:00 | 05:18:22 | 0 | 23871
2 | 05:18:22 | 03:33:32 | 23872 | 39878
3 | 08:51:54 | 02:23:10 | 39879 | 50613
4 | 11:14:64 | 02:47:26 | 50614 | 63164
5 | 14:02:15 | 02:10:13 | 63165 | 72927
6 | 16:12:28 | 03:55:69 | 72928 | 90621
7 | 20:08:22 | 03:01:57 | 90622 | 104253
8 | 23:10:04 | 02:07:23 | 104254 | 113801
9 | 25:17:27 | 05:12:10 | 113802 | 137211
10 | 30:29:37 | 03:03:29 | 137212 | 150965
11 | 33:32:66 | 03:18:24 | 150966 | 165839
12 | 36:51:15 | 02:41:01 | 165840 | 177915
13 | 39:32:16 | 03:10:46 | 177916 | 192211
14 | 42:42:62 | 02:50:67 | 192212 | 205028
15 | 45:33:54 | 06:37:67 | 205029 | 234870
16 | 52:11:46 | 05:04:52 | 234871 | 257722
17 | 57:16:23 | 06:13:25 | 257723 | 285722
18 | 63:29:48 | 03:01:70 | 285723 | 299367
19 | 66:31:43 | 02:47:06 | 299368 | 311898
20 | 69:18:49 | 04:10:35 | 311899 | 330683

AccurateRip Summary
Disc not found in AccurateRip DB.

All Tracks
Album gain : -8.66 dB
Peak : 1.000000
Statistics
Read error : 0
Jitter error (maybe fixed) : 0
Retry sector count : 0
Damaged sector count : 0

Track 01
Filename : /James Brown - Get On Up (2014) [FLAC]/James Brown - Get On Up: The James Brown Story (2014) [FLAC]/01 Get Up (I Feel Like Being A) Sex Machine.flac
Pre-gap length : 00:02:00

Track gain : -7.44 dB
Peak : 1.000000
CRC32 hash (test run) : A8D9670A
CRC32 hash : A8D9670A
CRC32 hash (skip zero) : C8C3EDBB
AccurateRip v1 signature : 78857A18
AccurateRip v2 signature : B5E43637
->Track not present in AccurateRip database.
Statistics
Read error : 0
Jitter error (maybe fixed) : 0
Retry sector count : 0
Damaged sector count : 0

Track 02
Filename : /James Brown - Get On Up (2014) [FLAC]/James Brown - Get On Up: The James Brown Story (2014) [FLAC]/02 The Payback. Pt. 1.flac

Track gain : -8.21 dB
Peak : 0.999969
CRC32 hash (test run) : 63F554E2
CRC32 hash : 63F554E2
CRC32 hash (skip zero) : 521AA525
AccurateRip v1 signature : 31645AE0
AccurateRip v2 signature : 778DA5A6
->Track not present in AccurateRip database.
Statistics
Read error : 0
Jitter error (maybe fixed) : 0
Retry sector count : 0
Damaged sector count : 0

Track 03
Filename : /James Brown - Get On Up (2014) [FLAC]/James Brown - Get On Up: The James Brown Story (2014) [FLAC]/03 Out Of Sight.flac

Track gain : -7.54 dB
Peak : 1.000000
CRC32 hash (test run) : B7CDD1E4
CRC32 hash : B7CDD1E4
CRC32 hash (skip zero) : 42AD4E70
AccurateRip v1 signature : 0925FEBE
AccurateRip v2 signature : 885EB12C
->Track not present in AccurateRip database.
Statistics
Read error : 0
Jitter error (maybe fixed) : 0
Retry sector count : 0
Damaged sector count : 0

Track 04
Filename : /James Brown - Get On Up (2014) [FLAC]/James Brown - Get On Up: The James Brown Story (2014) [FLAC]/04 I Got You (I Feel Good).flac

Track gain : -7.67 dB
Peak : 0.994537
CRC32 hash (test run) : 54F88027
CRC32 hash : 54F88027
CRC32 hash (skip zero) : 5B0CD547
AccurateRip v1 signature : 660B593F
AccurateRip v2 signature : 3A245BF2
->Track not present in AccurateRip database.
Statistics
Read error : 0
Jitter error (maybe fixed) : 0
Retry sector count : 0
Damaged sector count : 0

Track 05
Filename : /James Brown - Get On Up (2014) [FLAC]/James Brown - Get On Up: The James Brown Story (2014) [FLAC]/05 Caldonia.flac

Track gain : -8.69 dB
Peak : 1.000000
CRC32 hash (test run) : 0017D429
CRC32 hash : 0017D429
CRC32 hash (skip zero) : 266273B4
AccurateRip v1 signature : F457C1CC
AccurateRip v2 signature : 0A0E723E
->Track not present in AccurateRip database.
Statistics
Read error : 0
Jitter error (maybe fixed) : 0
Retry sector count : 0
Damaged sector count : 0

Track 06
Filename : /James Brown - Get On Up (2014) [FLAC]/James Brown - Get On Up: The James Brown Story (2014) [FLAC]/06 Please Please Please (Live).flac

Track gain : -7.95 dB
Peak : 1.000000
CRC32 hash (test run) : 463D1786
CRC32 hash : 463D1786
CRC32 hash (skip zero) : 9836FBDD
AccurateRip v1 signature : 8D876D23
AccurateRip v2 signature : 6DF2EB1C
->Track not present in AccurateRip database.
Statistics
Read error : 0
Jitter error (maybe fixed) : 0
Retry sector count : 0
Damaged sector count : 0

Track 07
Filename : /James Brown - Get On Up (2014) [FLAC]/James Brown - Get On Up: The James Brown Story (2014) [FLAC]/07 Night Train (Live).flac

Track gain : -7.64 dB
Peak : 0.999481
CRC32 hash (test run) : 0CF3EACA
CRC32 hash : 0CF3EACA
CRC32 hash (skip zero) : 0435F845
AccurateRip v1 signature : 66A3E19B
AccurateRip v2 signature : D83A0CF7
->Track not present in AccurateRip database.
Statistics
Read error : 0
Jitter error (maybe fixed) : 0
Retry sector count : 0
Damaged sector count : 0

Track 08
Filename : /James Brown - Get On Up (2014) [FLAC]/James Brown - Get On Up: The James Brown Story (2014) [FLAC]/08 Papa's Got A Brand New Bag, Pt. 1.flac

Track gain : -7.74 dB
Peak : 0.894043
CRC32 hash (test run) : 0907E8A6
CRC32 hash : 0907E8A6
CRC32 hash (skip zero) : 4A8EB793
AccurateRip v1 signature : 9C0A2316
AccurateRip v2 signature : 01D08930
->Track not present in AccurateRip database.
Statistics
Read error : 0
Jitter error (maybe fixed) : 0
Retry sector count : 0
Damaged sector count : 0

Track 09
Filename : /James Brown - Get On Up (2014) [FLAC]/James Brown - Get On Up: The James Brown Story (2014) [FLAC]/09 It's A Man's Man's Man's World (Live).flac

Track gain : -5.54 dB
Peak : 1.000000
CRC32 hash (test run) : DE2C1F22
CRC32 hash : DE2C1F22
CRC32 hash (skip zero) : 41734DEE
AccurateRip v1 signature : F670CAD0
AccurateRip v2 signature : 6F6B8AEA
->Track not present in AccurateRip database.
Statistics
Read error : 0
Jitter error (maybe fixed) : 0
Retry sector count : 0
Damaged sector count : 0

Track 10
Filename : /James Brown - Get On Up (2014) [FLAC]/James Brown - Get On Up: The James Brown Story (2014) [FLAC]/10 Cold Sweat, Pt. 1.flac

Track gain : -8.24 dB
Peak : 1.000000
CRC32 hash (test run) : DDE5247F
CRC32 hash : DDE5247F
CRC32 hash (skip zero) : F2137573
AccurateRip v1 signature : EF9273EB
AccurateRip v2 signature : CA661657
->Track not present in AccurateRip database.
Statistics
Read error : 0
Jitter error (maybe fixed) : 0
Retry sector count : 0
Damaged sector count : 0

Track 11
Filename : /James Brown - Get On Up (2014) [FLAC]/James Brown - Get On Up: The James Brown Story (2014) [FLAC]/11 Mother Popcorn, Pt. 1.flac

Track gain : -9.15 dB
Peak : 0.994476
CRC32 hash (test run) : A44EC5CF
CRC32 hash : A44EC5CF
CRC32 hash (skip zero) : B316D2B9
AccurateRip v1 signature : 723360F3
AccurateRip v2 signature : B310D018
->Track not present in AccurateRip database.
Statistics
Read error : 0
Jitter error (maybe fixed) : 0
Retry sector count : 0
Damaged sector count : 0

Track 12
Filename : /James Brown - Get On Up (2014) [FLAC]/James Brown - Get On Up: The James Brown Story (2014) [FLAC]/12 I Got The Feelin' (Live).flac

Track gain : -9.77 dB
Peak : 1.000000
CRC32 hash (test run) : 5071813B
CRC32 hash : 5071813B
CRC32 hash (skip zero) : 6CA0E62A
AccurateRip v1 signature : 530FF8A5
AccurateRip v2 signature : 077DEEA7
->Track not present in AccurateRip database.
Statistics
Read error : 0
Jitter error (maybe fixed) : 0
Retry sector count : 0
Damaged sector count : 0

Track 13
Filename : /James Brown - Get On Up (2014) [FLAC]/James Brown - Get On Up: The James Brown Story (2014) [FLAC]/13 I Can't Stand Myself (When You Touch Me) (Live).flac

Track gain : -9.63 dB
Peak : 1.000000
CRC32 hash (test run) : 6D74568B
CRC32 hash : 6D74568B
CRC32 hash (skip zero) : 12BD2256
AccurateRip v1 signature : 310AE677
AccurateRip v2 signature : 443C3213
->Track not present in AccurateRip database.
Statistics
Read error : 0
Jitter error (maybe fixed) : 0
Retry sector count : 0
Damaged sector count : 0

Track 14
Filename : /James Brown - Get On Up (2014) [FLAC]/James Brown - Get On Up: The James Brown Story (2014) [FLAC]/14 Say It Loud-I'm Black And I'm Proud, Pt. 1.flac

Track gain : -11.07 dB
Peak : 1.000000
CRC32 hash (test run) : C556E1EC
CRC32 hash : C556E1EC
CRC32 hash (skip zero) : 165B718D
AccurateRip v1 signature : 849470B3
AccurateRip v2 signature : 2B29AAFC
->Track not present in AccurateRip database.
Statistics
Read error : 0
Jitter error (maybe fixed) : 0
Retry sector count : 0
Damaged sector count : 0

Track 15
Filename : /James Brown - Get On Up (2014) [FLAC]/James Brown - Get On Up: The James Brown Story (2014) [FLAC]/15 Get Up (I Feel Like Being A) Sex Machine (Live).flac

Track gain : -9.31 dB
Peak : 1.000000
CRC32 hash (test run) : EFDDC7B3
CRC32 hash : EFDDC7B3
CRC32 hash (skip zero) : 07504B48
AccurateRip v1 signature : BE610557
AccurateRip v2 signature : 2EDCB7FD
->Track not present in AccurateRip database.
Statistics
Read error : 0
Jitter error (maybe fixed) : 0
Retry sector count : 0
Damaged sector count : 0

Track 16
Filename : /James Brown - Get On Up (2014) [FLAC]/James Brown - Get On Up: The James Brown Story (2014) [FLAC]/16 Super Bad (Live).flac

Track gain : -9.14 dB
Peak : 1.000000
CRC32 hash (test run) : B126101C
CRC32 hash : B126101C
CRC32 hash (skip zero) : E4206D23
AccurateRip v1 signature : 81BEACD2
AccurateRip v2 signature : BD74EEF9
->Track not present in AccurateRip database.
Statistics
Read error : 0
Jitter error (maybe fixed) : 0
Retry sector count : 0
Damaged sector count : 0

Track 17
Filename : /James Brown - Get On Up (2014) [FLAC]/James Brown - Get On Up: The James Brown Story (2014) [FLAC]/17 Soul Power (Live).flac

Track gain : -8.87 dB
Peak : 1.000000
CRC32 hash (test run) : 14411EED
CRC32 hash : 14411EED
CRC32 hash (skip zero) : 36E845DD
AccurateRip v1 signature : E3FDA61C
AccurateRip v2 signature : 39CA1CC7
->Track not present in AccurateRip database.
Statistics
Read error : 0
Jitter error (maybe fixed) : 0
Retry sector count : 0
Damaged sector count : 0

Track 18
Filename : /James Brown - Get On Up (2014) [FLAC]/James Brown - Get On Up: The James Brown Story (2014) [FLAC]/18 Try Me (Live).flac

Track gain : -7.25 dB
Peak : 0.999969
CRC32 hash (test run) : D537B0F5
CRC32 hash : D537B0F5
CRC32 hash (skip zero) : 13AF80F2
AccurateRip v1 signature : AB085F86
AccurateRip v2 signature : 5F0A0E0D
->Track not present in AccurateRip database.
Statistics
Read error : 0
Jitter error (maybe fixed) : 0
Retry sector count : 0
Damaged sector count : 0

Track 19
Filename : /James Brown - Get On Up (2014) [FLAC]/James Brown - Get On Up: The James Brown Story (2014) [FLAC]/19 Please Please Please.flac

Track gain : -8.76 dB
Peak : 1.000000
CRC32 hash (test run) : BA50C8DF
CRC32 hash : BA50C8DF
CRC32 hash (skip zero) : 3E99948D
AccurateRip v1 signature : 1BBF53F0
AccurateRip v2 signature : 8A36FB7D
->Track not present in AccurateRip database.
Statistics
Read error : 0
Jitter error (maybe fixed) : 0
Retry sector count : 0
Damaged sector count : 0

Track 20
Filename : /James Brown - Get On Up (2014) [FLAC]/James Brown - Get On Up: The James Brown Story (2014) [FLAC]/20 Get Up Offa That Thing.flac

Track gain : -7.78 dB
Peak : 1.000000
CRC32 hash (test run) : C06D67FF
CRC32 hash : C06D67FF
CRC32 hash (skip zero) : 1E583F34
AccurateRip v1 signature : B4357AFD
AccurateRip v2 signature : 123B0341
->Track not present in AccurateRip database.
Statistics
Read error : 0
Jitter error (maybe fixed) : 0
Retry sector count : 0
Damaged sector count : 0

No errors occurred

End of status report

––-BEGIN XLD SIGNATURE––-
n1QsK3YQmmbFPL_lbSCdoRnTw0wG8uRnBkxJ8sBynH8PF7eJ37J5mEXLP_XageQMyHlMMsYr3voq4Z4U3.kxKbiIetxWNjmzaS1VT0K
––-END XLD SIGNATURE––-

All thanks go to the original releaser