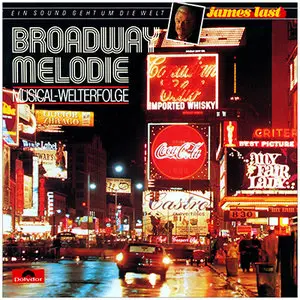 James Last - Broadway-Melodie: Musical Welterfolge
EAC+LOG+CUE | FLAC: 309 MB | Artwork | 5% Recovery Info
Label/Cat#: Polydor # 835 980-2 | Country/Year: Germany 198_, 1982
Genre: Pop, Stage & Screen | Style: Easy Listening, Instrumental, Musical
MD5 [X] CUE [X] LOG [X] INFO TEXT [X] ARTWORK [X]
my rip [ ] not my rip [X]

Exact Audio Copy V0.99 prebeta 4 from 23. January 2008

EAC 抓取日志文件从22. 十月 2009, 11:50

James Last / Broadway Melodie

使用驱动器 :ATAPI DVD D DH16D3S Adapter: 2 ID: 0

读取模式 : 保护
使用精确流 : 是
废除音频缓冲 : 是
使用 C2 指针 : 否

读取偏移校正 : 6
读取 Lead-In 和 Lead-Out : 否
用静音填充抓取中丢失偏移的采样 : 是
去除首尾静音块 : 否
在 CRC 计算中使用了空样本 : 否
已用接口 : Win NT 及 2000 本地 Win32 接口

所用输出格式 : 用户定义的编码器
已选比特率 : 768 kBit/s
质量 : 高
添加 ID3 标签 : 是
命令行压缩器 : D:\Program Files\Exact Audio Copy V0\FLAC\FLAC.EXE
附加命令行参数 : -6 -V -T "ARTIST=%a" -T "TITLE=%t" -T "ALBUM=%g" -T "DATE=%y" -T "TRACKNUMBER=%n" -T "GENRE=%m" -T "COMMENT=%e" %s -o %d

被抓轨 CD 的 TOC

音轨 | 开始 | 长度 | 起始扇区 | 结尾扇区
–––––––––––––––––––––––––
1 | 0:00.33 | 5:45.47 | 33 | 25954
2 | 5:46.05 | 3:14.33 | 25955 | 40537
3 | 9:00.38 | 4:15.22 | 40538 | 59684
4 | 13:15.60 | 3:58.35 | 59685 | 77569
5 | 17:14.20 | 3:39.70 | 77570 | 94064
6 | 20:54.15 | 5:13.30 | 94065 | 117569
7 | 26:07.45 | 2:25.15 | 117570 | 128459
8 | 28:32.60 | 3:12.45 | 128460 | 142904
9 | 31:45.30 | 4:34.18 | 142905 | 163472
10 | 36:19.48 | 6:42.50 | 163473 | 193672
11 | 43:02.23 | 4:28.25 | 193673 | 213797
12 | 47:30.48 | 4:12.35 | 213798 | 232732

范围状态及错误

已选择范围

文件名 G:\James Last专区\无损专区\自压专区\传播系列\Broadway Melodie\James Last - Broadway Melodie.wav

峰值电平 96.5 %
范围质量 100.0 %
复制 CRC 1B07DE76
复制成功

没有错误发生

AccurateRip 概要

音轨 1 无法精确校验 (确认 1) [34AFCE3F], AccurateRip 返回 [5EFF62D3]
音轨 2 无法精确校验 (确认 1) [D6E13D57], AccurateRip 返回 [8FC2BCED]
音轨 3 无法精确校验 (确认 1) [A4356662], AccurateRip 返回 [0662EDBF]
音轨 4 无法精确校验 (确认 1) [151A6EFF], AccurateRip 返回 [8B748A82]
音轨 5 无法精确校验 (确认 1) [6762459E], AccurateRip 返回 [F9653586]
音轨 6 无法精确校验 (确认 1) [E50F60BF], AccurateRip 返回 [17E939AA]
音轨 7 无法精确校验 (确认 1) [E7A0818D], AccurateRip 返回 [01FB4B6F]
音轨 8 无法精确校验 (确认 1) [79B0BC0A], AccurateRip 返回 [193C1CB0]
音轨 9 无法精确校验 (确认 1) [0AC59A28], AccurateRip 返回 [11B9B2E3]
音轨 10 无法精确校验 (确认 1) [8C807956], AccurateRip 返回 [79FDE165]
音轨 11 无法精确校验 (确认 1) [2E33113B], AccurateRip 返回 [EC5F9998]
音轨 12 无法精确校验 (确认 1) [FA13EF02], AccurateRip 返回 [BE266734]

没有音轨被精确验证
你可能遇到在数据库中的一词多义

状态报告结尾
foobar2000 1.1.14a / Dynamic Range Meter 1.1.1
log date: 2015-06-14 23:12:52

––––––––––––––––––––––––––––––––––––––––
Analyzed: James Last / Broadway Melodie
––––––––––––––––––––––––––––––––––––––––

DR Peak RMS Duration Track
––––––––––––––––––––––––––––––––––––––––
DR18 -1.04 dB -20.80 dB 5:46 01-People Will Say
DR15 -0.55 dB -18.98 dB 3:14 02-Singin' in the Rain
DR13 -1.66 dB -18.86 dB 4:15 03-Reach for a Star
DR13 -2.36 dB -18.29 dB 3:58 04-In Der Stra?e Wohnst du
DR12 -3.12 dB -19.18 dB 3:40 05-I Don't Know How to Love Him
DR15 -1.11 dB -21.01 dB 5:13 06-Summertime
DR13 -1.48 dB -16.92 dB 2:25 07-Let the Sunshine in
DR13 -1.48 dB -19.00 dB 3:13 08-Aquarius
DR14 -2.35 dB -19.05 dB 4:34 09-Love for Sale
DR12 -3.19 dB -20.76 dB 6:43 10-Don't Cry for Me Argentina
DR16 -0.30 dB -19.10 dB 4:28 11-What Is This Thing Called Love
DR17 -1.03 dB -20.46 dB 4:12 12-I've Got You Under My Skin
––––––––––––––––––––––––––––––––––––––––

Number of tracks: 12
Official DR value: DR14

Samplerate: 44100 Hz
Channels: 2
Bits per sample: 16
Bitrate: 820 kbps
Codec: FLAC
================================================================================


CD Info:
James Last - Broadway-Melodie: Musical Welterfolge
Label: Polydor
Catalog#: 835 980-2
Format: CD, Compilation, Reissue
Country: Germany
Released: 198_, 1982
Genre: Pop, Stage & Screen
Style: Easy Listening, Instrumental, Musical
Tracklist:
1 People Will Say 5:46
2 Singin' in the Rain 3:14
3 Reach for a Star 4:15
4 In Der Stra?e Wohnst du 3:58
5 I Don't Know How to Love Him 3:40
6 Summertime 5:13
7 Let the Sunshine in 2:25
8 Aquarius 3:13
9 Love for Sale 4:34
10 Don't Cry for Me Argentina 6:43
11 What Is This Thing Called Love 4:28
12 I've Got You Under My Skin 4:12
CD is manufactured by PDO in Hanover, West Germany
Artist Biography by Stephen Thomas Erlewine

James Last is a German big band leader with a large fan base in Europe, although he has never had a comparable following in the United States. Last's trademark is arranging pop hits in a big-band style; his series of "party albums" is equally well-known. Over the course of his career, he has sold well over 50 million albums.

Last learned how to play piano as child, switching to bass as a teenager. He joined Hans-Gunther Oesterreich's Radio Bremen Dance Orchestra in 1946, when he was 17 years old. In 1948, he became the leader of the Becker-Last Ensemble, which performed for seven years. During that time, he was voted as the best bassist in the country by a German jazz poll for three consecutive years, from 1950-1952. After the disbandment of the Becker-Last Ensemble, he became the in-house arranger for Polydor Records, as well as for a number of European radio stations. For the next decade, he helped arrange hits for artists like Helmut Zacharias and Caterina Valente.

Last released his first album, Non-Stop Dancing, in 1965. The record of brief renditions of popular songs, all tied together by an insistent dance beat and joyous crowd noises. It was a hit and helped make him a major European star. Over the next two decades, Last released over 50 records, including several more volumes of Non-Stop Dancing. On these records, he varied his formula by adding different songs from different countries and genres, as well as guest performers like Richard Clayderman and Astrud Gilberto.

Though his concerts and albums were consistently successful – especially in England, where he had 52 hit albums between 1967-1986, which made him second to Elvis Presley in terms of number of charting records – he only had one hit single with "The Seduction," the theme from American Gigolo (1980). ~allmusicguide
Thanks to the original releaser!