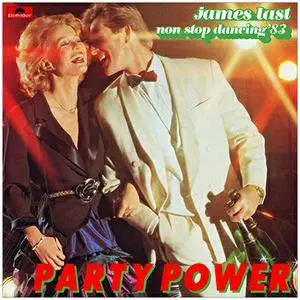 James Last - Non Stop Dancing '83: Party Power
EAC+NO LOG+CUE | FLAC: 264 MB | Partial Artwork | 5% Recovery Info
Label/Cat#: Polydor # 810 783-2 Y | Country/Year: Germany 1983
Genre: Pop | Style: Easy Listening, Instrumental
MD5 [X] CUE [X] LOG [X] INFO TEXT [X] ARTWORK [X]
my rip [ ] not my rip [X]

auCDtect: CD records authenticity detector, version 0.8.2
Copyright © 2004 Oleg Berngardt. All rights reserved.
Copyright © 2004 Alexander Djourik. All rights reserved.

Detect mode (0..40 with 0 = most accurate): 8 (default)


––––––––––––––––––––––––––––––
[Non Stop Dancing '83 - Party Power.wav]
Detected average hi-boundary frequency: 2.092609e+004 Hz
Detected average lo-boundary frequency: 1.734193e+004 Hz
Detected average hi-cut frequency: 2.141691e+004 Hz
Detected average lo-cut frequency: 1.842346e+004 Hz
Maximum probablis boundary frequency: 2.136400e+004 Hz
Coefficient of nonlinearity of a phase: 9.767927e-002
First order smothness: 5.802552e-001
Second order smothness: 6.242445e-001
––––––––––––––––––––––––––––––
This track looks like CDDA with probability 100%.

foobar2000 1.1.14a / Dynamic Range Meter 1.1.1
log date: 2015-06-16 21:27:47

––––––––––––––––––––––––––––––––––––––––
Analyzed: James Last & His Orchestra / Non Stop Dancing '83 (Party Power)
––––––––––––––––––––––––––––––––––––––––

DR Peak RMS Duration Track
––––––––––––––––––––––––––––––––––––––––
DR13 -1.34 dB -16.22 dB 2:35 01-The Best Years Of Our lives
DR12 -2.82 dB -15.83 dB 3:49 02-Shadows Of The Night
DR11 -2.38 dB -15.99 dB 3:43 03-Hard To Say I'm Sorry
DR13 -2.02 dB -17.08 dB 3:49 04-Eye Of The Tiger
DR13 -2.85 dB -17.39 dB 4:09 05-Africa
DR12 -2.42 dB -17.24 dB 1:22 06-Abracadabra
DR12 -2.10 dB -15.73 dB 1:30 07-Words
DR13 -1.68 dB -16.07 dB 4:29 08-Lets Go Dancing (Ooh La La)
DR14 -1.71 dB -17.61 dB 3:11 09-Pass The Duchie
DR13 -3.04 dB -17.82 dB 4:21 10-Sexual Healing
DR13 -1.93 dB -16.64 dB 3:32 11-Down Under
DR14 -1.74 dB -17.44 dB 2:59 12-Saddle Up
DR13 -2.49 dB -17.58 dB 2:02 13-Don't Go
––––––––––––––––––––––––––––––––––––––––

Number of tracks: 13
Official DR value: DR13

Samplerate: 44100 Hz
Channels: 2
Bits per sample: 16
Bitrate: 879 kbps
Codec: FLAC
================================================================================


CD Info:
James Last - Non Stop Dancing '83 - Party Power
Label: Polydor
Catalog#: 810 783-2 Y
Format: CD, Album
Country: Germany
Released: 1983
Genre: Pop
Style: Easy Listening, Instrumental
Tracklist:
1 The Best Years Of Our lives 2:35
2 Shadows Of The Night 3:49
3 Hard To Say I'm Sorry 3:43
4 Eye Of The Tiger 3:49
5 Africa 4:09
6 Abracadabra 1:22
7 Words 1:30
8 Lets Go Dancing (Ooh La La) 4:29
9 Pass The Duchie 3:11
10 Sexual Healing 4:21
11 Down Under 3:32
12 Saddle Up 2:59
13 Don't Go 2:02
CD is manufactured by PolyGram in Hanover, West Germany
Artist Biography by Stephen Thomas Erlewine

James Last is a German big band leader with a large fan base in Europe, although he has never had a comparable following in the United States. Last's trademark is arranging pop hits in a big-band style; his series of "party albums" is equally well-known. Over the course of his career, he has sold well over 50 million albums.

Last learned how to play piano as child, switching to bass as a teenager. He joined Hans-Gunther Oesterreich's Radio Bremen Dance Orchestra in 1946, when he was 17 years old. In 1948, he became the leader of the Becker-Last Ensemble, which performed for seven years. During that time, he was voted as the best bassist in the country by a German jazz poll for three consecutive years, from 1950-1952. After the disbandment of the Becker-Last Ensemble, he became the in-house arranger for Polydor Records, as well as for a number of European radio stations. For the next decade, he helped arrange hits for artists like Helmut Zacharias and Caterina Valente.

Last released his first album, Non-Stop Dancing, in 1965. The record of brief renditions of popular songs, all tied together by an insistent dance beat and joyous crowd noises. It was a hit and helped make him a major European star. Over the next two decades, Last released over 50 records, including several more volumes of Non-Stop Dancing. On these records, he varied his formula by adding different songs from different countries and genres, as well as guest performers like Richard Clayderman and Astrud Gilberto.

Though his concerts and albums were consistently successful – especially in England, where he had 52 hit albums between 1967-1986, which made him second to Elvis Presley in terms of number of charting records – he only had one hit single with "The Seduction," the theme from American Gigolo (1980). ~allmusicguide
Thanks to the original releaser!