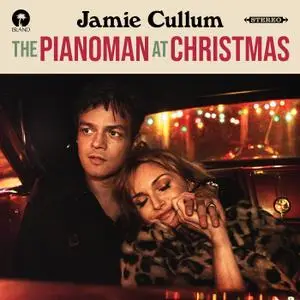 Jamie Cullum - The Pianoman At Christmas (2020)
WEB FLAC (tracks) ~ 238.84 Mb | 39:07 | Cover
Vocal Jazz, Pop | Country: UK | Label: Island Records
With his first holiday-themed album, 2020's The Pianoman at Christmas, Jamie Cullum strikes a festive balance between swinging traditional pop and heartfelt singer/songwriter introspection. It's a balance the singer and pianist has been perfecting ever since breaking through in the early 2000s, moving between urbane re-interpretations of jazz standards and his own lyrical pop/rock originals. It's also a formula that has helped him remain a Top 20 chart regular in the U.K. with albums like 2014's Interlude and 2019's Taller. The Pianoman at Christmas makes the most of these skills as Cullum brings all of his varied experience to bear on a set of original holiday songs.
Produced by Greg Wells, the album is a fittingly lush production, recorded at the legendary Abbey Road Studios with a varied mix of big band, orchestral, and small group arrangements. Tracks like "It's Christmas" and "Christmas Never Gets Old" are big swinging numbers that capture a Frank Sinatra fireside sparkle. Similarly vintage-sounding, "Hang Your Lights" is a snappy, minor-key jump blues rhumba in the Louis Prima tradition, while "So Many Santas" crackles with a Las Vegas high-kicking chorus-girl energy. We also get the bluesy, Ray Charles-sounding "Jolly Fat Man" with its wry, nightclub sense of humor. While much of the album evokes the 1950s and '60s golden age of traditional pop, there are more introspective moments as Cullum settles gently into the Billy Joel-esque title track, the ebullient '70s soft-rock anthem "Turn On the Lights," and the dusky, cinematic string romanticism of "Beautiful Together." The Pianoman at Christmas isn't just a great holiday album, it's a great Jamie Cullum album. ~
AllMusic Review by Matt Collar
Track List:
01 - It's Christmas (00:03:14)
02 - Beautiful, Altogether (00:03:30)
03 - Hang Your Lights (00:04:56)
04 - The Jolly Fat Man (00:03:04)
05 - The Pianoman At Christmas (00:04:35)
06 - Turn On The Lights (00:04:14)
07 - So Many Santas (00:03:28)
08 - Christmas Never Gets Old (00:02:42)
09 - How Do You Fly (00:06:01)
10 - Christmas Caught Me Crying (00:03:18)
–––––––––––-
DON'T MODIFY THIS FILE
–––––––––––-
PERFORMER: auCDtect Task Manager, ver. 1.6.0 RC1 build 1.6.0.1
Copyright © 2008-2010 y-soft. All rights reserved
http://y-soft.org
ANALYZER: auCDtect: CD records authenticity detector, version 0.8.2
Copyright © 2004 Oleg Berngardt. All rights reserved.
Copyright © 2004 Alexander Djourik. All rights reserved.
FILE: 10 - Christmas Caught Me Crying.flac
Size: 16464787 Hash: 38C48D48C28262F3A9FDC9C22D29A1A7 Accuracy: -m40
Conclusion: CDDA 100%
Signature: 449D9B89622FB9D77A74A117871816CC8FB43857
FILE: 09 - How Do You Fly.flac
Size: 33081278 Hash: CCAD92D045E8A5A4F46CCD0B32CF6CEA Accuracy: -m40
Conclusion: CDDA 100%
Signature: 00BA9E0F2A1AD0A0F87DD6D3F6EB6CE51A356588
FILE: 08 - Christmas Never Gets Old.flac
Size: 19366678 Hash: 3133D4AA4BCD1BF8AC2D7FEF84F38EDD Accuracy: -m40
Conclusion: CDDA 100%
Signature: E72049B617C9C3B7190DCCBA235BF2DED52AC77D
FILE: 07 - So Many Santas.flac
Size: 25523986 Hash: C27B7EDD7E1FED405389388D93DB7C2D Accuracy: -m40
Conclusion: CDDA 100%
Signature: 3743590F2E8537CD3727F670BDA977459ABE0209
FILE: 06 - Turn On The Lights.flac
Size: 31206762 Hash: 2816ADB6174B3F0BFCD52147A0FDF18E Accuracy: -m40
Conclusion: CDDA 100%
Signature: 25EDEC01F3C29325859BD10115C1F5464153A47E
FILE: 05 - The Pianoman At Christmas.flac
Size: 24428316 Hash: 6BD3CC87688D492978BBDDF273553D1E Accuracy: -m40
Conclusion: CDDA 100%
Signature: 28F9C3BBB8F89A6F882C00CD2AB789BE0E73C45A
FILE: 04 - The Jolly Fat Man.flac
Size: 20540835 Hash: 49A6BC1D7C2B762DD654481B714427A0 Accuracy: -m40
Conclusion: CDDA 100%
Signature: 88C24FD802E3BCC7343C482E0B9503B73F7CC280
FILE: 03 - Hang Your Lights.flac
Size: 35412698 Hash: 2243FA0A442ABBF7AF034AE38CEF12CB Accuracy: -m40
Conclusion: CDDA 99%
Signature: C8DEA80B8024B4538427202C4C8B24FCEDBA1C9C
FILE: 02 - Beautiful, Altogether.flac
Size: 21770479 Hash: 9B461E593CCB25DE577A2F4FC06C133A Accuracy: -m40
Conclusion: CDDA 100%
Signature: DA3518333050210509EBB655A52BE99498612B36
FILE: 01 - It's Christmas.flac
Size: 22290490 Hash: 0611D16B2D573C36CB46F2C30D3AD03D Accuracy: -m40
Conclusion: CDDA 100%
Signature: 3C82682F493ADB5DB1FB44CA2BE06095985CD807