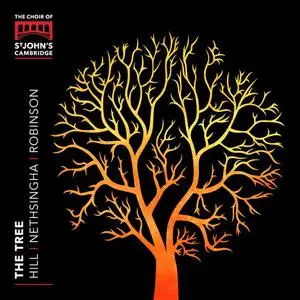 Joseph Wicks, John Challenger, Glen Dempsey & Jack Ross - The Tree: Hill, Nethsingha, Robinson (2021)
WEB FLAC (tracks) - 267 Mb | MP3 CBR 320 kbps - 160 Mb | Digital booklet | 01:05:31
Classical, Sacred, Choral | Label: Signum Classics
Andrew Nethsingha and The Choir of St John's, Cambridge present a tribute album to two former directors, Christopher Robinson and David Hill, who celebrate their 85th and 65th birthdays respectively.

Taking the idea of new growth as a starting point, the album develops from the seed of a single treble line, gradually adding organ, then lower voices, a second choir (Yale Schola Cantorum), 150 additional singers, and eventually combining nearly 500 voices together (former members and friends of the college choir).

The programme spans Hildegard of Bingen to a new commission by James Long (b.1987) and also includes works by three ex-St Johnians: Herbert Howells, Johnathan Harvey and Christopher Robinson.

The Choir of St John's College, Cambridge is one of the finest collegiate choirs in the world, known and loved by millions from its broadcasts, concert tours and recordings.

Founded in the 1670s, the Choir is known for its distinctive rich, warm sound, its expressive interpretations and its breadth of repertoire.
Tracklist:
01. Bingen: O Pastor Animarum
02. Harvey: The Tree
03. Long: Sicut Aquilae
04. Howells: Preces and Responses: I. Preces
05. Howells: Preces and Responses: Ii. Responses
06. Elgar: The Spirit of the Lord
07. Howells: A Hymn for St Cecilia
08. Stanford: A Song of Wisdom
09. Robinson: Jesu, Grant Me This, I Pray
10. Parry: Hear My Words, Ye People
11. Stainer: God so Loved the World
12. Rowlands, Robinson: Love Divine, All Loves Excelling
–––––––––––-

DON'T MODIFY THIS FILE

–––––––––––-

PERFORMER: auCDtect Task Manager, ver. 1.6.0 RC1 build 1.6.0.1
Copyright © 2008-2010 y-soft. All rights reserved

ANALYZER: auCDtect: CD records authenticity detector, version 0.8.2
Copyright © 2004 Oleg Berngardt. All rights reserved.
Copyright © 2004 Alexander Djourik. All rights reserved.


FILE: 12 - Joseph Wicks, John Challenger, Glen Dempsey, Jack Ross - Rowlands, Robinson- Love Divine, All Loves Excelling.flac
Size: 24081133 Hash: 248C655EF5515291BCD8A9A9FEF2BEE9 Accuracy: -m8
Conclusion: CDDA 100%
Signature: 313790E35287674449ACBCC5B04CD6CB4B3AAB4D
FILE: 11 - Joseph Wicks, John Challenger, Glen Dempsey, Jack Ross - Stainer- God so Loved the World.flac
Size: 15749376 Hash: 3E9A6442B652339219B13E00F77C7CBE Accuracy: -m8
Conclusion: CDDA 100%
Signature: ADA89ECFF959AC693748C4BCA35ED73F8D7ED3BA
FILE: 10 - Joseph Wicks, John Challenger, Glen Dempsey, Jack Ross - Parry- Hear My Words, Ye People.flac
Size: 68233560 Hash: DA234DA1E1983213A01FDF508C065B91 Accuracy: -m8
Conclusion: CDDA 100%
Signature: 5974DF32273E982897BCF366B165D50AD3F26EC7
FILE: 09 - Joseph Wicks, John Challenger, Glen Dempsey, Jack Ross - Robinson- Jesu, Grant Me This, I Pray.flac
Size: 12224379 Hash: 371E578A14158541C0A94B811E84B6BB Accuracy: -m8
Conclusion: CDDA 100%
Signature: 95830A3C5593E3E5A88F7C07EC4C2F56F8C1BDF4
FILE: 08 - Joseph Wicks, John Challenger, Glen Dempsey, Jack Ross - Stanford- A Song of Wisdom.flac
Size: 22456225 Hash: A61B29C75DE5DB345EAA5445780CB953 Accuracy: -m8
Conclusion: CDDA 99%
Signature: 19F96472405A1F0657A8E714B26245BB9945BEBE
FILE: 07 - Joseph Wicks, John Challenger, Glen Dempsey, Jack Ross - Howells- A Hymn for St Cecilia.flac
Size: 16268775 Hash: 5070ECD5A54E3E19FBD4E58AC345606E Accuracy: -m8
Conclusion: CDDA 100%
Signature: FEBA3AC49AD183F523870D9CBDC12F5442568B16
FILE: 06 - Joseph Wicks, John Challenger, Glen Dempsey, Jack Ross - Elgar- The Spirit of the Lord.flac
Size: 27326661 Hash: A019562E2DC0A7331FBAB1D4844AEE72 Accuracy: -m8
Conclusion: CDDA 100%
Signature: ED806D1BD2A21E3715981EAD18F2EEEEBE4C60A3
FILE: 05 - Joseph Wicks, John Challenger, Glen Dempsey, Jack Ross - Howells- Preces and Responses- Ii. Responses.flac
Size: 26054013 Hash: 19F0C4A3A477E257747DAA9EE5B79C40 Accuracy: -m8
Conclusion: CDDA 100%
Signature: F0243A83C70EB07D6DFC1DD71E18E48D49DCFC3F
FILE: 04 - Joseph Wicks, John Challenger, Glen Dempsey, Jack Ross - Howells- Preces and Responses- I. Preces.flac
Size: 6500841 Hash: EC5F2A1EBA9EC442703D49BE1C1160E2 Accuracy: -m8
Conclusion: CDDA 99%
Signature: 39CB5C5F2371B20E8BEC5F21407AC075BD5021BB
FILE: 03 - Joseph Wicks, John Challenger, Glen Dempsey, Jack Ross - Long- Sicut Aquilae.flac
Size: 26431624 Hash: 881F755C8213E61AAB265E489D677B54 Accuracy: -m8
Conclusion: CDDA 100%
Signature: D6E1F9BD84BB38C43937969668609F4380F78703
FILE: 02 - Joseph Wicks, John Challenger, Glen Dempsey, Jack Ross - Harvey- The Tree.flac
Size: 19437991 Hash: 4276110915BC7A1EBE86A7CB92200E2E Accuracy: -m8
Conclusion: CDDA 100%
Signature: 174241023F87316E0E7132A8442236B63C455B8C
FILE: 01 - Joseph Wicks, John Challenger, Glen Dempsey, Jack Ross - Bingen- O Pastor Animarum.flac
Size: 5070523 Hash: 97F21C963F4362B0D74A75B223F2C608 Accuracy: -m8
Conclusion: CDDA 99%
Signature: D4B8159BFA8A1B2561EDD18677A0B8C163B69C8F