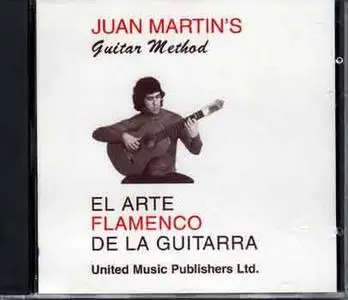 Juan Martin - The Art of the Flamenco Guitar: 31 Lessons
Flamenco/flamenco guitar | MP3 192 Kbps | Language: English | 2005 Year | 65 Mb
A celebrated virtuoso of the flamenco guitar who has been voted into the top three guitarists in the world by US magazine Guitar Player,
Juan Martín
is a native of Andalucía, where he still has a home in Málaga. He spends much time on tour and in London where he has formed an international company, Flamencovision, for the promotion of high quality flamenco which he rehearses and brings direct from Andalucía. He has recorded 14 albums, mostly as a composer and presently has 4 videos distributed by Warner Brothers which, despite their purity, are always amongst their best sellers.
Juan Martin
explains and demonstrates the essential techniques and rhythmic forms of Flamenco guitar playing in 31 lessons. The lessons show you in detail many varieties of the basic rhythms which form the foundation of Flamenco guitar styles. They also give you a wealth of traditional and modern Flamenco solos, accurately transcribed into music notation and easy-to-follow 'cifra' tablature. In this way you learn not only how to play but also what to play, as the lesons build into substantial repertoire of Flamenco music.
Juan Martin
's Guitar Method
El Arte Flamenco de la Guitarra
has been designed for players of all standards - from absolute beginner to advanced. An international bestseller, this definitive guitar tutor contains dozens of detailed photographs and over 100 pages of music in conventional notation and cifra plus information on the lore, language and history of Flamenco.
A 60 minute cassette or CD of the music and exercises has been produced to accompany the book.
Download

:::000:::