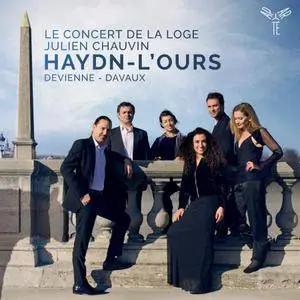 Julien Chauvin & Le Concert de la Loge - Haydn: Symphony No. 82 "L'Ours" (2018)
WEB FLAC (tracks) - 299 Mb | MP3 CBR 320 kbps - 153 Mb | Digital booklet | 01:04:36
Classical | Label: Aparté
The well-known Concert de la Loge, the period instruments orchestra led by the violinist Julien Chauvin, return with the third episode of Haydn's journey in Paris.

His complete Parisian Symphonies recording continues this Autumn with the number 82 nicknamed 'The Bear'.

It is coupled with the Symphonie concertante for bassoon, horn, flute and oboe of one of his contemporaries, François Devienne.

This colourful third volume draws a witty and virtuoso panorama of French 18th century music.
Tracklist:
1. Symphony No. 82 in C Major, Hob.I:82 'The Bear' : I. Vivace
2. Symphony No. 82 in C Major, Hob.I:82 'The Bear' : II. Allegretto
3. Symphony No. 82 in C Major, Hob.I:82 'The Bear' : III. Menuet. Trio
4. Symphony No. 82 in C Major, Hob.I:82 'The Bear' : IV. Finale. Vivace assai
5. Symphonie concertante mêlée d'airs patriotiques pour deux violons principaux : I. Allegro moderato
6. Symphonie concertante mêlée d'airs patriotiques pour deux violons principaux : II. Adagio un poco andante
7. Symphonie concertante mêlée d'airs patriotiques pour deux violons principaux : III. Allegro moderato
8. Symphonie concertante No. 4 en fa majeur pour flûte, hautbois, basson et cor : I. Allegro
9. Symphonie concertante No. 4 en fa majeur pour flûte, hautbois, basson et cor : II. Air varié
–––––––––––-

DON'T MODIFY THIS FILE

–––––––––––-

PERFORMER: auCDtect Task Manager, ver. 1.6.0 RC1 build 1.6.0.1
Copyright © 2008-2010 y-soft. All rights reserved

ANALYZER: auCDtect: CD records authenticity detector, version 0.8.2
Copyright © 2004 Oleg Berngardt. All rights reserved.
Copyright © 2004 Alexander Djourik. All rights reserved.


FILE: 9 Symphonie concertante No. 4 pour flûte, hautbois, basson et cor en Fa Majeur- II. Air varié.flac
Size: 35108969 Hash: B8B32E1D0C5FAFECE814F7B6ABA0E453 Accuracy: -m0
Conclusion: CDDA 54%
Signature: 60E85A9C1F89A1D0E58232C3AFCD7A46C3BB441F
FILE: 8 Symphonie concertante No. 4 pour flûte, hautbois, basson et cor en Fa Majeur- I. Allegro.flac
Size: 57170178 Hash: 47FB949FE2617AAD09C1B3F8FFC23674 Accuracy: -m0
Conclusion: CDDA 43%
Signature: 7AFD47309F2F30A3DD9553BAB112A40774EA3E0A
FILE: 7 Symphonie concertante mêlée d'airs patriotiques pour deux violons principaux- III. Allegro moderato.flac
Size: 30852146 Hash: A256B2325B9E0128507E2B72F9A6275B Accuracy: -m0
Conclusion: CDDA 100%
Signature: 8B9B11C6DF2B9822600B7A0D582EA6C4EB3E269C
FILE: 6 Symphonie concertante mêlée d'airs patriotiques pour deux violons principaux- II. Adagio un poco andante.flac
Size: 19563312 Hash: EB02C31A3F63CD8B5B5C4EE68C818A38 Accuracy: -m0
Conclusion: CDDA 100%
Signature: D58C1210B979BAB5208E408E3D48497FDE5B0A41
FILE: 5 Symphonie concertante mêlée d'airs patriotiques pour deux violons principaux- I. Allegro moderato.flac
Size: 51100619 Hash: 69803DEE6F69ACD19F337E42AC6F35C2 Accuracy: -m0
Conclusion: CDDA 100%
Signature: 7F9A60013A55AE8EF2E0769BA858F5F863E944F8
FILE: 4 Symphonie Parisienne No. 82 en Ut Majeur, Hob. I-82 -L'Ours- IV. Finale. Vivace assai.flac
Size: 26712082 Hash: 3F5997AAE718E4B14A3EFF56B80D6990 Accuracy: -m0
Conclusion: CDDA 100%
Signature: C88A9951C71591933735B0642E8A8393E451CC78
FILE: 3 Symphonie Parisienne No. 82 en Ut Majeur, Hob. I-82 -L'Ours- III. Menuet. Trio.flac
Size: 16429938 Hash: CF55392D0098DD84CA6326E8435CD5DC Accuracy: -m0
Conclusion: CDDA 76%
Signature: 0EFB46859AA069896C8058ACD96B242F83C6EBBE
FILE: 2 Symphonie Parisienne No. 82 en Ut Majeur, Hob. I-82 -L'Ours- II. Allegretto.flac
Size: 30497110 Hash: F04E16213650D5CE4D6EB9586D7CF764 Accuracy: -m0
Conclusion: CDDA 62%
Signature: 69ABBE79BD0B486BB73CF1A5869FF80F476BF60C
FILE: 1 Symphonie Parisienne No. 82 en Ut Majeur, Hob. I-82 -L'Ours- I. Vivace.flac
Size: 40458455 Hash: 1298F71FA35F1AE90371ACC54F6F1CF1 Accuracy: -m0
Conclusion: CDDA 100%
Signature: 899B3025F1365CD6F73FBF70E697F2F12CA56248