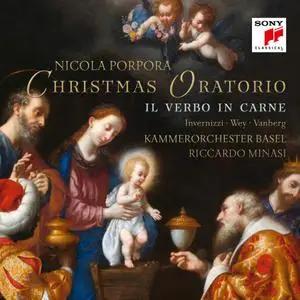 Riccardo Minasi & Kammerorchester Basel - Porpora: Il verbo in carne (Christmas Oratorio) (2018)
WEB FLAC (tracks) - 330 Mb | MP3 CBR 320 kbps - 153 Mb | 01:06:55
Classical, Opera | Label: Sony Classical
Porpora: Christmas Oratorio - Il verbo in carne is the new album from the sensational Kammerorchester Basel which rediscovers the exceptional Christmas oratorio which made it's premiere 271 years ago. Under the direction of Riccardo Minasi, the Kammerorchester Basel—alongside excellent singers Terry Wey, Martin Vanberg and Roberta Invernizzi—shine light on this beautiful masterpiece from the Neapolitan School which was first heard in 1947. This recording showcases the most outstanding parts of the Christmas oratorio. This oratorio tells the story of Christmas through the use of unique allegorical figures. These are Peace, humanity, Justice and Truth. The Kammerorchester Basel is one of the worlds leading chamber orchestras with a worldwide presence.
Tracklist:
1. No. 1, Sinfonia avanti l'Introduzione
2. No. 5, Sinfonia avanti della prima parte
3. No. 6, Qui dal regno del tuono, e del baleno (Recitativo)
4. No. 7, Perché si breve allora (Aria)
5. No. 8, Ma che rammento! Ah! tu, Giustizia bella (Recitativo)
6. No. 9, Benché sia la prole ingrata (Aria)
7. No. 10, Mal non ti apponi: è giunto (Recitativo)
8. No. 11, Mira più in là dal Sirio mar divisa (Recitativo)
9. No. 12, Pietà di quel bel core (Aria)
10. No. 13, Non più: da' monti cadono già l'ombre (Recitativo)
11. No. 14, Dall'Austro vieni (Aria)
12. No. 31, Sinfonia di pastorali stromenti
13. No. 34, Le avventurose arene (Recitativo)
14. No. 38, Onnipossente dio! che veggio! è quella (Recitativo)
15. No. 39, Sentir quel teneri (Aria)
16. No. 40, O dilette, fra questi (Recitativo)
17. No. 41, Lascia ch'io veda almeno (Duetto)
18. No. 49, Mentr'ei dorme ti desta (Recitativo)
19. No. 50, Impallidisci ingrato (Aria)
20. No. 51, Ma che si tarda? Alla sagace cura (Recitativo)
21. No. 52, Già il prevedo, che aduna (Recitativo & Trio)
22. No. 53 Dal mare d'Atlante (Coro)
–––––––––––-

DON'T MODIFY THIS FILE

–––––––––––-

PERFORMER: auCDtect Task Manager, ver. 1.6.0 RC1 build 1.6.0.1
Copyright © 2008-2010 y-soft. All rights reserved

ANALYZER: auCDtect: CD records authenticity detector, version 0.8.2
Copyright © 2004 Oleg Berngardt. All rights reserved.
Copyright © 2004 Alexander Djourik. All rights reserved.


FILE: 9 Il verbo in carne- No. 12, Pietà di quel bel core (Aria).flac
Size: 39964337 Hash: 62070F8B45DEB93EA9342E1CA934BEDF Accuracy: -m0
Conclusion: MPEG 90%
Signature: 4D2E0773BD1EB1222FC50B7B8BB2418306300781
FILE: 8 Il verbo in carne- No. 11, Mira più in là dal Sirio mar divisa (Recitativo).flac
Size: 17066711 Hash: 3D432CB5D975D2BBF86D3CD8D0701ACB Accuracy: -m0
Conclusion: MPEG 92%
Signature: 1E912B0C86D9D6946E56C2DED5655E8E693C9FEF
FILE: 7 Il verbo in carne- No. 10, Mal non ti apponi- è giunto (Recitativo).flac
Size: 3252963 Hash: 9AF387EFA0EB097F252B317D3BDA5E18 Accuracy: -m0
Conclusion: MPEG 93%
Signature: CCA55A0E9281911A052C5D9803D5B8DC2D2727D9
FILE: 6 Il verbo in carne- No. 9, Benché sia la prole ingrata (Aria).flac
Size: 36352965 Hash: C0698DD136CAF7EC8B2A5C2C9612152B Accuracy: -m0
Conclusion: CDDA 43%
Signature: 973378BF31AF6266C897C1B097153BC4D8CDAD66
FILE: 5 Il verbo in carne- No. 8, Ma che rammento! Ah! tu, Giustizia bella (Recitativo).flac
Size: 9568723 Hash: 52B491D30DC2974F1E621F3E261536F1 Accuracy: -m0
Conclusion: MPEG 93%
Signature: 015E57285D4B8DB2E1099F9FB2480C6E6A54CD2F
FILE: 4 Il verbo in carne- No. 7, Perché si breve allora (Aria).flac
Size: 23721109 Hash: 49F64F82485A0B44019B40419CEA8557 Accuracy: -m0
Conclusion: CDDA 92%
Signature: A4B1D75DAD23B3C79859CAE83F35CD7ED6D6816F
FILE: 3 Il verbo in carne- No. 6, Qui dal regno del tuono, e del baleno (Recitativo).flac
Size: 12731205 Hash: A6013FCB8832D1431A2C52037A333E56 Accuracy: -m0
Conclusion: CDDA 43%
Signature: E3906113E390BDC2FA8E65D162822C1BFEC21927
FILE: 22 Il verbo in carne- No. 53 Dal mare d'Atlante (Coro).flac
Size: 18782868 Hash: 6D04A9881C3D907DEB2D7B26BE8CF105 Accuracy: -m0
Conclusion: CDDA 100%
Signature: 99A5BAB605E9B495378E513481F37E5B287CD484
FILE: 21 Il verbo in carne- No. 52, Già il prevedo, che aduna (Recitativo & Trio).flac
Size: 9759078 Hash: ECC0D692FC5704C62065BAFFF2A50242 Accuracy: -m0
Conclusion: MPEG 93%
Signature: FC100AFD717CACCB414B6FF84EB1022C17619FF5
FILE: 20 Il verbo in carne- No. 51, Ma che si tarda- Alla sagace cura (Recitativo).flac
Size: 7873394 Hash: 0A71B6684347630C86624A58E7D32E63 Accuracy: -m0
Conclusion: CDDA 62%
Signature: CAABD6D1878D7E0E5057F69EB1AA2AB7AD928C8C
FILE: 2 Il verbo in carne- No. 5, Sinfonia avanti della prima parte.flac
Size: 20786470 Hash: 2D16F3A5BF5AA4BA28ABAB020E23FD3D Accuracy: -m0
Conclusion: CDDA 43%
Signature: BEB5B78E06FB47474BCDA28A2A4EEC3771DC8D60
FILE: 19 Il verbo in carne- No. 50, Impallidisci ingrato (Aria).flac
Size: 24512696 Hash: 7D1BCDC6C35C6FE701DC7641A32A6F07 Accuracy: -m0
Conclusion: CDDA 76%
Signature: 4DE81BC9C50FEDEB0F0CDC5D03EE2204FAD84510
FILE: 18 Il verbo in carne- No. 49, Mentr'ei dorme ti desta (Recitativo).flac
Size: 6509287 Hash: FCD9BB20BA052C3B192A2A70513D6D37 Accuracy: -m0
Conclusion: MPEG 97%
Signature: FBE684651BC368F246DB2BB246E1E71E1438BA5C
FILE: 17 Il verbo in carne- No. 41, Lascia ch'io veda almeno (Duetto).flac
Size: 48103022 Hash: 12B9865DEE002A6EA55558DC2E648A24 Accuracy: -m0
Conclusion: CDDA 42%
Signature: 9494D8D73DD794279713DB4B84FD82035A0F2D7A
FILE: 16 Il verbo in carne- No. 40, O dilette, fra questi (Recitativo).flac
Size: 6806768 Hash: E5E298C4B103F903D1567566D8B93890 Accuracy: -m0
Conclusion: MPEG 80%
Signature: 4FBEA6B563D2948F3651A112F2BE8A8F9A71F7A7
FILE: 15 Il verbo in carne- No. 39, Sentir quel teneri (Aria).flac
Size: 20281479 Hash: 8CFF2C07F811D7BD90A4F546ED2E13D4 Accuracy: -m0
Conclusion: MPEG 89%
Signature: 9DDAF7269C19C1A20B1045FB58F1FF054C3AE081
FILE: 14 Il verbo in carne- No. 38, Onnipossente dio! che veggio! è quella (Recitativo).flac
Size: 5424590 Hash: 994E75FFC4C86A5A56D6329A3A5DB15A Accuracy: -m0
Conclusion: CDDA 43%
Signature: A09E11ABA9728A401385944D5D9145A314106C18
FILE: 13 Il verbo in carne- No. 34, Le avventurose arene (Recitativo).flac
Size: 5400801 Hash: 1ABA30D0FA8BCA39DEA2FFBE0BF164D1 Accuracy: -m0
Conclusion: CDDA 42%
Signature: EE5CC68FF3053E1E1FAB65F6CD8406508D36007D
FILE: 12 Il verbo in carne- No. 31, Sinfonia di pastorali stromenti.flac
Size: 9448456 Hash: AB642DE31588F50375211723E8511DD2 Accuracy: -m0
Conclusion: MPEG 89%
Signature: 2053FFE0BF6963EA5C6A4A998CE932D95FEBB128
FILE: 11 Il verbo in carne- No. 14, Dall'Austro vieni (Aria).flac
Size: 5807973 Hash: 71DA090A04A77B0BA0FF774FCE75988E Accuracy: -m0
Conclusion: CDDA 100%
Signature: 3A7DCF6F5AAA675AB7EFF4B03088CF88A489A0E9
FILE: 10 Il verbo in carne- No. 13, Non più- da' monti cadono già l'ombre (Recitativo).flac
Size: 3080878 Hash: A2D2F758EDD6186DDCEF200F11FD30F8 Accuracy: -m0
Conclusion: MPEG 91%
Signature: 00A61C97443489F69FBE130A9F4F5CFE64A287AA
FILE: 1 Il verbo in carne- No. 1, Sinfonia avanti l'Introduzione.flac
Size: 10249765 Hash: B6CE7B3937AA96FDC7EBACECB557FF94 Accuracy: -m0
Conclusion: CDDA 100%
Signature: A332AA40DB08730B45A4296316529DAA221C4D80