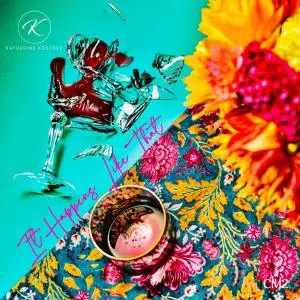 Katherine Kostoff - It Happens Like That (2021)
WEB FLAC (tracks) ~ 289.00 Mb | 50:20 | Cover
Vocal Jazz | Label: CM2 LLC
Katherine was born with passion for music and discovered her love of literature at a young age. From the moment she heard jazz she was smitten. She devoted her time to listening to Ella Fitzgerald and immersed herself in the songs of Cole Porter, Michell Legrand, Ivan Lins, Bill Evans, George Gershwin.
At the age of eight, after her family succumbed to her endless pleas for a piano, she began formal training in classical music. Her stage debut was at the age of 9. She wrote her first song at twelve. Her first poems were published when she was fourteen. An avid reader in several languages, she has always been inspired by the beauty and power of words.
In a life rich on twists and turns she took a hiatus from music only to return years later with renewed vigor and passion.
Katherine's songs, like her voice, are not easily categorized: languid and mischievous, romantic and independent, her musical style and lyrics draw on her experiences living around the globe, capturing the complexities and contradictions of life. Resigned and rebellious, vulnerable and resilient, wise and frivolous her lyrics and her melodies travel the full gamut of human emotions.
At home in the world she only truly belongs in front of the piano. For her upcoming solo album "It Happens Like That" she teams up with five-time Grammy winner, arranger extraordinaire, master pianist and accordionist Gil Goldstein. Together they deliver a remarkable record of original music that is new yet nostalgic, a modern twist to the American songbook.
Track List:
01 - It Happens Like That (00:03:31)
02 - Last Night (00:03:31)
03 - Razor's Edge (00:03:45)
04 - Cloudy (With a Chance of Rain) (00:04:43)
05 - Easy to Forget (00:04:18)
06 - Don't Know Why (00:03:52)
07 - Grey Season (00:03:56)
08 - Disclosure (00:04:47)
09 - Must Be Love (00:03:54)
10 - Liquid Rage (00:04:24)
11 - Do You Ever (00:03:15)
12 - Through With You (00:06:18)
–––––––––––-
DON'T MODIFY THIS FILE
–––––––––––-
PERFORMER: auCDtect Task Manager, ver. 1.5.1RC3 build 1.5.1.4
Copyright © 2008-2010 y-soft. All rights reserved
http://y-soft.org
ANALYZER: auCDtect: CD records authenticity detector, version 0.8.2
Copyright © 2004 Oleg Berngardt. All rights reserved.
Copyright © 2004 Alexander Djourik. All rights reserved.
FILE: 12 - Through With You.flac
Size: 35691197 Hash: B9315461A429F67147A4938D198F4417 Accuracy: -m40
Conclusion: CDDA 100%
Signature: 4F25B2FE671885D9A05C4B9125AEFAD3A2A9435E
FILE: 11 - Do You Ever.flac
Size: 20428540 Hash: 0F093B860FF829C603ACC438A1B1FD09 Accuracy: -m40
Conclusion: CDDA 99%
Signature: 5E862155B6602A9B2FDCDFB12980D1B18177DDB7
FILE: 10 - Liquid Rage.flac
Size: 25410979 Hash: 042D4C356D51C2080B9928B2ECC43C8B Accuracy: -m40
Conclusion: CDDA 100%
Signature: 28A964164F87C5B24775F7624FC2CE20E316CDC8
FILE: 09 - Must Be Love.flac
Size: 22277781 Hash: 401281AF459A5D51BA2EA5E12C2DE835 Accuracy: -m40
Conclusion: CDDA 99%
Signature: 1625267D9F0218F90F100A7F92B0639811C70EA7
FILE: 08 - Disclosure.flac
Size: 28264088 Hash: 7166631D18C9365C22E41158A0AE9348 Accuracy: -m40
Conclusion: CDDA 99%
Signature: 0904178877DF5A044DAD75210616C9BDD4FDB1D7
FILE: 07 - Grey Season.flac
Size: 23011021 Hash: 2EE920119D85BFDD7231A095329F3922 Accuracy: -m40
Conclusion: CDDA 99%
Signature: C218A6ECD378F577B078F0FD7D5C0FC542678AEC
FILE: 06 - Don't Know Why.flac
Size: 25182607 Hash: 53B57EF45F50D1A860C94C5393BDFEBC Accuracy: -m40
Conclusion: CDDA 100%
Signature: 62FCB5622AA770F6DD9688A978342CDDBB1C281C
FILE: 05 - Easy to Forget.flac
Size: 25228730 Hash: 8D0B79E3E9F8E9DCD5B03A2FA62D18BB Accuracy: -m40
Conclusion: CDDA 100%
Signature: A59C6844DC2D6D9FE1A3B15707E867854D38AD2B
FILE: 04 - Cloudy (With a Chance of Rain).flac
Size: 28090100 Hash: 09F3B358ED20CCAC98AAD3407F2C1128 Accuracy: -m40
Conclusion: CDDA 100%
Signature: 33804E14C28F2E71713A0D45D34B1A9F99C6A0D6
FILE: 03 - Razor's Edge.flac
Size: 22999748 Hash: 5D9D02EE18648602EAE2C3866DC41AF1 Accuracy: -m40
Conclusion: CDDA 100%
Signature: FEC92C39A94482B18AE1AEFDA3AFDF31D4E3D054
FILE: 02 - Last Night.flac
Size: 23163535 Hash: 552C2552CCB19265F987737E97CC2AD6 Accuracy: -m40
Conclusion: CDDA 100%
Signature: 1818D4BB39F8D4593B18014854A25FFDBA0C4D21
FILE: 01 - It Happens Like That.flac
Size: 22210892 Hash: 2070A6527405CD2808699E7BE7F87605 Accuracy: -m40
Conclusion: CDDA 100%
Signature: 8F320F2373A53C69110C55888BD2AB83DC547AB5