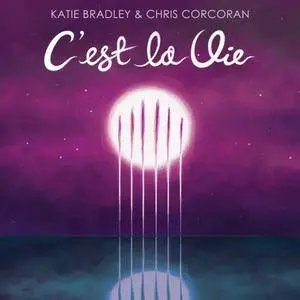 Katie Bradley & Chris Corcoran - C'est La Vie (2017)
MP3 CBR 320kbps | 00:33:35 | 77.35 Mb | Cover
Blues | Country: United Kingdom (London) | Label: Katie Bradley
C'est la vie is an album written by Katie Bradley, Chris Corcoran and Jamie Lawrence. Katie and Chris have been playing on and off together for many years as great friends, but just recently over the last 4 years decided to team up and play many more shows together. On car journeys they often played with the idea of taking their highly honed live sound and pour it into an originals album but the two are very much in demand and the opportunity didn't arise. Luckily in the summer of 2016 they made determined moves to make it happen.
Chris Corcoran and double bassist Jamie Lawrence worked together creating compositions with Katie as lyricist. This album draws on personal experience throughout and there is a dedication to a family member throughout the gospel song 'One More Day' a song of hope. This album draws on personal philosophies and conclusions, not least title track 'C'est la vie' (such is life).
The album includes guest artists such as celebrated pianist Paul Jobson who was let loose in a sweet shop of pianos: Grand, Fender Rhodes, Hammond C3. Katie had wanted to invite Paul Jobson to play as she couldn't wait to hear how he would gel with the Chris Corcoran's grooves and the result was very rewarding. Nigel Feist plays harmonica on two very different tracks 'Baby in the Corner' and 'Use me right' adding extra colour and feel. Paul Elliott (Jettricks, Hot border special) brings something special too, with percussion that compliments the 1970's funk fused track 'Hot rain'.
The album was recorded by Mike Thorne at Rimshot Studios in Kent which is gaining momentum as an award winning studio and production. Mike Thorne can be heard on drums as well top notch studio wizardry such as Recordist using sympathetic techniques and mic's to capture the authentic sounds inspired by musicians love of Sun and Stax studios.
Katie Bradley - Vocals, Harmonica
Chris Corcoran - Guitars
Jamie Lawrence - Double Bass
Mike Thorne - Drums
Track List:
01. Sliding On Ice 03:18
02. C'est La Vie 03:29
03. Snap 03:32
04. Muse 03:38
05. Hot Rain 03:05
06. Corky Cuts One 02:17
07. Take Me Back 03:01
08. One More Day 04:32
09. Baby In The Corner 02:34
10. Use Me Right 04:04