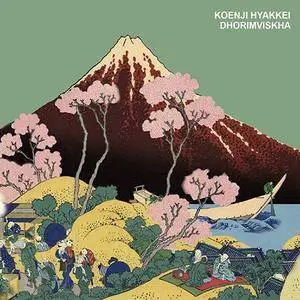 Koenji Hyakkei - Dhorimviskha (2018)
MP3 CBR 320kbps | 01:01:09 | 150.83 Mb | Covers
Zeuhl, RIO, Avant-Prog | Country: Japan | Label: Magaibutsu
Kōenji Hyakkei ("Hundred Sights of Kōenji"), also known as Kōenjihyakkei, is a Japanese Zeuhl band led by Yoshida Tatsuya of Ruins fame. The band released their first (self-titled) album in 1994 with Aki Kubota from Bondage Fruit on vocals and keyboard. Though rhythmically not as complex as Ruins, Kōenji Hyakkei still evokes a feeling of unfamiliarity due to non-standard modes and chanting in a nonsensical language.
Track List:
01 - Vreztemtraiv (00:10:18)
02 - Levhorm (00:09:11)
03 - Zjindhaiq (00:07:32)
04 - Phlessttighas (00:06:21)
05 - Djebelaki Zomn (00:09:49)
06 - Palbeth Tissilaq (00:06:08)
07 - Dhorimviskha (00:11:47)
- Yoshida Tatsuya / drums, vocal
- Sakamoto Kengo / bass, vocal
- Komori Keiko / sax, clarinet
- Yabuki Taku / keyboards
- Koganemaru Kei / guitar, vocal
- Ah / vocal