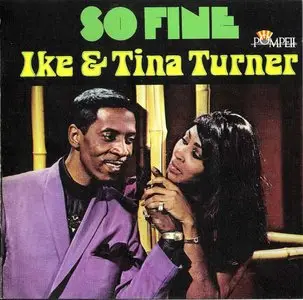 Ike & Tina Turner - So Fine (2003) {Acrobat}
EAC Rip | FLAC with CUE and log | scans | 279 mb
MP3 CBR 320kbps | RAR | 120 mb
Genre: soul, R&B
So Fine
is a 2003 compilation CD by Ike & Tina Turner. It combines the best vocal tracks from their two albums released on the Atlantic-distributed label Pompeii, 1968's
So Fine
and 1969's
Cussin', Cryin' & Carryin' On
. This was released by Acrobat Music.
There are a handful of CD's called So Fine by Ike & Tina Turner that it may be difficult to figure out what they are. The photos often don't match with the music on the CD itself, it has been a mess for anyone attempting to track down their releases.

In the late 1960's, Ike & Tina Turner found themselves on Pompeii Records, a label which received distribution through Atlantic Records. So Fine is the first album they released for Pompeii. This compact disc is a reissue of So Fine in its entirety, and also features the majority of their follow up album, Cussin', Cryin' & Carryin' On.

The liner notes say The 18 recordings on this CD constutute the entire vocal performances as released on the original albums. The second album is represented by only 8 of its original tracks as one "I Better Get Ta Steppin'" was duplicated from "So Fine" and two instrumentals ("Thinking Back" and "Black Beauty") had also appeared on the Kings Of Rhythm LP Pompeii 6003 which we hope to feature on a future Acrobat CD. Was there another Acrobat CD? No. Acrobat, which claimed the rights to these songs, was hoping to stretch the wealth but it never came to be. It is interesting to note this 18-song CD clocks in at about 45 minutes, more than enough time to add two songs.

Most of the CD sounds great, although a few of the songs in the second half were obviously transferred from vinyl (which isn't mentioned anywhere in the booklet).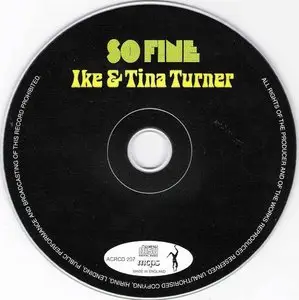 01. Betcha Can't Kiss Me (Just One Time)
02. Ain't Nobody's Business
03. It Sho Ain't Me
04. Too Hot To Hold
05. A Fool In Love
06. I Better Get Ta Steppin'
07. Shake A Tail Feather
08. So Fine
09. We Need An Understanding
10. You're So Fine
11. Cussin' Cryin' And Carryin' On
12. Poor Little Fool
13. So Blue Over You
14. Nothing You Can Do Boy (To Change My Way)
15. I'm Fed Up
16. You Got What You Wanted
17. Make 'Em Wait
18. Beauty Is Just Skin Deep
In the late 1960s, Ike & Tina Turner were churning out such a rapid succession of albums on various labels that it's hard even for dedicated fans to keep them straight. So Fine is typical of these LPs in that a certain minimum satisfying level of quality soul is guaranteed by virtue of the duo's talents. But at the same time, there's also the sense that they're grinding out recordings too quickly to consistently present the outstanding original material and interpretations of which they were capable at their best. Tina's vocals are reliably passionate, but the songs and arrangements are fairly average, at times even generic soul, mixing a few Ike Turner originals (including a remake of their early hit "A Fool in Love") with covers of well-known staples like "Shake a Tail Feather" and "So Fine." (Speaking of which, it was surely careless to cover "So Fine" and, just two tracks later, add a cover of the entirely different song "You're So Fine," which in this context sounded downright redundant.) The best cut here is "It Sho Ain't Me," which has a more slow-burning bluesy feel (and Stax-y feel, with its horn, organ, and churchy backup vocals) than much of its surroundings, but nothing here ranks among the pair's best work.
EAC extraction logfile from 19. October 2006, 5:38 for CD
Ike & Tina Turner / So Fine

Used drive : LITE-ON DVDRW SOHW-1633S Adapter: 0 ID: 0
Read mode : Secure with NO C2, accurate stream, disable cache
Read offset correction : 12
Overread into Lead-In and Lead-Out : No

Used output format : Internal WAV Routines
44.100 Hz; 16 Bit; Stereo

Other options :
Fill up missing offset samples with silence : Yes
Delete leading and trailing silent blocks : No
Installed external ASPI interface


Track 1
Filename D:\FLAC\Ike & Tina Turner - So Fine (1968) [FLAC]\01 - Betcha Can't Kiss Me (Just One Time).wav

Pre-gap length 0:00:02.00

Peak level 98.6 %
Track quality 100.0 %
Test CRC FFA6F879
Copy CRC FFA6F879
Copy OK

Track 2
Filename D:\FLAC\Ike & Tina Turner - So Fine (1968) [FLAC]\02 - Ain't Nobody's Business.wav

Pre-gap length 0:00:02.00

Peak level 97.4 %
Track quality 100.0 %
Test CRC 3DD5B430
Copy CRC 3DD5B430
Copy OK

Track 3
Filename D:\FLAC\Ike & Tina Turner - So Fine (1968) [FLAC]\03 - It Sho Ain't Me.wav

Pre-gap length 0:00:02.00

Peak level 95.4 %
Track quality 100.0 %
Test CRC E34A01A4
Copy CRC E34A01A4
Copy OK

Track 4
Filename D:\FLAC\Ike & Tina Turner - So Fine (1968) [FLAC]\04 - Too Hot To Hold.wav

Pre-gap length 0:00:02.00

Peak level 95.6 %
Track quality 100.0 %
Test CRC B95E7566
Copy CRC B95E7566
Copy OK

Track 5
Filename D:\FLAC\Ike & Tina Turner - So Fine (1968) [FLAC]\05 - A Fool In Love.wav

Pre-gap length 0:00:02.00

Peak level 85.2 %
Track quality 100.0 %
Test CRC 03AAE839
Copy CRC 03AAE839
Copy OK

Track 6
Filename D:\FLAC\Ike & Tina Turner - So Fine (1968) [FLAC]\06 - I Better Get Ta Steppin'.wav

Pre-gap length 0:00:02.00

Peak level 95.0 %
Track quality 100.0 %
Test CRC 5F76B424
Copy CRC 5F76B424
Copy OK

Track 7
Filename D:\FLAC\Ike & Tina Turner - So Fine (1968) [FLAC]\07 - Shake A Tail Feather.wav

Pre-gap length 0:00:02.00

Peak level 95.0 %
Track quality 100.0 %
Test CRC 67BE151D
Copy CRC 67BE151D
Copy OK

Track 8
Filename D:\FLAC\Ike & Tina Turner - So Fine (1968) [FLAC]\08 - So Fine.wav

Pre-gap length 0:00:02.00

Peak level 95.0 %
Track quality 100.0 %
Test CRC 13FF08EE
Copy CRC 13FF08EE
Copy OK

Track 9
Filename D:\FLAC\Ike & Tina Turner - So Fine (1968) [FLAC]\09 - We Need An Understanding.wav

Pre-gap length 0:00:02.00

Peak level 95.0 %
Track quality 100.0 %
Test CRC F471FB78
Copy CRC F471FB78
Copy OK

Track 10
Filename D:\FLAC\Ike & Tina Turner - So Fine (1968) [FLAC]\10 - You're So Fine.wav

Pre-gap length 0:00:02.00

Peak level 95.2 %
Track quality 100.0 %
Test CRC D5688345
Copy CRC D5688345
Copy OK

Track 11
Filename D:\FLAC\Ike & Tina Turner - So Fine (1968) [FLAC]\11 - Cussin' Cryin' And Carryin' On.wav

Pre-gap length 0:00:02.00

Peak level 99.1 %
Track quality 100.0 %
Test CRC A33BBA50
Copy CRC A33BBA50
Copy OK

Track 12
Filename D:\FLAC\Ike & Tina Turner - So Fine (1968) [FLAC]\12 - Poor Little Fool.wav

Pre-gap length 0:00:02.00

Peak level 89.9 %
Track quality 100.0 %
Test CRC CE2F2F8C
Copy CRC CE2F2F8C
Copy OK

Track 13
Filename D:\FLAC\Ike & Tina Turner - So Fine (1968) [FLAC]\13 - So Blue Over You.wav

Pre-gap length 0:00:02.00

Peak level 99.2 %
Track quality 100.0 %
Test CRC A38D5010
Copy CRC A38D5010
Copy OK

Track 14
Filename D:\FLAC\Ike & Tina Turner - So Fine (1968) [FLAC]\14 - Nothing You Can Do Boy (To Change My Way).wav

Pre-gap length 0:00:02.00

Peak level 100.0 %
Track quality 99.9 %
Test CRC FFC685D7
Copy CRC FFC685D7
Copy OK

Track 15
Filename D:\FLAC\Ike & Tina Turner - So Fine (1968) [FLAC]\15 - I'm Fed Up.wav

Pre-gap length 0:00:02.00

Peak level 96.3 %
Track quality 99.9 %
Test CRC 875F06D6
Copy CRC 875F06D6
Copy OK

Track 16
Filename D:\FLAC\Ike & Tina Turner - So Fine (1968) [FLAC]\16 - You Got What You Wanted.wav

Pre-gap length 0:00:02.00

Peak level 96.8 %
Track quality 100.0 %
Test CRC 9DCDBFE3
Copy CRC 9DCDBFE3
Copy OK

Track 17
Filename D:\FLAC\Ike & Tina Turner - So Fine (1968) [FLAC]\17 - Make 'Em Wait.wav

Pre-gap length 0:00:02.00

Peak level 95.0 %
Track quality 100.0 %
Test CRC 8CFD3DE4
Copy CRC 8CFD3DE4
Copy OK

Track 18
Filename D:\FLAC\Ike & Tina Turner - So Fine (1968) [FLAC]\18 - Beauty Is Just Skin Deep.wav

Pre-gap length 0:00:02.00

Peak level 95.0 %
Track quality 100.0 %
Test CRC 179C1367
Copy CRC 179C1367
Copy OK

No errors occured


End of status report