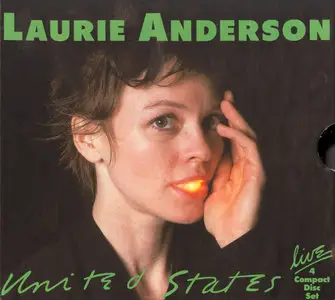 Laurie Anderson - United States Live (1983) {4CD Set Warner Bros. 9251922 rel 1991}
EAC rip (secure mode) | FLAC (tracks)+CUE+LOG -> 1.26 Gb | MP3 @320 -> 702 Mb
Full Artwork @ 300 dpi (jpg) -> 75 Mb | 5% repair rar
© 1983, 1991 Warner Bros. | 9 25192 2
Experimental Music / Avant-Garde / Alternative
Once her popularity seemed assured, Warner Bros. felt safe releasing this five-record set (since reissued on four CDs) comprising United States' entire four-and-a-half hours. It's not the first place I'd recommend going to hear Anderson's work, but for those so inclined it's well worth the effort. Although live performances of United States included film segments that ran during some of her monologues, United States is about communication and how we interpret and use language. It's a bit pretentious, a tad long-winded, and its size makes it unwieldy to listen to in one sitting, but this is an important work loaded with enough insight, wit, and humanity to make relistening and re-evaluating worthwhile.
UNITED STATES OF AMERICA presents a complete performance piece that includes songs featured on Anderson's other albums. It was presented in four parts (Transportation, Politics, Money, Love) which were presented in sections of two per evening. Each CD or cassette presents a single part.

UNITED STATES is Laurie Anderson's masterwork, a 78-track testimonial to her experimental genius. Most of the material on these four discs was recorded live at the Brooklyn Academy of Music in early 1983. Reprising nearly all of the tracks her 1982 debut album, BIG SCIENCE–sometimes in radically altered form–and previewing "Blue Lagoon" and "Hothead (La Langue D'Amour)" (both of which would turn up on 1984s MR. HEARTBREAK), this is a comprehensive collection.

UNITED STATES showcases all things Anderson, from her unique self-built instruments (both "Pictures Of It" and "Three Walking Songs" highlight her tape-bow violin) to the skewed sense of logic that informs her lyrics. Anderson often assumes the stance of an unusually incisive and witty stand-up comedienne. She introduces many of her compositions with lengthy stories. These usually conclude with bizarre punch lines, often at right angles to the rest of the tale. When taken individually, the pieces on UNITED STATES don't appear to be directly interrelated. As a whole, however, the album conveys Anderson's dryly comic statement about American–and, by extension, Western–culture.
Recorded at The Brooklyn Academy Of Music, Brooklyn, New York, February 7-10, 1983.Personnel:
Laurie Anderson (vocals, tamboura, violin, electric violin, synthesizer, Oberheim synthesizer, Synclavier, Jew's harp, tambourine); Peter Laurence Gordon (vocals, synthesizer); Joe Kos, Geraldine Pontius (vocals); Shelley Karson (soprano, soprano saxophone); Bill Obrecht (flute, saxophone); Rufus Harley (bagpipe); Roma Baran (accordion, drums, percussion); Chick Fisher, Chuck Fisher (clarinet, saxophone); Anne DeMarinis (synthesizer, Oberheim synthesizer, Synclavier); David Van Tieghem (drums, percussion).
tracklist:
DISC 1:
01. Say Hello
02. Walk the Dog
03. Violin Solo
04. Closed Circuits - (for voice and amplified mic stand)
05. For a Large and Changing Room
06. Pictures of It - (for acoustic tape bow)
07. Language of the Future, The
08. Cartoon Song
09. Small Voice - (for speaker-in-mouth)
10. Three Walking Songs - (for tape bow violin)
11. Healing Horn, The
12. New Jersey Turnpike
13. So Happy Birthday
14. English
15. Dance of Electricity
16. Three Songs For Paper, Film, And Video
DISC 2:
01. Sax Solo - (for tape bow violin)
02. Sax Duet
03. Born, Never Asked
04. From the Air
05. Beginning French
06. O Superman
07. Talkshow
08. Frames For the Pictures
09. Democratic Way
10. Looking For You
11. Walking and Falling
12. Private Property
13. Neon Duet - (for violin and neon bow)
14. Let X = X
15. Mailman's Nightmare, The
16. Difficult Listening Hour
17. Language Is a Virus From Outer Space
18. Reverb
19. If You Can't Talk About It, Point to It
20. Violin Walk
21. City Song
22. Finnish Farmers
DISC 3:
01. Red Map
02. Hey Ah
03. Bagpipe Solo
04. Steven Weed
05. Time and a Half
06. Voices on Tape
07. Example #22
08. Strike
09. False Documents
10. New York Social Life
11. Curious Phenomenon, A
12. Yankee See
13. I Dreamed I Had to Take a Test
14. Running Dogs
15. Four, Three, Two, One
16. Big Top, The
17. It Was up in the Mountains
18. Odd Objects - (for light-in-mouth)
19. Dr. Miller
20. Big Science
21. Big Science Reprise
DISC 4:
01. Cello Solo
02. It Tango
03. Blue Lagoon
04. Hothead (La Langue d'Amour)
05. Stiff Neck
06. Telephone Song
07. Sweaters
08. We've Got Four Big Clocks (And They're All Ticking)
09. Song For Two Jims
10. Over the River
11. Mach 20
12. Rising Sun
13. Visitors, The
14. Stranger, The
15. Classified
16. Going Somewhere?
17. Fireworks
18. Dog Show
19. Lighting Out For the Territories
EAC extraction logfile from 14. December 2007, 21:31 for CD
Laurie Anderson / United States Live (Disc 1)

Used drive : HP CD-Writer cd16b Adapter: 1 ID: 0
Read mode : Secure with NO C2, accurate stream, disable cache
Read offset correction : 12
Overread into Lead-In and Lead-Out : No

Used output format : C:\Program Files\FLAC\flac.exe (User Defined Encoder)
192 kBit/s
Additional command line options : -8 -V -T "ARTIST=%a" -T "TITLE=%t" -T "ALBUM=%g" -T "DATE=%y" -T "TRACKNUMBER=%n" -T "GENRE=%m" -T "COMMENT=EAC FLAC -8" %s

Other options :
Fill up missing offset samples with silence : Yes
Delete leading and trailing silent blocks : No
Installed external ASPI interface


Track 1
Filename D:\Laurie Anderson - United States Live (1984) [FLAC] {4-CD}\Disc1of4\01 - Say Hello.wav

Pre-gap length 0:00:02.42

Peak level 84.7 %
Track quality 100.0 %
Test CRC 600C5291
Copy CRC 600C5291
Copy OK

Track 2
Filename D:\Laurie Anderson - United States Live (1984) [FLAC] {4-CD}\Disc1of4\02 - Walk the Dog.wav

Peak level 70.4 %
Track quality 100.0 %
Test CRC 62DA5975
Copy CRC 62DA5975
Copy OK

Track 3
Filename D:\Laurie Anderson - United States Live (1984) [FLAC] {4-CD}\Disc1of4\03 - Violin Solo.wav

Pre-gap length 0:00:04.53

Peak level 78.2 %
Track quality 100.0 %
Test CRC 62AD871D
Copy CRC 62AD871D
Copy OK

Track 4
Filename D:\Laurie Anderson - United States Live (1984) [FLAC] {4-CD}\Disc1of4\04 - Closed Circuits (for voice and amplified mic stand).wav

Pre-gap length 0:00:03.09

Peak level 69.2 %
Track quality 100.0 %
Test CRC E4C5C88F
Copy CRC E4C5C88F
Copy OK

Track 5
Filename D:\Laurie Anderson - United States Live (1984) [FLAC] {4-CD}\Disc1of4\05 - For a Large and Changing Room.wav

Peak level 75.4 %
Track quality 100.0 %
Test CRC FDD23A88
Copy CRC FDD23A88
Copy OK

Track 6
Filename D:\Laurie Anderson - United States Live (1984) [FLAC] {4-CD}\Disc1of4\06 - Pictures of It (for acoustic Tape Bow).wav

Peak level 91.9 %
Track quality 100.0 %
Test CRC DEF6BCDC
Copy CRC DEF6BCDC
Copy OK

Track 7
Filename D:\Laurie Anderson - United States Live (1984) [FLAC] {4-CD}\Disc1of4\07 - The Language Of The Future.wav

Peak level 54.6 %
Track quality 100.0 %
Test CRC 61E95DE4
Copy CRC 61E95DE4
Copy OK

Track 8
Filename D:\Laurie Anderson - United States Live (1984) [FLAC] {4-CD}\Disc1of4\08 - Cartoon Song.wav

Pre-gap length 0:00:01.97

Peak level 38.5 %
Track quality 100.0 %
Test CRC ECA6D49B
Copy CRC ECA6D49B
Copy OK

Track 9
Filename D:\Laurie Anderson - United States Live (1984) [FLAC] {4-CD}\Disc1of4\09 - Small Voice (for speaker-in-mouth).wav

Pre-gap length 0:00:00.16

Peak level 18.4 %
Track quality 100.0 %
Test CRC 3EFC1A10
Copy CRC 3EFC1A10
Copy OK

Track 10
Filename D:\Laurie Anderson - United States Live (1984) [FLAC] {4-CD}\Disc1of4\10 - Three Walking Songs (for Tape Bow Violin).wav

Peak level 24.3 %
Track quality 99.9 %
Test CRC CE8C9B2A
Copy CRC CE8C9B2A
Copy OK

Track 11
Filename D:\Laurie Anderson - United States Live (1984) [FLAC] {4-CD}\Disc1of4\11 - The Healing Horn.wav

Peak level 24.8 %
Track quality 100.0 %
Test CRC B942BF8C
Copy CRC B942BF8C
Copy OK

Track 12
Filename D:\Laurie Anderson - United States Live (1984) [FLAC] {4-CD}\Disc1of4\12 - New Jersey Turnpike.wav

Peak level 36.5 %
Track quality 100.0 %
Test CRC 9D76CD03
Copy CRC 9D76CD03
Copy OK

Track 13
Filename D:\Laurie Anderson - United States Live (1984) [FLAC] {4-CD}\Disc1of4\13 - So Happy Birthday.wav

Pre-gap length 0:00:00.33

Peak level 57.6 %
Track quality 100.0 %
Test CRC 12BAF40B
Copy CRC 12BAF40B
Copy OK

Track 14
Filename D:\Laurie Anderson - United States Live (1984) [FLAC] {4-CD}\Disc1of4\14 - EngliSH.wav

Peak level 44.5 %
Track quality 100.0 %
Test CRC 0B30B5F0
Copy CRC 0B30B5F0
Copy OK

Track 15
Filename D:\Laurie Anderson - United States Live (1984) [FLAC] {4-CD}\Disc1of4\15 - Dance of Electricity.wav

Peak level 28.8 %
Track quality 100.0 %
Test CRC A181A39E
Copy CRC A181A39E
Copy OK

Track 16
Filename D:\Laurie Anderson - United States Live (1984) [FLAC] {4-CD}\Disc1of4\16 - Three Songs for Paper, Film, and Video.wav

Peak level 77.7 %
Track quality 100.0 %
Test CRC B63B127C
Copy CRC B63B127C
Copy OK

No errors occured


End of status report





EAC extraction logfile from 16. December 2007, 15:26 for CD
Laurie Anderson / United States Live (Disc 2)

Used drive : HP CD-Writer cd16b Adapter: 1 ID: 0
Read mode : Secure with NO C2, accurate stream, disable cache
Read offset correction : 12
Overread into Lead-In and Lead-Out : No

Used output format : C:\Program Files\FLAC\flac.exe (User Defined Encoder)
192 kBit/s
Additional command line options : -8 -V -T "ARTIST=%a" -T "TITLE=%t" -T "ALBUM=%g" -T "DATE=%y" -T "TRACKNUMBER=%n" -T "GENRE=%m" -T "COMMENT=EAC FLAC -8" %s

Other options :
Fill up missing offset samples with silence : Yes
Delete leading and trailing silent blocks : No
Installed external ASPI interface


Track 1
Filename D:\Laurie Anderson - United States Live (1984) [FLAC] {4-CD}\Disc2of4\01 - Sax Solo (For Tape Bow Violin).wav

Pre-gap length 0:00:02.42

Peak level 27.7 %
Track quality 99.8 %
Test CRC 4BE40B87
Copy CRC 4BE40B87
Copy OK

Track 2
Filename D:\Laurie Anderson - United States Live (1984) [FLAC] {4-CD}\Disc2of4\02 - Sax Duet.wav

Peak level 27.6 %
Track quality 100.0 %
Test CRC 82797E31
Copy CRC 82797E31
Copy OK

Track 3
Filename D:\Laurie Anderson - United States Live (1984) [FLAC] {4-CD}\Disc2of4\03 - Born, Never Asked.wav

Pre-gap length 0:00:00.13

Peak level 67.1 %
Track quality 100.0 %
Test CRC 843010DE
Copy CRC 843010DE
Copy OK

Track 4
Filename D:\Laurie Anderson - United States Live (1984) [FLAC] {4-CD}\Disc2of4\04 - From the Air.wav

Pre-gap length 0:00:02.13

Peak level 83.5 %
Track quality 100.0 %
Test CRC B772648D
Copy CRC B772648D
Copy OK

Track 5
Filename D:\Laurie Anderson - United States Live (1984) [FLAC] {4-CD}\Disc2of4\05 - Beginning French.wav

Pre-gap length 0:00:00.06

Peak level 29.0 %
Track quality 100.0 %
Test CRC 8A2A7AB9
Copy CRC 8A2A7AB9
Copy OK

Track 6
Filename D:\Laurie Anderson - United States Live (1984) [FLAC] {4-CD}\Disc2of4\06 - O Superman.wav

Peak level 72.2 %
Track quality 100.0 %
Test CRC 4C071906
Copy CRC 4C071906
Copy OK

Track 7
Filename D:\Laurie Anderson - United States Live (1984) [FLAC] {4-CD}\Disc2of4\07 - Talkshow.wav

Peak level 99.6 %
Track quality 100.0 %
Test CRC 4CAEBB3F
Copy CRC 4CAEBB3F
Copy OK

Track 8
Filename D:\Laurie Anderson - United States Live (1984) [FLAC] {4-CD}\Disc2of4\08 - Frames for the Pictures.wav

Pre-gap length 0:00:02.16

Peak level 44.7 %
Track quality 99.8 %
Test CRC CA42CEEF
Copy CRC CA42CEEF
Copy OK

Track 9
Filename D:\Laurie Anderson - United States Live (1984) [FLAC] {4-CD}\Disc2of4\09 - Democratic Way.wav

Peak level 34.0 %
Track quality 99.8 %
Test CRC 03EC0D9F
Copy CRC 03EC0D9F
Copy OK

Track 10
Filename D:\Laurie Anderson - United States Live (1984) [FLAC] {4-CD}\Disc2of4\10 - Looking for You.wav

Peak level 24.8 %
Track quality 100.0 %
Test CRC D5CF0B63
Copy CRC D5CF0B63
Copy OK

Track 11
Filename D:\Laurie Anderson - United States Live (1984) [FLAC] {4-CD}\Disc2of4\11 - Walking and Falling.wav

Peak level 35.7 %
Track quality 99.8 %
Test CRC ED5492D7
Copy CRC ED5492D7
Copy OK

Track 12
Filename D:\Laurie Anderson - United States Live (1984) [FLAC] {4-CD}\Disc2of4\12 - Private Property.wav

Peak level 29.2 %
Track quality 100.0 %
Test CRC DEBB31E8
Copy CRC DEBB31E8
Copy OK

Track 13
Filename D:\Laurie Anderson - United States Live (1984) [FLAC] {4-CD}\Disc2of4\13 - Neon Duet (for violin and neon bow).wav

Peak level 41.4 %
Track quality 100.0 %
Test CRC 06FE3342
Copy CRC 06FE3342
Copy OK

Track 14
Filename D:\Laurie Anderson - United States Live (1984) [FLAC] {4-CD}\Disc2of4\14 - Let X=X.wav

Peak level 97.1 %
Track quality 99.9 %
Test CRC A18990DF
Copy CRC A18990DF
Copy OK

Track 15
Filename D:\Laurie Anderson - United States Live (1984) [FLAC] {4-CD}\Disc2of4\15 - The Mailman's Nightmare.wav

Pre-gap length 0:00:00.80

Peak level 27.1 %
Track quality 100.0 %
Test CRC 53534938
Copy CRC 53534938
Copy OK

Track 16
Filename D:\Laurie Anderson - United States Live (1984) [FLAC] {4-CD}\Disc2of4\16 - Difficult Listening Hour.wav

Peak level 66.5 %
Track quality 99.9 %
Test CRC A30FDA1F
Copy CRC A30FDA1F
Copy OK

Track 17
Filename D:\Laurie Anderson - United States Live (1984) [FLAC] {4-CD}\Disc2of4\17 - Language is a virus from outer space (William S. Burroughs).wav

Pre-gap length 0:00:01.93

Peak level 93.8 %
Track quality 100.0 %
Test CRC D857121B
Copy CRC D857121B
Copy OK

Track 18
Filename D:\Laurie Anderson - United States Live (1984) [FLAC] {4-CD}\Disc2of4\18 - Reverb.wav

Peak level 51.5 %
Track quality 100.0 %
Test CRC C4DE378A
Copy CRC C4DE378A
Copy OK

Track 19
Filename D:\Laurie Anderson - United States Live (1984) [FLAC] {4-CD}\Disc2of4\19 - If You Can't Talk About It, Point To It (Ludwig Wittgenstein & Reverend Ike).wav

Peak level 31.5 %
Track quality 100.0 %
Test CRC C52A0156
Copy CRC C52A0156
Copy OK

Track 20
Filename D:\Laurie Anderson - United States Live (1984) [FLAC] {4-CD}\Disc2of4\20 - Violin Walk.wav

Peak level 28.4 %
Track quality 100.0 %
Test CRC 98E8256C
Copy CRC 98E8256C
Copy OK

Track 21
Filename D:\Laurie Anderson - United States Live (1984) [FLAC] {4-CD}\Disc2of4\21 - City Song.wav

Peak level 94.5 %
Track quality 100.0 %
Test CRC 807CA856
Copy CRC 807CA856
Copy OK

Track 22
Filename D:\Laurie Anderson - United States Live (1984) [FLAC] {4-CD}\Disc2of4\22 - Finnish Farmers.wav

Peak level 29.0 %
Track quality 100.0 %
Test CRC 5FE3C601
Copy CRC 5FE3C601
Copy OK

No errors occured


End of status report





EAC extraction logfile from 18. December 2007, 15:08 for CD
Laurie Anderson / United States Live (Disc 3)

Used drive : HP CD-Writer cd16b Adapter: 1 ID: 0
Read mode : Secure with NO C2, accurate stream, disable cache
Read offset correction : 12
Overread into Lead-In and Lead-Out : No

Used output format : C:\Program Files\FLAC\flac.exe (User Defined Encoder)
192 kBit/s
Additional command line options : -8 -V -T "ARTIST=%a" -T "TITLE=%t" -T "ALBUM=%g" -T "DATE=%y" -T "TRACKNUMBER=%n" -T "GENRE=%m" -T "COMMENT=EAC FLAC -8" %s

Other options :
Fill up missing offset samples with silence : Yes
Delete leading and trailing silent blocks : No
Installed external ASPI interface


Track 1
Filename D:\Laurie Anderson - United States Live (1984) [FLAC] {4-CD}\Disc3of4\01 - Red Map.wav

Pre-gap length 0:00:02.42

Peak level 40.8 %
Track quality 100.0 %
Test CRC 89B6F20D
Copy CRC 89B6F20D
Copy OK

Track 2
Filename D:\Laurie Anderson - United States Live (1984) [FLAC] {4-CD}\Disc3of4\02 - Hey Ah.wav

Pre-gap length 0:00:01.76

Peak level 63.3 %
Track quality 99.9 %
Test CRC FC6E9CD5
Copy CRC FC6E9CD5
Copy OK

Track 3
Filename D:\Laurie Anderson - United States Live (1984) [FLAC] {4-CD}\Disc3of4\03 - Bagpipe Solo.wav

Peak level 14.9 %
Track quality 99.9 %
Test CRC C0C0BC7B
Copy CRC C0C0BC7B
Copy OK

Track 4
Filename D:\Laurie Anderson - United States Live (1984) [FLAC] {4-CD}\Disc3of4\04 - Steven Weed.wav

Pre-gap length 0:00:00.69

Peak level 17.4 %
Track quality 100.0 %
Test CRC 24755C9F
Copy CRC 24755C9F
Copy OK

Track 5
Filename D:\Laurie Anderson - United States Live (1984) [FLAC] {4-CD}\Disc3of4\05 - Time and a Half.wav

Peak level 37.0 %
Track quality 100.0 %
Test CRC 1F22E478
Copy CRC 1F22E478
Copy OK

Track 6
Filename D:\Laurie Anderson - United States Live (1984) [FLAC] {4-CD}\Disc3of4\06 - Voices on Tape.wav

Peak level 37.2 %
Track quality 99.8 %
Test CRC 65E8FCD5
Copy CRC 65E8FCD5
Copy OK

Track 7
Filename D:\Laurie Anderson - United States Live (1984) [FLAC] {4-CD}\Disc3of4\07 - Example #22.wav

Peak level 100.0 %
Track quality 100.0 %
Test CRC 8952AF64
Copy CRC 8952AF64
Copy OK

Track 8
Filename D:\Laurie Anderson - United States Live (1984) [FLAC] {4-CD}\Disc3of4\08 - Strike.wav

Peak level 21.4 %
Track quality 99.9 %
Test CRC 7DFDCA91
Copy CRC 7DFDCA91
Copy OK

Track 9
Filename D:\Laurie Anderson - United States Live (1984) [FLAC] {4-CD}\Disc3of4\09 - False Documents.wav

Peak level 22.8 %
Track quality 100.0 %
Test CRC 5ECAC859
Copy CRC 5ECAC859
Copy OK

Track 10
Filename D:\Laurie Anderson - United States Live (1984) [FLAC] {4-CD}\Disc3of4\10 - New York Social Life.wav

Peak level 63.2 %
Track quality 100.0 %
Test CRC 130C06F4
Copy CRC 130C06F4
Copy OK

Track 11
Filename D:\Laurie Anderson - United States Live (1984) [FLAC] {4-CD}\Disc3of4\11 - A Curious Phenomenon.wav

Peak level 25.0 %
Track quality 100.0 %
Test CRC C65ABC96
Copy CRC C65ABC96
Copy OK

Track 12
Filename D:\Laurie Anderson - United States Live (1984) [FLAC] {4-CD}\Disc3of4\12 - Yankee See.wav

Peak level 92.0 %
Track quality 100.0 %
Test CRC 80672E97
Copy CRC 80672E97
Copy OK

Track 13
Filename D:\Laurie Anderson - United States Live (1984) [FLAC] {4-CD}\Disc3of4\13 - I Dreamed I Had to Take a Test….wav

Pre-gap length 0:00:00.13

Peak level 56.2 %
Track quality 100.0 %
Test CRC 5EE02C4E
Copy CRC 5EE02C4E
Copy OK

Track 14
Filename D:\Laurie Anderson - United States Live (1984) [FLAC] {4-CD}\Disc3of4\14 - Running Dogs.wav

Peak level 11.7 %
Track quality 100.0 %
Test CRC 17A1CF2D
Copy CRC 17A1CF2D
Copy OK

Track 15
Filename D:\Laurie Anderson - United States Live (1984) [FLAC] {4-CD}\Disc3of4\15 - Four, Three, Two, One.wav

Peak level 28.5 %
Track quality 100.0 %
Test CRC 64AF7AEF
Copy CRC 64AF7AEF
Copy OK

Track 16
Filename D:\Laurie Anderson - United States Live (1984) [FLAC] {4-CD}\Disc3of4\16 - The Big Top.wav

Peak level 29.6 %
Track quality 100.0 %
Test CRC 6C9F8BCC
Copy CRC 6C9F8BCC
Copy OK

Track 17
Filename D:\Laurie Anderson - United States Live (1984) [FLAC] {4-CD}\Disc3of4\17 - It Was Up In The Mountains.wav

Peak level 25.0 %
Track quality 100.0 %
Test CRC BAD03312
Copy CRC BAD03312
Copy OK

Track 18
Filename D:\Laurie Anderson - United States Live (1984) [FLAC] {4-CD}\Disc3of4\18 - Odd Objects (for light-in-mouth).wav

Peak level 57.6 %
Track quality 99.9 %
Test CRC A0A79AB3
Copy CRC A0A79AB3
Copy OK

Track 19
Filename D:\Laurie Anderson - United States Live (1984) [FLAC] {4-CD}\Disc3of4\19 - Dr. Miller.wav

Peak level 86.4 %
Track quality 100.0 %
Test CRC D2990AD1
Copy CRC D2990AD1
Copy OK

Track 20
Filename D:\Laurie Anderson - United States Live (1984) [FLAC] {4-CD}\Disc3of4\20 - Big Science.wav

Peak level 69.9 %
Track quality 100.0 %
Test CRC 7C60B1B5
Copy CRC 7C60B1B5
Copy OK

Track 21
Filename D:\Laurie Anderson - United States Live (1984) [FLAC] {4-CD}\Disc3of4\21 - Big Science Reprise.wav

Peak level 60.9 %
Track quality 100.0 %
Test CRC 5E75B0E7
Copy CRC 5E75B0E7
Copy OK

No errors occured


End of status report





EAC extraction logfile from 19. December 2007, 17:38 for CD
Laurie Anderson / United States Live (Disc 4)

Used drive : HP CD-Writer cd16b Adapter: 1 ID: 0
Read mode : Secure with NO C2, accurate stream, disable cache
Read offset correction : 12
Overread into Lead-In and Lead-Out : No

Used output format : C:\Program Files\FLAC\flac.exe (User Defined Encoder)
192 kBit/s
Additional command line options : -8 -V -T "ARTIST=%a" -T "TITLE=%t" -T "ALBUM=%g" -T "DATE=%y" -T "TRACKNUMBER=%n" -T "GENRE=%m" -T "COMMENT=EAC FLAC -8" %s

Other options :
Fill up missing offset samples with silence : Yes
Delete leading and trailing silent blocks : No
Installed external ASPI interface


Track 1
Filename D:\Laurie Anderson - United States Live (1984) [FLAC] {4-CD}\Disc4of4\01 - Cello Solo.wav

Pre-gap length 0:00:02.42

Peak level 29.5 %
Track quality 100.0 %
Test CRC B9635FF8
Copy CRC B9635FF8
Copy OK

Track 2
Filename D:\Laurie Anderson - United States Live (1984) [FLAC] {4-CD}\Disc4of4\02 - It Tango.wav

Pre-gap length 0:00:02.13

Peak level 22.9 %
Track quality 100.0 %
Test CRC E4ED8F3E
Copy CRC E4ED8F3E
Copy OK

Track 3
Filename D:\Laurie Anderson - United States Live (1984) [FLAC] {4-CD}\Disc4of4\03 - Blue Lagoon.wav

Pre-gap length 0:00:01.96

Peak level 58.3 %
Track quality 100.0 %
Test CRC 82C5E3AF
Copy CRC 82C5E3AF
Copy OK

Track 4
Filename D:\Laurie Anderson - United States Live (1984) [FLAC] {4-CD}\Disc4of4\04 - Hothead (La Langue d'Amour).wav

Peak level 31.3 %
Track quality 100.0 %
Test CRC 40A2EDC6
Copy CRC 40A2EDC6
Copy OK

Track 5
Filename D:\Laurie Anderson - United States Live (1984) [FLAC] {4-CD}\Disc4of4\05 - Stiff Neck.wav

Peak level 23.0 %
Track quality 100.0 %
Test CRC 653F5528
Copy CRC 653F5528
Copy OK

Track 6
Filename D:\Laurie Anderson - United States Live (1984) [FLAC] {4-CD}\Disc4of4\06 - Telephone Song.wav

Peak level 28.2 %
Track quality 100.0 %
Test CRC EA037740
Copy CRC EA037740
Copy OK

Track 7
Filename D:\Laurie Anderson - United States Live (1984) [FLAC] {4-CD}\Disc4of4\07 - Sweaters.wav

Peak level 39.2 %
Track quality 100.0 %
Test CRC 69AD9FBB
Copy CRC 69AD9FBB
Copy OK

Track 8
Filename D:\Laurie Anderson - United States Live (1984) [FLAC] {4-CD}\Disc4of4\08 - We've Got Four Big Clocks (and they're all ticking).wav

Peak level 95.2 %
Track quality 100.0 %
Test CRC 20873223
Copy CRC 20873223
Copy OK

Track 9
Filename D:\Laurie Anderson - United States Live (1984) [FLAC] {4-CD}\Disc4of4\09 - Song for Two Jims.wav

Pre-gap length 0:00:01.33

Peak level 29.4 %
Track quality 100.0 %
Test CRC 49967BE8
Copy CRC 49967BE8
Copy OK

Track 10
Filename D:\Laurie Anderson - United States Live (1984) [FLAC] {4-CD}\Disc4of4\10 - Over The River.wav

Peak level 30.8 %
Track quality 100.0 %
Test CRC 529E2994
Copy CRC 529E2994
Copy OK

Track 11
Filename D:\Laurie Anderson - United States Live (1984) [FLAC] {4-CD}\Disc4of4\11 - Mach 20.wav

Peak level 44.6 %
Track quality 99.9 %
Test CRC E2DC1636
Copy CRC E2DC1636
Copy OK

Track 12
Filename D:\Laurie Anderson - United States Live (1984) [FLAC] {4-CD}\Disc4of4\12 - Rising Sun.wav

Peak level 25.2 %
Track quality 99.9 %
Test CRC DE8E425E
Copy CRC DE8E425E
Copy OK

Track 13
Filename D:\Laurie Anderson - United States Live (1984) [FLAC] {4-CD}\Disc4of4\13 - The Visitors.wav

Peak level 38.4 %
Track quality 99.9 %
Test CRC 3014CB0F
Copy CRC 3014CB0F
Copy OK

Track 14
Filename D:\Laurie Anderson - United States Live (1984) [FLAC] {4-CD}\Disc4of4\14 - The Stranger.wav

Peak level 40.2 %
Track quality 100.0 %
Test CRC E40DFA6F
Copy CRC E40DFA6F
Copy OK

Track 15
Filename D:\Laurie Anderson - United States Live (1984) [FLAC] {4-CD}\Disc4of4\15 - Classified.wav

Peak level 64.7 %
Track quality 100.0 %
Test CRC 20E58744
Copy CRC 20E58744
Copy OK

Track 16
Filename D:\Laurie Anderson - United States Live (1984) [FLAC] {4-CD}\Disc4of4\16 - Going Somewhere .wav

Peak level 45.0 %
Track quality 100.0 %
Test CRC BD8C88E4
Copy CRC BD8C88E4
Copy OK

Track 17
Filename D:\Laurie Anderson - United States Live (1984) [FLAC] {4-CD}\Disc4of4\17 - Fireworks.wav

Peak level 79.4 %
Track quality 100.0 %
Test CRC 3E12DBEA
Copy CRC 3E12DBEA
Copy OK

Track 18
Filename D:\Laurie Anderson - United States Live (1984) [FLAC] {4-CD}\Disc4of4\18 - Dog Show.wav

Peak level 25.8 %
Track quality 100.0 %
Test CRC FB4732A9
Copy CRC FB4732A9
Copy OK

Track 19
Filename D:\Laurie Anderson - United States Live (1984) [FLAC] {4-CD}\Disc4of4\19 - Lighting Out for the Territories.wav

Peak level 74.6 %
Track quality 100.0 %
Test CRC 9F6DB665
Copy CRC 9F6DB665
Copy OK

No errors occured


End of status report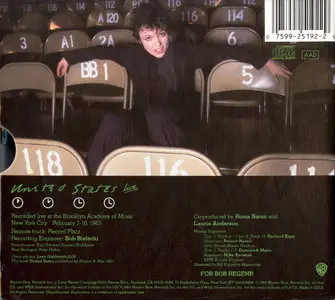 ===