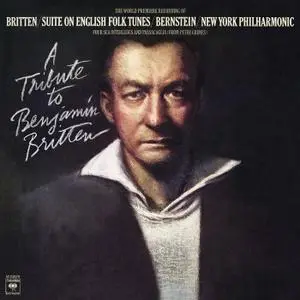 Leonard Bernstein - A Tribute to Benjamin Britten (Remastered) (1977/2018/2021)
WEB FLAC (tracks) - 175 Mb | MP3 CBR 320 kbps - 92 Mb | 00:40:06
Classical | Label: Sony Classical
Leonard Bernstein was an American conductor, composer, pianist, music educator, author, and humanitarian. Among the most important conductors of his time, he was also the first American conductor to receive international acclaim. According to music critic Donal Henahan, he was "one of the most prodigiously talented and successful musicians in American history".
Tracklist:
01. I. Dawn. Lento e tranquillo (3:41)
02. II. Sunday Morning. Allegro spiritoso (3:48)
03. III. Moonlight. Andante comodo e rubato (5:07)
04. IV. Storm. Presto con fuoco - Molto animato largamente - Tempo I (4:22)
05. Passacaglia, Op. 33b (From "Peter Grimes") (Remastered) (8:30)
06. I. "Cakes and Ale". Fast and Rough (2:26)
07. II. "The Bitter Withy". Allegretto (2:49)
08. III. "Hankin Booby". Heavily (2:20)
09. IV. "Hunt the Squirrel". Fast and Gay (1:21)
10. V. "Lord Melbourne". Slow and Languid (5:43)
–––––––––––-

DON'T MODIFY THIS FILE

–––––––––––-

PERFORMER: auCDtect Task Manager, ver. 1.6.0 RC1 build 1.6.0.1
Copyright © 2008-2010 y-soft. All rights reserved

ANALYZER: auCDtect: CD records authenticity detector, version 0.8.2
Copyright © 2004 Oleg Berngardt. All rights reserved.
Copyright © 2004 Alexander Djourik. All rights reserved.


FILE: 10 - Leonard Bernstein - V. ''Lord Melbourne''. Slow and Languid.flac
Size: 24167735 Hash: 3F5D2FF6B5A988AF9B485E863F17E316 Accuracy: -m8
Conclusion: CDDA 100%
Signature: B56D6E0428470681C0670DEDCB03BC6655A3E4A9
FILE: 09 - Leonard Bernstein - IV. ''Hunt the Squirrel''. Fast and Gay.flac
Size: 7208436 Hash: 3466332C2D4D3FEBE7F91BB51D18710A Accuracy: -m8
Conclusion: CDDA 100%
Signature: 2C9E9C9017CE57BEC3B63CDBC4896684971C49E8
FILE: 08 - Leonard Bernstein - III. ''Hankin Booby''. Heavily.flac
Size: 10856771 Hash: C7DA97AE4215A0C8382FFB7E74E73FE3 Accuracy: -m8
Conclusion: CDDA 100%
Signature: CEA151B6F2822DD7592ED0E4C8984E13AF19AAAD
FILE: 07 - Leonard Bernstein - II. ''The Bitter Withy''. Allegretto.flac
Size: 12318961 Hash: 7063F05A3D50F320A5E48A24377CE4D6 Accuracy: -m8
Conclusion: CDDA 100%
Signature: F3570A87B074FDA2822F855626BDADE6E218A3C6
FILE: 06 - Leonard Bernstein - I. ''Cakes and Ale''. Fast and Rough.flac
Size: 11234648 Hash: B7632C329EC68E6F94036E25B97D5094 Accuracy: -m8
Conclusion: CDDA 100%
Signature: 79BE52B4D5D1AB58652C2E7154A1A53F02D72C3B
FILE: 05 - Leonard Bernstein - Passacaglia, Op. 33b (From ''Peter Grimes'') (Remastered).flac
Size: 35494716 Hash: D4CA2C67F526F4D478AF5929F49056C2 Accuracy: -m8
Conclusion: CDDA 100%
Signature: D2DD50E0C0726D1687B2140B93765211050E5998
FILE: 04 - Leonard Bernstein - IV. Storm. Presto con fuoco - Molto animato largamente - Tempo I.flac
Size: 24275880 Hash: 18E0EDB4EBD430ABD2B836F881CC5FAE Accuracy: -m8
Conclusion: CDDA 99%
Signature: B7AA6F4C04A1EA8C8D60EC7C6CBD6B1903EE9751
FILE: 03 - Leonard Bernstein - III. Moonlight. Andante comodo e rubato.flac
Size: 22250474 Hash: 5A9809727090FFC362D39298BD77699D Accuracy: -m8
Conclusion: CDDA 100%
Signature: 4F14192B2D45C0CFC078DA2774DBFAC6C3433FAD
FILE: 02 - Leonard Bernstein - II. Sunday Morning. Allegro spiritoso.flac
Size: 18937938 Hash: 64045D483C64E5013CD4DD1C9882FEAA Accuracy: -m8
Conclusion: CDDA 99%
Signature: 84ECFE48ABB5F9B268C33973264BF6807A85373F
FILE: 01 - Leonard Bernstein - I. Dawn. Lento e tranquillo.flac
Size: 15974501 Hash: D9357B266D7619E4A28F09D7550EE655 Accuracy: -m8
Conclusion: CDDA 100%
Signature: 9D97CC067D80314C91FF19C75080EC5E5DB8C87F