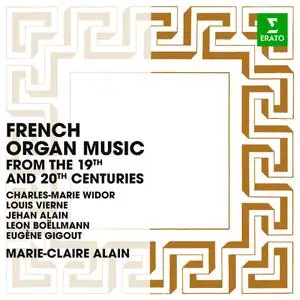 Marie-Claire Alain - French Organ Music from the 19th and 20th Centuries: Widor, Vierne, Alain, Boëllmann & Gigout (2015/2022)
WEB FLAC (tracks) - 221 Mb | MP3 CBR 320 kbps - 156 Mb | 01:07:43
Classical | Label: Warner Classics, Erato Records
When the very young Marie-Claire Alain recorded for Erato for the second time, in late winter of 1955, she did not necessarily suspect that she was participating in a long discographic odyssey. The organist would become one of the emblematic personalities of the Erato catalogue, working with the French firm up until the early 1990s. On 27 February 1955, in the church of Sainte-Clotilde in Paris's 7th arrondissement, she began a series of recordings devoted to French composers of the late 19th and early 20th centuries. She initiallly elaborated a brief programme of famous toccatas: Gigout, Widor and Boëllmann. Brisk tempos, nimble articulations, a wide variety of colours: Marie-Claire Alain charmed with her vivacious spirit – the famous piece by Widor (finale of the Fifth Symphony) is of noteworthy elegance. These youthful accounts already reveal all of Marie-Claire Alain's affinities with this repertoire with which she has not always been associated and of which, in truth, she promotes a fleet, airy, supple vision. However, it was a few weeks later, around 13 March 1955, that Erato offered the young French organist, fully concentrated at the time on Buxtehude's music, her greatest joy: she could defend 'in studio' the works of her elder brother, Jehan Alain. It is a veritable godsend to rediscover these youthful documents, keen and always pertinent, by Marie-Claire Alain, recorded in the church of Saint-Merri a little more than a year after her very first recording for Erato devoted to J. S. Bach.
Tracklist:
1.
Widor: Organ Symphony No. 5 in F Minor, Op. 42 No. 1: V. Finale. Toccata
(05:22)
2.
Gigout: 10 Pièces pour orgue: No. 4, Toccata
(03:12)
3.
Boëllmann: Suite gothique, Op. 25: IV. Toccata
(03:57)
4.
Alain: Deux danses à Agni Yavishta: No. 1
(01:07)
5.
Alain: Deux danses à Agni Yavishta: No. 2
(03:01)
6.
Alain: Le jardin suspendu
(05:42)
7.
Alain: Variations sur un thème de Clément Janequin
(04:56)
8.
Alain: Berceuse sur deux notes qui cornent
(02:23)
9.
Alain: Litanies
(04:24)
10.
Alain: Postlude pour l'office de Complies
(04:29)
11.
Alain: Suite pour orgue: I. Introduction et variations
(07:01)
12.
Alain: Suite pour orgue: II. Scherzo
(03:49)
13.
Alain: Suite pour orgue: III. Choral
(04:35)
14.
Vierne: Organ Symphony No. 1 in D Minor, Op. 14: VI. Finale
(06:00)
15.
Vierne: Organ Symphony No. 2 in E Minor, Op. 20: III. Scherzo
(03:46)
16.
Vierne: 24 Pièces de fantaisie, Suite No. 2, Op. 53: No. 6, Toccata
(03:51)
–––––––––––-

DON'T MODIFY THIS FILE

–––––––––––-

PERFORMER: auCDtect Task Manager, ver. 1.6.0 RC1 build 1.6.0.1
Copyright © 2008-2010 y-soft. All rights reserved

ANALYZER: auCDtect: CD records authenticity detector, version 0.8.2
Copyright © 2004 Oleg Berngardt. All rights reserved.
Copyright © 2004 Alexander Djourik. All rights reserved.


FILE: 16 - 24 Pièces de fantaisie, Suite No. 2, Op. 53_ No. 6, Toccata.flac
Size: 15323773 Hash: 100B4E68EAA2966E099D5DE199B242B7 Accuracy: -m8
Conclusion: CDDA 92%
Signature: 2D3453F06C1E64DE6552686BB60F1886B7049A91
FILE: 15 - Organ Symphony No. 2 in E Minor, Op. 20_ III. Scherzo.flac
Size: 12656253 Hash: 2922E276B6F09800A05D514B8E6F404F Accuracy: -m8
Conclusion: CDDA 76%
Signature: 029E7FA205B1A8A699529CFB3435FB5370AC27B2
FILE: 14 - Organ Symphony No. 1 in D Minor, Op. 14_ VI. Finale.flac
Size: 22950643 Hash: 17CABB052EBFCA0017F024116747C3F7 Accuracy: -m8
Conclusion: CDDA 76%
Signature: 8651B96C20BB9509288AB4B8C8CC3E725A8AF21C
FILE: 13 - Suite pour orgue_ III. Choral.flac
Size: 16421919 Hash: B2EF55B0D3DEC54E8C12874D0376983A Accuracy: -m8
Conclusion: CDDA 87%
Signature: BD001518CF43AB933BE83D4DCD9AFF68DABD179D
FILE: 12 - Suite pour orgue_ II. Scherzo.flac
Size: 11936196 Hash: A238E0B28642FFF0631D5CA9D26CE8CA Accuracy: -m8
Conclusion: CDDA 49%
Signature: B23ABF8DA91D9801DD09C5592DEC6C7DFD07988B
FILE: 11 - Suite pour orgue_ I. Introduction et variations.flac
Size: 19225164 Hash: 15C2C8E1E969A85095D41110D900BC2F Accuracy: -m8
Conclusion: MPEG 97%
Signature: 8A98E4B6B47127E9E537C511E3C0D182F7121E87
FILE: 10 - Postlude pour l'office de Complies.flac
Size: 12476923 Hash: AFED2E9A220EDA9747E865A3F39CC779 Accuracy: -m8
Conclusion: MPEG 99%
Signature: 9C086C8616CBE928A1AA5A1F8263D1E3B33B54D0
FILE: 09 - Litanies.flac
Size: 15270608 Hash: 99F06C3081B9B4F302C54AB9FBFFF330 Accuracy: -m8
Conclusion: CDDA 43%
Signature: 4F23D574AF3E54591A06748E723207313DA14E3B
FILE: 08 - Berceuse sur deux notes qui cornent.flac
Size: 7896366 Hash: 412877FF0A722EABABCE38BFB4466179 Accuracy: -m8
Conclusion: CDDA 100%
Signature: C5EDE41BAB05454A64722C330A3AE1A7D1CB71EC
FILE: 07 - Variations sur un thème de Clément Janequin.flac
Size: 15831434 Hash: 043A835B13A35A8BF11069B71539C8E1 Accuracy: -m8
Conclusion: CDDA 100%
Signature: AECC4F7638FDE682602D5C87BBA4C2751DAC9A2E
FILE: 06 - Le jardin suspendu.flac
Size: 18006628 Hash: 93C84231C7856160B362F427C1767E43 Accuracy: -m8
Conclusion: CDDA 100%
Signature: F9CEEBEAF8C0A6710893C431A486B871DC935F95
FILE: 05 - Deux danses à Agni Yavishta_ No. 2.flac
Size: 10348315 Hash: 13403D6398AE94166EB3CBCCAAE5A5C9 Accuracy: -m8
Conclusion: CDDA 100%
Signature: DD97120E5E3D82998AC6D7437A3CC76EF1E278F5
FILE: 04 - Deux danses à Agni Yavishta_ No. 1.flac
Size: 3664824 Hash: A038A97BEFAEA21CE30947BE74B319B0 Accuracy: -m8
Conclusion: CDDA 100%
Signature: 3A34D89269F8419CB945EE1F8E415D6B59B63550
FILE: 03 - Suite gothique, Op. 25_ IV. Toccata.flac
Size: 14993691 Hash: A155B92714C303B15527F7E9BC604971 Accuracy: -m8
Conclusion: CDDA 86%
Signature: CB9014055EC25765951EEFE5F9C5923B74DA7F16
FILE: 02 - 10 Pièces pour orgue_ No. 4, Toccata.flac
Size: 12858964 Hash: A149FA5B4C58F7A586E8831DBD46919B Accuracy: -m8
Conclusion: CDDA 100%
Signature: FD818E0A7EDDE156F0651CB5498439604EE6C109
FILE: 01 - Organ Symphony No. 5 in F Minor, Op. 42 No. 1_ V. Finale. Toccata.flac
Size: 20636423 Hash: 13D171BA68B4620F67FDDCE5D6EAE8E4 Accuracy: -m8
Conclusion: CDDA 87%
Signature: ADBE9C8D49C50225D84451D9BF0C35A76581C971