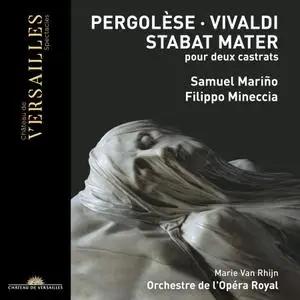 Marie van Rhijn, Samuel Mariño, Filippo Mineccia, Orchestre de l'Opéra Royal - Pergolèse & Vivaldi: Stabat Mater pour deux castrats (2021)
WEB FLAC (tracks) - 322 Mb | MP3 CBR 320 kbps - 181 Mb | Digital booklet | 01:17:31
Classical, Opera | Label: Château de Versailles Spectacles
These Stabat maters represent a deep-rooted exploration of the solemnity of the sacred and the operatic aspect of musical writing, both in the sombre and plaintive tonality of F minor. Comparing these masterpieces, that of Antonio Vivaldi (1712) and that of Giovanni Battista Pergolesi (1736), allowing them to resonate in the acoustics of the Royal Chapel of the Château de Versailles, just as they could have been heard in the 18th century, inspires and awakens a desire for balance between internalised faith – spirituality, and externalised faith – splendour. Pergolesi's work was very popular in France. Given on the occasion of the feast of the Virgin, the Stabat mater dolorosa is based on a 13th century liturgical text by Jacopone da Todi, reintroduced by Pope Benedict XIII in 1727.
Tracklist:
01. Pergolesi: Stabat Mater, P. 77: I. Stabat Mater dolorosa
02. Pergolesi: Stabat Mater, P. 77: II. Cuius animam gementem
03. Pergolesi: Stabat Mater, P. 77: III. O quam tristis
04. Pergolesi: Stabat Mater, P. 77: IV. Quae maerebat et dolebat
05. Pergolesi: Stabat Mater, P. 77: V. Quis est homo
06. Pergolesi: Stabat Mater, P. 77: VI. Vidit suum dulcem natum
07. Pergolesi: Stabat Mater, P. 77: VII. Eia, mater, fons amoris
08. Pergolesi: Stabat Mater, P. 77: VIII. Fac ut ardeat cor meum
09. Pergolesi: Stabat Mater, P. 77: IX. Sancta Mater, istud agas
10. Pergolesi: Stabat Mater, P. 77: X. Fac, ut portem Christi mortem
11. Pergolesi: Stabat Mater, P. 77: XI. Inflammatus et accensus
12. Pergolesi: Stabat Mater, P. 77: XII. Quando corpus morietur
13. Vivaldi: In furore iustissimae irae, RV 626: I. Aria. In furore iustissimae irae (Allegro)
14. Vivaldi: In furore iustissimae irae, RV 626: II. Recitativo. Miserationum Pater piisime
15. Vivaldi: In furore iustissimae irae, RV 626: III. Aria. Tunc meus fletus (Largo)
16. Vivaldi: In furore iustissimae irae, RV 626: IV. Alleluia (Allegro)
17. Vivaldi: Concerto for Violin, Oboe and Organ in C Major, RV 554a: I. Allegro
18. Vivaldi: Concerto for Violin, Oboe and Organ in C Major, RV 554a: II. Adagio
19. Vivaldi: Concerto for Violin, Oboe and Organ in C Major, RV 554a: III. Allegro
20. Vivaldi: Stabat Mater, RV 621: I. Stabat Mater
21. Vivaldi: Stabat Mater, RV 621: II. Cuius animam
22. Vivaldi: Stabat Mater, RV 621: III. O quam tristis
23. Vivaldi: Stabat Mater, RV 621: IV. Quis est homo
24. Vivaldi: Stabat Mater, RV 621: V. Quis non posset
25. Vivaldi: Stabat Mater, RV 621: VI. Pro peccatis
26. Vivaldi: Stabat Mater, RV 621: VII. Eja Mater
27. Vivaldi: Stabat Mater, RV 621: VIII. Fac ut ardeat
28. Vivaldi: Stabat Mater, RV 621: IX. Amen
–––––––––––-

DON'T MODIFY THIS FILE

–––––––––––-

PERFORMER: auCDtect Task Manager, ver. 1.6.0 RC1 build 1.6.0.1
Copyright © 2008-2010 y-soft. All rights reserved

ANALYZER: auCDtect: CD records authenticity detector, version 0.8.2
Copyright © 2004 Oleg Berngardt. All rights reserved.
Copyright © 2004 Alexander Djourik. All rights reserved.


FILE: 28 - Marie van Rhijn, Samuel Mariño, Filippo Mineccia, Orchestre de l'Opéra Royal - Vivaldi- Stabat Mater, RV 621- IX. Amen.flac
Size: 4706228 Hash: F216A417D7FC151EE46321BCFA2512B3 Accuracy: -m8
Conclusion: CDDA 100%
Signature: 6111B7157FC103BB4198BFAFC127FCABB1DB736E
FILE: 27 - Marie van Rhijn, Samuel Mariño, Filippo Mineccia, Orchestre de l'Opéra Royal - Vivaldi- Stabat Mater, RV 621- VIII. Fac ut ardeat.flac
Size: 6124465 Hash: 706103973E7580D8F18F9454588C6A61 Accuracy: -m8
Conclusion: CDDA 100%
Signature: 9684D2E9BF99BA6AC8C708C9F44BB38DED8857BA
FILE: 26 - Marie van Rhijn, Samuel Mariño, Filippo Mineccia, Orchestre de l'Opéra Royal - Vivaldi- Stabat Mater, RV 621- VII. Eja Mater.flac
Size: 11192033 Hash: 0FE8BAA74C3F34D1605764A2A5A373B1 Accuracy: -m8
Conclusion: ???
Signature: 3BF3FF235CD8AF8D7C1A518037B149E9DC3B1C23
FILE: 25 - Marie van Rhijn, Samuel Mariño, Filippo Mineccia, Orchestre de l'Opéra Royal - Vivaldi- Stabat Mater, RV 621- VI. Pro peccatis.flac
Size: 6798014 Hash: 838ED5BADC1BD53D2EF8B77EBE65B3A9 Accuracy: -m8
Conclusion: CDDA 86%
Signature: 3EB8335956D7652810202ABAD2E67D613183CB33
FILE: 24 - Marie van Rhijn, Samuel Mariño, Filippo Mineccia, Orchestre de l'Opéra Royal - Vivaldi- Stabat Mater, RV 621- V. Quis non posset.flac
Size: 6642635 Hash: 1E5DB12496ADCA9098DBB126C8CAC55B Accuracy: -m8
Conclusion: CDDA 92%
Signature: A6ADADEA90C9999FCD333C61B04BCAD714AAC4E3
FILE: 23 - Vivaldi- Stabat Mater, RV 621- IV. Quis est homo.flac
Size: 11810710 Hash: 66298F43DFBCB00678DAB9C2A757512B Accuracy: -m8
Conclusion: CDDA 54%
Signature: 16E68745E50F148F72DE205F7BCED091C641D8AD
FILE: 22 - Vivaldi- Stabat Mater, RV 621- III. O quam tristis.flac
Size: 7469551 Hash: F6A8CCC29A47F750677E10F786DFEA5D Accuracy: -m8
Conclusion: CDDA 86%
Signature: E964580C319CCEAF6F51CE55C93CFAD614C6BA7C
FILE: 21 - Vivaldi- Stabat Mater, RV 621- II. Cuius animam.flac
Size: 5890074 Hash: 751D243C4172AB6BCB7005BB76F4DB0C Accuracy: -m8
Conclusion: CDDA 100%
Signature: 54EE6627A89E2047F38663A7EDFB57C9914977CC
FILE: 20 - Vivaldi- Stabat Mater, RV 621- I. Stabat Mater.flac
Size: 12737663 Hash: 7A9BD33488C081164BA351F35B28FE43 Accuracy: -m8
Conclusion: CDDA 49%
Signature: 50F4054E5E65C14ED0630E2D5730BD5F8B50BE6D
FILE: 19 - Vivaldi- Concerto for Violin, Oboe and Organ in C Major, RV 554a- III. Allegro.flac
Size: 16217739 Hash: FB2F5775163BA0395D969DAEE54CAB81 Accuracy: -m8
Conclusion: CDDA 100%
Signature: 392141B1C82CD29D5087947E2953E0D375041251
FILE: 18 - Vivaldi- Concerto for Violin, Oboe and Organ in C Major, RV 554a- II. Adagio.flac
Size: 13164006 Hash: F8728083EE32C29CC5ACF5C3DA28DA6E Accuracy: -m8
Conclusion: CDDA 100%
Signature: 0A2E467E4952C162A4A1149D12BF7B42A1254DF3
FILE: 17 - Vivaldi- Concerto for Violin, Oboe and Organ in C Major, RV 554a- I. Allegro.flac
Size: 21419785 Hash: 6FFC03DEB500D2AD5F040844C4CA4841 Accuracy: -m8
Conclusion: CDDA 100%
Signature: 7F77E211ACD312FFB5EFCA4001098702C2914C3C
FILE: 16 - Vivaldi- In furore iustissimae irae, RV 626- IV. Alleluia (Allegro).flac
Size: 7006959 Hash: 7E553DCA933C3A23BCC037FEA0015119 Accuracy: -m8
Conclusion: CDDA 42%
Signature: 0E912525C5912DA203669B359926BE609C074A98
FILE: 15 - Vivaldi- In furore iustissimae irae, RV 626- III. Aria. Tunc meus fletus (Largo).flac
Size: 26561425 Hash: DA78610F213EE150BD008DCBB5DCEEE7 Accuracy: -m8
Conclusion: CDDA 43%
Signature: 7E0ECE47EA18810FC00629A5E163B5CFC8300C80
FILE: 14 - Vivaldi- In furore iustissimae irae, RV 626- II. Recitativo. Miserationum Pater piisime.flac
Size: 2472207 Hash: 00AF6024AA56BCCC14FA49E366B2EE97 Accuracy: -m8
Conclusion: CDDA 100%
Signature: B8D89EBB54A7E6BFE85F61DF9881375226541DF5
FILE: 13 - Vivaldi- In furore iustissimae irae, RV 626- I. Aria.flac
Size: 20688778 Hash: 071AEE55B0C86C9430064D38F7FA9F8F Accuracy: -m8
Conclusion: CDDA 100%
Signature: 710F85BFBEF8E693EB202D28D23F4A4AEB857F30
FILE: 12 - Pergolesi- Stabat Mater, P. 77- XII. Quando corpus morietur.flac
Size: 19789311 Hash: E43EDF6FF341039CBD9F4E50E7745AB4 Accuracy: -m8
Conclusion: ???
Signature: 8F0F92A673DC3B5615B4E0F31012C8716643033A
FILE: 11 - Pergolesi- Stabat Mater, P. 77- XI. Inflammatus et accensus.flac
Size: 9363051 Hash: 1B4E9072CA6BFBDBB2B3298199D0D83F Accuracy: -m8
Conclusion: CDDA 94%
Signature: 27402CA512727D12C029FEAF007E068920538456
FILE: 10 - Pergolesi- Stabat Mater, P. 77- X. Fac, ut portem Christi mortem.flac
Size: 14841397 Hash: E1E5D8D39C05FFF24C2AB76C0BB66377 Accuracy: -m8
Conclusion: CDDA 100%
Signature: A37AA458C1AA18527CF3034664FCAAB628B683D2
FILE: 09 - Pergolesi- Stabat Mater, P. 77- IX. Sancta Mater, istud agas.flac
Size: 22206643 Hash: 2FDC2392C68BF5C52254BACDABCFBA78 Accuracy: -m8
Conclusion: CDDA 100%
Signature: C590130B73725E3D2E7857DC7739ACA1F4A080DC
FILE: 08 - Pergolesi- Stabat Mater, P. 77- VIII. Fac ut ardeat cor meum.flac
Size: 11154522 Hash: 01E5E008C4AE8ED976A070690B31A5D2 Accuracy: -m8
Conclusion: CDDA 100%
Signature: D35F1093E4BE89907F5A3C0BD88BA75811AF6803
FILE: 07 - Pergolesi- Stabat Mater, P. 77- VII. Eia, mater, fons amoris.flac
Size: 9497335 Hash: E6770212DBC45B6302D4D90AE007CF4C Accuracy: -m8
Conclusion: CDDA 100%
Signature: ECE2DCC65EADE02710BA6C3FB1EA376097E7F75C
FILE: 06 - Pergolesi- Stabat Mater, P. 77- VI. Vidit suum dulcem natum.flac
Size: 11282909 Hash: 54577E2029BB5FAB51165F53FD1C9D31 Accuracy: -m8
Conclusion: CDDA 42%
Signature: D6349B6C3CDA86DB156F7A14DFA82ED71C9EA47D
FILE: 05 - Pergolesi- Stabat Mater, P. 77- V. Quis est homo.flac
Size: 10593395 Hash: 90134A162382DFC58A0EA0A9DC7BD998 Accuracy: -m8
Conclusion: CDDA 100%
Signature: CA9450EEA6555FC9E2758ADD885D7EA6AEA7763A
FILE: 04 - Pergolesi- Stabat Mater, P. 77- IV. Quae maerebat et dolebat.flac
Size: 8589291 Hash: 7F24E54CE43AF53C481DE95B0F69434D Accuracy: -m8
Conclusion: CDDA 100%
Signature: 9494ED1D43C089EF73A68BFE3C288F16380C948C
FILE: 03 - Pergolesi- Stabat Mater, P. 77- III. O quam tristis.flac
Size: 9896799 Hash: 90E338E275D452DB126B903A84D4441B Accuracy: -m8
Conclusion: CDDA 100%
Signature: 3A6A720FC086B1451155A174C759B0657A2AED5C
FILE: 02 - Pergolesi- Stabat Mater, P. 77- II. Cuius animam gementem.flac
Size: 8716963 Hash: F57284CD9A8B38821242DBBA5F8F5059 Accuracy: -m8
Conclusion: CDDA 94%
Signature: 6BCA62E419BDD655A8484DE79DAD9FDA4DBCB4AA
FILE: 01 - Pergolesi- Stabat Mater, P. 77- I. Stabat Mater dolorosa.flac
Size: 17356067 Hash: 3D01712BBC5745D2457F527AAE62213E Accuracy: -m8
Conclusion: ???
Signature: 5FB4330B9EC98E5175428ADB302EEBE0C10DC4F8