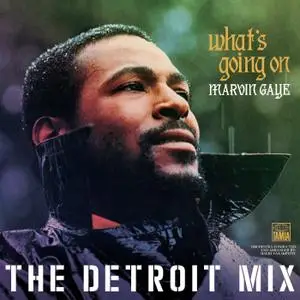 Marvin Gaye - What's Going On: The Detroit Mix (2021)
WEB FLAC (tracks) - 242 Mb | MP3 CBR 320 kbps - 83 Mb | 00:35:50
R'n'B, Soul | Label: Universal Music
Motown's "Prince Of Soul," Marvin Gaye, was already a hit artist for nearly a decade when, in 1971, he reached new heights with his album What's Going On. An immediate landmark recording, it was the first of Gaye's albums to break the top ten of Billboard's Top LPs, and quickly became Motown's best-selling record. To this day, What's Going On is hailed as one of the greatest albums of all time, earning the number one spot on Rolling Stone magazine's 2020 list of "The 500 Greatest Albums Of All Time."

Also available as a standalone digital release, What's Going On: The Detroit Mix is the album's original hometown mix, cancelled by Marvin at the last minute to be redone in Los Angeles. While the recordings were mixed in April of 1971, they remained unreleased until 2001, when they were included in the album's 30th Anniversary 2CD Deluxe Edition. The Detroit Mix showcases a more relaxed, stripped back and percussive feel to the album, as well as unique track segues and some additional lyrics.
Tracklist:1.
What's Going On (Detriot Mix)
(04:07)
2.
What's Happening Brother (Detroit Mix)
(02:43)
3.
Flyin' High (In The Friendly Sky) (Detroit Mix)
(03:48)
4.
Save The Children (Detroit Mix)
(04:01)
5.
God Is Love (Detroit Mix)
(01:46)
6.
Mercy Mercy Me (The Ecology) (Detroit Mix)
(03:07)
7.
Right On (Detroit Mix)
(07:31)
8.
Wholy Holy (Detroit Mix)
(03:09)
9.
Inner City Blues (Make Me Wanna Holler) (Detroit Mix)
(05:34)
–––––––––––-

DON'T MODIFY THIS FILE

–––––––––––-

PERFORMER: auCDtect Task Manager, ver. 1.6.0 RC1 build 1.6.0.1
Copyright © 2008-2010 y-soft. All rights reserved

ANALYZER: auCDtect: CD records authenticity detector, version 0.8.2
Copyright © 2004 Oleg Berngardt. All rights reserved.
Copyright © 2004 Alexander Djourik. All rights reserved.


FILE: 09 Inner City Blues (Make Me Wanna Holler) (Detroit Mix).flac
Size: 38703760 Hash: E13F6E03A7EF5C8AFCC66C45D6E86C71 Accuracy: -m8
Conclusion: CDDA 99%
Signature: 14DFB15F845A1DD8C5F54E833074431C6A24F796
FILE: 08 Wholy Holy (Detroit Mix).flac
Size: 21607551 Hash: 23E62B87CEB4D00DFF131C146A7858D0 Accuracy: -m8
Conclusion: CDDA 100%
Signature: BE99676C3A32F53F8CD4723D268DCAAC5967CA59
FILE: 07 Right On (Detroit Mix).flac
Size: 54637239 Hash: F4F40C7EA40848252DEF939FF2B842F0 Accuracy: -m8
Conclusion: CDDA 100%
Signature: 83DA83E8E9546D6E86ECC75C88FD740A4282CEFA
FILE: 06 Mercy Mercy Me (The Ecology) (Detroit Mix).flac
Size: 20948438 Hash: 5A770363A1CAA7C719D82F9B2C9DA015 Accuracy: -m8
Conclusion: CDDA 99%
Signature: A1788BA079399A69F8A83D14844BB63F335FB2CE
FILE: 05 God Is Love (Detroit Mix).flac
Size: 13402624 Hash: 8F290B809BB2FE1951EF3A6BDD7D08E6 Accuracy: -m8
Conclusion: CDDA 99%
Signature: F7C31C22E58B89D442C2978603023FD6265CDFD1
FILE: 04 Save The Children (Detroit Mix).flac
Size: 28957325 Hash: 52FA18071CBFB8A3AA87E2672F6A2072 Accuracy: -m8
Conclusion: CDDA 100%
Signature: F92F4FA53A562A40AF98624E4F3545169A760EF8
FILE: 03 Flyin' High (In The Friendly Sky) (Detroit Mix).flac
Size: 25747094 Hash: 85E7AA8C5BEE27E9C0B4D4783B4FEABB Accuracy: -m8
Conclusion: CDDA 100%
Signature: A14E02257CCC48D6D682803EF1843EFE57E515AB
FILE: 02 What's Happening Brother (Detroit Mix).flac
Size: 18892959 Hash: 084859AE8EA4F6794E4BA0B3B629FDA2 Accuracy: -m8
Conclusion: CDDA 100%
Signature: 28B1300CCA03F4D0827232C87ADFBC35BF7F0C62
FILE: 01 What's Going On (Detriot Mix).flac
Size: 30297848 Hash: 3D9D3FA4A99BD1FFF3FC78608BD9D39E Accuracy: -m8
Conclusion: CDDA 99%
Signature: FBF21AFB80C2D33350F845A21A2B4E86DD5C3653