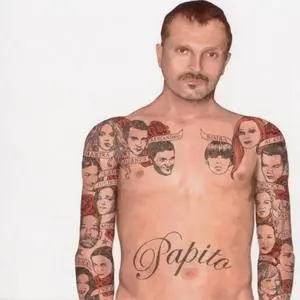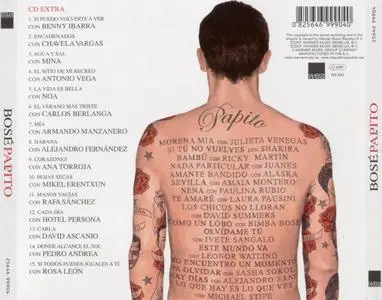 Miguel Bose - Papito - Special Edition
Warner Music Latina | Genre: International, Latin, Latin Pop, Regional Mexican, Spanish | 2007 | Mp3 | @192 kbps | 193.4 Mb
To celebrate his 30 years of artistic career, Miguel Bose introduces a phenomenal production entitled Papito. In this production, Miguel has surrounded himself with friends and great artists to record 30 of his best songs as duets. Joining him include: Alejandro Sanz, Shakira, Juanes, Ricky Martin, Julieta Venegas, Michael Stipe, Paulina Rubio, Laura Pausini, Alaska, David Summers, Bimba Bose, and Leonor Watling, Benny Ibarra, Chavela Vargas, Mina, Antonio Vega, Noa, Carlos Berlanga, Armando Manzanero, Alejandro Fernandez,
Ana Torroja, Mikel Erentxun, Rafa Sanchez, Hotel Persona, David Ascanio, Pedro Andrea, and Rosa Leon.
A truly international artist, globe-hopping Spanish performer Miguel Bose offers up more evidence of his eclecticism on 2007's PAPITO, which finds the singer/multi-instrumentalist revisiting some of his best-known songs, aided by an impressive collection of guests. Highlights of the album include the funky "Morena Mia," which features fellow Latin-pop dynamo Julieta Venegas, and "Lo Que Hay Es Lo Que Ves," an electro-tinged track with R.E.M.'s Michael Stipe singing en Espanol.
Product Details:
Audio CD (March 20, 2007)
Original Release Date: March 20, 2007
Number of Discs: 2
Label: Warner Music Latina
ASIN: B000MTDRBS
Tracks:CD 1:
01- Miguel Bose with Julieta Venegas - Morenamía
02- Miguel Bose with Shakira - Si Tú No Vuelves
03- Miguel Bose with Ricky Martin - Bambú
04- Miguel Bose with Juanes - Nada Particular
05- Miguel Bose with Alaska - Amante Bandido
06- Miguel Bose with Amaia Montero - Sevilla
07- Miguel Bose with Paulina Rubio - Nena
08- Miguel Bose with Laura Pausini - Te Amaré
09- Miguel Bose with David Summers - Los Chicos No Lloran
10- Miguel Bose with Bimba - Como Un Lobo
11- Miguel Bose with Ivete Sangalo - Olvídame Tú
12- Miguel Bose with Leonor Watling - Este Mundo Va
13- Miguel Bose with Sasha Sokol - No Encuentro Un Momento Pa Olvidar
14- Miguel Bose with Alejandro Sanz - Hay Días
15- Miguel Bose with Michael Stipe (R.E.M.) - Lo Que Hay Es Lo Que Ves
CD 2: (Extra)
01- Miguel Bose with Benny Ibarra - Si Puedo Volverte A Ver
02- Miguel Bose with Chavela Vargas - Encadenados
03- Miguel Bose with Mina - Agua y Sal
04- Miguel Bose with Antonio Vega - El Sitio De Mi Recreo
05- Miguel Bose with Noa - La Vida Es Bella
06- Miguel Bose with Carlos Berlanga - El Verano Ma¡s Triste
07- Miguel Bose with Armando Manzanero - Mia
08- Miguel Bose with Alejandro Fernandez - Habana
09- Miguel Bose with Ana Torroja - Corazones
10- Miguel Bose with Mikel Erentxun - Hojas Secas
11- Miguel Bose with Rafa Sanchez - Manos Vacias
12- Miguel Bose with Hotel Persona - Cada Dia
13- Miguel Bose with David Ascanio - Carla
14- Miguel Bose with Pedro Andrea - Donde Alcance El Sol
15- Miguel Bose with Rosa Leon - Si Todos Fuesen Iguales A Ti
Download Links are not available at the moment. Please keep cheking:
:)
Please No Mirrors
My Other AvaxHome Theads:
Fanthom