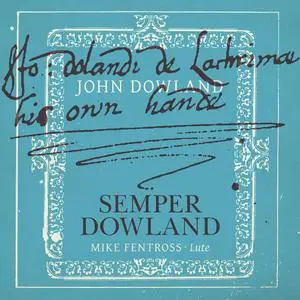 Mike Fentross - Semper Dowland (2021)
WEB FLAC (tracks) - 265 Mb | MP3 CBR 320 kbps - 135 Mb | Digital booklet | 00:57:54
Classical | Label: Zefir Records
In Dowland's words: "ingenuous profession of Musicke, which from my childhoode I have ever aymed at,… the better to attain so excellent a science". Mike Fentross achieves this "divine science of musicke" by wooing his audience by "speaking harmony" on his sweet lute. His art entwines harmony and poetry, albeit often a melancholic art, which is then framed by the proportions of rhythm. His art teaches, stirs and delights the heart and soul of his honorable listeners in profound ways. Mike Fentross first studied with Toyohiko Satoh at the Royal Conservatory in The Hague, then with Nigel North and José Miguel Moreno. He has built a solid reputation as a "continuist", playing in renowned orchestras like Les Arts Florissants, and is much in demand in his country as well as abroad. He plays and records regularly with great European ensembles such as Capriccio Stravagante, Les Arts Florissants, the Amsterdam Baroque Orchestra, the Harp Consort, the New London Consort and Al Ayre Espanol. In 1991 he founded La Sfera Armoniosa, a group devoted to the performance of 17th-century music. Since 1996 Mike Fentross is guest professor at the Royal Conservatory in The Hague.
Tracklist:
01. Dowland: Lachrimae Pavan in G Minor, P. 15
02. Dowland: 7 Fantasies (Excerpts): No. 6, A Fancy, P. 6
03. Dowland: Resolution, P. 13
04. Dowland: Come Away, P. 60
05. Dowland: 7 Fantasies (Excerpts): No. 5, A Fancy, P. 5
06. Dowland: Farewell (An In Nomine), P. 4
07. Dowland: A Dream, P. 75
08. Dowland: 7 Fantasies (Excerpts): No. 1, A Fantasie, P. 1
09. Dowland: The Earl of Essex, His Galliard "Can She Excuse", P. 42
10. Dowland: 7 Fantasies (Excerpts): No. 2, Forlorn Hope Fancy, P. 2
11. Dowland: Fortune My Foe, P. 62
12. Dowland: Lord Strange's March, P. 65
13. Dowland: Mrs. Vaux's Galliard, P. 32
14. Dowland: Mrs. White's Nothing, P. 56
15. Dowland: Lady Hunsdon's Puffe, P. 54
16. Dowland: The Right Honourable, the Lady Clifton's Spirit, P. 45
17. Dowland: Mistress Winter's Jump, P. 55
18. Dowland: Semper Dowland Semper Dolens, P. 9
–––––––––––-

DON'T MODIFY THIS FILE

–––––––––––-

PERFORMER: auCDtect Task Manager, ver. 1.6.0 RC1 build 1.6.0.1
Copyright © 2008-2010 y-soft. All rights reserved

ANALYZER: auCDtect: CD records authenticity detector, version 0.8.2
Copyright © 2004 Oleg Berngardt. All rights reserved.
Copyright © 2004 Alexander Djourik. All rights reserved.


FILE: 18 - Mike Fentross - Dowland- Semper Dowland Semper Dolens, P. 9.flac
Size: 19404591 Hash: CA999BBED45CEE1956ED6F17D63747AD Accuracy: -m8
Conclusion: CDDA 100%
Signature: 7B5269B8FDC65930B8C736CF6C0B208DE3D313FC
FILE: 17 - Mike Fentross - Dowland- Mistress Winter's Jump, P. 55.flac
Size: 5404224 Hash: AF46B3EF17CBF82AA455E9C334269415 Accuracy: -m8
Conclusion: CDDA 99%
Signature: 70C99DC255C6FAD0DF8AB3E18B1149CB3393B2D0
FILE: 16 - Mike Fentross - Dowland- The Right Honourable, the Lady Clifton's Spirit, P. 45.flac
Size: 11046314 Hash: DDDB7A9951EC7CF10C89BF6C3E650CAA Accuracy: -m8
Conclusion: CDDA 100%
Signature: BF46360D79948EF9A46B1DE0627669323CF14D1F
FILE: 15 - Mike Fentross - Dowland- Lady Hunsdon's Puffe, P. 54.flac
Size: 10946332 Hash: 271AE9AED9989777CD2D8D733F5E2569 Accuracy: -m8
Conclusion: CDDA 100%
Signature: CA05C8C1949ACA619E3E6F2EBAF7B92404771BEC
FILE: 14 - Mike Fentross - Dowland- Mrs. White's Nothing, P. 56.flac
Size: 11595328 Hash: B904AB4A347423EC2B2A14FC0BD4F7DB Accuracy: -m8
Conclusion: CDDA 99%
Signature: CFCB11BC48DA0A2F952F0125EB27AA0757C3FA6B
FILE: 13 - Mike Fentross - Dowland- Mrs. Vaux's Galliard, P. 32.flac
Size: 12664789 Hash: 2BD82EFB754C49DB11584DC352F08091 Accuracy: -m8
Conclusion: CDDA 100%
Signature: 3B18900664891D940D1038BA5BFE26BCE4289063
FILE: 12 - Mike Fentross - Dowland- Lord Strange's March, P. 65.flac
Size: 9676029 Hash: 4D4B9BFC3F75DC3B2F6DB4F02594AA3D Accuracy: -m8
Conclusion: CDDA 100%
Signature: 29769D13573A156FE17DF388FADE5A6CECE43DB2
FILE: 11 - Mike Fentross - Dowland- Fortune My Foe, P. 62.flac
Size: 9664119 Hash: C4843E06E02EC11BF4BA68812C0D2B3B Accuracy: -m8
Conclusion: CDDA 100%
Signature: 74F389B663CC1A0BB875A3E31A68E2540DFB12A1
FILE: 10 - Mike Fentross - Dowland- 7 Fantasies (Excerpts)- No. 2, Forlorn Hope Fancy, P. 2.flac
Size: 21399830 Hash: 5D9FC66D5E82108F669143713D3BDDA1 Accuracy: -m8
Conclusion: CDDA 100%
Signature: 92E727F8972DC7929125273F470FD4CD8A3A2ECB
FILE: 09 - Mike Fentross - Dowland- The Earl of Essex, His Galliard ''Can She Excuse'', P. 42.flac
Size: 9222415 Hash: 2AA91ABB7B7FFA39CA0B8CCD401CBEB1 Accuracy: -m8
Conclusion: CDDA 100%
Signature: BC821A419FA56DFB131C95BE6E88894F052457B1
FILE: 08 - Mike Fentross - Dowland- 7 Fantasies (Excerpts)- No. 1, A Fantasie, P. 1.flac
Size: 26479086 Hash: D849D87B36F13891DB97599691AA12B5 Accuracy: -m8
Conclusion: CDDA 100%
Signature: 0A851A524760BA3A672DEDC3C019B2CDCC2BF0F9
FILE: 07 - Mike Fentross - Dowland- A Dream, P. 75.flac
Size: 21117293 Hash: 7924A6DCBC4A62817222969FCAB2DB43 Accuracy: -m8
Conclusion: CDDA 100%
Signature: 0DBE08C0B4F44460CD853FA2D868B5D376D48983
FILE: 06 - Mike Fentross - Dowland- Farewell (An In Nomine), P. 4.flac
Size: 20841210 Hash: EE5E71F64AD8282FE611805F834DAC24 Accuracy: -m8
Conclusion: CDDA 100%
Signature: 2526D7C001A33D3594C3F75BA9F62F5DE7B4A71C
FILE: 05 - Mike Fentross - Dowland- 7 Fantasies (Excerpts)- No. 5, A Fancy, P. 5.flac
Size: 13830766 Hash: 4334CAB60EBFAE09A79C9A9D5189D7E8 Accuracy: -m8
Conclusion: CDDA 100%
Signature: E5A1C27E48E3DC0855C06FE11527FA42576A54AF
FILE: 04 - Mike Fentross - Dowland- Come Away, P. 60.flac
Size: 9715584 Hash: 6AF80C4251B7BEDA3189023BA949D9CE Accuracy: -m8
Conclusion: CDDA 99%
Signature: 245C5E4D2F5BD04BE3BF75D92FE6B5F4291011B1
FILE: 03 - Mike Fentross - Dowland- Resolution, P. 13.flac
Size: 22512645 Hash: FBC3D660EBA93494B0BDA4E578470CA3 Accuracy: -m8
Conclusion: CDDA 100%
Signature: 3E71D717568FBFA8F05974AC9FB2E745E0CF3AA9
FILE: 02 - Mike Fentross - Dowland- 7 Fantasies (Excerpts)- No. 6, A Fancy, P. 6.flac
Size: 15201209 Hash: 66C55B7296722BCE2513613195EB804B Accuracy: -m8
Conclusion: CDDA 100%
Signature: 2C541381224C496109DCF73D371F0DE39F868A7A
FILE: 01 - Mike Fentross - Dowland- Lachrimae Pavan in G Minor, P. 15.flac
Size: 24204210 Hash: E19638AD22F703F8492D37BC07B70F8D Accuracy: -m8
Conclusion: CDDA 100%
Signature: 2E79CC7B6C5C7492B8B6FB54906C1E90E8AF846E