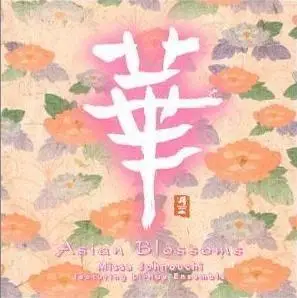 Missa Johnouchi - Asian Blossoms
MP3 CBR 320 kb/s | New Age | 105 MB
Tracklist:
1. Asian Wind
2. Seasons
3. Marco Polo
4. Song Of Silk Road
5. Blossom
6. Springtime
7. Night Bird
8. Butterfly
9. Twilight
10. Once Upon A Time
11. Asian Wind (Piano Version)
The magnificent strings and graceful tones of traditional Chinese instruments create a gentle sweetness that enfolds the listener, and unveils a bridge that links the East and West.
Missa Johnouchi is a Tokyo-born pianist/composer whose chief musical pursuit is international soundtrack work. For this, her debut recording for the Pacific Moon label, Johnouchi surrounds herself with a small string ensemble, a contemporary guitar-bass-percussion trio and four musicians playing traditional Chinese instruments–the erhu (a long, narrow, bowed stringed instrument), the pipa (a pear-shaped, four-stringed lute), the yang qin (duclimer) and the gu zheng (cousin on the Japanese koto). Seeking to evoke imagery of an ancient trade route that parallels Asia's famed Silk Road, Johnouchi creates languid, formal-sounding tone poems that could either soothe the spirit or annoy the senses, depending on how you respond to the higher-pitched character of the Chinese instrumentation. Johnouchi's slow-go pieces cater to those in a reflective state of mind whose tastes lean toward lite pop-classical music and who are receptive to traditional Chinese influences. Her two solo piano selections, "Springtime," and her solo reprise of the opening track, "Asian Wind," are attractive works with broader appeal.
Down:
http://rapidshare.de/files/23856515/PM_A.Bloss.part1.rar
http://rapidshare.de/files/23858517/PM_A.Bloss.part2.rar
http://rapidshare.de/files/23860782/PM_A.Bloss.part3.rar
You are welcome to download From OxyShare:
http://www.oxyshare.com/get/16...3577/PM_A.Bloss.part1.rar.html
http://www.oxyshare.com/get/13...6723/PM_A.Bloss.part2.rar.html
http://www.oxyshare.com/get/13...0787/PM_A.Bloss.part3.rar.html
Pass:
soncao