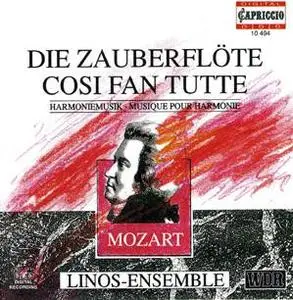 HARMONIEMUSIK of 'Die Zauberflöte' and 'Così fan tutte'
Mozart operatic music arranged for wind ensemble
Linos-Ensemble
Studio recording, 1991 & 1992
APE (EAC) & CUE | 3% Recovery | Booklet | 247 MB | Rapidshare | TT 74:31
Arrangements by Joseph Heidenreich (1792) & Andreas Tarkmann (1991)

Operatic music arranged for wind ensemble were already popular in Mozart's time. In these arrangements the highlights of the opera relived in short 2 to 3 minute pieces. On this recording, contemporary composer Tarkman added more complex material, like the long finale to "Die Zauberflöte". In fact, he decided to arrange "Così fan tutte" completely anew to do more justice to Mozart's writing and treatment of the wind - without of course stepping outside the frame.
The Linos Ensemble give this 'entertainment music' more than credit in their delightful playing.
-Edmond
Die Zauberflöte
1. Ouvertüre
2. Introduktion "Ich sollte fort"
3. Arie "Der Vogelfänger bin ich ja"
4. Terzett "Du feines Täubchen nur herein"
5. Finale I "Wenn Tugend und Gerechtigkeit"
6. Arie "Dies Bildnis ist bezaubernd schön"
7. Arie "Wie stark ist nicht dein Zauberton"
8. Arie "Die Hölle Rache kocht in meinem Herzen"
9. Arie & Chor "O Isis und Osiris"
10. Arie "Alles fühlt der Liebe Freuden"
11. Terzett "Soll ich dich, Teurer, nicht mehr sehn"
12. Arie "Ein Mädchen oder Weibchen"
13. Finale
Così fan tutte
14. Ouverture
15. Terzetto "Una bella serenata"
16. Duetto "Ah guarda, sorella"
17. Terzettino "Soave sia il vento"
18. Sestetto "Alla bella Despinetta"
19. Aria "Un'aura amorosa"
20. Duetto "Prendèro quel brunettino"
21. Deutto con coro "Secondate, aurette"
22. Rondo "Per pietà"
23. Aria "È amore un ladroncello"
24. Finale "Benedetti i doppi conjugi"
Arrangements:
Joseph Heidenreich (1792, tracks 1, 3-7, 9-12)
Andreas Tarkmann (1991, tracks 2, 8, 13-24)
DOWNLOAD
:
http://rapidshare.com/files/18378289/MozartHarmoniemusik.part1.rar
http://rapidshare.com/files/18383236/MozartHarmoniemusik.part2.rar
http://rapidshare.com/files/18385140/MozartHarmoniemusik.part3.rar
No password needed.
How to:
1. Decompress the media file with Monkey's Audio [
http://www.monkeysaudio.com/
]
2. Add Burrrn Cue file in Burrrn [
http://www.burrrn.net/?page_id=6
]
3. Burrrn
–-Enjoy!–-