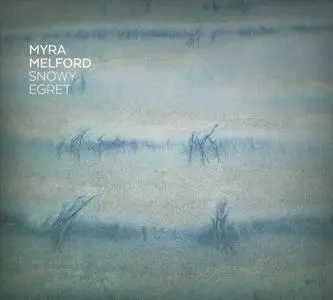 Myra Melford - Snowy Egret (2015)
XLD Rip | FLAC (tracks+.cue, log) ~ 299.98 Mb | 01:00:23 | Covers
Modern Creative, Contemporary Jazz | Label: Yellowbird - YEB-7752
Since the mid-'90s, pianist/composer Myra Melford's quintets such as the Extended Ensemble, the Same River, Twice, the Tent, and Be Bread have been among her most adventurous and inimitable groupings – and so one greets the arrival of her latest five-piece, Snowy Egret, with high anticipation. Released by Enja/Yellowbird in March 2015, Snowy Egret's eponymous debut album features Melford compositions inspired by Uruguayan author, historian, and journalist Eduardo Galeano's Memory of Fire trilogy; the quintet performed the music in November 2013 at San Francisco's Yerba Buena Center for the Arts as part of Melford's multimedia Language of Dreams project, which also included dance, video, and spoken word. Although the hourlong Snowy Egret is divorced from the visual and spoken elements of Language of Dreams, it stands strongly as a purely musical experience, with the pianist joined by her self-described "killer band" featuring cornetist Ron Miles, guitarist Liberty Ellman, longtime Melford collaborator bassist Stomu Takeishi, and drummer Tyshawn Sorey. The perpetually exploratory Melford is always crossing and blurring boundaries – stylistic, cultural, geographic – and never more so than on Snowy Egret, which, despite the music's South American literary inspiration, expands far beyond the expectations of "Latin jazz" to encompass the full range of her creative jazz sensibilities.
Before evolving into a strong feature for the leader's soulfully exploratory pianistics, the pensive "Night of Sorrow" does find Ellman's introductory passage imbued with a Latin feel, but elsewhere the music often speaks of the universality inherent in Galeano's prose. And Galeano's words inspire plenty of roiling energy, with Sorey a forceful engine of the band's momentum, powering through the thematic angularities of the opening "Language" while supporting Ellman and Miles features with no shortage of precisely executed accents and dynamic nuance. Sorey rolls with abandon through the jagged stops and starts of "The Kitchen," which includes a standout performance from Melford, bold and muscular in the lower register and unbridled as she takes her solo higher with inexorable force. Miles might be heard as the "soloist" in the sublime full-group improvisation of "Promised Land," but his mastery of space provides plenty of room for the other bandmembers to stand out in the mix, as Melford and Ellman stretch the underlying harmonics with their abrupt phrasing and Takeishi flirts with funk. In an echo of Ellman's mood-setting intro to "Night of Sorrow," Takeishi offers up a rumbling, harmonics-laden unaccompanied bass feature to commence "Times of Sleep and Fate," which builds from floating, contemplative ambience into a calm but uneasy resolution. After the collective tumult and abrupt finish of "First Protest," the appropriately Latin-tinged "The Virgin of Guadalupe" smoothly and effortlessly rises from balladic loveliness into freer jazz expression while never losing its thread. And the album ends on a rollicking note as Melford brings the blues to the celebratory groove of closer "The Strawberry." Snowy Egret stands equal to any of Myra Melford's quintet recordings of the past two decades – and that's high praise indeed. ~
AllMusic Review by Dave Lynch
Track List:
01. Language (Melford) - 5:27
02. Night of Sorrow (Melford) - 6:44
03. Promised Land (Melford) - 5:44
04. Ching Ching/For Love of Fruit (Melford) - 5:32
05. The Kitchen (Melford) - 6:55
06. Times of Sleep and Fate (Melford) - 5:50
07. Little Pockets/Everybody Pays Taxes (Melford) - 4:32
08. First Protest (Melford) - 5:29
09. The Virgin of Guadalupe (Melford) - 8:34
10. The Strawberry (Melford) - 5:36
Myra Melford - piano, melodica
Ron Miles - cornet
Liberty Ellman - guitar
Stomu Takeishi - bass guitar
Tyshawn Sorey - drums
Recorded at Stadiumred, New York in December 2013.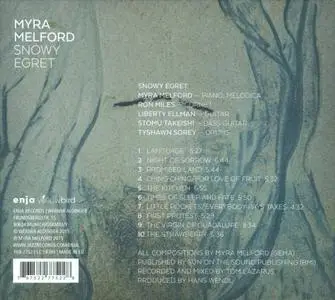 X Lossless Decoder version 20191004 (152.0)

XLD extraction logfile from 2020-11-02 11:18:17 -0600

MYRA MELFORD / Snowy Egret

Used drive : HL-DT-ST BD-RE WH16NS40 (revision 1.04)
Media type : Pressed CD

Ripper mode : XLD Secure Ripper
Disable audio cache : OK for the drive with a cache less than 1375KiB
Make use of C2 pointers : NO
Read offset correction : 6
Max retry count : 100
Gap status : Analyzed, Appended (except HTOA)

TOC of the extracted CD
Track | Start | Length | Start sector | End sector
––––––––––––––––––––––––––––-
1 | 00:00:00 | 05:27:02 | 0 | 24526
2 | 05:27:02 | 06:43:46 | 24527 | 54797
3 | 12:10:48 | 05:43:72 | 54798 | 80594
4 | 17:54:45 | 05:31:46 | 80595 | 105465
5 | 23:26:16 | 06:55:30 | 105466 | 136620
6 | 30:21:46 | 05:50:05 | 136621 | 162875
7 | 36:11:51 | 04:32:34 | 162876 | 183309
8 | 40:44:10 | 05:29:07 | 183310 | 207991
9 | 46:13:17 | 08:33:38 | 207992 | 246504
10 | 54:46:55 | 05:36:14 | 246505 | 271718

AccurateRip Summary (DiscID: 00167f69-00b449d8-8c0e260a)
Track 01 : OK (v2, confidence 16/16)
Track 02 : OK (v2, confidence 16/16)
Track 03 : OK (v2, confidence 16/16)
Track 04 : OK (v2, confidence 16/16)
Track 05 : OK (v2, confidence 16/16)
Track 06 : OK (v2, confidence 16/16)
Track 07 : OK (v2, confidence 16/16)
Track 08 : OK (v2, confidence 15/15)
Track 09 : OK (v2, confidence 15/15)
Track 10 : OK (v2, confidence 15/15)
->All tracks accurately ripped.

All Tracks
Album gain : -1.72 dB
Peak : 0.987274
Statistics
Read error : 0
Jitter error (maybe fixed) : 0
Retry sector count : 0
Damaged sector count : 0

Track 01
Filename : /Volumes/NAS/music/01 Myra Melford - Language.flac
Pre-gap length : 00:02:00

Track gain : -2.69 dB
Peak : 0.973785
CRC32 hash (test run) : A430BC0C
CRC32 hash : A430BC0C
CRC32 hash (skip zero) : 36EF30B8
AccurateRip v1 signature : 951F2110
AccurateRip v2 signature : 274B94E6
->Accurately ripped (v2, confidence 16/16)
Statistics
Read error : 0
Jitter error (maybe fixed) : 0
Retry sector count : 0
Damaged sector count : 0

Track 02
Filename : /Volumes/NAS/music/02 Myra Melford - Night of Sorrow.flac

Track gain : 4.75 dB
Peak : 0.640625
CRC32 hash (test run) : 3B762C88
CRC32 hash : 3B762C88
CRC32 hash (skip zero) : 59C7B54B
AccurateRip v1 signature : 521BC9F3
AccurateRip v2 signature : 68FB64B0
->Accurately ripped (v2, confidence 16/16)
Statistics
Read error : 0
Jitter error (maybe fixed) : 0
Retry sector count : 0
Damaged sector count : 0

Track 03
Filename : /Volumes/NAS/music/03 Myra Melford - Promised Land.flac

Track gain : -2.17 dB
Peak : 0.974030
CRC32 hash (test run) : 552FE186
CRC32 hash : 552FE186
CRC32 hash (skip zero) : C666195F
AccurateRip v1 signature : 4542E7AA
AccurateRip v2 signature : A570F686
->Accurately ripped (v2, confidence 16/16)
Statistics
Read error : 0
Jitter error (maybe fixed) : 0
Retry sector count : 0
Damaged sector count : 0

Track 04
Filename : /Volumes/NAS/music/04 Myra Melford - Ching Ching / For Love of Fruit.flac

Track gain : -2.38 dB
Peak : 0.973907
CRC32 hash (test run) : E1BD022E
CRC32 hash : E1BD022E
CRC32 hash (skip zero) : 9101C54F
AccurateRip v1 signature : C0E2A578
AccurateRip v2 signature : C4C42E01
->Accurately ripped (v2, confidence 16/16)
Statistics
Read error : 0
Jitter error (maybe fixed) : 0
Retry sector count : 0
Damaged sector count : 0

Track 05
Filename : /Volumes/NAS/music/05 Myra Melford - The Kitchen.flac

Track gain : -3.37 dB
Peak : 0.987274
CRC32 hash (test run) : 5A7650F6
CRC32 hash : 5A7650F6
CRC32 hash (skip zero) : 28D0D1D6
AccurateRip v1 signature : 98EF604C
AccurateRip v2 signature : B40A9B4C
->Accurately ripped (v2, confidence 16/16)
Statistics
Read error : 0
Jitter error (maybe fixed) : 0
Retry sector count : 0
Damaged sector count : 0

Track 06
Filename : /Volumes/NAS/music/06 Myra Melford - Times of Sleep and Fate.flac

Track gain : 3.86 dB
Peak : 0.622284
CRC32 hash (test run) : D2F0622A
CRC32 hash : D2F0622A
CRC32 hash (skip zero) : ED5B12ED
AccurateRip v1 signature : 92FF42BF
AccurateRip v2 signature : 65FA81B0
->Accurately ripped (v2, confidence 16/16)
Statistics
Read error : 0
Jitter error (maybe fixed) : 0
Retry sector count : 0
Damaged sector count : 0

Track 07
Filename : /Volumes/NAS/music/07 Myra Melford - Little Pockets / Everyone Pays Taxes.flac

Track gain : -1.52 dB
Peak : 0.974457
CRC32 hash (test run) : 5C790734
CRC32 hash : 5C790734
CRC32 hash (skip zero) : AB3AF283
AccurateRip v1 signature : FE4BC808
AccurateRip v2 signature : A0C7B2D8
->Accurately ripped (v2, confidence 16/16)
Statistics
Read error : 0
Jitter error (maybe fixed) : 0
Retry sector count : 0
Damaged sector count : 0

Track 08
Filename : /Volumes/NAS/music/08 Myra Melford - First Protest.flac

Track gain : -1.97 dB
Peak : 0.979004
CRC32 hash (test run) : 3DB97010
CRC32 hash : 3DB97010
CRC32 hash (skip zero) : 17CC64D0
AccurateRip v1 signature : 98E33BF0
AccurateRip v2 signature : CCE6D2F9
->Accurately ripped (v2, confidence 15/15)
Statistics
Read error : 0
Jitter error (maybe fixed) : 0
Retry sector count : 0
Damaged sector count : 0

Track 09
Filename : /Volumes/NAS/music/09 Myra Melford - The Virgin of Guadalupe.flac

Track gain : -0.63 dB
Peak : 0.960114
CRC32 hash (test run) : CDB52F05
CRC32 hash : CDB52F05
CRC32 hash (skip zero) : E517F1F8
AccurateRip v1 signature : 868218D2
AccurateRip v2 signature : 4AD4DE84
->Accurately ripped (v2, confidence 15/15)
Statistics
Read error : 0
Jitter error (maybe fixed) : 0
Retry sector count : 0
Damaged sector count : 0

Track 10
Filename : /Volumes/NAS/music/10 Myra Melford - The Strawberry.flac

Track gain : -2.31 dB
Peak : 0.974823
CRC32 hash (test run) : 9E9F38BF
CRC32 hash : 9E9F38BF
CRC32 hash (skip zero) : F047054D
AccurateRip v1 signature : 58D3AB00
AccurateRip v2 signature : 9128DE89
->Accurately ripped (v2, confidence 15/15)
Statistics
Read error : 0
Jitter error (maybe fixed) : 0
Retry sector count : 0
Damaged sector count : 0

No errors occurred

End of status report

––-BEGIN XLD SIGNATURE––-
GYigHXABWCoYdlevH2LQsvNAyy_X3NpjUnOzvBlpi8fmHlNnxRHJm4Ate1KUV2MGLJjE4GT7MokZoXsOQp6bXcaEX93GsMzbYvn5z6e
––-END XLD SIGNATURE––-
All thanks go to the michel0749