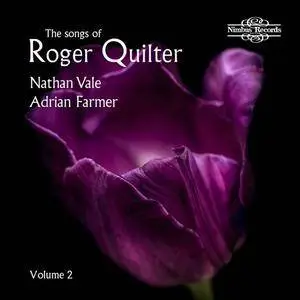 Nathan Vale & Adrian Farmer - The Songs of Roger Quilter, Vol. 2 (2018)
WEB FLAC (tracks) | 01:17:35 | 221 Mb
Classical, Vocal | Label: Nimbus Records
The songs included on this album are all settings of words by either Elizabethan or Jacobean poets: a period of literature that has been a prime source for song composers since its creation. The Shakespeare texts – all 'songs' from the plays – contain the works that made Quilter's name, and have largely been responsible for his enduring reputation. Nathan Vale studied with Ryland Davies at the Royal College of Music and Benjamin Britten International Opera School. He was awarded an Independent Opera Vocal Scholarship to the National Opera Studio, where he was further supported by the Elmley Foundation, ENO, the Nicholas John Trust and The Seary Trust. He is a former winner of the London Handel Singing Competition where he was also awarded the Audience Prize. He continues his studies with David Pollard.
Tracklist:
1 Three Songs from Twelfth Night: I. O Mistress Mine - II. Come Away, Death - III. Hey, Ho, the Wind and the Rai
2 Measure for Measure: Take, O Take Those Lips Away
3 A Winter's Tale: When Daffodils Begin to Peer
4 The Merchant of Venice: Tell me Where Is Fancy Bred
5 Two Songs from Cymbeline: I. Hark, Hark, the Lark! - II. Fear No More the Heat of the Sun
6 Much Ado About Nothing: No More, Ladies
7 Two Gentlemen of Verona: Who is Silvia?
8 Three Songs from As You Like It: I. Under the Greenwood Tree - II. Blow, Blow, Thou Winter Wind - III. It was a Lover and his Lass
9 The Tempest: Come unto These Yellow Sands
10 Love's Labour's Lost: When Icicles Hang by the Wall
11 Amaryllis at the Fountain
12 Morning Song
13 Seven Elizabethan Lyrics: I. Weep You No More - II. My Life's Delight - III. Damask Roses
14 Seven Elizabethan Lyrics: IV. The Faithless Sepherdess - V. Brown is My Love
15 Tulips
16 To Wine and Beauty
17 Go, Lovely Rose
18 Five Jacobean Lyrics: I. The Jealous Lover - II. Why So Pale and Wan? - III. I Dare No Ask A Kiss
19 Five Jacobean Lyrics: IV. To althea from Prison - V. The Constant Lover
20 To Julia: I. Prelude - II. The Bracelet - III. The Maiden Blush - IV. To Daisies
21 To Julia: I. The Night Piece - II. Julia's Hair - III. Cherry Ripe
–––––––––––-

DON'T MODIFY THIS FILE

–––––––––––-

PERFORMER: auCDtect Task Manager, ver. 1.6.0 RC1 build 1.6.0.1
Copyright © 2008-2010 y-soft. All rights reserved

ANALYZER: auCDtect: CD records authenticity detector, version 0.8.2
Copyright © 2004 Oleg Berngardt. All rights reserved.
Copyright © 2004 Alexander Djourik. All rights reserved.


FILE: 11 - Nathan Vale - Amaryllis at the Fountain.flac
Size: 3980968 Hash: AA44799D18E6377DBBF737DB82F59B81 Accuracy: -m0
Conclusion: CDDA 100%
Signature: 2EF264C1376FD0848470319BD024B8C14E0BF2C2
FILE: 10 - Nathan Vale - Love's Labour's Lost_ When Icicles Hang by the Wall.flac
Size: 6677673 Hash: B1EE2683FB41A679CEAF75861BB7106B Accuracy: -m0
Conclusion: CDDA 100%
Signature: 33906CCF3259528AA86027026C0C6F9514BA81A8
FILE: 9 - Nathan Vale - The Tempest_ Come unto These Yellow Sands.flac
Size: 6573492 Hash: F30407412606F89922F0BB176AE33BD1 Accuracy: -m0
Conclusion: CDDA 100%
Signature: F68C81CF62351783FE039DEF5DE2AB8505DC2C2E
FILE: 8 - Nathan Vale - Three Songs from As You Like It_ I. Under the Greenwood Tree - II. Blow, Blow, Thou Winter Wind - III. It was a Lover and his Lass.flac
Size: 21186037 Hash: E7A34763419170E1682236A0C3C9FCFA Accuracy: -m0
Conclusion: CDDA 100%
Signature: 9F0F2C2FE3FEA2824B656039D052B0ADC0154D33
FILE: 7 - Nathan Vale - Two Gentlemen of Verona_ Who is Silvia_.flac
Size: 6924694 Hash: 5EAC9277E3E3165DFA743E146265113E Accuracy: -m0
Conclusion: CDDA 100%
Signature: 9CB529713536E83BEDE446774E21CEE561BE13F5
FILE: 6 - Nathan Vale - Much Ado About Nothing_ No More, Ladies.flac
Size: 6161547 Hash: 43C842AD8093873F0AA3E696F61F4B2E Accuracy: -m0
Conclusion: CDDA 100%
Signature: 87C14875FA75C27ED65FE3B3ACFC5F903B2256B3
FILE: 5 - Nathan Vale - Two Songs from Cymbeline_ I. Hark, Hark, the Lark! - II. Fear No More the Heat of the Sun.flac
Size: 13365911 Hash: F22F58254D2FA838BC33BD3E3BD1E81E Accuracy: -m0
Conclusion: CDDA 100%
Signature: 8CF21776C651F453D84F0F91FE5CC64E5F34CF01
FILE: 4 - Nathan Vale - The Merchant of Venice_ Tell me Where Is Fancy Bred.flac
Size: 4409125 Hash: EC8C616FB836F9808A51106E8839C088 Accuracy: -m0
Conclusion: CDDA 100%
Signature: 2AF5DEE9E254166BC78DEC2A2FA6ED118D1B63CB
FILE: 3 - Nathan Vale - A Winter's Tale_ When Daffodils Begin to Peer.flac
Size: 3723127 Hash: 1E05E8D59505032552A22033DBA93924 Accuracy: -m0
Conclusion: CDDA 100%
Signature: D943CA280428AADF25F99164D588C4FD7CC94B1E
FILE: 2 - Nathan Vale - Measure for Measure_ Take, O Take Those Lips Away.flac
Size: 3562292 Hash: D1E7A6331B0DC43F365F793E8D7AE0E8 Accuracy: -m0
Conclusion: CDDA 100%
Signature: A1351E2C1F1906389E568177C681479170909E7A
FILE: 1 - Nathan Vale - Three Songs from Twelfth Night_ I. O Mistress Mine - II. Come Away, Death - III. Hey, Ho, the Wind and the Rain.flac
Size: 19711498 Hash: D0F351300D7301550E224CBAD1F4972F Accuracy: -m0
Conclusion: CDDA 100%
Signature: DEF54155CFD3C641991360A188A609CC2F174A54
FILE: 21 - Nathan Vale - To Julia_ I. The Night Piece - II. Julia's Hair - III. Cherry Ripe.flac
Size: 19617115 Hash: 27D42F5566186DC4BE40A31B45AF6C08 Accuracy: -m0
Conclusion: CDDA 100%
Signature: 7CE920D80AA0945D56672AB48F7167C36155C81E
FILE: 20 - Nathan Vale - To Julia_ I. Prelude - II. The Bracelet - III. The Maiden Blush - IV. To Daisies.flac
Size: 18799556 Hash: 7FA57F4FB3A35BFC574699AA810DDAF0 Accuracy: -m0
Conclusion: CDDA 100%
Signature: 5571267C5D050D966769800B68DCAB372F0441A5
FILE: 19 - Nathan Vale - Five Jacobean Lyrics_ IV. To althea from Prison - V. The Constant Lover.flac
Size: 13677316 Hash: AD1A9394EF62DBFABB87684872B074DB Accuracy: -m0
Conclusion: CDDA 100%
Signature: 093FBC595AA97E223CA06E0F34D39CB965C01301
FILE: 18 - Nathan Vale - Five Jacobean Lyrics_ I. The Jealous Lover - II. Why So Pale and Wan_ - III. I Dare No Ask A Kiss.flac
Size: 13487846 Hash: 276E1735EFACE0376C4775C93C2A773A Accuracy: -m0
Conclusion: CDDA 100%
Signature: E53EB5796F90C855FBC64B313513DEE67F589A97
FILE: 17 - Nathan Vale - Go, Lovely Rose.flac
Size: 8063968 Hash: 85573C689E2F77824017857C859CBAE9 Accuracy: -m0
Conclusion: CDDA 100%
Signature: 333E6964C9CADC3953A83E2EB55992F10019C853
FILE: 16 - Nathan Vale - To Wine and Beauty.flac
Size: 6431910 Hash: 1A498324F5EEA820321C8018EDEED5CB Accuracy: -m0
Conclusion: CDDA 100%
Signature: 4564BD1A77A01C6033FFBBD76346F6BC0BE20B87
FILE: 15 - Nathan Vale - Tulips.flac
Size: 5610876 Hash: B6B017202D80FF0F086F8C656D4D6A22 Accuracy: -m0
Conclusion: CDDA 100%
Signature: 6A91C73561120BA1835FA13F7EF370AE001495AB
FILE: 14 - Nathan Vale - Seven Elizabethan Lyrics_ IV. The Faithless Sepherdess - V. Brown is My Love.flac
Size: 25974024 Hash: 4DBE78D76DC6177C145A8F6689BFA3DB Accuracy: -m0
Conclusion: CDDA 100%
Signature: A6416E595AAF75A1835EAA4B31A167AE025713B0
FILE: 13 - Nathan Vale - Seven Elizabethan Lyrics_ I. Weep You No More - II. My Life's Delight - III. Damask Roses.flac
Size: 16373127 Hash: F7133E27EA57748BFF1429A34511A18B Accuracy: -m0
Conclusion: CDDA 100%
Signature: 0195FFC435F567836DC48EC0239D2CF74B437274
FILE: 12 - Nathan Vale - Morning Song.flac
Size: 7427112 Hash: F625BA9FCFDC10EADA1F55BB3882CEFC Accuracy: -m0
Conclusion: CDDA 100%
Signature: D538FF307EFEAFB85AC09E33B1ED6694B96F0DDA